October 2013
Skoda Rapid Spaceback Elegance 1.2 TSI 105PS
The Spaceback shares the same front end as the longer Rapid
October 2013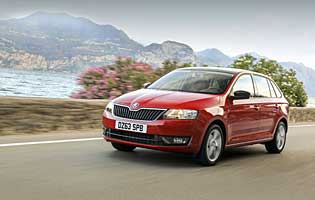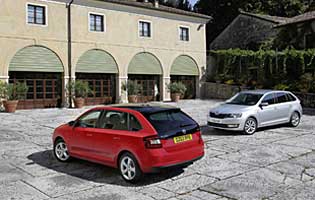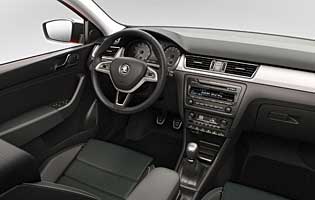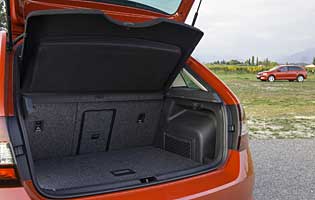 Overall rating

Likes:
Affordable pricing structure exudes great value
Turbocharged petrol engines are strong, flexible and quiet
Impressive rear legroom and general interior space
Clever everyday practicality ideas boost real-world enjoyment
Gripes:
More expensive than longer Rapid and with less boot space
Insufficient soundproofing leaves diesel engines noisy and unrefined
Some desirable features kept as optional extras
No standard spare wheel
Skoda has of late been accused of betraying its value-biased roots and producing cars that, with the best will in the world, can't be described as cheap. The firm has sought to address this with the Rapid range, and with the Rapid Spaceback it now has a true C-segment contender to directly rival some of the UK's best-selling cars.
The Spaceback's defining feature, apart from its low price thanks to most of its parts having been taken from existing models, is its cut-off hatchback boot in the same style as any typical compact family hatchback. It loses 18cm in length compared to the ordinary saloon-style Rapid, but it's perhaps a more user-friendly size.
This is a car built to undercut the likes of the Vauxhall Astra and Ford Focus rather than aiming at the high-quality end of the market, and as such no special effort has been made to install class-shaming materials or technology. Instead the Spaceback focuses on the technology you really need, while offering plenty of interior space.
This honest approach with an affordable price is set to win Skoda back those fans that had begun to doubt its budget-friendly credentials. The tried-and-tested parts used in the Spaceback should also encourage reliability and affordable maintenance, but the engines are from the latest Volkswagen Group range and are among some of the best out there - with the odd caveat.
It could be argued that the Spaceback offers a lower space-per-pound ratio than the longer Rapid, but the former offers a more compact package that potentially has greater appeal for some buyers. Specifying the right options also results in a really good looking car that gives off an impression of greater worth.
Our verdict on the Skoda Rapid Spaceback Elegance 1.2 TSI 105PS
Like the Rapid on which the Spaceback is based, Skoda has hit a home run in terms of combining affordable motoring with a practical and visually appealing twist. The Rapid hatch, or whatever you choose to call it, promises a good degree of versatility without sacrificing looks for practicality. And as the Octavia and Superb now command more premium price tags, the Rapid family remain refreshing close to Skoda's roots.
Costs
Only the diesel Spaceback GreenLine dips below the threshold for free road tax, but the majority of the engine options lie in very low tax brackets nonetheless. At the Spaceback's price Skoda simply couldn't afford to give it all the latest efficiency-boosting technology but the low purchase price more than offsets this. Residual values may technically be lower by percentage than for some longer-established or higher-end models, buyers can be sure of losing less money on the Spaceback.
Space and practicality
There's a 115-litre cut to the Spaceback's boot with the loss of 18cm from the rear of the car. That inevitably affects its practicality and it can't score as highly, but inside the cabin there are several stand-out storage solutions that should impress. Media player storage slots allow gadgets to stand upright while plugged into the car's input ports, and a reversible boot floor mat takes account of muddy or wet kit, giving owners carpet on one side and grippy rubber on the other.
Controls and display
The main instrument cluster is the same as the one in the existing Rapid, which makes it a clear, easy-to-read unit with a basic maxi-dot display in between the speedometer and rev counter. The sat-nav screen on this model is also a little behind the times in terms of resolution, although the menu graphics are quite pleasing and intuitive to use. The air movement controls and ancillary stalks are standard entry-level VW Group fare and simply do their jobs without fuss.
Comfort
The Spaceback's seats are taken straight from the Skoda parts bin, and will provide a familiar feel to owners of most modern Fabias. They aren't particularly well bolstered for spirited driving and some may want for more under-thigh support, but they do offer a firm perch that should last high-mileages well while offering decent all-round comfort. The ride quality is more of the same, falling between the extremes of comfort and control. It doesn't excel on either front but neither does it fall short.
Car security
An alarm is standard-fit on all Rapid Spaceback models, and what's more it comes with interior monitoring and will detect a smashed window, for example. Remote central locking is again standard, and on SE and Elegance models buyers will also get tinted glass for the rear half of the car. That will help to hide any valuables left on show, but the front and rear media player holders might create temptation for occupants to simply leave expensive gadgets on show.
Car safety
A fully-equipped ESP stability control system is the highlight of the Spaceback's safety kit list. With in-built systems to reduce or eliminate locked brakes, acceleration wheelspin, cornering slides and more, the system is as comprehensive as anything else in a comparable car. Six airbags offer a uniform spread of protection if the worst should happen. Daytime running lights help to make the car easier to see.
Driver appeal
Driving appeal depends heavily on which engine buyers go for. The diesel is undeniably efficient, with owners of the longer Rapid reporting very low consumption, but it's also unpleasantly noisy and vastly more expensive than the smoother, quieter and faster petrols. The pick of the range is the 1.2-litre TSI, which offers strong turbocharged punch with very impressive fuel economy potential and quiet running. The drive is generally a good balance of comfort and composure.
Family car appeal
Families will definitely appreciate the evenly-shaped boot with a practical reversible floor mat, as well as the many 'simply clever' features unique to Skoda models that make day-to-day life with the car much easier and more enjoyable. Isofix child seat mounts are standard on the outer rear seats and the passenger side airbag can be switched off for when carrying a rear-facing child seat in the front. The Spaceback's affordability is surely also a temptation for hard-pressed families.
First car appeal
Although the Spaceback is at least one, and possibly two, market segment above where typical first-time buyers would look, it's not unlikely that some might want to look at the Spaceback in terms of its long-term suitability for a wide range of tasks. It's easy to drive and park, simple enough in terms of technology not to be distracting and it could also be quite affordable, albeit not to the same degree as many smaller cars.
Quality and image
The Rapid range is the affordable end of Skoda's family car line-up, and as such the Spaceback isn't trying to market itself as a high-cost market leader. Instead it's a competent compact family hatch with a firm identity and an affable character, which in conjunction with its pricing structure will help the car to play to Skoda's image's strengths. The car's actual quality is pretty high, with lower-grade materials than found in the Octavia but an overall sense of solidity.
Accessibility
This is surely a strong suit for the Spaceback, with a spacious rear passenger area and a simple, hatchback boot. Up to five occupants can hop into the car with little or no interference from the roof line or lower door aperture, and the same goes on the way out. It requires much less physical adjustment than in some similar cars. The tailgate is lightweight enough to lift comfortably with one hand and height adjustment on both front seats add extra appeal to those looking for easy access.
Stereo and ICE (In car entertainment)
The stereo interface changes according to whether or not satellite navigation has been specified from the options list. Without it the display is a basic LCD maxi-dot readout with a slightly old-school feel, where stereo functions are controlled with dials and buttons. Operation with the car at a standstill is made simpler with the sat-nav's colour touch-screen, and the console is made a little more attractive as well.
Colours and trim
The Spaceback is available in an unusually bold selection of colours for a car in this market segment. As well as the more usual choices of white, red, black and silver there are a pastel blue, a stronger blue very popular with Skoda buyers and an outlandish green suitable only for the brave. The interior trim has been upgraded versus the Rapid, and looks a good deal more upmarket while still staying humble at heart.
Parking
Even mid-range Spacebacks feature acoustic rear parking sensors as standard, so this range-topping Elegance model has them by default. The driver's seat is height-adjustable, allowing for a better view towards the corners if desired, and visibility is good towards the front. Safety measures mean thick rear windscreen pillars that cut down on backward visibility, but good door mirrors do afford a measure of compensation for that. Relatively modest exterior dimensions make the Spaceback easy to manoeuvre in town.
Spare wheel
Emergency tyre repair kit supplied as standard.
Range information
Petrol engine options - 1.2-litre TSI turbo (85bhp, 104bhp); 1.4-litre TSI turbo (120bhp, DSG only). Diesel engine options - 1.6-litre (89bhp, 104bhp). Transmission options: five-speed manual gearbox, plus DSG automatic gearbox (1.4-litre petrol and 90bhp diesel only). Trim levels: S, SE, Elegance.
Alternative cars
Vauxhall Astra Stylish and British-built, with heavy discounts sometimes available
Ford Focus The class benchmark for driving dynamics, but reliability has been questioned
Kia Cee'd Stunning new model feels a cut above, but costs a lot more too
Peugeot 308 Taut, comfortable and well-equipped, with longevity the only doubt