October 2012
Skoda Rapid 1.4 TSI DSG
Skoda's latest family styling is evident in the Rapid's front end
October 2012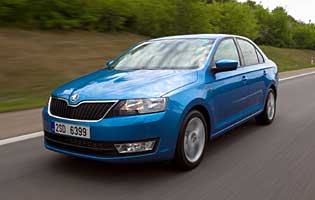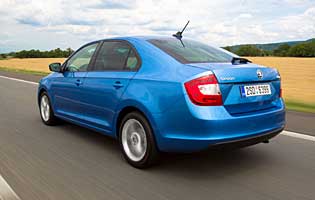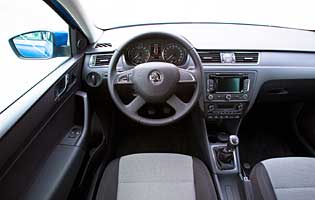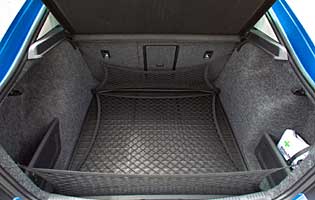 Overall rating

Likes:
Excellent visibility in most directions inspires in-town confidence
Large boot provides higher than average load capacity for the class
Plentiful rear legroom means ample comfort for rear passengers
Pricing structure compares favourably with existing options
Gripes:
Dashboard and interior space is a little drab
Front end styling is uninspiring
Has a similar and cheaper rival in the Seat Toledo
Door-shut sound not as upmarket as that of the boot lid
Skoda is returning to its heartland with a truly great value family car. Roughly the same dimensions as the 1996-2006 Octavia, the Rapid makes the best use of existing Volkswagen Group parts to create a roomy, reliable package with the latest engines and attractive prices. Its remit is to provide affordable access to a multi-talented family car.
With the Octavia increasing in size with every generation, a gap had appeared in Skoda's range. The Rapid fills it, being considerably larger than the Fabia but also much smaller than the 2013 Octavia. It's chiefly a family car and much of its design, in particular inside the cabin, backs up such an assertion.
Using new production techniques the body has been made safer than existing shells but also thinner, which means more space is created inside the cabin for any given car size. The allocation of boot and passenger space is very impressive, and Skoda's 'Simply Clever' philosophy concentrating on the details that make the difference to owners has been employed throughout.
New car prices have been climbing significantly over the last 10 years, and the Rapid is a fresh assault on territory Skoda would be otherwise likely to lose. With prices starting thousands of pounds lower than the contemporary Volkswagen Golf and a breadth of skills that covers everything the average driver could need, the Rapid is a refreshingly simple car.
It has a comprehensive range of engines taken from the company's latest crop of efficient small-capacity turbocharged petrol and diesel units, making for good fuel economy. Straightforward construction means the overall package is also quite light, which again helps boost efficiency. For some people the Rapid will be the ideal alternative to the Octavia; smaller and more homely.
Our verdict on the Skoda Rapid 1.4 TSI DSG
Amid rising new car prices the Rapid offers a welcome way out for hard-pressed consumers. The package offers huge value for money with a very appropriate mix of old and new technology, impressive practicality and an enjoyable driving experience. Although the cabin is noticeably low-frills, its simplicity is conducive to an easy family life. It's a humble and convincing everyday family car in every respect.
Costs
Although the sole diesel engine offered in the Rapid is the most economical it's much more expensive to buy than the petrol options and makes less sense for the majority of drivers. The turbocharged petrol engines offer excellent real-world fuel economy and cheap road tax to go with their low-down punch, and petrol Rapids shouldn't lose any greater proportion of their value than the diesel since the latter is significantly more costly. A low purchase price is good for business users and company car tax.
Space and practicality
This area is an ace up the Rapid's sleeve, with a hatchback boot offering around half as much space again as some of its rivals. Not only that but there are 19 different 'Simply Clever' solutions included as standard, like an ice scraper on the inside of the fuel filler lid, a reversible carpet/rubber boot floor and a dedicated slot to hold an MP3 player or mobile phone upright. Storage space is in no short supply and the amount of clever in-cabin additions is impressive.
Controls and display
The main instrument cluster will be familiar to previous Skoda owners and offers clearly legible information at a glance. It's not overtly stylish or layered with coloured accents, but it's pleasantly undemanding. The ancillary stalks and headlight control dial are all standard Volkswagen Group items and in the usual places. It's incredibly easy to hop into the Rapid and operate its finer controls immediately, which helps to form a quick bond between the driver and the car.
Comfort
On smooth roads there is little difference between the basic ride quality of models with 16-inch and 17-inch wheels, but the latter do introduce more noise and vibration on patchier surfaces. Wind and engine noise are reduced to fairly incidental levels. The seats are simple as per the wider theme of the car, and in keeping with the brand's recent tradition they are slightly firmer than average to make them harder-wearing. Some people may want a slightly softer perch, though.
Car security
An alarm and immobiliser are standard fit. The alarm has interior monitoring systems and a back-up connection to the horn in case the siren doesn't work or has been cut off. There is a system to prevent filling the car with the wrong fuel, remote central locking and deadlocking. It's not a list that stands at the forefront of development but it's more than adequate to prevent theft of the vehicle and is expected to perform well when tested.
Car safety
All Rapid models feature a full gamut of safety equipment including front, side and curtain airbags, stability and traction control, a spectrum of warning lights and daytime running lights. Mid-range models add hill-hold control and top-spec cars have cornering lights. Basic models with the 1.2-litre non-turbo engine have drum brakes at the rear instead of discs, though, but they do still share the universally standard two-tone horn and towing protection.
Driver appeal
The Rapid is light for its size and that endows it with a relatively nimble feel, even if its steering and outright handling aren't quite a match for the class leaders. Nonetheless it's good to drive and offers an excellent balance of ride quality, enjoyment and practical solutions. Left to its own devices the DSG automatic gearbox keeps revs low under light throttle pressure and helps to create a relaxing driving environment, but offers ample fun when used in manual mode.
Family car appeal
Family life is the Rapid's heartland, with its design features being well suited to carrying young passengers. There are child seat mounts, an ample boot for accessories and luggage, plenty of rear legroom for older children and a cabin that will withstand knocks and scrapes well. The rear doors give good access to the rear seats, while the abundant storage solutions mean that oddments and gadgets will all find a place.
First car appeal
Financial strains are making it harder to swap cars every three years and the Rapid should capitalise on that. Its easy-going nature and simple design throughout means that it could be bought and kept for five or six years without major trouble. The fact that it's compact enough and inexpensive to own compared to many alternatives means that it might make a very tempting first car for people who want a great all-round car that will last.
Quality and image
Skoda is growing out of its image as the great-value Volkswagen Group brand as its prices have climbed along with the market-wide increases. Accordingly it is judged a little more harshly than it used to be, and critics of the brand highlight quality gaps between Skoda and Volkswagen. The Rapid, however, is in the main built from older, proven and common technology that's both reliable and simple; two aspects that create a very appealing image for the car.
Accessibility
As with most four- and five-door cars the front doors are longer than the rears, and this has a twofold effect. Firstly it means that rear passengers need to tuck their feet in a little especially when getting out, but also that the rear doors can theoretically open wider for any given amount of space beside the car by way of compensation. As it happens the Rapid is very easy to get in and out of thanks to an intelligently shaped bodyshell.
Stereo and ICE (In car entertainment)
The stereo is a low-tech affair by 2012 standards, with a selection of simple buttons and dials operating the key functions and, on the lower models, a thin digital display offering a functional but basic interface. An integrated sat-nav and media interface screen is available, incorporating a colour touch-screen. It's all as simple and easy to get on with as it could be, and the ease with which the controls fall to hand will be a boon in day-to-day use.
Colours and trim
Although the Rapid's selection of colours is typical of most mid-size family cars there's a slight lean towards lighter, fresher hues that suit the car's style well. The light blues and greens work particularly convincingly and balance best with the most common alloy wheel size. On the inside the trim lines are as clean and neat as they are on the outside, but it's obviously unpretentious and the relative lack of interior design flourish will split opinion.
Parking
The one area of restricted visibility comes at the rear of the Rapid, where the boot line is higher than it could be. Parking sensors are not standard but can be specified for a very reasonable cost and make the job of reversing up to obstacles much safer. One small mark against this car is that its turning circle, although perfectly adequate, isn't perhaps as tight as some people might hope. Reverse-parking is still easy though, and the compact body fits into most typical spaces comfortably.
Spare wheel
Emergency tyre repair kit fitted as standard.
Range information
Petrol engine options - 1.2-litre (74bhp); 1.2-litre TSI turbo (85bhp, 104bhp); 1.4-litre TSI turbo (120bhp). Diesel engine options - 1.6-litre (104bhp). Transmission options: five or six-speed manual gearbox depending on model, plus DSG twin-clutch auto gearbox (1.4-litre 120bhp petrol only). Trim levels: S, SE, Elegance.
Alternative cars
Seat Toledo Cheaper and prettier, the mechanically identical Toledo has crucial advantages
Ford Focus Clever engines give good economy, but is less practical than the Rapid
Volkswagen Jetta Similar in some ways, but saloon boot and price count against it
Peugeot 308 Estate version gives lots of practicality at a reasonable price point