Skoda Octavia SE L Hatch
Top-notch build quality
April 2017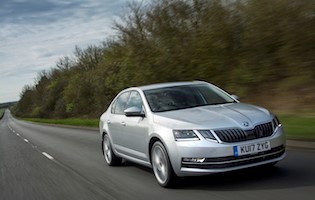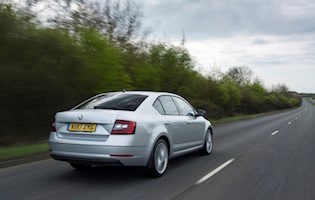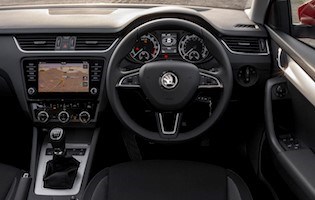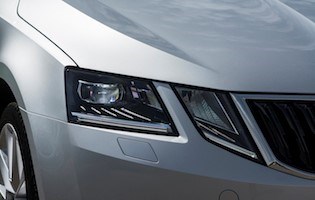 Overall rating

Likes:
Top-notch build quality
Range of efficient engines
Good level of standard equipment
Smooth gearboxes
Gripes:
Larger petrol engine feels grumbly
Not as involving to drive as rivals
Some plastics aren't of a great quality
Smaller engines lack punch
The Skoda Octavia has been an incredibly successful car for Skoda and now the Czech manufacturer has given it a mid-life refresh. It's a subtle one, we'll admit, but it adds further technology and standard equipment to an already compelling package. Skoda has been on a bit of a roll of late – the Kodiaq is an example of this success – which is probably why it wants to keep the Octavia in line with rivals.
On the face of it, little has changed. Look closely though, and you'll see that the Octavia's headlamps have now been split apart, while brighter LED lights now feature at the rear. The rear track of the car has also been widened, which Skoda says gives the Octavia better stability as well as a sportier look.
Inside, the biggest change comes in the form of an updated infotainment system. Even base cars get an eight-inch touchscreen system, while SE L cars benefit from rear parking sensors and 17-inch alloy wheels as standard. It's still just as well-made than before, though it's unlikely to get pulses racing. Everything inside feels as though it'll stand the test of time, which is just what you want from a car in this segment.
The old Octavia certainly wasn't a bad looking car, but it wasn't what you'd call inspiring. The new one is much the same, and we'd recommend specifying one in brighter colours as plainer ones – like silver and white, for instance – have a tendency to wash the car out and give it little presence. This is down to personal preference though, of course.
There's a good variety of engines to choose from: a 1.0-litre or 1.4-litre petrol, and a 1.6-litre or 2.0-litre diesel. Our test car was fitted with the larger diesel. Skoda predicts this to be the best seller, and we can't argue with its reasoning, as it returns the best economy figures as well as decent enough performance.
Our verdict on the Skoda Octavia SE L Hatch
The Skoda Octavia isn't a car to set the motoring world alight, but it's one that very much keeps it turning. If you're after a reliable, well-specified and practical car, then you could do a lot worse than choosing the Octavia. With a wide range of engines to choose from, as well as a good variety of colour options, there are plenty of personalisation options on offer – meaning that you really can get the Octavia just how you'd like it.
---
Costs
Running costs really shouldn't be too high with the Octavia. Even the larger diesel-powered car should return 65.7mpg on a combined cycle and emit 113g/km CO2. Skodas have also built up a reputation for reliability, which should mean that there aren't too many hidden costs in store for owners. Smaller wheeled cars will mean lower tyre replacement costs as well, while other consumables such as brake pads really won't cost the earth.
Space and practicality
Despite being a standard-sized car, the Octavia has a lot of practicality to offer. The boot, for instance, offers 590 litres of space with the rear seats up, or 1,580 litres with them down. For reference, the Volkswagen Golf hatchback has a 380-litre boot as standard, rising to 1,270 litres with the rear seats lowered. If you want even more space, then opt for the Estate – this can offer up to 1,740 litres of load area.
Controls and display
As is standard in Volkswagen Group cars, all of the Octavia's main controls and dials are clear and easy to use. The new infotainment system is also a breeze to operate, with its touchscreen display sharp and very responsive. Even the main binnacle is well made, while a smaller TFT screen housed within it provides accurate driving data, as well as satellite navigation commands.
Comfort
The Octavia is a supremely comfortable car to drive. Even on larger alloy wheels, the car's ride never feels too stiff, and it copes very well with potholes and poor surfaces. There's also very little wind or road noise, which makes it relaxing on longer journeys. Another aspect worth mentioning is the car's refinement. Our test car was fitted with the 2.0-litre diesel, and not once did it feel rough or noisy – ideal for those drivers who are planning on travelling higher miles.
Car security
The Skoda Octavia comes with a full suite of security features such as remote central locking and an alarm. It also doesn't draw too much attention to itself, meaning that you should be able to park it anywhere.
Car safety
Back in 2013, the Skoda Octavia was awarded five stars in the NCAP crash tests, making it one of the safest cars on sale. It was also given 93 per cent for adult occupant safety and 86 per cent for child occupant safety. However, since that time the tests have been overhauled – though Skoda has addressed this by adding new safety features to the Octavia, such as blind spot detection and predictive pedestrian protection.
Driver appeal
Though dependable and well-made, we can't say that the Octavia is all that appealing to drive. That said, when you do get behind the wheel, you'll find yourself driving a car that is surprisingly eager in the bends. Yes, the soft suspension does cause it to 'float' over crests somewhat, but for everyday driving it feels perfectly set up. If you're looking for the best ride possible, then opt for the smaller alloy wheels, too.
Family car appeal
The Octavia is an almost perfect family car. It can offer loads of storage space, as well as low running costs that will suit those families who are looking to keep trips to the pump at a minimum. There are lots of storage options inside the car which will be perfect for families who are often accompanied by a lot of luggage. Families will also appreciate its range of safety features, too.
First car appeal
Though relatively grown-up, the Octavia wouldn't be such a bad car for those who have just passed their tests. The 1.0-litre engine would be especially well-suited, as this has a relatively low power output and as such won't cost that much to insure. That said, the Octavia's practical styling and relatively normal looks may not appear to younger drivers. Larger-engined cars probably won't be a good choice for just-passed drivers, however.
Quality and image
Skoda's image is riding a bit of crest at the moment, with cars such as the Kodiaq and Superb confirming the Czech brand's reputation as a maker of quality, well-built cars. The Octavia is no different, and though this update changed the look of the car only slightly, it has done well to bring it back up to date. Every part of the interior feels well-made – though we'd have to admit that some plastics lower down the cabin do feel a little scratchy.
Accessibility
Getting in and out of the Octavia is simple thanks to doors that open wide, while the seats' relatively flat design helps this. The boot lid, though large, isn't that heavy either, which makes it simple to operate. The boot lip is also relatively low and doesn't have too much of an edge to it, ensuring that loading heavier items such as golf clubs isn't a troublesome task.
Stereo and ICE (In car entertainment)
As mentioned earlier, the biggest addition to the Octavia is its new infotainment system. Base specification cars get an eight-inch colour touchscreen incorporating satellite navigation and media functions. There's even full smartphone integration as standard, with services such as Apple CarPlay and Android Auto all standard. A good option to choose is the larger 9.2-inch colour screen, as this transforms the look of the interior. It is, however, a £1,050 extra.
Colours and trim
There's a good amount of personalisation options to be found with the Skoda Octavia. You can choose from a wide variety of exterior colours, and the same goes for interior upholstery choices, too. Trim levels include plenty of standard equipment, with even base S specification cars receiving 16-inch alloy wheels and a full infotainment system. If you're looking for value for money, then look no further – the Octavia has it in spades.
Parking
Thanks to well-sized wing mirrors and good levels of visibility, parking the Octavia isn't tricky at all. Rear parking sensors are included as standard on all but base-specification cars, and these do really help with positioning the vehicle. Over the shoulder visibility is also very good, and would prove useful when reversing into tighter spaces.
Spare wheel
Emergency tyre repair kit supplied as standard.
Range information
Petrol engine options: 1.0-litre turbocharged petrol; 1.4-litre petrol. Diesel options: 2.0-litre turbocharged diesel; 1.4 turbocharged diesel. Transmission options: Six-speed manual; DSG automatic. Trim levels: S, SE Tech, SE L, Laurin, Klement.
---
Alternative cars
Volkswagen Golf The firm favourite, and just updated too.
Ford Focus Decent practicality, but due to be replaced soon.
Honda Civic The all-new model out now is a good drive.
Mazda 6 Reliable and involving drive.