September 2005
Skoda Octavia estate Ambiente 2.0 TDI PD
Mature Octavia is devoid of unnecessary styling gimmicks
September 2005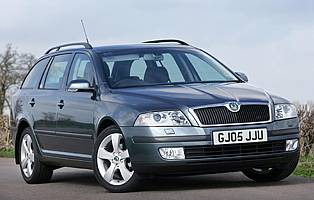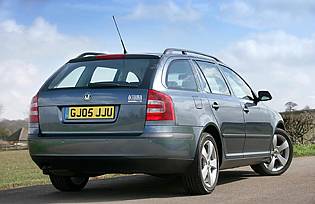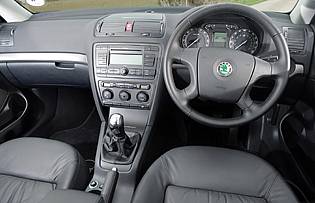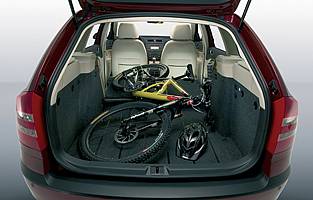 Overall rating

Likes:
Solid construction belies the car's price tag
Comfortable ride and little road noise intrusion in the cabin
Roomy cabin means rear seat occupants no longer feel left out
Solid performance from engine range, especially diesel variants
Gripes:
Although well built, cabin is a dark place and some plastics feel hard to the touch
1.9 diesel variant can get a little noisy when pushed hard
Conservative styling does little to differentiate Octavia from bigger Superb from the front
Skoda image still a problem for some potential buyers
Look up the meaning of sensible in the dictionary and, in an alternate universe, a picture of Skoda's Octavia would be starting right back at you. For enlightened buyers who are happy to let the Czech firm's past lie, the Octavia represents the fusion of good common sense and affordability. Factor in the load-lugging variant and the picture is complete.
Behind the conservative styling of Skoda's second generation Octavia is a car that's designed to impress in a slow burning manner. There are no gadgets to wow you with and gimmicks are reserved for its competitors. Skoda has always distanced itself from the glitz and cut-throat sales antics of rivals, but that's often been because its offerings appealed to a small minority of buyers who placed value for money over aesthetics.
The bargain basement, modest utility bias has gone, though. Now Skoda sells cars to rival the best of the mainstream makers in terms of quality, practicality and affordability. Nowhere is this more obvious than with the company's mid-range Octavia. But while the five-door hatchback hogs the limelight, it's the estate variant that more accurately reflects Skoda's underlying caring ethos.
Taking the practical, value for money principal one step further, the estate version of the Octavia manages to blend versatility and elegance in one package. The hatchback's boot might already be big enough for most people, but the load-lugger model goes on step further. And it does this without looking like a long rectangular box on wheels.
It also rivals the traditional Volvo estate without behaving like a big barge on the road. From the driver's seat you'd never know what was behind you, but when you need to load big items, the wide opening tailgate, easy-retract cover and low loading lip helpfully oblige.
Our verdict on the Skoda Octavia estate Ambiente 2.0 TDI PD
An added layer of desirability has been added to the Octavia with the estate variant. Although already a sensible, practical car, in wagon form the Octavia will appeal to anyone seeking large amounts of extra cubic inches but not at a premium price. As a bonus, the car's road manners are largely unaffected, and the car's cargo hold rear has been better designed than many of its mainstream rivals.
Costs
Low insurance, sensible fuel economy - especially from the diesel options - and reasonable screen prices all contribute to the Octavia's modest running costs and make it an attractive proposition. And, as more people realise this, residual values reflect this trend, making the Octavia - or any current Skoda - a safer new purchase than it used to be.
Space and practicality
Nothing's left to chance in the back of the Octavia estate; lashing eyes, a decent flat loadspace and a solid retractable cover make this car one of the best, sensibly priced holdalls around. Up front and the car's increased dimensions mean that occupants also get a good deal. Oddment space in the cabin is average, but the various cubbys and trays are all within easy reach.
Controls and display
Clear and concise sums up the Octavia's controls and displays. The no-frills approach works well, and both the main dials and supplementary fascia-located controls are easy to see and use. With everything backlit in a soothing green at night, eye strain is not an issue and the column stalks are logical and positioned sensibly.
Comfort
Nicely contoured seats, decent amounts of cabin space and low noise levels all contribute to make the Octavia cabin a pleasant place in which to spend time in. Unlike in the first generation car, rear seat occupants haven't been forgotten and benefit from a decent amount of legroom. Headroom all round is also good, while an all-adult contingent won't be knocking elbows thanks to the width of the cabin.
Car security
Although not wishing to insult Skoda, the Octavia is not a car that will attract covetous gazes from the criminal fraternity. However, an estate car is always a tempting prospect, so it's good to see a sturdy load cover in the big Skoda. Elsewhere you'll also get remote central locking, an immobiliser and an oversize audio unit that won't fit in other cars.
Car safety
The usual equipment adorns the Octavia - twin front and side airbags plus ABS and brake assist. More airbags can be selected, while good all-round visibility helps keep any potential problems to a minimum in the first instance. The driver's seat offers a range of adjustment, ensuring pilots of all sizes can get comfortable.
Driver appeal
The front-wheel drive Octavia estate - not to be confused with the less common 4x4 variant - is set up to deliver a safe, sensible driving experience. All the major controls are well weighted, the driving position is comfortable and can be adjusted to suit drivers of most sizes and visibility fore and aft is good. The car can be hustled along at a decent pace but is more at home taking it easy on the motorway or ambling around town. Engine-wise the diesel offerings make the most sense due to their superior torque and economy.
Family car appeal
It may not boast seven seats or the ability to remove those seats, but the Octavia is spacious and practical enough to be a genuine family car. Large objects, holiday gear or pushchairs can easily go in the boot, while small ones will have no trouble getting comfortable in the back seats. Boasting auxiliary 12v charging sockets, useful storage areas and a silhouette that wouldn't look out of place transporting business clients, the Octavia estate is a genuine all-rounder.
First car appeal
Although a big car, the Octavia estate is not difficult to drive - or park. Cost-wise its affordable and, with modest insurance groupings, shouldn't cost that much to run. If you need something this size then it's a worthy choice, although a true first timer's car would more likely be the firm's smaller Fabia supermini.
Quality and image
No longer a joke in the eyes of a fast-growing number of enlightened potential buyers, Skoda's brand image is a solid one. Launching cars that compete head-on with more expensive rivals has also helped banish a few misconceptions. The Octavia is an impressive car; build quality is first rate and there's little to separate it from a Volkswagen when it comes to cabin fit and finish.
Accessibility
Just like the Octavia hatchback, the estate variant affords both front and rear seat occupants decent levels of access - doors open wide, the cabin is sufficiently spacious and the car is large enough to boast wide opening rear doors. At the rear, the load lip is pleasingly low and wide, while the tailgate opens up to a good height.
Stereo and ICE (In car entertainment)
No longer in the realms of the sparsely equipped, the Octavia in Ambiente trim boasts a CD changer to compliment its easy to use fascia-mounted head unit. Big buttons and an equally big display make using the unit straightforward. A more powerful system is available but, as befits the car's modest leanings, the standard item is more than adequate.
Colours and trim
In typical Volkswagen Group style, the Octavia's interior is on the dark side. Given the Octavia's modest persona, this is more fitting than disappointing. That said, anyone looking for bold flashes of brightwork will need to seek out the likes of Ford's Mondeo or Vauxhall's Vectra. The car's exterior is a little more extrovert, in so much as bright colours work just as well as more mature, darker hues.
Parking
With the rear tailgate falling straight down, judging distances when reverse parking is easy. The car's light steering also helps, as do the reasonably sized door mirrors. Rear parking sensors can be added to the mix, although if you sit too low in the driver's seat, it can be difficult to see the bonnet's full length.
Spare wheel
Full size spare mounted on a steel wheel, mounted under the boot floor.
Range information
Petrol engines: 1.6-litre (75bhp); 1.6-litre FSI (115bhp); 2.0-litre FSI (150bhp). Diesel engines: 1.9 PD TDI (105bhp); 2.0-litre PD TDI (140bhp). Transmissions: five-speed manual, six-speed manual and auto units available depending on model. Trim levels: Classic, Ambiente, Elegance.
Alternative cars
Ford Mondeo estate Practical and stylish, but firm ride will upset some passengers
Mazda 6 estate Good value for money, pleasing to drive and well built
Vauxhall Vectra estate Not the prettiest in profile, but capacious Vectra now a decent steer
Citroen C5 estate No driver's car but a smooth, plush-riding C5 is supremely spacious and good value for money