June 2005
Skoda Octavia Estate 4x4 1.9 TD PD
Higher ride height marks out Octavia 4x4
June 2005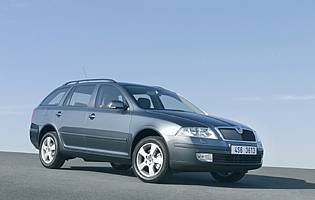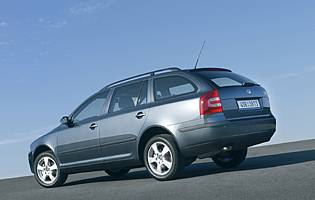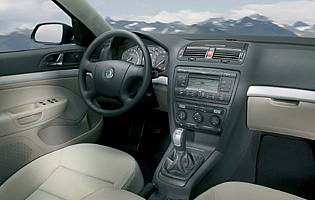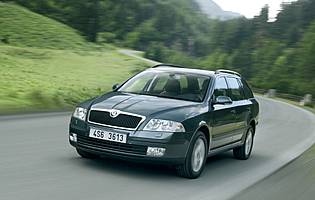 Overall rating

Likes:
Good quality of cabin materials and dashboard
Smooth ride and supportive seats give good comfort levels
4x4 system is effective and unobtrusive
Generous room for passengers and luggage
Gripes:
Gearshift is hesitant at times
Can feel underpowered when carrying loads
Interior could do with some brighter colours
No hatchback option with four-wheel drive variants
Already blessed with a strong model range, Skoda is trying to muscle in on the lifestyle market with a 4x4 version of its Octavia Estate. Sold as a single model, it must take on more established rivals with a head start in this competitive market.
At first glance, it may look like a regular Octavia Estate, but the subtle details are enough to suggest that there is something different about this version. If you are looking to make a big impact with the country set, the Octavia 4x4 is more likely to win admiration than devotion.
Skoda usually offers a good take on sensible motoring, so even when it explores a niche with a car like this, it is unlikely to frighten timid buyers. Despite the 4x4 moniker, for much of the time it is unlikely that you will notice any difference between it and a regular model. In many respects this is a strength, as many prospective purchasers want the ability but not necessarily all the macho aggressive baggage that comes with it.
The four-wheel drive system only intervenes when it is needed, and needs no extra input from the driver. As well as making it simple to use, it also avoids excessive wear on components when manoeuvring at low speed.
As an everyday car, the Octavia is more than competent, and its estate configuration makes it versatile. Only the largest families will struggle to accommodate all passengers and luggage, though it has no option for extra rear seats. Conversely, with all the seats folded it can serve as a workhorse, carrying long and heavy loads.
Our verdict on the Skoda Octavia Estate 4x4 1.9 TD PD
Adding four-wheel drive to an already-competent car has simply increased its versatility. Ideal for those who want the added traction and security at a reasonable price, the Octavia 4x4 is a strong mix of practicality, versatility and value for money.
Costs
Running costs for the Octavia will never be tiny due to its size, but with that in mind it performs well. A low insurance group added to the economical diesel engine should make it relatively inexpensive to run. With variable servicing, it could also travel 18,000 miles between visits to the dealer. Skodas also perform well in the used market, so buyers are likely to get a decent price for the their car when the time comes to sell.
Space and practicality
As any good estate car should, the Octavia has a well-shaped and commodious boot. Lashing eyes line the perimeter of the space to secure loads, with a pair of hooks on either side for carrier bags. The boot cover is a smart piece of design, requiring a simple push to automatically retract.
Controls and display
Driving the Octavia is straightforward thanks to clearly labelled controls. The instruments are clear and illuminated in a soft green at night, although it is numbered in units of 20mph rather than 10mph, which can make it easier to exceed a given speed limit. The column stalks operate smoothly, as do the air conditioning controls. The stereo also uses large buttons and a big display for ease of use.
Comfort
This is an area where the Octavia scores well, with all passengers accommodated in good comfort. In this version both front seats are height adjustable and have lumbar support, and the steering wheel has a wide range of movement, so drivers of all sizes can get a good position. The ride quality compliments the accommodation, with the extra ground clearance improving the ride with only a slight penalty in terms of increased body roll.
Car security
With its understated looks, the Octavia is less likely to attract attention from undesirables. If they should decide to break in, the standard alarm and sturdy door locks will slow them down. Further features include an engine immobiliser, secured engine ECU and a large stereo unit that is much bigger than the usual DIN sized slot.
Car safety
The Octavia has a four star EuroNCAP rating, which is helped by a standard fitment of four airbags. Curtain airbags are also available as an option. With standard ABS and Mechanical Brake Assist on all models, the Octavia is well equipped to deal with emergency situations. Good visibility all round and well-sized door mirrors assist in reducing blind spots.
Driver appeal
The 4x4 system adds to the driver appeal over the regular front-wheel drive version, as the power of the engine can be used freely without any corruption to the steering. The weight penalty however does curb the enthusiasm of the diesel motor: a higher power version would be more enjoyable to drive, and the Haldex transmission could easily manage it.
Family car appeal
For families who use a caravan or often visit the countryside, the Octavia has the right mix of space, comfort and off-road ability to deal with most situations. Easier to drive than an SUV but more capable than an MPV, only the five seat configuration could rule it out for some families.
First car appeal
While relatively large for a first car, the Octavia is easy enough to pilot that even inexperienced drivers could use it without fear. The price tag may be out of reach for most first-time buyers, but the diesel engine means low fuel bills. The car's modest insurance group is also a bonus.
Quality and image
The Skoda brand image is now far from being a laughing stock, and the Octavia reflects this. Inside and out the standard of finish is high, and it feels like a quality product. In terms of image, the subtle 4x4 badging and higher ride height add an element of SUV styling, but otherwise the impression is of a inoffensive and unfussy car.
Accessibility
Decent door openings front and rear make entering the car straightforward, though with the steering wheel set low it is possible to catch a knee on the bottom of the steering column. The chrome interior door handles are large and easy to use, as are the exterior handles.
Stereo and ICE (In car entertainment)
The 4x4 has all the equipment fitted to the Octavia Ambiente model, so in this instance it has a boot-mounted six disc CD changer with a single-slot CD in the stereo unit itself. With large chunky buttons and a big display it is easy to use. The sound quality is good, but the optional 12-speaker system will make the most of its powerful output.
Colours and trim
The single interior specification is grey cloth upholstery, which is robust, comfortable and should be hardwearing. The cabin plastics are also a standard grey that is not exciting, but causes no distractions.
Parking
With decent visibility all round, parking the Octavia is not difficult. The raised ride height also lessens the chance of damaging a wheel on an unseen kerb. Rear parking sensors are also available as an option.
Spare wheel
Full size spare mounted on a steel wheel, mounted under the boot floor.
Range information
One model offered in estate form only. Choice of 1.9-litre PD TDI diesel (105bhp) or 2.0-litre FSI petrol (150bhp), six-speed manual gearbox standard. Trim level is based on existing Ambiente specification.
Alternative cars
Subaru Legacy Outback Petrol only but a sound buy
Mazda 6 Estate Sport AWD No diesel with 4x4 transmission, but good to drive
Audi A4 Avant Stylish but expensive and less practical
Jaguar X-Type Estate Good to look at and drive, but pricey