July 2004
Skoda Octavia Ambiente 1.9 TDI PD
The Octavia's subtle exterior hides a car boasting more interior space than its rivals
July 2004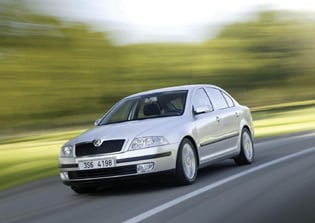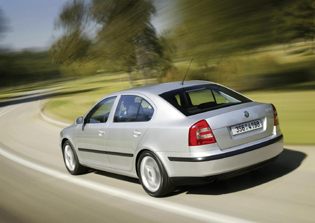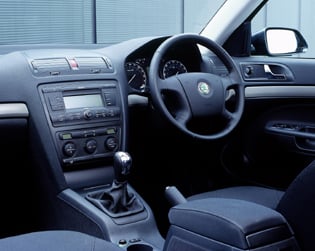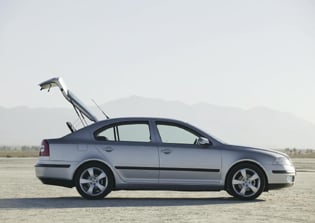 Overall rating

Likes:
Astounding value for money when build quality and equipment levels are considered
Diesel engines are the pick of the powertrain crop, making the petrol variants look surprisingly redundant
Clear, logical cabin layout makes living with the Octavia painless
Capacious boot is easily accessed via wide-opening hatch tailgate
Gripes:
Styling could be stronger as car lacks the road presence of its more extrovert rivals
Despite the car's excellent cabin build quality, there's too much black plastic present
Lack of outright performance variant
Noticeable price increase over previous variant
Skoda's second generation Octavia continues the trend of cars in this sector by offering more cabin and luggage space, greater active and passive safety measures and improved levels of refinement over previous iterations. While the Octavia may to some look too similar to its forebear, there's no denying that Skoda's attempt at moving upmarket has been a successful one.
On the surface it looks like nothing of any importance has occurred with the change from Octavia One to Octavia Two. Look closely, however, and the differences are more pronounced. In a bid to punch above its weight, the revamped Octavia is more mature-looking and refined in appearance; its smooth lines and assured stance is a long way from the firm's angular and utilitarian design policy of old.
And that's the key with the Octavia - its looks signal a new chapter in the Czech firm's history, and one that it hopes will help it challenge cars in the class above while still retaining its long-held traditions of value for money and durability.
Although Skoda is always keen to stress it retains a large amount of design and engineering independence over its parent, Volkswagen, there's no denying that the German giant has greatly influenced the Octavia's look and feel. Doors shut with a satisfying 'thunk', switchgear is clear and mechanically smooth, cabin build quality is impeccable and refinement levels when on the move shame some cars costing twice as much.
If all this sounds familiar, it's because these are the same qualities Volkswagen has pushed for many a year, only VW's quality controllers haven't been as fastidious as Skoda's in recent times. Which is why the Czech firm's efforts have been attracting all the attention - for all the right reasons.
Granted, the Octavia isn't going to have petrolheads running to dealerships in their droves. But these days anyone spending their own money on a mid-size family car is hardly the same person who relishes the thrill and challenge of stringing together a handful of B-road bends at speed. No, the Octavia buyer is someone who has nothing to prove, appreciates good craftsmanship and, above all, is more interested in substance than pretentious brand values.
Our verdict on the Skoda Octavia Ambiente 1.9 TDI PD
The latest Octavia is more evolutionary than revolutionary in its design and execution. Far from being a failing, this measured step by Skoda should be applauded. The car easily beats more costly models from so-called executive sectors while maintaining its accessible - and affordable - personality. Build quality is exemplary, but the move upmarket has caused one casualty. The car's exterior design isn't distinctive enough and is too similar to its (slightly) larger brother, the Superb.
Costs
For the money, there's little to touch Skoda's Octavia if you want a car with above average build quality, specification and interior space. As such, the Octavia can only be described as excellent value for money. Granted, you're not going to reap the same resale rewards as owners of large, more prestigious cars, but there's every chance of doing better in the long run than owners of Skoda's mass-produced direct rivals. Picking either of the two frugal diesels is another way to save the pennies, while it's unlikely that the car will need many trips to the garage if customer satisfaction surveys can be believed.
Space and practicality
When Skoda decided to make its second generation Octavia bigger it clearly saw the benefit of giving occupants more room. In a market were rivals deliver only bearable levels of rear legroom, the Octavia is positively luxurious. Front seat occupants can stretch out, while the car's boot rivals that of cars from the class above. And remember, all this is at a screen price comparable to that of a well-equipped family hatch. Boosting the Octavia's desirability are its many strategically placed cubbyholes.
Controls and display
As with the Octavia's exterior, there's nothing flash about the car's interior. All the major controls are sensibly laid out, and anyone already familiar with Volkswagen Group products will instantly feel at home in Skoda's family car. Electric window switches are close to hand, the column stalks aren't loaded with confusing functions, while the main instrument cluster is easy to read. Thankfully, Skoda has chosen to use knobs rather than the small, fiddly buttons of the old Octavia for the ventilation controls. The only disappointment is the lack of steering wheel-mounted controls for the audio system as standard.
Comfort
From the substantial range of adjustments afforded by the front seats - especially that of the driver's - to the wide opening doors and generous legroom front and rear, the Octavia is clearly set up for comfort. The car's supple suspension confirms this fact, but thankfully it's not soft to the point of wallowing when the car is steered around a corner.
Car security
By way of a backhanded compliment, the Octavia is unlikely to figure on a thief's radar thanks to its conservative styling. Therefore, your investment should still be where you left it from the night before - proving that a lack of image is sometimes a good thing. Even if someone does take a shine to the Octavia, the car's remote control central locking and immobiliser should make thieves think twice. Reflecting their higher value status, Ambiente and Elegance models also boast an alarm.
Car safety
The lack of any radio controls as standard on the Octavia's steering wheel is unlikely to be a showroom deal-breaker, but, in the interests of safety, they would have been nice addition to save you from reaching over to the centre console when on the move. That said, there's little else to criticise the Octavia for, as it comes with all the usual safety features you'd expect of a modern car. Anti-lock brakes plus twin front and side airbags come as standard, with electronic stability control (ESP) and curtain airbags optional depending on the Octavia's trim level.
Driver appeal
With SEAT - not Skoda - being touted as the Volkswagen Group's affordable sporty brand, you'd be forgiven for thinking that the Octavia is a Tarmac dunce. While the engine range is unlikely to substantially raise your pulse, the Octavia is a willing and confidence inspiring partner on a twisty road. Suspension control is measured, ditto roll and pitch, while the steering is accurate if lacking feedback. Add a precise, albeit overlong, gearshift and progressive brakes and the Octavia can be a surprisingly good steer, especially if powered by the torquey 2.0 TDI diesel.
Family car appeal
If an MPV is not your thing, there's no questioning the Octavia's ability to step into the breach and perform similar duties. Granted, seating flexibility is not a match on an MPV, but the Octavia is not short of space. Its generous wheelbase ensures that back seat passengers have more than enough legroom, while the car's boot will happily swallow family-size portions of food shopping or luggage for a driving holiday. And despite the car's 'class above' positioning, the cabin is sufficiently durable to repel knocks from inconsiderate children and adults.
First car appeal
There would be nothing wrong in picking an Octavia as a first car - especially if the time coincided with your first family or first 'proper' job. That said, the Octavia isn't a small car, and a novice driver would do well to take it easy until fully familiar with the car's outsize dimensions. With no high performance model on offer, getting into trouble is unlikely, although the flagship diesel variant is surprisingly swift. As for cost, base models are no more expensive that traditional family hatches.
Quality and image
Some cynics say that Skoda make the best built cars within the Volkswagen Group, and a quick examination of the materials used in the Octavia and their construction could easily lead you to the same conclusion. For a car in this price bracket the Octavia is an excellent example of what can be done, and puts to shame all of its rivals - even those from the same group.
Accessibility
With a car this big, getting in and out of the front or rear is rarely a problem. The wide opening doors help matters enormously, while the seats are mounted at a sensible height - making entry and egress easy even for people of limited movement. Once inside, all the controls are clearly laid out and the driving position offers numerous adjustments. At the rear the car's loading lip is of a sensible height and the tailgate opens wide, allowing the easy transportation of bulky or awkward loads when the rear seats are folded down.
Stereo and ICE (In car entertainment)
Standard fit on the Octavia is an easy to use audio unit boasting a radio and CD player. Ambiente models gain a CD changer while Elegance variants come with an in-dash CD changer. All the units are unique to the Octavia - making them less attractive to thieves - and come with a security code. Performance-wise the units are acceptable, but the radio quality can be patchy in areas of poor reception. On a positive note, the unit's mode can be seen from the fascia' multi-display positioned between the main instruments.
Colours and trim
The Octavia is fortunate in that it can carry off a wide variety of exterior colours. Although lighter metallic hues work best and show off the car's various styling features, darker colours make the car look classy. Inside, while the traditional dark interiors remain a mainstay of Volkswagen Group cars, lighter combinations help make the Octavia's cabin feel even bigger than it already is. At this price point leather might seem like an extravagance, which makes the durable but attractive standard fit fabric seats appear even better value.
Parking
The Octavia is hardly an intimidating car to park. Its steering is light enough when you're travelling at low speeds so as not to make you sweat and throttle response is measured enough so that you don't kangaroo into the car in front. Despite the car's obvious size - a noticeable step up from conventional competition such as Ford's Focus - positioning the Octavia is relatively easy. Blind spots have been minimised both fore and aft, and it's only the extremities of the boot and bonnet that remain out of sight - something easily overcome through familiarisation with the car.
Spare wheel
Full-size steel wheel fitted as standard.
Range information
Six engine options - 1.4-litre 16v (75bhp) petrol; 1.6-litre MPI (102bhp) petrol; 1.6-litre FSI (115bhp); 2.0-litre FSI (150bhp); 1.9-litre TDI PD (105bhp); 2.0-litre TDI PD (140bhp). 1.4 and 1.6 MPI/FSI and 1.9 TDI PD get five-speed manual gearbox as standard, 2.0 FSI/TDI PD get a six-speed manual. 1.6- and 2.0-litre petrol engines can be selected with optional six-speed auto, with diesels eligible for direct shift (DSG) auto gearbox. Three trim levels: Classsic, Ambiente and Elegance.
Alternative cars
SEAT Toledo Showing its age; more compact than Octavia but delivers a more sporting drive
Ford Focus Conventional family hatch is superb all-rounder but loses out to Octavia in terms of space and standard equipment levels
Hyundai Elantra Cheap, spacious and well-equipped, although not necessarily cheerful as quality is below-par and solitary variant is diesel-only
Citroen C5 C5s attract substantial discounts, making entry-level variants sensible bargains. Big hatch is spacious and practical, although hardly pretty