Skoda Kodiaq SE
Excellent build quality
December 2016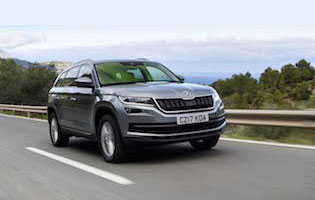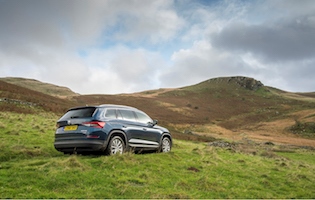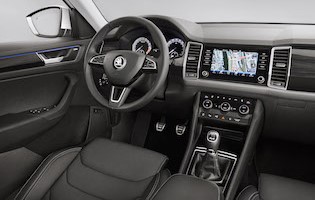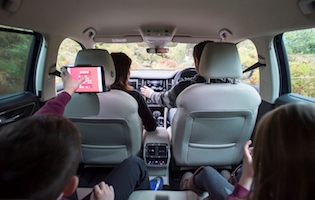 Overall rating

Likes:
Excellent build quality
High levels of standard equipment
Low entry price
Smart exterior styling
Gripes:
Interior lacks flair
Seven-seat option comes at additional cost
Lacks badge appeal of rivals
Rear seats leave a lip when folded
The Skoda Kodiaq is a really important car for the Czech brand. Tapping into the ever-flourishing SUV market, the Kodiaq is ideal for families who want space and reliability but in a package that doesn't cost the earth. With the option to seat seven comes better flexibility, adding another string to the Kodiaq's bow.
Inside, the Kodiaq is laid out in a clear and easy-to-navigate way. Every button is solid and feels as though it will stand up to the test of time. The interior will be familiar to those who have driven any modern Skoda car, but that's no bad thing – it's intuitive to find your way around, which makes it a relaxing place to be.
The exterior of the car has been well thought through. It isn't too in-your-face, which is a trait that has plagued many SUVs in this segment, but manages to toe the line between making a statement and remaining subtle. It's a deceptively large car, and once you're up close to it you realise just how big its footprint is on the road.
Given that the Kodiaq starts at £21,495, it represents excellent value for money. For that, you don't get a huge amount of standard equipment, but you do get a large, family-friendly SUV. However, middle-grade SE cars don't cost the earth at £22,495, and these come with alloy wheels, cruise control and a full infotainment system.
Our verdict on the Skoda Kodiaq SE
The Kodiaq is pretty much all things to all people. It rides well, it has plenty of equipment on board and it offers excellent value. Add to that excellent build quality, the option of seven seats and all manner of 'smart' touches, and the Kodiaq quickly becomes a very compelling package. Yes, it may not have the brand image that is offered by other SUVs in this segment, but if you ignore that you'll be rewarded with a car that is really very hard to beat.
---
Costs
Costs for the Skoda Kodiaq should be minimal, once the initial outlay has passed. All of the engines provided are economical, which should keep running costs low. Skoda cars also have an excellent reputation for reliability, and if the Kodiaq is conducive to that, there shouldn't be too many mechanical headaches for Kodiaq owners either. All in all, the big Skoda is a good choice for those looking to keep costs down.
Space and practicality
If you're looking for space, then you've come to the right car. In five-seat layout, the Kodiaq offers 720 litres of space with the seats folded up, which rises to a near-unbeatable 2,005 litres with them folded flat. In short, you'd be hard-pressed to find a car in this segment with a similar amount of load space. Passengers are also well catered for in terms of space, with plenty of head and legroom in the first two rows. That third row is designed for children, however.
Controls and display
All of the controls will be familiar to anyone who has driven or sat in a modern Skoda. That's no bad thing, as they are clear and simple to use. The rotary dials used to control temperature are well made, while the infotainment screen is easy to navigate, making inputting destinations or pairing a phone less of a chore than in other cars. The main dials also allow quick speed checks, with a central display returning key information back to the driver without fuss.
Comfort
Higher-end cars come fitted with Skoda's Dynamic Chassis Control, which gives drivers the ability to scroll through different modes and change the ride accordingly. In 'Normal' mode, the Kodiaq rides really rather well. Switch to 'Comfort' and the car becomes just a touch wallowy. Other cars do without the system, but even these deal with lumps and bumps in the road well, albeit losing some of the smoothness that comes with the chassis control system.
Car security
The Skoda isn't like other SUVs, as its styling remains quite restrained and, as such, it shouldn't attract too much negative attention that might lead to its security being breached. That said, it comes fitted with remote central locking and alarm, allowing you to park it up at night safe in the knowledge that nothing should happen to it. There are plenty of covered storage areas for keeping items out of sight, too.
Car safety
Though the Kodiaq has yet to be NCAP tested, it's sure to be an incredibly safe car, given Skoda's reputation for producing vehicles with five-star safety ratings. In terms of standard safety equipment, there's blind spot detection and lane keep warning, as well as multi-collision braking. Given that this is included on even standard cars, the Kodiaq should prove to be a very safe car – in whatever layout.
Driver appeal
As a large SUV, the Kodiaq is never going to offer a sporting driving experience. That said, it's a pleasant enough car to drive, even at higher speeds. It does a good job of disguising its sheer size, and very little body roll is experienced during cornering, even when doing so quickly. The steering is relatively light, but that does mean that it's an easy car to drive at lower speeds too.
Family car appeal
The Kodiaq is an ideal car for families. It's large, well finished and sturdy. It also has a competitive pricing structure, and offers the flexibility of seven seats – though for additional cost. The way the car is put together certainly feels like it would more than cope with the rigours of family life. The high riding height also gives drivers a better feeling of safety too.
First car appeal
With a range of relatively high-power engines, the Kodiaq isn't particularly well-suited to those who have just passed their tests. Add that to an overall size that would be quite intimidating to someone who is still learning the ways of the road and you have a car that won't appeal to new drivers. That said, its entry price could be attractive to some drivers, though out of the reach of the vast majority.
Quality and image
Skoda's reputation for quality has never been better. The Superb has become the Czech brand's most successful car, and there are cues from this model in the Kodiaq. The interior, for instance, isn't fussy nor over-designed, it simply works. Everything feels solidly built, and there's plenty of high-quality materials used throughout the cabin. The car company's image is on the up-and-up too, with more people leaving traditional 'premium' brands in favour of Skoda.
Accessibility
Thanks to large doors, the Kodiaq is an easy car to get in and out of. The optional third row, when fitted, is tricky to access, but once inside there's a surprising amount of space on offer. That said, when folded up these seats do severely reduce boot space. That boot is easy to access however, with a door that is large and easy to open.
Stereo and ICE (In car entertainment)
Here, the Kodiaq really comes into its own. As standard, cars are fitted with a 6.5-inch colour touchscreen, which houses DAB radio and SmartLink – this gives better connectivity between a smartphone and the car's infotainment system. High-spec cars gain a larger 8.0-inch touchscreen, as well as an upgraded stereo system with eight additional speakers. Top-spec cars get a Columbus satellite navigation system too, as well as in-car internet accessibility.
Colours and trim
There's a wide variety of colours and trim available with the Kodiaq, meaning it's easy to make it personal to you. There's also an excellent level of standard equipment, with even base-spec 'S' cars coming with 17-inch alloy wheels, LED rear lights and electrically adjustable mirrors. Inside, base cars get cloth upholstery, but upgrade to SE L trim level and you'll find alcantara used throughout the cabin as standard.
Parking
The Kodiaq is a large car, and as such parking it needs more caution than when you're in other cars. That said, its square sides mean that it's not such a hard car to judge, while good visibility allows you to easily check your surroundings. Each car in the range gets either parking sensors or a reversing camera too, giving additional parking help, which comes in handy given the car's large size.
Spare wheel
Emergency tyre repair kit supplied as standard.
Range information
Petrol engine options: 1.4 (123bhp, 147bhp); 2.0 (177bhp). Diesel engine options: 2.0 (147bhp, 187bhp). Transmission options: Six-speed manual, seven-speed dual-clutch automatic. Trim levels: S, SE, SE L, Edition.
---
Alternative cars
Seat Ateca Built on the same plan as the Kodiaq, but different badge image.
Volkswagen Tiguan More expensive than the Kodiaq.
Audi Q5 Costs more than the Tiguan, and costlier to run too.
Nissan X-Trail Cheap to buy, but starting to show its age now.