January 2016
Skoda Fabia Monte Carlo 1.2 TSI 90PS
Germanic styling clearly identifies the Fabia as a Volkswagen Group product
January 2016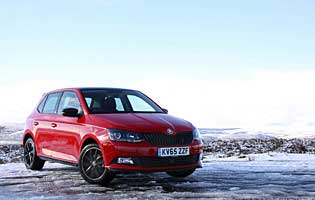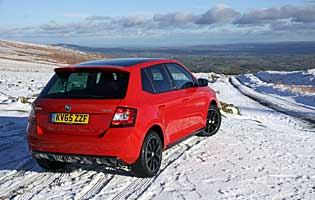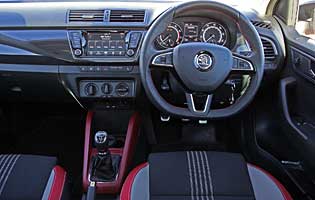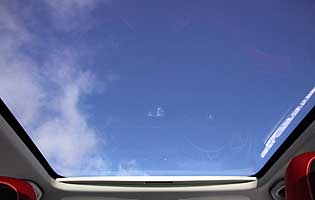 Overall rating

Likes:
Lively drive around town thanks to eager engine and grippy tyres
Practical touches spread throughout the design
Front seats give lots of side support through corners
Stylish exterior changes give it a more premium look
Gripes:
Engine struggles at higher speeds
Costly compared to standard Fabia models
Small cupholders partly blocked by gear lever
Long seat bases can impede people with shorter thighs
The Fabia is enjoying a new lease of life since its full redesign in 2015, and the highly successful Monte Carlo spin-off trim grade was so popular since its release in 2011 that Skoda decided to carry it on for the new model. For a price it adds an extra focus on aesthetics inside and out.
Skoda has expanded the availability of the Monte Carlo due to its popularity, and it's now built with four petrol drivetrain options and two diesels. An automatic gearbox is an option on the highest-powered petrol. All the engines are downsized, though, with even the diesels only displacing 1.4 litres, compared to 1.6 litres in the previous generation.
The colour choices have been expanded too, to the point where the Monte Carlo is more aligned as a mainstream model than before. The only features unique to the model are its colourful red and grey sports seats, part-perforated leather sports steering wheel and red lower dashboard trim around the gear stick.
The car has won major awards since its release, which puts it in a good position against its rivals like the Volkswagen Polo, Kia Rio and Honda Jazz. The Fabia may not be the outright most practical, but it has the advantage of much more driving talent and character than many of its competitors.
Skoda has gradually increased the price gap between the standard car and the Monte Carlo, and the financial distance between an SE model and the equivalent Monte Carlo is now significant enough to put buyers off. This edition is little more fun to drive than any other Fabia with the same engine, too, so its value is up for debate.
Our verdict on the Skoda Fabia Monte Carlo 1.2 TSI 90PS
That the Fabia Monte Carlo is a fun urban runabout is beyond question. The TSI petrol engine is eager and powerful at low speeds, and the wide tyres give lots of grip. It does struggle at higher speeds, though, and its few added qualities soon seem quite one-dimensional for the extra outlay it asks. A standard Fabia is a better buy.
Costs
Fuel economy from the test car, even when trying to maximise it, was disappointing, falling around 20% short of the official figure at best; often 30%. The Monte Carlo is also quite a common sight and does not carry any extra advantage in terms of residual value. Its increased purchase price raises question marks over its value for money, but this is for the individual to decide. Insurance for the Monte Carlo will be the most expensive in the Fabia range.
Space and practicality
Skoda groups its practicality features under its Simply Clever banner. The Fabia has an ice scraper inside the fuel filler cover, a clip inside the windscreen for holding parking tickets and trays either side of the boot to keep oddments from sliding around the main boot area. Drawers are placed beneath the front seats. There are options to add a phone or music device holder that slots into the cupholders, and a bin unit for the driver's door pocket.
Controls and display
The main screen is sharp enough, albeit not as sharp as some. The graphics are bright and colourful, spaced well on the display to make it easy to use. That said, the touchscreen unit suffers from the same drawbacks when driving on a bumpy road, where it can be hard to touch the intended part of the screen. The rest of the controls are familiar and clear, including the dials and ancillary stalks.
Comfort
The ride quality is surprisingly good, owing in part to the decision to change from 17-inch wheels on the predecessor model to 16-inch alternatives this time. The suspension is unexpectedly supple and while it suffers slightly over harsher bumps it rides better than many people, including previous Fabia owners, will expect. Rear passengers even have an ample amount of room, although three people would be a squeeze.
Car security
As well as locking wheel nuts, privacy glass and remote central locking, the Fabia has an alarm, the facility to lock the doors from the inside and a backup horn for the alarm system in case the main one is deactivated. The alarm will also sound if someone tries to tow the car away, thanks to a sensor that activates with the central locking.
Car safety
There are three three-point seatbelts in the back. The front passenger airbag can be switched off for when carrying a child seat there. There is a seatbelt reminder for all positions. A tyre pressure monitoring system alerts to any important changes in tyre pressures. A speed limiter is fitted, but this does not link to cruise control.
Driver appeal
The Fabia is good fun at low speeds, using its combination of low-down torque and ideal gearing to reach 30mph very quickly. Its wide, premium tyres allow it to corner with speed and confidence and it bites into turns in a way uncommon among superminis. Unfortunately, while the light front end is a benefit to driving enjoyment at all speeds, the engine cannot keep pace and struggles for performance when out of town.
Family car appeal
The Fabia would make an excellent second car for a family already in possession of a larger car. Its boot is adequate for basic child-related luggage but will be too small for holiday luggage, buggies or pushchairs. There are Isofix child seat mounts at both outer rear seats, but the upholstery itself could be vulnerable to liquid spills.
First car appeal
The Fabia is easy to drive and relatively communicative for a supermini, making it a good car for a first-time buyer. Its shape and size are easy to manage, too, both for driving and for parking. The entry-level TSI engine will feel quite high-performance around town for many inexperienced drivers, but its lower performance out of town will make it more difficult to reach speeds too high for their level.
Quality and image
As buyers would have a right to expect, the latest Fabia is a step up in terms of quality compared to its predecessor. There are no particularly disappointing areas but depending on individual expectations some of the plastics in the lower parts of the cabin may fall short. The Fabia's image has finally left the old-fashioned stereotypes behind and the latest version looks every inch the solid, Germanic supermini.
Accessibility
There ought to be no complaints from any quarter as far as accessibility goes. The most obvious limitation concerns the width of the base of the rear door apertures, where anyone with large feet might have to twist their ankles to make a smooth entry or exit. The roof line feels quite high in relation to the seat, though, so it should not present any issues.
Stereo and ICE (In car entertainment)
A media interface screen is the hub around which the stereo functions. It is connected to an iPod-compatible input socket and DAB digital radio, as well as FM and AM radio. There is no CD player. A good feature is Mirrorlink, which allows drivers or passengers to connect a compatible smartphone and use a growing number of internet-connected apps through the phone's own data service.
Colours and trim
Unlike the sparse collection of colour options given to the original Monte Carlo model, there is a broad range of popular shades for this one. Red and white are free options, while silver, grey, black and pearl white are joined by Race Blue and Ralleye Green metallics. Red is arguably the best fit for the car because the coloured interior trim is red only. The red trim panel surrounding the gear stick is a novelty but actually looks a little cheap.
Parking
Acoustic rear parking sensors are standard on the Monte Carlo, but they are scarcely needed. The car has a boxy shape that makes it easy to reverse into spaces and parallel park. Visibility is very good, with the scuttle, lower than in most cars, allowing an excellent forward view down to the road. It is handy for driving into spaces.
Spare wheel
Emergency tyre repair kit supplied as standard.
Range information
Petrol engine options - 1.0-litre (74bhp); 1.2-litre (89bhp, 108bhp). Diesel engine options - 1.4-litre (89bhp, 104bhp). Transmission options: five and six-speed manual gearbox depending on model, plus DSG twin-clutch automatic (1.2-litre 108bhp petrol only). Trim levels: S, SE, SE L, Monte Carlo.
Alternative cars
Volkswagen Polo Little better than the Fabia in terms of quality, and duller to drive
Toyota Yaris Reliable and stylish with two-tone colour options and even a hybrid
Kia Rio Highly likeable and good-looking option with a long warranty
Honda Jazz By far the most practical supermini, but styling and image count against it