January 2009
Skoda Fabia Blueline 1.2
Fabia Blueline has lowered suspension
January 2009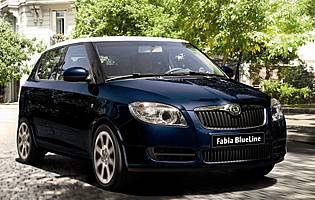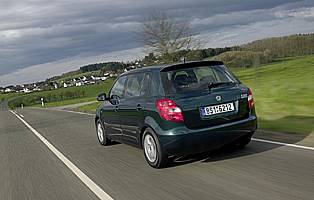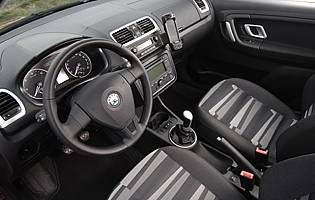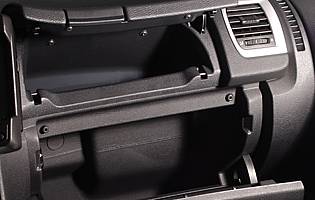 Overall rating

Likes:
Very spacious interior
Strong performance from small capacity engine
Good interior quality
Excellent value for money
Gripes:
Engine is grumbley
Sound system a little underpowered
High revving on motorway
Centre console is on the plain side
Skoda's Fabia has come on leaps and bounds in its latest guise and continues to offer a value for money choice from a reputable source. Featuring the same generous proportions as the rest of the range, the Blueline special edition adds even more value with a carefully selected range of interior and exterior options as standard.
Introduced in mid-2007, the latest generation of Skoda Fabia was another big step forward for the Czech brand - introducing an even higher level of quality and a smarter design to the supermini. A simple line-up initially comprised of the trim levels 1, 2 and 3, however the model range has recently swelled with the addition of some extra models and special editions.
The Blueline variant is Skoda's response to the increasingly important eco-drive among car manufacturers - offering a revised version of the highly efficient 1.4-litre TDI engine and a more slippery aero package. The Sport model boasts a more aggressive body kit and sporty interior additions and the Blueline rounds out the range with a host of exterior, interior and chassis extras included as standard for a 'less than list' one-off cost.
Regardless of trim level, the Fabia offers the same core appeal; an extremely spacious and practical interior and excellent value for money. Skoda has traditionally undercut not only the opposition but also its Volkswagen Group stable mates on price. While the Skoda models may not always offer the latest chassis or equipment developments, they do offer impressive specification levels for the money.
The latest generation Fabia is no different, with a modern interior, strong build quality and an excellent range of fuel efficient engines from the 1.2-litre three-cylinder petrol unit available in two power configurations to a torquey 1.9-litre diesel unit. An automatic transmission is limited to the mid-range 1.6-litre petrol engine, but with a wide range of engines and trim levels to choose from, a spacious interior and decent standard equipment levels the Fabia line-up has most bases covered.
Our verdict on the Skoda Fabia Blueline 1.2
Smart and sensible, if the Fabia had one issue it was that it didn't stand out from the crowd. The Blueline special edition addresses that with a more distinctive exterior and a livelier interior design. The maths add up in terms of additional equipment and the model retains the same quality characteristics as the rest of the range.
Costs
Undercutting the opposition on price and extremely cost effective to run thanks to low insurance groupings and excellent fuel economy from the small diesel and petrol engines, the Fabia is a very smart choice whether on a budget or not. The Blueline model offers even better value, adding a selection of options for a small one-off premium.
Space and practicality
The Fabia's extremely spacious interior is one of its big advantages. The tall body means there's plenty of headroom and allows for large windows that let in plenty of light, in turn making the cabin feel spacious. The boot is reasonable for its class as is the rear legroom, but folding the rear seats flat frees up a vast quantity of space not available in many of the Fabia's rivals. The Blueline also benefits from extra drawers under the front seats and there are two gloveboxes as standard.
Controls and display
The Fabia's controls and displays are a little old-fashioned compared to those in some of its Volkswagen group rivals, but are functional and well laid out none-the-less. Large buttons are clearly marked and levers and switches adhere to norms. Dials are easy to read, as are the displays for the audio and trip computer. Sturdy and well put together, the control set-up is plain but effective.
Comfort
Comfortable in a basic sense, the Fabia Blueline has impressively absorbent ride qualities and a range of comfort inducing options. Electric front windows and mirrors, climate control air-con, fully adjustable front seats and an adjustable steering column mean it's a pleasant and labour saving place to spend time.
Car security
Asides from the copious covered storage in the cabin, the Fabia Blueline also has an alarm with tilt sensor, to prevent thefts. Remote central locking is standard.
Car safety
The Fabia comes with four airbags as standard along with ABS and the Blueline also benefits from a tyre pressure monitoring system. Skoda says the model's shell is strong enough that doors can be opened freely after a 40mph off-set collision. Pedestrians are also protected by a deformable bonnet.
Driver appeal
The Fabia is not without its charms, but the driving experience is more competent than exciting. The 1.2-litre three-cylinder petrol unit provides an impressive amount of poke considering its meagre proportions, but is quite grumbley and relies on low gearing resulting in high revs on the motorway. Around town, the Fabia is a sprightly little car, with light steering and a precise and easy gear change. Competent road holding means the Fabia corners well, the lowered suspension of the Blueline model helping to eliminate some of the body roll.
Family car appeal
The Fabia makes for a sensible small family car. The rear will seat three small or two older children comfortably and the model is unlikely to stretch family budgets too far. The boot will take a decent grocery shop and possibly a pram, at a stretch.
First car appeal
A great choice as a first car, the Fabia combines strong value for money with a practical, safe, and extremely easy to drive package. Low running and insurance costs are an extra incentive for younger drivers.
Quality and image
Skoda's image has come a long way and the Czech manufacturer is now a respected manufacturer of affordable quality vehicles. Parts sharing with its Volkswagen group stable mates ensures quality and, while the Fabia can't boast the same kerb appeal as some of its competitors, it does mark the owner out as a savvy purchaser of cars. The Blueline special edition is smarter still, with its exterior changes and lowered suspension.
Accessibility
The Fabia is great for accessibility thanks to a tall body and five large doors that open to a wide angle. The height adjustable front seats of the Blueline also make it easy to find a position that's easy to exit from and enter into, even for the less agile.
Stereo and ICE (In car entertainment)
Despite its eight speakers, the stereo in the Fabia is a little underpowered and on some frequencies the volume must be turned to three-quarters to be heard at motorway speed. Regardless, the single slot CD Blueline system gets an extra four speakers, an aux socket and is MP3 compatible.
Colours and trim
The Fabia Blueline gets a bespoke exterior in Pacific Blue paint, otherwise not available on the model, combined with a white roof and special 15-inch alloys, all of which give it a charisma and style of its own. Inside, there's Skoda's 'Magic' upholstery alongside the standard dark plastics. The interior could be accused of being a little plain without it, but there is some silver plastic trim for the doors and gear lever.
Parking
A breeze to park thanks to great visibility from the large glasshouse and a neat and boxy shape, the Fabia also benefits from conveniently light steering at low speed and a respectable turning circle.
Spare wheel
Full size steel spare wheel fitted as standard.
Range information
Petrol engine options - 1.2-litre (60bhp); 1.2-litre (70bhp); 1.4-litre (86bhp); 1.6-litre (105bhp). Diesel engine options - 1.4-litre (70bhp); 1.4-litre (80bhp); 1.9-litre (105bhp). Transmission options: five-speed manual gearbox, six-speed Tiptronic automatic gearbox with manual over-ride. Trim levels: 1, 2, 3, Sport, Greenline, Blueline.
Alternative cars
Ford Fiesta Segment benchmark, but more expensive
Vauxhall Corsa Hardworking compact family hatch
Volkswagen Polo Great build quality, strong engine line-up
Peugeot 207 Stylish and affordable small hatchback