February 2007
Skoda Fabia 2 1.2 12v 70bhp hatchback
Second-generation Fabia keeps underpinnings of previous model
February 2007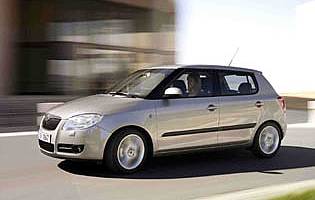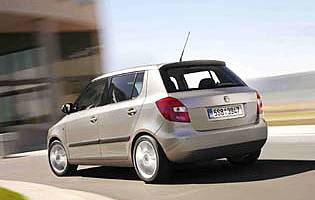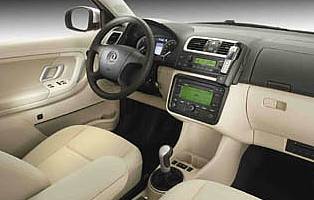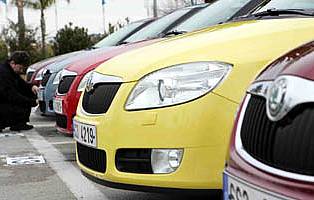 Overall rating

Likes:
Impressive interior quality
Reputation for reliability should remain intact
Wide spread of engines from which to choose
Greatly increased interior space
Gripes:
Exterior design is a little bland
Smaller diesels fairly noisy by modern standards
No longer significantly undercuts its main rivals
Driving experience is somewhat remote
Skoda launched its first Fabia back in 2000 and its qualities quickly became apparent: excellent build quality, class-topping reliability and low running costs. The second-generation model aims to turn the Fabia from a well-regarded niche favourite to a more mainstream model.
Though it retains the same basic floorpan as the first Fabia, the new model has been extensively overhauled. Perhaps the greatest feat of the engineering and design team has been in liberating considerable amounts of new space within the same framework. There is 40 litres more room in the back with the seats up, and 147 litres more with the rear seats folded.
The nose and grille from the likeable Skoda Roomster have been stuck on the front, but because the Fabia's shape is more conventional than the quirky Roomster, it fails to have the same impact. It's presentable, if a little bland. Perhaps the decision to emulate BMW's Mini and offer a white roof that contrasts with the body paint is an admission of sorts that something was needed to give the Fabia some visual flair.
Inside, the improvements are more apparent and more appealing. Hitherto, the Fabia had a Volkswagen interior that was well put together by Skoda. Now it has a Skoda interior that's well put together by Skoda. Bland monochrome has been jettisoned in favour of pleasant two-tone combinations that give a high quality, much less oppressive feel to the cabin.
Despite an increase in overall length, the Fabia's wheelbase remains the same as the old model. The steering seems a little lighter and body roll marginally more noticeable, probably as a result of being 47mm taller, but in general the new car retains the easy-driving characteristics of its predecessor. The sizeable rear pillars reduce the field of vision when reversing and parking, but apart from that it's business as usual.
Our verdict on the Skoda Fabia 2 1.2 12v 70bhp hatchback
It could be argued that Skoda would be better off making sure that the mature customers who bought a Fabia the first time around do so again now, rather than slavishly chasing the youth market. In doing so, the Fabia has lost some of its charm while making itself a more competent all-rounder.
Costs
The first Fabia used value for money as one of its key marketing attributes. This is less of a factor with the new Fabia, as these days no-one is surprised that a Skoda is well made and reliable. Pricing is now on a par with main rivals instead of undercutting them to any significant degree. The Fabia still represents decent, if not outstanding value.
Space and practicality
In a real tour de force, the designers have significantly increased the available bootspace while keeping the same basic structure. From being one of the least space efficient cars in its class, the Fabia is now among the most space efficient.
Controls and display
In line with the rest of the interior, dials and displays have a feeling of good quality and precision about them. The digital readouts and so forth will be familiar to owners of Volkswagens, and communicate the Fabia's clean and simple way of doing things nicely.
Comfort
The driving position features an excellent range of adjustment, including a wheel with plenty of reach and rake movement. Combined with a seat with good height adjustment, anyone should be able to get comfy - a fact that played a key role in enticing the first Fabia customers back at the turn of the millennium.
Car security
The new boot area with its tidy storage bin should prove useful when keeping things away from prying eyes. All VW Group cars have reasonable, if not overgenerous, security packages and are generally judged to be among the hardest to gain entry to.
Car safety
The Fabia is fully up to speed with modern safety requirements with driver and passenger airbags and side airbags as standard. Curtain airbags are an optional extra, though there is a raft of electronic aids for the driver including ABS, and EBC.
Driver appeal
The availability of engines with such similar outputs may confuse some buyers, so it's worth noting that the best two are the 1.2 70bhp petrol and the familiar 1.9 TDI diesel that seems to find its way into every VW Group product. The former is much smoother than the other petrol units while the latter has ample torque for any situation. Nevertheless, the driving experience does feel rather remote and uninvolving. The 1.4-litre diesels are surprisingly noisy.
Family car appeal
Retired couples and others on modest means should continue to find the Fabia a suitable answer to their transport requirement. Larger families would do better to look further up the Skoda range to the Octavia, particularly the capacious estate.
First car appeal
This would make an excellent choice as a first car. Cheap to run and reliable, owners should also have no problems selling the car on when it is time to upgrade. However, new drivers might be better off investing in a used first-generation car that has been doted on by a careful older motorist.
Quality and image
The first Fabia became a success because older motorists who didn't care how fashionable they were, bought it in large numbers. At first, everyone else laughed and then they realised that they were onto something and began to join in. There will not be the same surprise effect this time around when it comes to realising that this is a well-made machine.
Accessibility
With five good-sized doors as standard and a tailgate that is light to operate, the Fabia scores well for accessibility. An increase in height means that there is less danger of banging your head upon entry than in most comparable cars, too.
Stereo and ICE (In car entertainment)
A standard Volkswagen Group CD/Radio is standard issue and will be fine for most purposes. The Fabia's audio unit is also fully MP3 compatible, a must-have feature in the modern small car market.
Colours and trim
In a rather heavy-handed attempt to ape the success of the Mini, the Fabia can be specified with a white roof - no other colours are available. However, it is probably not worth the considerable extra outlay. Perhaps surprisingly, bright, primary colours suit the bodywork best, though these could make the car harder to sell on.
Parking
The Fabia has the same wheelbase as the old car, but possesses slightly larger overhangs at front and rear, so parking is slightly more difficult than before. The rear window is positioned high and is hemmed in by substantial pillars, so even though the Fabia is still quite easy to park, it could be better.
Spare wheel
Full size alloy spare as standard on all models.
Range information
Petrol engines: 1.2 (60bhp, 70bhp); 1.4 (86bhp); 1.6 (105bhp). Diesel engines: 1.4 (70bhp, 80bhp); 1.9 (105bhp). Trim levels: 1, 2 and 3. All models feature a five-speed manual gearbox bar the 1.6 petrol, which has a six-speed manual gearbox and an optional six-speed Tiptronic automatic.
Alternative cars
Toyota Yaris Byword for reliability and available with auto box
Vauxhall Corsa Latest Corsa is stylish, well made and keenly priced
Renault Clio Enjoyable, involving drive and some sporty variants
Daihatsu Sirion Accomplished hatchback is seriously underrated and worth considering