July 2010
Renault Wind Dynamique S 1.2 TCe 100
Bold looks help promote a sporty character
July 2010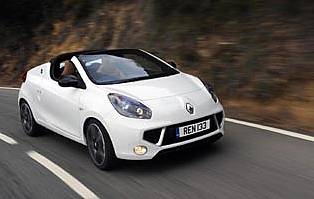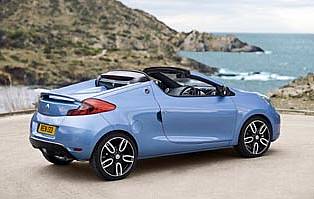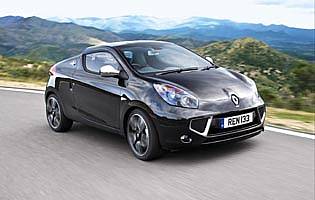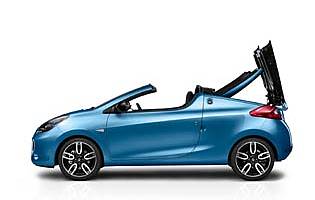 Overall rating

Likes:
Perky looks add some much needed excitement to the affordable roadster market
Renaultsport-tuned ride strikes good balance between sporty and comfort
Low power petrol variant is surprisingly willing and competent
Retractable roof panel is easy to operate and doesn't impact on boot space
Gripes:
1.6-litre petrol unit needs to be revved hard to unlock its potential
Despite bold colour options, prospective male buyers might perceive the Wind to be too feminine
Roof can only be operated with car stationary and with handbrake applied
Cabin build quality much improved but there's still plenty of hard-touch plastics on show
While some sectors of the market are saturated with models, the same can't be said for the affordable roadster market. Granted, it has been a largely fashion-led sector, but save for Mazda's long-running MX-5 there's rarely little else to choose from. Renault hopes its Wind will help redress the balance.
Yes the name is unusual, but Renault was seeking an international name for all markets and, with refreshing honesty, claims that the Wind moniker reflects the car's carefree nature. Let's hope the general public is equally open-minded.
In the Wind's defense, it has been cleverly positioned in a market with few rivals. Ford, Vauxhall and others have come and gone, but only Mazda and its stalwart MX-5 remains in the affordable roadster sector. The Wind adds some much needed competition and variety.
Its striking looks will get it some of the way, and the bright colour options do much to show off the Wind's clever exterior details. Inside it's more restrained with much of the cabin influenced by the Twingo, the Wind's donor vehicle. The all-important roof is s simple affair that works well and tacks up very little space, although you must be stationary to operate it.
What will get the ken drivers interested is the Wind's parentage. Developed by Renaultsport and not any mainstream Renault division, the Wind boasts a willingness to entertain that was lacking in many of the sector's long-departed models. Engine options might be modest, but the Wind more than compensates with a willingness to entertain - much like its Twingo cousin.
Our verdict on the Renault Wind Dynamique S 1.2 TCe 100
A welcome breath of fresh air in what has become a lacklustre sector where choice is concerned, Renault's Wind roadster offers the best of both worlds. On one hand it's a stylish and fashionable drop-top, and on the other it's a feisty and engaging car for enthusiasts. It's sensible pricing structure and everyday practicality round off an impressive package.
Costs
Striking a good balance between driver enjoyment and affordability, the Wind's engines offer a good blend of economy and performance. The car's solid roof panel should please insurers, and the relatively low insurance groups are unlikely to deter novice drivers either.
Space and practicality
Unlike most other roadster convertibles, lowering the Wind's roof doesn't impact on boot space. Surprisingly close to that of a regular Clio, carrying capacity amounts to a few large soft bags. Modest oddment storage space completes the picture, while some might find the fact that you must be stationary and have applied the handbrake an overcautious policy when operating the car's roof.
Controls and display
Renault fans will feel at home in the Wind's cabin, as much of the switchgear and displays are from the Twingo and other models. As such it all works well, with the remote audio controls near the steering column especially welcome.
Comfort
With its supportive seats and snug cabin, the Wind is a car you can use every day without hesitation. Roof up refinement is good, while you'll struggle to hold a conversation when the roof is down at very high speeds. Overall, though, the driving and living with experience is a pleasant one.
Car security
The Wind might be an open top car but its solid folding roof panel should prove more resilient than a traditional fabric cover. As expected, the boot area is shielded from prying eyes, while there is enough covered storage areas in the cabin for added peace of mind.
Car safety
With Renault ken to defend it's solid reputation for safety provision, the Wind comes equipped with plenty of airbags and a traction and stability package that should inspire confidence but also, in the high power car especially, allow keen drivers to safely enjoy themselves at the same time.
Driver appeal
With its maker keen to promote the efforts of its performance division, Renaultsport, in the development phase, the Wind is a surprisingly enjoyable car to drive. Affordable roadsters are usually either display a sports or comfort bias - but the Wind manages to cleverly balance the two attributes nicely. The 133 horsepower model requires plenty of commitment - high revs, lots of gearchanges - but the reward is something close to that of the Renaultsport-tuned Twingo. The 1.2 turbo model delivers a more balanced performance and is better suited as an everyday car.
Family car appeal
With only two seats and a modest boot, the Wind falls at the first hurdle in the family motoring stakes. Still, this car wasn't designed to be a family holdall. It will, however, cope with more than just a token amount of shopping, although a folded pushchair might be a step too far.
First car appeal
There's every chance a novice driver will warm to the Wind - and rightly so. Affordable, compact and easy to drive, there's a lot to look forward to. Rear visibility isn't great with the roof up, but that's the only downside to this otherwise appealing proposition.
Quality and image
Coming back from an era of less than impressive build quality and durability issues, Renault's recent efforts have been impressive and reassuring. The choice and quality of the materials used in the Wind's cabin is now reassuringly good. The car itself marks a return to more exciting and enjoyable models - something Renault was famed for in its distant pass.
Accessibility
Strictly a two-seater, the Wind should pose few problems for the average owner. The car doors open nice and wide, although you'll need to be careful when in tight parking spaces. At the rear the Wind's boot opens and closes easily but the load lip might prove troublesome when handling heavy items.
Stereo and ICE (In car entertainment)
A well specified audio unit is standard fit in the Wind and, in keeping with Renault tradition, boasts easy to use features and supplementary controls close to the steering wheel. There's the option of auxiliary input for MP3 music players and mobile phone connectivity.
Colours and trim
With a car looking like this only a bold exterior colour will do. Fortunately Renault obliges, with the result something that stands out for all the right reasons. The Wind's interior is a little more restrained as it shares much with its Twingo cousin, but there's nothing wrong with the funky hatchback's cabin.
Parking
Being a small car by modern standards, manoeuvering and parking the Wind is a straightforward experience. There's plenty of assistance from the power steering and all other controls are light and accurate in their operation. Only the lack of rear three-quarter vision with the roof up - a common issue with convertibles - is cause for concern.
Spare wheel
Space saver fitted as standard.
Range information
Petrol engine options - 1.2-litre TCe 100 (100bhp); 1.6-litre VVT 133 (133bhp). Transmission options: five-speed manual gearbox.. Trim levels: Dynamique, Dynamique S.
Alternative cars
Mazda MX-5 Benchmark affordable roadster remains popular - also good to drive
Audi A3 Cabriolet Considerably more upmarket alternative but with a fabric folding roof
Peugeot 207 CC Metal folding roof one of 207's selling points. More for cruising in than driving hard
Smart Fortwo Strictly a two-seater with modest luggage space but quirky enough to appeal to fashionable types