October 2004
Renault Modus 1.2 Authentique
Modus has an endearing 'face'
October 2004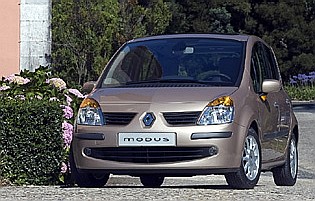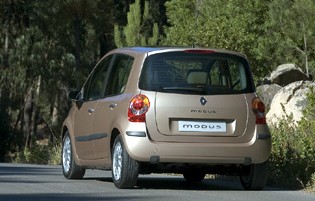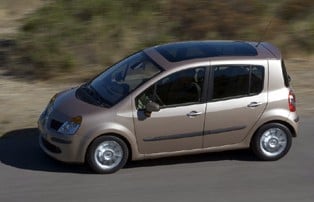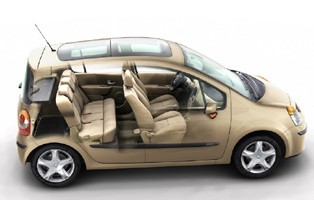 Overall rating

Likes:
Ideal for city conditions
Cabin feels roomy and comfy
Excellent fuel economy
High levels of standard equipment
Gripes:
Lack of driving 'feel'
Automatic gearbox not very smooth
Too 'cutesy' for some
Expensive optional extras
It's a safe bet that over the next few years, the Renault Modus will become one of the most popular cars on our roads. Its shopping-friendly disposition, smallish size, biggish interior and sheer modernity make it seem tailor-made to suit modern motoring tastes.
Renault has been very clever by introducing the Modus into its line-up. Initially there was much head-scratching among commentators when the company announced it would be adding a car between its Clio and Megane Scenic ranges. Then it all became clear - with the 2005 Clio set to get a more aggressive nature, the Modus takes over one of the old model's key tasks - to appeal to women.
Plenty of men will be hooked too, but you only need to see the Modus' soft-edged, doe-eyed, 'jelly mould' styling to realise that it is particularly female (and family) friendly. The overall layout of the car's 'face' has a passing resemblance to the Megane and Espace but with none of the hard, architectural edges. There's even the suggestion of a smile in the radiator grille.
Engines are of the compact, practical variety, with Renault's latest generation diesel powerplants featuring on most buyers' shopping lists, but for once, the petrol units are well worth consideration, particularly the small but engaging 1.2.
High sides and a short wheelbase mean the Modus isn't a hugely engaging car to drive, but to expect as much would probably be unreasonable. It will buzz along to the nearest shopping mall or garden centre in jolly enough fashion and has rear seats clever enough to accommodate a surprising number of bargain shoeboxes or yucca plants.
Those high sides and a waistline so low only Christine Aguilera could rival it, help create a light cabin that feels larger than it actually looks from the outside. The proportions are roughly those of the Megane Scenic, just scaled down a bit. Aside from a few wobbly bits of plastic, it feels well made, and the extensive fabric-covered areas work surprisingly well without looking cheap.
Our verdict on the Renault Modus 1.2 Authentique
The Renault Modus is a sort of car equivalent of 'chick lit', those quickly read novels about young, urban women attempting to resolve their love lives and careers. They may not be classics but they are refreshingly honest, cheap, enjoyable and very modern. The Modus is all of these things - and it's better constructed.
Costs
More expensive than other female-oriented cars such as the Kia Picanto, the Modus faces competition of another sort from the girl-friendly Ford Streetka. It has much more practicality but a little less personality than either of these models, even if it is much more endearing than most mini-MPVs. Low fuel and insurance costs could swing the verdict in the Modus' favour. Demand is likely to remain high for years, so selling on after a few years will be no problem.
Space and practicality
Clever packaging and seat layout releases lots of interior room in all dimensions, allowing the Modus to swallow larger loads than might be imagined. It's rather better as a shopping trolley than it is as a people carrier, as despite the available space, the smallish engines can start to struggle with more than a couple of slimline passengers aboard.
Controls and display
After years producing fairly unremarkable instrumentation Renault has made eye-catching designs one of its most notable features recently. Reinforcing the Scenic feel, the main displays are centrally located, which can take some getting used to. Switchgear works efficiently though some stalks and handles have a bit of a lightweight feel to their construction.
Comfort
Anyone who finds legroom a problem in the front of small cars might fare rather better in a Modus. There's little clutter below the dashboard and roomy footwells. In the back it's a different matter - particularly with the rear seats slid forward - though it is acceptable for children or small adults. Headroom is excellent and there's little vibration through the cabin despite the occasional intrusion of noise when the smaller engines are being worked hard.
Car security
Keeping thieves at bay is a very impressive security set-up. As well as remote central locking, all buyers get automatic locking (the vehicle locks itself if it is accidentally unlocked), a Thatcham category two engine immobiliser, anti-drill doors and a locking fuel cap. Such measures also help to keep insurance groupings low. However, only the Privilege model benefits from a category one alarm.
Car safety
Small cars always need to work especially hard to prove they are safe. The Modus makes a convincing case by including an admirable safety specification including all-important ABS brakes with electronic brake distribution, height adjustable front belts, Isofix fittings front and back, blind spot mirrors and a comprehensive airbag package.
Driver appeal
It may set the heart modestly aflutter, but the Modus will never get your pulse racing. All engines are clearly intended to provide economy and maintenance-free reliability, not hot hatch performance. That's probably wise. While perfectly tolerable, the Modus' small wheels, tall sides and comfy ride prevent the driver noticing much of a difference between a bypass and a car park.
Family car appeal
Younger children take readily to the Modus's friendly looks and will enjoy ordering parents to configure the rear seats to suit their tastes. Once adolescence arrives, expect a cooler reception. As a second car for shopping trips and light duties, the Modus makes an awful lot of sense.
First car appeal
Though not quite in the bargain buy category, a Modus will be near the top of many people's (mainly girls') shopping lists. It is modern, fun and carries a reputable designer label - all essentials when it comes to fashionable purchases. Renault dealers don't have a reputation as hugely willing discounters, but with lots of complex electronics aboard, a dealer purchase would provide added peace of mind.
Quality and image
Renault seems able to be all things to all men - and women - at the moment. It can be classy (Espace), sporty (Renaultsport Clios), daring (Megane) and practical (Scenic), so there's no reason why it can't also be the maker of quality cars for sassy girls. The Modus will effectively sell itself - once one trend setting girl about town is spotted driving one around town, chances are everyone will want one.
Accessibility
The Modus must rank as just about the most accessible small car on the market. Its five good sized doors take up a remarkably large part of the car's side profile. It's quite an achievement to construct such a rigid-feeling vehicle when so much of its surface area is taken up with doors. Older drivers who need ease of access will find it just as appealing as the young. The estate-style boot is simple to operate, though the optional 'boot chute' doesn't seem like a particularly compelling extra.
Stereo and ICE (In car entertainment)
Authentique models lack a CD player, instead being saddled with a two-speaker radio cassette - a surprising and unwelcome omission for a 'modern' vehicle. Expression and Dynamique models do get a CD, but still with just a pair of speakers. Privilege models get four speakers. In-dash or underseat multichangers can be specified as options.
Colours and trim
A glance at the specification list shows that the Modus is well-equipped, though the costlier models boast significantly more than the entry-level ones. Standard features on all models include ABS with EBA and EBD, electric front windows, remote central locking, see-me-home headlight, and four airbags. Some of the items Renault has made most noise about, such as the 'boot chute' for loading up in tight spaces and a cleverly-styled bike rack, are costly optional extras.
Parking
If you can't park a Modus quickly and accurately, you should probably consider whether you're really cut out for driving. Great visibility, no awkward protrusions and light, accurate steering make sneaking into the tightest spots simplicity itself.
Spare wheel
The car is equipped with 15 or 16-inch standard wheels in steel or alloy, but all the spares are of steel.
Range information
Engine choice comprises 1.2 16v (75bhp) and 1.4 16v (98bhp) petrol engines, matched by a 1.5 dCi diesel of either 65bhp or 80bhp. The more powerful petrol unit is offered with an optional automatic gearbox. Trim levels are badged Authentique, Expression, Dynamique and Privilege.
Alternative cars
Vauxhall Meriva Honest Corsa-based family tool and not a bad drive
Kia Picanto Cheap, cheerful car with plenty of chick chic
Mitsubishi Colt Female-oriented design but inferior interior
Honda Jazz Quirky quality limited by restricted engine selection