May 2005
Renault Laguna Privilege 1.9 dCi 130
Restyled Laguna drives better than before and boasts a number of detailed changes
May 2005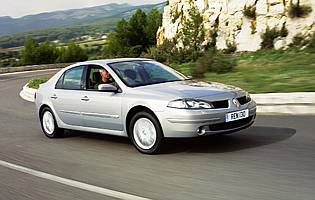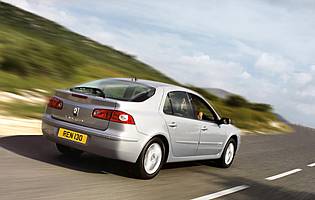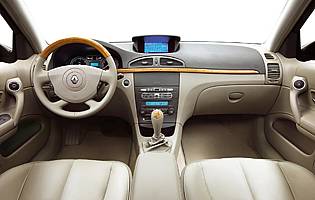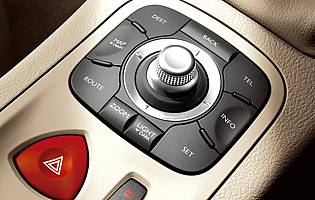 Overall rating

Likes:
Generous levels of standard equipment across the board
Renault's safety reputation is second to none
Revised diesel engine line-up is impressive
Updates have greatly improved the car's handling and ride
Gripes:
Some may find the car's revised nose less stylish than before
Based on past form, question marks remain over reliability of electronic equipment
Manual gearshift is a little on the long and ponderous side
Legroom for rear seat passengers is only average
Always the stylish one in the mid-size volume sector, Renault's Laguna now boasts better handling and ride, a cabin overhaul and some of the most generous levels of standard equipment in its class. For people who don't like the firm ride of Ford's Mondeo, the plain looks of Vauxhall's Vectra or the Peugeot 407's big mouth, Renault's Laguna offers a typically French alternative.
Renault has sometimes been accused of taking the higher, pompous road of late, what with its heavily stylistic advertising and equally high-brow cars. Avantime and Vel Satis, anyone? To give the French firm some credit, without its typically Gallic injection of style the world would be a poorer place.
The company does have its feet on the ground where it counts, though. Not without some serious investment, the firm has become something of a mainstream champion of all things safety related. But, unlike some other manufacturers, it doesn't let such a serious subject prevent you from enjoying the product.
A case in point is the Laguna; it looks good, comes with a skipload of standard equipment and the interior isn't all bleak, dark expenses of plastic. It also set the benchmark in terms of crash test safety and can be had with some very good diesel engines.
This latest revision takes the car in a new direction. If there was one common criticism it was that the car never felt comfortable being driven enthusiastically - an area dominated by the likes of Ford's Mondeo and Peugeot's 407. Changes to the Laguna's suspension have improved things dramatically and it's now a much more enjoyable package. It's still no Mondeo, but neither will your fillings fall out when driving around town.
Our verdict on the Renault Laguna Privilege 1.9 dCi 130
Once a car that put style before function, Renault's Laguna is finally the car it should have been from launch. While it's always been good to look at and a sound value for money proposition, it's never been the sharpest car on the road. That problem has been fixed and, along with the firm's Euro4 compliant dCi 130 diesel, it's a brisk, responsive and enjoyable steer. With more standard and optional kit to choose from plus an impressive array of safety features, the Laguna is an all-rounder with a sensible price tag.
Costs
Buying a Laguna isn't going to break the bank, and you can help your cause further by opting for a diesel motor - especially the 1.9 dCi 130. With insurance and running costs also unlikely to put a strain on your wallet - or that of your company's - the only other 'cost' will be the car's residuals. No car in this high-volume sector performs particularly well thanks to the sheer numbers in circulation, but remember not to go mad with the options list as you won't get any of that so-called investment back when you sell the car on.
Space and practicality
It might not be as accommodating as the likes of VW's Passat, but the Laguna does a fine job of swallowing four adults. Granted, those in the back of above average height might want more legroom and a few more comfort stops on long journeys, but the cabin is more spacious than, say, Volvo's compact S40. In practical terms a hatch always betters a saloon and the Laguna is no different. Folding rear seats prove useful, as does the tailgate's sizeable loading aperture. Oddment storage space is average for the class.
Controls and display
There are no complaints in this department. In fact, Renault always does well when talk turns to ergonomics and the clarity of instruments. The car's various controls are easy to understand and convenience features such as remote audio buttons and electric handbrake - tucked away to the left of the steering wheel - all make life easier. Another item worthy if praise is the multi controller located behind the gearlever. Tasked with navigating through various functions, including the fast responding optional sat-nav, it's not long before you rarely have to look down to see what you're doing.
Comfort
Renault's Laguna has always been biased towards comfort and, despite the work done to sharpen the car's chassis, this remains the case. The car's seats, be they cloth or leather, are wide and supportive without being too soft, and noise levels are low for a car in the this class. Bump absorption around town is very good, but back seat passengers lose out a little as legroom is only modest. In general, the car makes a great motorway cruiser; it's relaxed and quiet at speed.
Car security
Standard issue with the Laguna is the firm's slightly bulky 'Renault Card', which operates the remote central locking function. It also acts as an ignition key, although you have to insert it into a slot in the fascia. Further up the model tree this feature includes keyless entry and ignition - just walk up to the car, pull the handle, get in, depress the clutch and push the ignition button and off you go. It sounds contrived but you soon find you can't live without it. Deadlocks, an immobiliser and steering column lock complete the security inventory.
Car safety
Renault has built up a sizeable reputation on the back of its decision to focus heavily on safety-related matters, and the Laguna carries on this noble trend. Across the range features include ABS, EBD and Isofix rear seat mounting points and brake assist. The airbag tally runs to twin front, side and front/rear curtain airbags. Model dependent features include cruise control, rain sensing wipers, light sensing headlamps plus high-power Xenon items and tyre pressure monitors.
Driver appeal
The revisions to the Laguna are more than just cosmetic, as Renault engineers have made the car more enjoyable to drive. It's still no Mondeo, but the improvements are welcome. The car now changes direction with more confidence and conviction, and the ride is less 'floaty' and the car feels more planted and stable - especially when cornering. The car's steering still feels a little artificial, but the improved 130bhp diesel - now Euro4 compliant - should be your first choice if you want to combine economy and accessible power in one package.
Family car appeal
While not the most appropriate tool for the job - you'd be better off buying an Espace or Scenic - the Laguna will do a reasonable job of transporting children and belongings. Although the car's boot is a generous size, growing teenagers will soon outgrow the car's modest amount of rear legroom. And, unlike in a people carrier, the Laguna boasts only a modest number of convenient storage areas and cubbys.
First car appeal
If you're a Renault fan you're more likely to go for a Clio or even a Modus if you've just passed your driving test. The Laguna is vice and quirk-free, but probably a little on the large side. If, however, you are given the Laguna as your first company car, it won't cause any problems. It's easy to park and all the controls are intuitive and within easy reach of the driver.
Quality and image
The Laguna has always been pitched as a mainstream model, and has never been able to compete with premium cars from the likes of Audi and BMW. That said, it does possess a level of style and sophistication that's lacking in cars from Ford and Vauxhall. Quality-wise the car - and Renault - has suffered slightly in recent years as electrical gremlins have caused the firm more than a few headaches. Renault likes to push technological boundaries and progress hasn't always been smooth.
Accessibility
As with any five-door hatch, front seat occupants get a much better deal than those in the back. That said, once you're seated in the back the accommodation is reasonable. You won't want to be sat behind a tall driver, though. The hatchback shape has its benefits, as access to the boot is straightforward.
Stereo and ICE (In car entertainment)
The standard fit six-speaker radio/CD unit is an impressive performer. Renault has always equipped its cars with high quality audio and the Laguna is no different. This unit sees service in the bulk of the range and comes with remote controls within fingertip reach of the steering wheel. A CD changer can be added to the set-up. A basic sat-nav system is offered on high-end models, while a full colour model boasting more features is a cost option. It works well, is fast and combines a Bluetooth feature for mobile phones. Operation is via a surprisingly intuitive rotary dial and a cluster of buttons behind the gearlever.
Colours and trim
Bold, bright colours don't suit the Laguna's curves as well the firm's palette of light, soft shades. Inside, the same is true. You can opt for dark fabrics and trim, but the lighter shades - including the leather on upmarket variants - suit the car's luxury-biased personality better.
Parking
From the driver's seat visibility is good, and the car's side mirrors are big enough to make judging distances a straightforward exercise. The car's steering, while weighty at speed, could be a touch lighter at parking speeds. High-end variants get parking sensors at standard, but visibility rearwards could be better, making them a recommended option.
Spare wheel
Standard wheel fitted on all models.
Range information
Four petrol engines: 2.0 (135bhp); 2.0 Turbo (170bhp); 2.0 Turbo (205bhp); 3.0 V6 (210bhp). Five diesel engines: 1.9 dCi (95bhp); 1.9 dCi (120bhp); 1.9 dCi FAP (130bhp); 2.0 dCi (150bhp); 2.2 dCi (150bhp). Gearboxes vary depending on model, but run to five and six-speed manual and four and five-speed automatic. Trim levels are grouped for luxury - Expression, Privilege, Initiale - and sport - Extreme, Dynamique, GT.
Alternative cars
Ford Mondeo Default choice for many and great to drive, but hardly the glamorous option
Citroen C5 Superb value for money but not an enthusiastic driver's car
Vauxhall Vectra Improved Vectra lacks charisma but is a great no-nonsense workhorse
Peugeot 407 Challenging styling and boasts only modest rear legroom, but great fun to drive