September 2007
Renault Laguna 1.5 dCi Dynamique
Sleek, sophisticated Laguna aims to attract new, sophisticated buyers
September 2007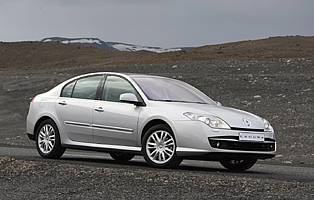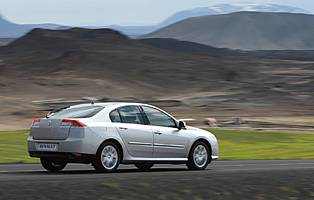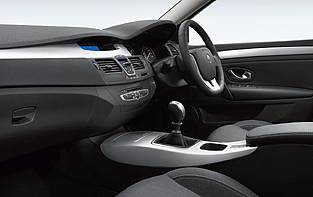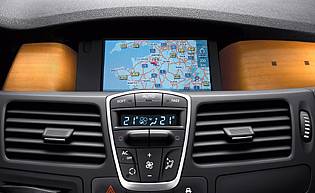 Overall rating

Likes:
Understated exterior grows on you
Cabin quality is impressive
Ride, refinement and comfort levels are a class above
Solid engine range, with the 110bhp diesel a real surprise performer
Gripes:
Use of silver trim on centre console is a little much, and it won't wear well
Manual gearshift quality is a little weak - shift throw is too long and imprecise
Modest size increase has meant only modest increases in rear leg and headroom
1.5-litre diesel is impressive but can sound quite gruff when pushed hard
Recent years have seen Renault take a two-pronged attack when selling its cars. Style and safety have been given equal billing, with the result that the French firm has some of the most attractive, and the safest, cars on the sale. This Laguna hatch is no different; it boasts a dramatic exterior, high-class interior and a safety package that's second to none in its market sector.
For a long time Renault's Laguna often found itself described as an also-ran. It wasn't particularly bad at anything, just not stand-out great at anything either. Faced with the rising popularity of more sporting rivals and the general desire from buyers to choose more luxurious cars, Renault's response was to up the Laguna's game dramatically.
What we've got is a car that boasts a more refined cabin ambience, aided by better materials and greater refinement, plus a driving experience that is sharper and subsequently more rewarding. It still won't trouble a BMW 3 Series, but the Laguna now offers the enthusiastic driver something more than previously.
Factor in a thoughtful range of engines, and you've got a pretty rounded package. Of course, diesel motors figure highly in the Laguna's line-up, with the usual 2.0-litre units expected to attract the lion's share of interest. There is also a modest 1.5-litre diesel, which works surprisingly well and rarely feels underpowered. For the company driver wishing to save the most money, this option doesn't have to be viewed as a major sacrifice.
Performance aside, what makes this Laguna appealing is its bold exterior and pleasantly upmarket interior. The former will no doubt divide opinion, but there's no getting away from the fact that it is daring and different. The latter is a logical evolution of the previous generation's cabin, with the noticeable improvements in quality a welcome development.
Our verdict on the Renault Laguna 1.5 dCi Dynamique
This Laguna has been a bold move for Renault. Previous attempts at going upmarket (Vel Satis, Avantime) failed to win large scale appeal. This time it's slightly different, as essentially the car remains largely conventional and the improvements are in line with competition. On the whole Renault has been successful; refinement and quality levels are both very high. The Laguna remains a slightly aloof car to drive, although this fits well with the car's sophisticated-looking exterior.
Costs
With a lot of attention focused on running costs by the fleet operators, all cars in the Laguna's market sector offer a similar experience. Opt for a diesel variant, as many corporate types will, and you'll soon see further savings. With reliability issues said to be a thing of the past, it's hoped that maintenance will only be of the regular variety.
Space and practicality
By design the Laguna is a pretty practical car; oddment areas are sensibly located and the car's boot is a generous size. Being a hatchback, folding the rear seats forward further increases the car's carrying potential. The cabin is, however, still a modest size - Renault took a conservative approach to increasing passenger space. It's still acceptable, but cannot match the strides taken by Ford's Mondeo, for example.
Controls and display
Renault has become an expert at offering cars with sensibly laid out controls and this Laguna is no different. Everything is where it should be, and the layout and use is pleasingly intuitive. Clever touches such as the remote audio controls, the eye line-level sat-nav display and convenient electric handbrake all help to make the experience more enjoyable.
Comfort
Just like with the previous generation car, this Laguna is heavily biased towards delivering a comfortable and refined ride. Road and wind noise is heavily suppressed, while all the controls operated smoothly and require little effort on the part of the driver. The car's seats are, like all Renaults, plush and supportive. Cabin room is okay, but unlike some rivals, the space available has only been increased slightly.
Car security
The now famous Renault Card is a feature of the Laguna, and the option to keep it on your person at all times as certainly a convenient one. Fumbling for keys in a dimly lit car park is never ideal, making Renault's system all the more attractive: you simply walk up to the car, pull the door handle, get in and push the starter button.
Car safety
Renault is famed for its excellent safety record with its cars and this Laguna continues that trend. Active and safety systems abound, and there are plenty of airbags both in the front and rear of the cabin.
Driver appeal
Renault has never pitched the Laguna as a sporting car. In fact, the previous variant was very much a refined cruiser. All of which was fine for long motorway journeys and when dealing with poorly surfaced roads. In an effort to attract those buyers already familiar with the driver-centric behaviour of certain rivals, Renault's engineers have injected a little more enthusiasm into this car. It's still heavily biased towards refinement and comfort, but now this Laguna is a more willing companion. Factor in a superb diesel engine line-up, especially the 1.5 dCi unit, and the Laguna's polished all-rounder status remains intact.
Family car appeal
Given the car's market position - it sits alongside other fleet and affordable executive models - the Laguna can't compete with the compact people carriers when it comes to flexibility and versatility. However, storage areas are plentiful for a car of this type, and its boot is wide and flat. Anyone with a family might want to steer clear of the leather upholstery for obvious reasons.
First car appeal
There's nothing remotely wrong with the Laguna as a first car; outward visibility is good, the various controls require little effort to operate and there's no obvious performance variant to cause problems. Running costs might be a little high though, which is why something like a Clio or Twingo might be more appropriate.
Quality and image
In design terms Renault has always had a positive image. This has not always been the case regarding quality issues. Renault's claims that this Laguna is streets ahead of its predecessor, due to a greater focus on reliability testing, will no doubt be proven over its lifecycle. Immediately noticeable is the much improved cabin ambience, which benefits from a higher class of materials.
Accessibility
Front seat occupants will not have a problem with the Laguna. The seating positions are raised slightly to aid access and egress, and the doors open nice and wide. At the rear, the relevant space and door angles are a little reduced, but overall the situation is more than acceptable. At the rear, the car's boot requires little effort to operate, and opens to reveal a flat loadspace.
Stereo and ICE (In car entertainment)
Located centrally in the facia, the Laguna's audio unit delivers a high quality sound. Steering column-mounted controls are a welcome addition, and there's also a main controller down by the gearlever. Upgrades include an impressive sat-nav system and handsfree phone function.
Colours and trim
The Laguna's crease-free flanks and bold exterior design lend itself to the usual palette of sombre, business-class colours. Inside, the car's cabin feels light and airy, which is a result of the thoughtful use of light coloured upholstery and trim panels.
Parking
With plenty of steering assistance on offer plus good all-round visibility, parking the Laguna is straightforward. The added bonus of an electric handbrake not only reduces clutter in the cabin, but also means that you can pull away knowing it will deactivate automatically.
Spare wheel
Tyre inflation kit included.
Range information
Petrol engine options - 2.0-litre (140bhp); 2.0-litre (170bhp). Diesel engine options - 1.5-litre (110bhp); 2.0-litre (130bhp); 2.0-litre (150bhp). Transmission options: six-speed manual gearbox for all variants, six-speed auto gearbox for 2.0-litre 150bhp diesel. Trim levels: Expression, Dynamique, Dynamique S, Initial.
Alternative cars
Ford Mondeo Great all-rounder boasting spacious cabin and high quality interior
Toyota Avensis Not the most exciting of cars, but does everything well in a supremely refined manner
Honda Accord Exceptional build quality and entertaining driving dynamics
Vauxhall Vectra Solid, dependable Vectra is the stereotypical fleet workhorse but stylish with it