January 2008
Renault Grand Modus Dynamique dCi 106
Sharpened up Modus range boasts a higher quality character
January 2008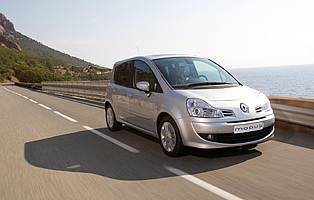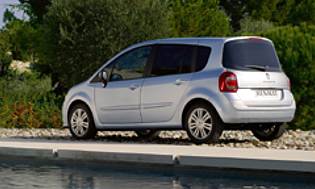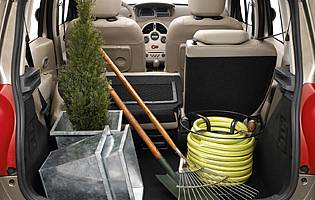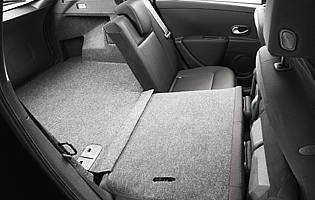 Overall rating

Likes:
Welcome extra room in the back and load space
Good driving position boasting plenty of all round visibility
Diesel engine refinement is very good
Lots of people carrier-style cabin storage areas
Gripes:
Build quality is very good for Renault but most rivals are better
Not everyone will like the car's digital instruments
Modus sits uncomfortably between Clio and Megane - two already popular cars
Question marks remain over long-term durability
From a distance it might not look that different from the current Modus, but close up Renault's Grand Modus is an important development. Although the regular Modus was and remains a competent car, to help it stand out from conventional superminis it needed to offer more cabin space. The Grand Modus does this, and the range also benefits from a mild quality uplift.
If you want a good example of a car maker taking a slightly sideways look at the compact car sector, Renault is a prime candidate. Not content with just the Clio and Twingo, the French firm's Modus is a different take on the expanding supermini sector. More upright in its stance and boasting features more likely to be found in a people carrier, the not so little car is surprisingly good - on paper at least.
And therein lies the problem. Less than stellar sales figures have highlighted that most people are happy with their conventional superminis. In fact, with such cars steadily growing in size, the original Modus' USP quickly disappeared. Enter the Grand Modus, which in true Renault upgrade tradition boasts a bit more length and a more polished interior.
Like the Grand Espace and Grand Scenic before it, the Modus in its Grand state offers something extra for only a modest increase in the asking price. In this case its length: more room for rear passengers and extra space in the boot. It's not a huge amount but it's enough to transform the Modus into something truly different to the massed ranks of conventional superminis.
As before, the car's many clever cabin storage options are a welcome addition and do much to set the car apart from more mundane offerings elsewhere. Then there's Renault's engine line-up, which features a good spread of petrol and diesel engines plus a predictable focus on low CO2 emissions.
Our verdict on the Renault Grand Modus Dynamique dCi 106
Although the regular Modus remains part of the family and has been subjected to the same quality upgrades as its Grand cousin, the slightly longer and more practical Grand Modus is the one to go for. With more space engineered in the rear, it can even double as a compact family hatch. No longer the odd one out in Renault's range, the Modus in Grand specification has finally come of age.
Costs
With a competitive pricing structure and generous levels of standard equipment, the Modus range represents good value for money in the crowded small car sector. Opting for a diesel engine would be a smart decision if you routinely travel many miles. Overall though, you can expect to pay very little in running costs regardless of whichever model you choose.
Space and practicality
The Grand Modus' extra length will be most appreciated by rear seat passengers. It's not a huge gain, but now enough to make long journeys comfortable. Elsewhere, like the regular Modus, the Grand variant boasts numerous storage areas, spacious door bins and a useful glovebox. At the rear, the extended boot is a good size and easily capable of swallowing shopping or a pushchair.
Controls and display
For a long time now Renault has been acknowledged as one of the best in the business regarding the layout and intuitive nature of its various controls and displays. The Modus range is no different, and boasts such clever details as a centrally mounted digital display and steering column-mounted audio controls. The car's steering is a little on the light side, which won't please keen drivers, but the manual gearshift is slick and direct.
Comfort
Supportive seats, good all-round visibility and a comfortable driving position make the Grand Modus a particularly good car if comfort is a priority. Leg, head and elbowroom is generous for a small car, while rear seat occupants of the Grand Modus are treated to an above average level of space - making it a pleasant experience on long journeys.
Car security
There are no surprises in the security department, with the Modus gaining the usual remote central locking and immobiliser combination. Given the car's value this is all you can expect, although you can improve matters by using something like a steering lock. An inexpensive yet visible deterrent, it should help to deter the casual thief.
Car safety
As one of the leading exponents of safety systems in cars Renault has ensured that, like the rest of its range, the Modus line-up if stuffed full of airbags. This fact, along with the numerous electronic safety aids, should convince even hardened sceptics that you can feel safe in a small car.
Driver appeal
The Modus range hasn't been designed with the objective of pleasing the keen driver, but it is nevertheless a pleasant car to drive. The steering is light and accurate and the ride supple and comfortable without being too soft. Engine choice is the only limiting factor, and it would pay to choose the most powerful you can afford - especially if you plan to regularly travel fully loaded. The diesel motors are surprisingly refined, willing and good all-rounders while the petrol variants are good for urban motoring.
Family car appeal
While not claiming to be a fully-fledged people carrier, the Grand Modus would suit a growing family. Rear seat space is more than enough for children, while the car's boot is a good size and easily capable of holding all the usual family paraphernalia. The numerous storage spaces dotted around the cabin will no doubt come in useful on a daily basis, and the car's interior appears durable enough to withstand the abuse often metered out by unsympathetic children.
First car appeal
There's a lot to be said for compact cars such as the Modus. Economical, packed with safety equipment, practical and spacious, something like the Grand Modus would be a better bet than a conventional supermini for someone with a growing family or an active lifestyle. Its modest footprint also makes it easy to drive and park in the city.
Quality and image
In the main Renault's image has been up and down for many years. Some of its products have been at the cutting edge of design and function, but have sometimes been let down by substandard reliability and durability. The French firm's latest Clio and Laguna both signalled a shift in the right direction, and this can also be seen in the improved Modus range. Luckily for Renault, its keen pricing policy and smart design have helped it remain popular with buyers.
Accessibility
Thanks to the car's raised seating position and wide opening front doors, front seat occupants should have no trouble entering and exiting the cabin. Rear seat occupants don't get quite the same amount of space but it's still better than many rival small cars. At the rear, the car's tailgate opens and closes with little effort and the load lip is at a sensible height.
Stereo and ICE (In car entertainment)
Standard equipment includes a perfectly adequate radio and CD player. More importantly, the unit's main controls are duplicated on the steering column and provide a simple, safe and intuitive method of changing volume, channels and tracks. The display forms part of the main instrument unit positioned high up on the fascia - itself easy to read.
Colours and trim
The Grand Modus'upright, youthful exterior works best when decorated in a light colour - darker hues tend to mask the car's few styling details and portray it as more mature than its designers probably intended. Inside, there's a pleasant and convincing mix of quality materials in the cabin.
Parking
With such modest dimensions the Grand Modus isn't difficult to park. The car's lofty driving position and good all-round visibility help enormously, as does the light steering. Rear three-quarter vision could be better as the car's window pillars and small rear screen block your view slightly, but it doesn't take long to adjust.
Spare wheel
Tyre repair kit supplied.
Range information
Petrol engine options - 1.2-litre 16v (75bhp); 1.2-litre TCE (100bhp); 1.6 VVT (111bhp). Diesel engine options - 1.5-litre dCi (86bhp, 106bhp). Transmission options: five-speed manual gearbox, four-speed auto for 1.6 petrol, five-speed Quickshift semi-auto option for dCi 86, six-speed manual for dCi 106. Trim levels: Expression, Dynamique
Alternative cars
Vauxhall Meriva Another upright compact hatch, although not priced to compete directly with the Modus
Ford Fusion Different but competent take on the compact hatch, and popular with mature buyers
Citroen Xsara Picasso First generation Picasso is a solid performer: spacious, versatile and affordable
 Peugeot 1007