August 2004
Renault Grand Espace 3.0 dCi Initiale
Fourth generation Espace is best looking to date
August 2004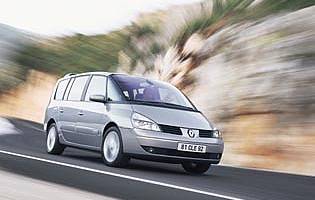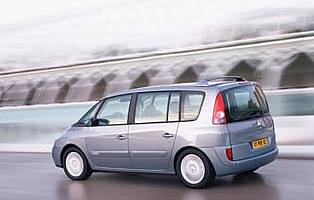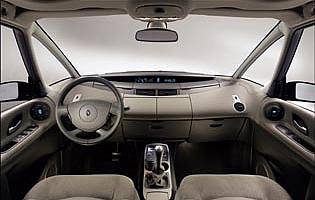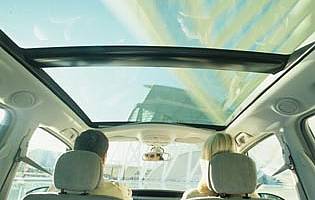 Overall rating

Likes:
Typically avant-garde Renault styling makes the Espace an attractive proposition
Cavernous cabin has more than enough room for the family and their belongings
Standard safety kit is impressive as is a five star EURO NCAP rating
Optional panoramic glass sunroof makes for a light and airy interior
Gripes:
Asking prices are high across the range, making it too expensive for many
Digital speedometer and instrumentation looks slightly kitsch
Parking sensors should be standard equipment on a vehicle of this size
Fuel consumption is poor around town and not a great deal better on the motorway
One of France's most famous exports, the Renault Espace, appears to be maturing with all the distinction and taste of a Bordeaux Claret. The avant-garde revolution that took place at Renault a few years back has benefited the Espace no end, with its stylish appearance and classy lines.
Although most of them do it all of the time, it isn't often that a manufacturer can legitimately lay claim to having created an entirely new market segment. However, when Renault whipped the dustsheet off the Espace Mk I that's exactly what the French firm had done.
The rakish-looking MPV must have caused a real stir when it made its debut in 1984, introducing people for the first time to the possibility of a non-commercial seven-seater. Today, there are many vehicles on the market that ape the Espace's original idea, but is the French offering still the MPV master?
Current evolution Espaces are light years ahead of their forebears in terms of style and sophistication. 'Bus-like' and 'utilitarian' are now inappropriate adjectives where it is concerned. The designers have tried to make Renault's seven-seater as attractive as possible.
Given that it will be used predominantly by families with children, it is fitting that the Renault is particularly well equipped with safety kit, too. Five crash test stars and a bunch of airbags will be a big draw for anyone with precious bundles to transport.
Our verdict on the Renault Grand Espace 3.0 dCi Initiale
The original and still the best - Renault's Grand Espace is the ultimate in people carrying. It looks good, drives well and is more practical than a Swiss army knife.
Costs
With the base model Espace starting at around the GBP20,000 mark, buying into this piece of automotive history doesn't come cheap. In fact, a 2.7-litre Porsche Boxster costs less than the top of the range 3.0-litre dCi Grand Espace (but you do get five additional seats). Fuel economy, unsurprisingly for a car weighing nearly 2,000kg, isn't spectacular, so budget-minded buyers would be best to go for one of the marginally more economical diesel units. Insurance groupings for the larger-engined Grand Espace models are high, which in turn will force up the price of premiums. Depreciation should be slow however, benefiting owners when it comes to resale.
Space and practicality
Non-commercial vehicles don't come much more spacious or practical than the Espace. Seven adults will fit comfortably albeit without a great deal of room for their luggage. Fold down a couple of the seats and you are presented with a cavernous luggage cavity into which you can load suitcases and the like. The almost ridiculous amount of cabin stowage means that there is plenty of space in which to put your loose change and sweetie wrappers.
Controls and display
Some people find a digital speedometer terribly d'riguer. Conversely, others view them as kitsch: it all comes down to personal preference. All other controls in the Espace's cabin are very chic and ultra cool (the LCD air conditioning displays scattered all over the place, for example). The way the steering wheel appears to simply hover around the dashboard and the large soft gear knob add to this sense of style.
Comfort
Improved levels of wind and road noise deadening coupled with a specially designed exhaust system help to keep aural cabin intrusions to a minimum. Plenty of head, leg and elbowroom also add a little extra comfort to the Espace experience.
Car security
Buyers can expect to find Renault's Anti-Intrusion Device (RAID) and engine immobiliser as standard, with the alarm system remaining on the options list. Joy riders aren't likely to take a shine to the big French bus, but professional car thief's stealing to order just might so ticking the alarm box might prove to be a wise move.
Car safety
EURO NCAP doesn't give out five stars for nothing and a cursory glance at the Espace's safety equipment list shows why the MPV scored so well. ABS, EBD, dual front/side/head airbags, seat belt reminder, ESP, three-point seatbelts all round, ISOFIX anchors and traction control all come as standard. Renault's flagship model also features one of the toughest body structures on the market.
Driver appeal
The Espace project, which started all the way back in 1984, was borne out of the need for space and seats rather than speed or performance. The larger engined models aren't exactly slow (the 3.5-litre V6 manages the sprint to 60mph in 8.1 seconds), but they do tend to wallow a bit around the bends and catch crosswinds like an airfield windsock. Handling has improved immeasurably over the course of the last twenty years, but by the nature of its design the Espace is never going to rival a high performance estate.
Family car appeal
The Espace's raison d'etre. Some critics chirp on about there not being much luggage space when all seven seats are in use, but this is to miss the point: the Renault is a car that comfortably seats seven people. Many vehicles lay claim to having a similar capacity, yet more often that not seven means five adults and two children. Another reason to forgive the Espace is the fact that every spare inch of plastic has been gouged out to create numerous useful and conveniently located cubbyholes.
First car appeal
The Renault Espace is about as far down a teenager's wish list of first cars as it is possible to be. This is no criticism of the car itself, just that it is too big, expensive and costly to insure for the average seventeen year old. They may instead like to take a closer look at the Espace's similarly stylish baby brother, the Megane hatchback.
Quality and image
Renault doesn't have the best reputation for reliability when it comes to its products. Tales of dodgy electrics still haunt the French firm. However, things do seem to be getting better with the latest generation. Image is less of a problem, what with the funky styling and sophisticated lines of many of the manufacturer's products. The Espace and Vel Satis, for example, look far classier than any of their main rivals.
Accessibility
Wider door apertures and a greater distance between the second row of seats and doorframe all make for easy and graceful access to the Espace's interior. Older and less limber passengers may still struggle to get into the two rearmost seats, though. Capacious front passenger footwells afford occupants copious amounts of legroom and simple access.
Stereo and ICE (In car entertainment)
Anyone stumping up nearly GBP20,000 for a base model Authentique Espace will rightly feel a little aggrieved at the absence of a CD player. All other models gain a six-disc changer and a couple of extra speakers.
Colours and trim
Standard 'Ceylan' or 'Sam' interior fabric looks nice and hardwearing. Alcantara and leather options appear further up the range. The plastics used on the dashboard look nice and are in no way budget. Metallic paint is an option on all models and the nice shiny bits of chrome trim are only available on top spec Initale models. Non-metallic colours include Navy Blue and Glacier White. However, for the more traditional bizarrely named hues one has to look at the special-effect colour choices. Amande Green, Angora Beige, Orage Blue and Nacre Black are among the most pleasant.
Parking
Disappointingly, base Authentique models fail to benefit from parking sensors as standard. In a car of this size it really isn't asking too much to have these handy aids across the range. Large glass panels and an elevated driving position make life a little easier, however, all but the most confident of drivers will need to take a little extra care when manoeuvring an Espace. You can quickly find yourself running out of room in multi-storeys in something this big.
Spare wheel
A space saver spare wheel is fitted as standard.
Range information
The Espace and longer Grand Espace are available with five and six powerplants respectively. Diesel units are 1.9-litre (120bhp), 2.2-litre (150bhp) and 3.0-litre dCi (180bhp). Petrol units are 2.0-litre 16-valve (140bhp) (Espace only), 2.0-litre T (165bhp) and 3.5-litre V6 24-valve (245bhp). All models are available with either a six-speed manual or five-speed automatic gearbox, except the 2.0-litre 16-valve petrol and 1.9 dCi. Trim designators are: Authentique (base), Expression, Privilege and Initale (top of the range).
Alternative cars
Chrysler Grand Voyager Big American MPV is similarly priced and equipped
Peugeot 807 Fellow French offering features electric sliding doors
Volkswagen Sharan German people carrier shares a platform with Ford Galaxy and Seat Alhambra
Citroen C8 C8 represents good value, as buyers are likely to find good deals