May 2012
Renault Fluence Z.E. Dynamique
Soft curves are designed to give the car a friendly, easy-going look
May 2012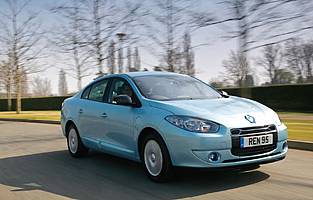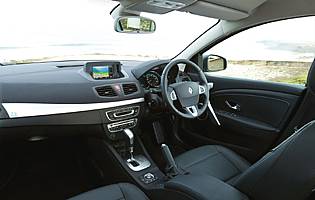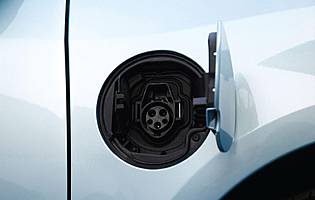 Overall rating

Likes:
Silent motoring at low speed makes town driving beautifully relaxed
Relatively easy recharging process makes topping up simple
Lots of standard luxury equipment provides a more premium feel
Feel-good factor from avoiding expensive internal combustion fuels
Gripes:
Suspension quality is not the highest and the ride quickly gets lumpy
Extra care needs to be taken to minimise electricity use
Boost space restricted by large, hidden battery packs
Some cabin plastics could be more appealing
At its launch the Fluence Z.E. was the cheapest fully-electric car on sale in the UK, and by quite some margin. Its aim is to bring electric drivetrain technology in a small family-sized car down to a price that turns heads in the mainstream car market, although it's not a completely purpose-built product like the Nissan Leaf.
The Fluence is a saloon sold by Renault in other markets around the world, including Israel. The Israeli market was extremely keen on electric cars so Renault added 13cm to the hind quarters of the Fluence in order to fit batteries behind the rear seats. In doing so it created its first electric car.
It enters a market where there are relatively few competitors and where the future of technological development is still somewhat unclear. With a range per charge that should be more than adequate for the vast majority of drivers, the Fluence aims to convince more people that electric power can be a viable alternative to conventional cars.
Under the bonnet is a 94bhp electric motor, which boasts 167lb.ft of torque that's available instantly at typical motor speeds. It gives the Fluence Z.E. an impressive turn of speed in urban surroundings, even though by traditional performance measurements it's still quite slow. It's capable of 84mph but will use a lot of electricity doing so.
On top of the modest purchase price buyers need to think about battery rental, because it's not included. The advantage is that years down the line when the batteries' effectiveness dips they are replaced free of charge. It does, however, add an extra cost onto the price of the car and means it's not as cheap as it initially looks.
Our verdict on the Renault Fluence Z.E. Dynamique
The Fluence Z.E. is a superb second car, adept at silently negotiating traffic and car parks. Its range limitations reduce its appeal as a first car, unless your typical driving never involves distances of more than around 80 miles per day. There are also boot space limitations thanks to the presence of the battery packs, but if linked with a home charging station the Fluence Z.E. is a convincing option.
Costs
With the benefit of a large government incentive grant, the Fluence is excellent value. Battery rental varies according to mileage and the length of the term, but overall it will likely be a similar price to many diesel alternatives. With overnight recharging at home being very cheap, the Fluence Z.E. is capable of many more miles per pound than any conventionally-fuelled car. Road tax is free and servicing is also expected to be cheap thanks to minimal moving parts in the motor.
Space and practicality
Renault chose to sacrifice boot space before rear legroom in developing the electric Fluence. The cabin retains its full space, although it does lack effective cup holders - the pair beyond the gear stick are too small and tucked away to accept bottles or some fast food restaurant cups. The boot has lost space but the remaining shape is practical and allows owners to easily use its fullest potential, as long as bags are kept smallish and soft. Large cases are not appropriate.
Controls and display
The instrument cluster differs slightly from that of a conventional petrol or diesel car. The rev counter has been replaced with an 'econometer', which shows in real time the amount of charge left in the battery, just like a fuel gauge. On the right of the central speedometer is an LCD display that can show a comprehensive range of trip computer measurements. The controls are laid out in a familiar pattern and fall to hand quickly.
Comfort
The levels of comfort the car needs to provide are governed by the range it's capable of. Renault says that's 100 miles, and that would be the upper limit of what's comfortable for the occupants. The suspension is not the most effective and the car crashes in and out of bumps as though the damping is badly tuned. Road noise is kept to a relative minimum and the seats are fine, although perhaps lacking a little lumbar support.
Car security
Remote central locking is standard on both Fluence Z.E. models, and the system is complete with deadlocking to make sure criminals can't open the door from the inside if they smash a window and reach in. Renault's RAID system is also standard, locking the doors automatically just after the car pulls away for the first time after switching on. It helps prevent incidences of carjacking after the journey has started.
Car safety
The Fluence Z.E. is just as well supplied with safety kit as most other compact family cars, with a comprehensive spread of airbags and useful electronic active safety systems. ABS and Electronic Brake Distribution (EBD) are standard to ensure a safe stop in an emergency, and ESP stability control combines with Anti-Skid Regulation (ASR) to maintain a stable platform. The batteries have been extensively crash-tested and have been approved as safe with a four-star Euro NCAP score.
Driver appeal
Driving appeal takes a very different complexion in the Fluence Z.E., as it combines a surprisingly potent torque delivery with silent running at low speed. There are few other cars that can match its relaxing ambience in town driving, a quality helped by its two-pedal functionality that makes the driving process as simple as possible. There is also the personal challenge of trying to beat your best total range on a single charge, which can be great fun.
Family car appeal
There is considerable family appeal here, with particularly low running costs and quiet, relaxing operation among the highlights. There is a caveat attached in that to get the best from the car it needs to be paired with a charging point at home or at work; somewhere the car will regularly be parked for extended periods. But if that's no obstacle and overall daily mileage is less than around 80, this can make an excellent family car.
First car appeal
Despite low running costs being high on many first-time car buyers' checklists, the Fluence Z.E. is likely to be too expensive for them to buy, especially when battery rental is factored in. If a young or inexperienced buyer could afford this car, though, they would find it extremely user-friendly and unintimidating to drive. It's not the best looking option, however, and many people may want something more stylish as their first car.
Quality and image
Renault, like all French car manufacturers, does not have the highest reputation for build quality or reliability. As a brand it's trying to change, though, with more emphasis on technology and forward thinking. Renault hopes this will help Fluence Z.E. sales along. The interior quality is fine, being functional but solid enough, although the materials are perhaps not as luxurious as the car's expansive kit list might suggest.
Accessibility
The driving position is relatively high in the Fluence, albeit with the benefit of a height-adjustable driver's seat. It makes getting in and out easier than it might be, although sometimes it seems like the points at which the door naturally rests open at are a little too wide to be effective in parking bays. The rear door apertures are smaller than the fronts and demand a slight adjustment in body position when getting in and out, but it's generally very easy.
Stereo and ICE (In car entertainment)
The stereo is fairly straightforward and intuitive in terms of its basic operation, but there are also some functional extra features. Special sound modes can be selected to shut off the rear speakers or even to cater just for a lone driver, adapting the speakers' outputs to match the changes in acoustics. There is a 3.5mm auxiliary input socket, so some MP3 players will need an extra cable to enable them to be plugged in. Steering wheel-mounted controls allow easy track selection.
Colours and trim
A selection of fairly unadventurous shades is on offer with the electric Fluence. There are no 'statement' colour options but one or two of the metallic choices are more flattering to the car's awkward rear end proportions than the others. There is only one non-metallic choice and it looks cheap. The interior trim is neat and clean in design, but it lacks the depth of luxury and style that some rivals achieve.
Parking
Rear parking sensors are standard fit on both Fluence Z.E. models, and they allow confident reverse-parking manoeuvres despite the car's extended rear quarters. Rearward visibility is not perfect thanks to a raised boot line and restricted lines of sight, but it's good enough for typical bay or parallel parking. Good forward visibility makes driving into spaces easy, and large, chunky tyres minimise the risk of the wheels making contact with kerbs.
Spare wheel
Emergency tyre repair kit supplied as standard.
Range information
Electric motor options: 94bhp electric motor. Transmission options: single-speed plus reverse, with automatic-type gear selector. Trim levels: Expression+, Dynamique.
Alternative cars
Nissan Leaf A purpose-built and all-round excellent electric car - at a price
Peugeot iOn Designed to be small for the city, but it's an expensive alternative
Toyota Prius Runs for short periods on electric power and is very reliable
Vauxhall Ampera Combines petrol and full-electric drivetrains but is costly to buy