January 2012
Renault Clio Renaultsport 200 Raider
Matt paint and gloss black wheels give the Raider a unique look
01/01/2012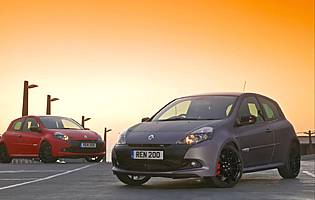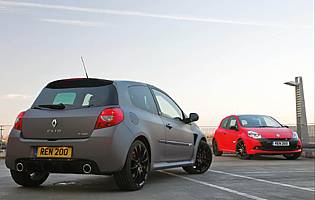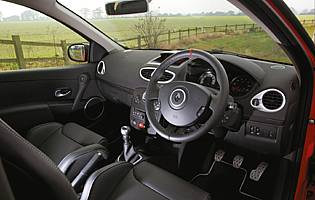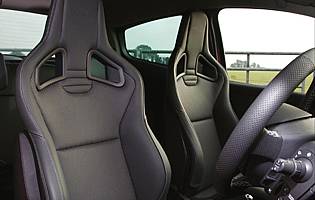 Overall rating

Likes:
Impressive driving experience offers peerless fun in the class
Matt paint looks fabulous and helps the car feel exclusive
Excellent all-round visibility inspires driving confidence
Ride quality is excellent considering the low, stiff suspension
Gripes:
More expensive than a regular Clio 200
Matt paint is difficult to maintain in prime condition
Limited to 50 units
Access to rear seats slightly restricted by bulky front seats
Renault's Renaultsport division has enjoyed a great deal of success with the Clio 200, and this, the model's final special edition, resurrects the Raider name last used on the run-out edition of the Renault 5 Turbo in 1991. It has more equipment than the standard car, special paint and is more exclusive, with only 50 earmarked for UK.
The Clio Renaultsport 200 has won numerous awards and plaudits for its handling and fun factor. As such it's already a desirable car among hot hatchback fans, and the Raider is designed to have even more appeal.
It's a halo model for the Clio 200 in the same way that the limited edition F1 Team variant was the halo model for its predecessor, the Clio 197. It uses the well-established 'Cup' chassis which brings lower, firmer suspension, a faster steering rack and red-painted brake callipers, but it also adds valuable extra features.
Renaultsport cars have always been focused primarily on the driver and the Raider continues the trend, forming an exclusive middle ground between the smaller Twingo Renaultsport 133 and the larger, turbocharged Megane Renaultsport 265. In many ways it acts as the ideal mix of fun and costs, which is partly why it's so desirable.
Special paint, larger wheels and graphics showing off the Raider's limited edition status set it apart from a standard version. It adds to the range rather than replacing any existing models, acting as a fitting high-spec send-off before the model reaches the end of its production life in 2012.
Our verdict on the Renault Clio Renaultsport 200 Raider
The Raider is a focused driving machine just like the Clio 200 on which it's based, offering huge fun with a lot of technology in the areas that driving enthusiasts will want it. Although its rarity is tempting, a normal Clio 200 Cup is much cheaper and offers the same driving thrills. The Raider's appeal is its exclusive status.
Costs
The main obstacle that the Clio Renaultsport 200 Raider faces is that it costs about GBP5,000 more than a Clio 200 Cup, which offers the same driving thrills. Compared to some limited edition competition it remains good value, though. It's not cheap to tax, insure or keep in fuel and tyres if it's frequently driven as it was designed to be, but if looked after it should hold on to a good proportion of its value thanks to its exclusivity.
Space and practicality
Buyers of hot hatchbacks can enjoy a mix of talents, from driving enjoyment to luggage-carrying prowess. The Clio has a good-sized boot, comparable with those of its rivals, but there is very little useful storage space in the cabin. Cup holders are absent and the door pockets are shorter than would be ideal. The load lip in the boot is also a potential issue for loading and unloading heavier objects.
Controls and display
One notable difference in the Raider's displays when compared to a standard Clio 200 is the partially white rev counter, which increases contrast and makes it easier to spot the needle's location at a glance while also looking quite stylish. The choice of either TomTom Carminat satellite navigation or Renaultsport Monitor affects the display in the car, but while the Monitor is mainly aimed at track day enthusiasts, the TomTom is a clear and concise colour navigation system.
Comfort
While a cabin occupied by bucket seats may not seem like the sort of place to expect impressive comfort, the Recaro items are shaped to provide ideal support both vertically and laterally, which helps to inspire driving confidence. The 18-inch wheels and lower-profile tyres compared to the standard Clio 200 mean that bumps and vibrations are transferred through into the cabin more noticeably, but the ride comfort is actually commendable for this type of car.
Car security
Remote central locking and an immobiliser are standard fare, along with deadlocking to ensure the doors can't be opened even if a window is smashed. Renault's R.A.I.D. alarm system is also standard, and the Clio also benefits from anti-drill door locks to help keep determined criminals at bay. The fuel filler cap locks securely, so there is little chance of fuel thieves being able to siphon away precious petrol.
Car safety
The standard Electronic Stability Programme has a special understeer control function to help rein in that particular result of overenthusiasm. The ESP can be turned completely off if desired. Front, front side and curtain airbags are standard. Anti-submarining airbags are not standard because of the Recaro seats, but the fixed headrests they feature make it unlikely that front seat occupants will suffer whiplash in the event of a collision from the rear.
Driver appeal
This is the chief purpose of any Clio 200 and the Raider is supremely good to drive. It encourages hard work and involvement from the driver and rewards him or her with wonderful communication from the chassis and steering. Incredibly accurate and incisive handling eclipses any of the Clio's rivals, and although it's not the fastest car among them, the sheer fun that it offers makes it a peerless new car choice for driver appeal at this price point.
Family car appeal
Aside from the lack of rear doors and minor difficulties accessing the rear seats, the family appeal of this particular model is hampered by the sports front seats. The passenger airbag cannot be switched off as a result of their inclusion, so a child seat cannot safely be used on the passenger seat. The leather trim all around the cabin is quite precious, too, and probably not ideal for family use, but there are two ISOFIX child seat mounts if needed.
First car appeal
The Clio Raider is undoubtedly the sort of car that plenty of young drivers would lust after, because it's both highly desirable and relatively affordable compared to true sports cars. However, the reality is that it's very unlikely that many first-time car buyers could afford it. The fact that to enjoy the car full it needs to be driven hard also makes it a bad idea for inexperienced drivers who don't often have the required skill to enjoy cars like this safely.
Quality and image
Renault's brand image used to be relatively poor when it came to build quality, but since pairing up with Nissan some years ago, its products have been of a much higher quality. However, other brands have also improved and Renault is sometimes still seen as a lower-quality mainstream manufacturer. The Clio Raider is very high quality in some areas, like the paint finish and the seats, and despite perfectly adequate quality, the dashboard styling makes it look inexpensive.
Accessibility
There are several restrictions that the Clio Raider presents to would-be occupants. Firstly, the doors are quite long and, in tight parking bays, can make it difficult to step in or out. Secondly, the Recaro from seats' large and supportive side bolsters make it doubly awkward to slide onto the seat. Care needs to be taken to avoid damaging the material. Thirdly, rear seat passengers have to negotiate past those front seats, which don't fold forward as fully as normal seats do.
Stereo and ICE (In car entertainment)
The Clio Renaultsport 200 Raider is a car focused solely on providing driving pleasure, and stereo facilities have suffered as a result. The basic system plays CDs and FM/AM radio, but has no dedicated screen to display track or album titles. There are no other in-car entertainment facilities unless buyers choose the Renaultsport Monitor system, which keeps track of the car's performance and g-force statistics among other things. The system can be chosen in place of satellite navigation.
Colours and trim
The 50 cars imported to the UK could be ordered in red or a special Renault i.d. matt grey, which looks fantastic and provides the 'stealth' feel that the Raider name suggests. It looks expensive and eye-catching, although is more difficult to clean than a regular finish. The interior trim is a mixed bag, with sublime leather-trimmed Recaro bucket seats contrasting a dashboard that looks cheap by comparison, chiefly because of its design. Money has been spent where it will count with the target buyers.
Parking
The Raider has larger wheels and tyres that create a slightly greater contact patch on the road compared to a normal model, and therefore make the steering a little heavier. That means it requires a little more effort in tight car parks. The steering rack is faster, though, so the wheel requires fewer turns to reach full steering lock, making manoeuvres quicker. There are no parking sensors to assist the driver but visibility is excellent and it's easy to judge where the corners of the car are.
Spare wheel
Emergency tyre repair kit supplied as standard.
Range information
Petrol engine options - 1.2-litre (74bhp); 1.2-litre turbo (99bhp); 1.6-litre (110bhp, 127bhp), 2.0-litre (198bhp). Diesel engine options - 1.5-litre (87bhp, 105bhp). Transmission options: five and six-speed manual gearbox depending on model, plus four-speed auto (1.6-litre 110bhp petrol only). Trim levels: Pzaz, Expression, i-Music, Dynamique TomTom, GT Line TomTom, Gordini, Renaultsport 200, Renaultsport 200 Cup, Renaultsport 200 Raider.
Alternative cars
Vauxhall Corsa VXR Turbocharged engine is powerful, but styling splits opinion
Volkswagen Polo GTi The most refined option is well built but dynamically it could be more engaging
Citroen DS3 Racing Extrovert styling will attract certain buyers to this extreme DS3
Seat Ibiza Cupra Aggressive looks and smooth engine are the high points