May 2013
Renault Captur Dynamique TCe 90 Stop and Start
Clio-style nose works well on high-rise Captur
May 2013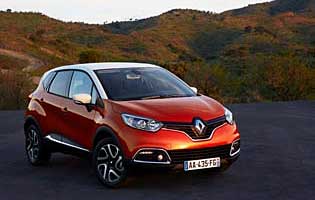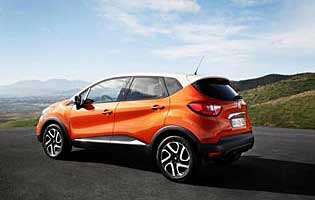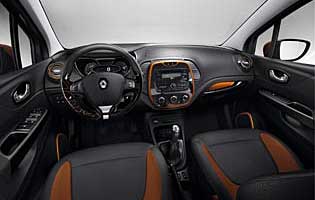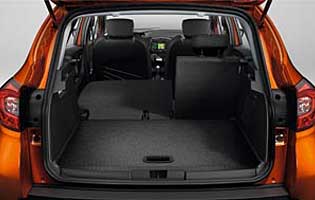 Overall rating

Likes:
Well-designed cabin is practical and easy to live with
Acceptable amount of space for all occupants
Looks good in a range of colours
The promise of modest running costs
Gripes:
Engine performance is modest but acceptable
Touchscreen infotainment interface can be fiddly at times to operate
Lots of hard plastics in the cabin
Potentially confusing choice of options and colour combinations
With it foolish to ignore the trend for downsizing in the car market, like some others, Renault has chosen to cross a supermini with an SUV. The result is a high-rise hatch called the Captur. Borrowing heavily from the Clio, this car promises to widen the choice for buyers seeking a more attractive alternative to the conventional hatchback.
Although it's easy to pick out some Clio styling clue, on the whole the Captur's looks are very much its own. The car's high stance should endear it to buyers seeking a lofty driving position but without the usual SUV compromises. Factor in its supermini size and the Captur could easily fit the bill of urban runabout.
If the Clio influences are minimal on the outside, there's plenty inside the cabin to redress the balance. Renault's latest small car cabin design runs to a pleasant and appealing fascia plus clear instrumentation and intuitive switchgear. Central to this theme is the car's dominant touchscreen display, allowing you to access audio, navigation and (where fitted) online services.
The Captur is also part of Renault's low emissions and fuel consumption plan, and as such is offered with suitably modest output petrol and diesel engines. For urban duties this is an acceptable trade-off, although the car does occasionally need to be worked hard when there's a full compliment of passengers or you're on the motorway for extended periods.
It's the car's exterior design that sets the tone, though. With the option of a wide range of colour combinations for both the interior and exterior, the Captur is very much biased towards style rather than outright utility. And compared to some rival cars, Renault appears to have more than a passing interest in attracting the young or young at heart buyers.
Our verdict on the Renault Captur Dynamique TCe 90 Stop and Start
In contrast to some of its more conservative rivals, Renault has nailed its colours to the mast - literally in some cases - as it attempts to promote its Captur mini SUV as a modern alternative to the conventional supermini. On the whole Renault succeeds, with the Captur presenting a jolly face to the world and proving that it's Clio-based cabin is more than adequate. Performance is modest regardless of engine, but the car is capable, refined and engaging.
Costs
With Renault's focus on low CO2 and fuel consumption, it's no surprise to learnt that the Captur won't be an expensive car to run. Neither is it expensive to buy thanks to its maker's pleasingly aggressive pricing strategy. You will need to show some restraint when browsing the options list, as there's not shortage of choice when it comes to colour and trim packages plus upgraded audio and convenience kit.
Space and practicality
The Captur's cabin boasts a number of modest but convenient oddment storage spaces, while space for occupants is good relative to the car's overall size. Head and legroom up front for adults is good, with a reasonable amount of space for those in the rear although predictably legroom is better suited to the young. At the back the Captur's boot lip is at a decent height and the options to expand the load space are easy to complete, as is lifting and lowering the tailgate.
Controls and display
With Renault's Clio providing much of the design and ergonomic direction for the Captur's interior, most controls and displays prove clear to read and intuitive to operate. The colour touchscreen dominating the fascia could be a little more responsive, although it's a relatively easy task to navigate its various functions.
Comfort
Supportive seats and a high level of cabin refinement result in a pleasing environment when on the move. Despite the Captur's modest dimensions there's never a sense of claustrophobia. Road and engine noise isn't usually intrusive, with only poorly surfaced roads and a hard worked engine disturbing the relative calm respectively.
Car security
Remote locking plus a perfectly adequate anti-theft package should prove enough to protect the Captur in the real world. Renault's famous keycard is the best choice for the complete 'keyless go' experience of remote locking/unlocking and push button ignition. At the back there's a sturdy load cover to keep out prying eyes.
Car safety
A solid showing from Renault here translates into a a good level of passive and active safety kit comparable to that of a similarly priced Clio. Airbags, anti-skid tech plus a high level of structural crash worthiness should satisfy most potential buyers.
Driver appeal
Thanks to its supermini-esque dimensions, the Captur proves to be an agile and engaging car to drive. The steering boasts a good weight yet and is accurate, yet possesses plenty of assistance at low speeds. Ride comfort can be a little firm on poorly surfaced urban roads, but the trade-off is a car that displays minimal pitch and roll despite it's tall stance. Regardless of engine choice the Captur isn't a ball of fire, although it's only when the units - both petrol and diesel - are pushed hard canthey become a little harsh. For urban use petrol power provides a more instant response, with diesel offering a more relaxed experience at higher speeds and under harder acceleration.
Family car appeal
While the Captur can't come close to replacing a fully featured family car, as one for a new family or as a second car, the compact Renault would make a sensible choice. Tough, durable-looking interior materials plus easy cabin access makes it easy to live with. Boot space is modest but should be fine for pushchairs and light shopping.
First car appeal
With its modest dimensions, equally modest price and running costs plus ease of use, there's no reason why you couldn't have the Captur as a first car. Performance is modest, which should be viewed as another plus for the novice driver.
Quality and image
Renault has seen its fortunes rise and fall in recent years as both its design philosophy and product reliability has suffered. To its credit, of late the firm has recovered to a much better position, and cars like the Clio and Captur appear better in all the right areas. Cabin fit and finish - the important metric - is up to a high standard and looks reassuringly durable.
Accessibility
With its raised ride height, occupants shouldn't have a problem accessing the cabin. It's not to conventional SUV heights, so even those less agile than others should cope well. The car's doors open wide fore and aft, but not too much so as to become a hindrance in tight car park spaces, while the tailgate requires little effort to open and shut
Stereo and ICE (In car entertainment)
Borrowing heavily from the Clio, the Captur boasts an easy to understand and use audio system. Accessed mainly through the car's dominant touchscreen interface, the output is good and connectivity to MP3 players and Bluetooth enabled devices is straightforward. It's not a particularly quick system to use, which is most evident when using the optional sat-nav function.
Colours and trim
Make no mistake, this where the Captur puts its rivals in the shade. Thanks to the Renault's rediscovered flair for design, the Captur can be hade in a wide range of appealing colour combinations for the body, wheels, roof and the interior.
Parking
With its raised seating position and good view fore and aft, it's not hard to position the Captur where you want it. The car's steering is light and not lacking assistance, while (where fitted) the parking sensors take the worry out of reversing.
Spare wheel
Emergency tyre repair kit supplied as standard.
Range information
Petrol engine options - 0.9-litre (90bhp); 1.2-litre 120bhp). Diesel engine options - 1.5-litre (90bhp). Transmission options: five-speed manual gearbox plus six-speed auto on selected models. Trim levels: Expression, Expression+, Dynamique, Dynamique S.
Alternative cars
Peugeot 2008 More conservative alternative adds a welcome dash of luxury
Skoda Yeti More expensive but a lot more polished on and off-road
Vauxhall Mokka Similar approach to Captur but lacks sparkle in the cabin and on the road
Suzuki SX4 S-Cross Competent high-rise lifestyle family compact hatch with all-wheel drive option