April 2015
Porsche Boxster GTS
Black detailing distinguishes the GTS from other Boxsters
April 2015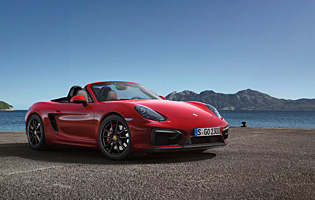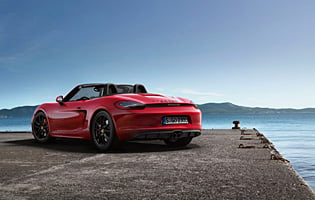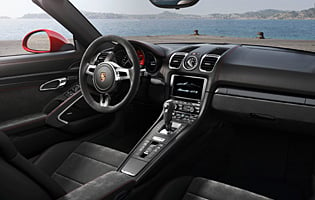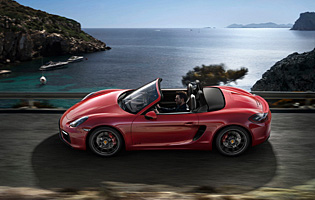 Overall rating

Likes:
Pinpoint handling is improved even over standard Boxster
Exhilarating driving experience provided by more powerful six-cylinder engine
Extremely high materials quality inside the cabin
Very reasonable asking price relative to standard equipment
Gripes:
Lowered ride height reduces clearance over speed bumps
Straight-line performance gains over Boxster S are marginal
Small luggage bays offer little space for baggage
Desirable automatic gearbox is a very costly extra
Over time the Boxster has matured from a car that was derided for its relative affordability into one that, at its most expensive, easily matches the prices of the 911s of 10 years ago. It has moved upmarket, and to reflect its wealthy audience a higher-powered GTS model has been added to form a steeping stone beneath the Boxster Spyder.
The GTS is an effort by Porsche to tempt buyers into spending more than they might have on their Boxster in exchange for a wealth of extra equipment that, if added to a Boxster S, would push its purchase price well beyond that of the GTS. It may be more expensive but at its heart the GTS is a value proposition.
An increase in power will catch many potential buyers' attention. Porsche is very clear that the Boxster GTS is the Boxster for real driving enthusiasts. But at the same time, the added exclusivity and prestige of this variant will appeal to drivers more interested in aesthetics and showroom appeal, not to mention material quality.
Depending on which facet of the GTS' character appeals most to individual buyers, it will feel better than the lower trim grades in different ways. Keen drivers will enjoy extracting the most from the revised, firmer chassis and suspension, while others will just appreciate what they can see and touch from behind the wheel.
There are no truly direct rivals for the Boxster GTS to compete with, being positioned above the pinnacle performance cars of more mainstream brands but below the offerings of more exclusive sports car makers. As part of its maturing from a junior sports convertible into a less attainable, more exotic model it has moved into a class of one.
Our verdict on the Porsche Boxster GTS
Lighter and tangibly less substantial than any 911, yet easier to enjoy and quicker to reward its driver, the Boxster GTS blurs the lines between its own range and soft-top 911s. It offers a sports car thrill to equal cars twice its price, and manages to feel premium enough to make its asking price look very reasonable indeed. Bargains come along quite rarely, but by most measures the Boxster qualifies as one.
Costs
While the GTS is much more expensive than an entry-level Boxster and even the Boxster S, it offers so much more equipment that it begins to look like excellent value. The performance upgrades alone make up much of the difference between the prices of the S and the GTS. However, it will still be relatively expensive to fuel, insure and tax, despite huge improvements in this respect in recent years.
Space and practicality
The presence of two luggage bays is welcome, but neither is especially large in capacity. Smaller and softer bags can be stacked and squeezed together to make the most of the space, and in doing so the Boxster platform proves surprisingly practical for a two-seat convertible. It can't accommodate large cases, though, so would likely not serve as a weekend car for anyone not able to pack light.
Controls and display
Porsche's displays are clear, comprehensive and attractive, setting a standard that all other manufacturers could do worse than emulate. Placing the rev counter centrally makes the Boxster's intent clear, while a small digital screen among the analogue dials takes care of trip computer readouts. The seven-inch touch-screen on the console is perhaps not quite as sharp as might be hoped, but does an excellent job nonetheless.
Comfort
Porsche has set the Boxster GTS's suspension to flow over bumps and undulations with grace and control at speed, but there is a compromise around town where it can feel too firm over potholes and recessed drain covers. The seats are very firm and ideal for support in fast corners, but less so for long-distance, straight-line cruising despite ample adjustability.
Car security
To protect against theft all Boxsters come with an in-key transponder that must match the car. As standard on the GTS is an alarm with exterior contact sensors and radar-based detection systems for the interior. As an option, buyers can add an impressive tracking system that incorporates a special wiring loom and a tilt sensor in case thieves attempt to tow the car away. The tracking device can pinpoint the car's location in almost every country in Europe.
Car safety
Powerful brakes, wide, premium tyres and advanced braking assist technologies make the GTS one of the fastest-stopping vehicles on the road. Airbags are positioned to the front and sides of the cabin, while active roll hoops fire upwards to fully protect occupants if sensors detect that a roll-over might be imminent.
Driver appeal
The combination of lightweight and agile chassis settings, balanced weight distribution and an aurally magnificent six-cylinder engine make the Boxster GTS a peerless option in its class for driving enthusiasts, except perhaps for the marginally superior Boxster Spyder. It rewards all driving styles in different ways and never leaves a driver dissatisfied with its behaviour, unless perhaps at slow speeds on broken road surfaces.
Family car appeal
Porsche has made cursory movements to accommodate basic family duties, like offering the ability to turn the passenger side airbag off when carrying a rear-facing child seat, it would take a brave buyer to claim that it was viable family transport. A pair of seats have obvious limitations, while the low ride height makes fitting a child seat to the passenger side strenuous for parents' backs.
First car appeal
Many young drivers are likely to lust after the Boxster GTS for its exciting qualities, but there is almost nothing about the car that would be appropriate or manageable for a novice. The level of power, relative lack of visibility, insurance and purchasing costs would all individually be prohibiting factors, let alone when combined.
Quality and image
The Porsche image naturally attracts a wealthier than average buyer, which in itself creates a prestige image. Its reputation for mechanical precision and excellence is well-founded. The GTS image is a more premium and more exclusive one that will tempt people to spend more on an increasingly focused driving experience.
Accessibility
As the GTS is lowered versus its cheaper stablemates it necessitates an even greater drop down into either of the two seats. People who have trouble with their knees may struggle, particularly in getting out of the car next to kerbs. A high kerb can rise almost to the level of the seat itself. That said, the door aperture is wide as long as there is enough space into which it can be opened.
Stereo and ICE (In car entertainment)
While some drivers will understandably prefer to listen to the good work completed by the car's exhaust engineers, there is a stereo included, controlled via a seven-inch touch-screen. It can be upgraded in numerous ways, including to a comprehensively equipped system with USB, auxiliary, CD, SD, DAB radio and Bluetooth inputs all on hand for music playback.
Colours and trim
There are 14 standard body colours spanning flat, metallic and 'special', with additional options to match a colour to a customer-selected sample in either flat or metallic finishes. The choice spans bold options that complement the Boxster's sports car lines perfectly, but there are reserved choices for the less ostentatious. A choice of four colours can be applied to the roof, but each is only in combination with complementary body shades. The interior trim is superb quality to the touch and looks incredibly precisely made.
Parking
Sitting as low as one does in the Boxster GTS, it can be difficult to see behind to judge a rearward parking manoeuvre. There are parking sensors installed at both ends to help, though, while a reversing camera is optional. The Boxster body is not especially long or wide, but it can feel like both in bay-type car parking spaces and tighter multi-storey car parks where its long bonnet and boot can feel a little beyond reach.
Spare wheel
Emergency tyre repair kit supplied as standard.
Range information
Petrol engine options - 2.7-litre (261bhp); 3.4-litre (311bhp, 326bhp). Transmission options: six-speed manual gearbox or seven-speed dual-clutch automatic. Trim levels: Boxster, S, GTS, Spyder.
Alternative cars
BMW Z4 Roadster Heavier and considerably less exciting to drive than the Boxster, but much cheaper
Audi TTS Roadster Four-wheel drive stability and explosive turbocharged performance
Mercedes SLK55 AMG Bombastic performer thanks to large-capacity V8 engine
Jaguar F-Type Feels large on the road but provides a wonderfully sensory driving experience