January 2014
Peugeot RCZ R
Pumped-up styling is sure to appeal to fans of car design
January 2014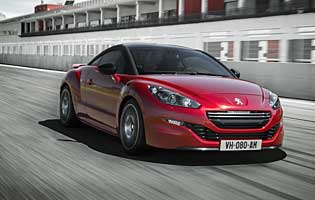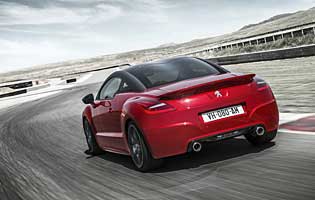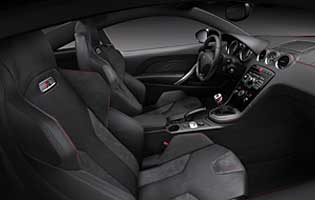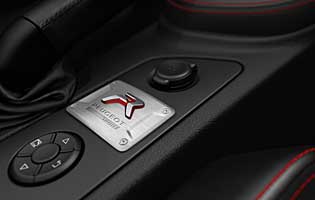 Overall rating

Likes:
Jaw-dropping styling stands out from the competition
Interior detailing is dramatic and delightful
Lots of standard equipment
High efficiency potential relative to its performance
Gripes:
Restricted visibility makes parking tense
Driving position not ideal
Rear seats are all but useless as seats
Firm ride will not suit everyone
Just as the RCZ broke new ground for Peugeot in being the first one-model coupe the brand had produced in decades, the RCZ R is pushing the French firm's boundaries even further. It's the most powerful road car Peugeot has ever made, with significant input from engineers whose day job is to build racing cars.
As daring and exciting as the standard RCZ is, the RCZ R takes the visual appeal to an entirely new level. Huge, flared wheel arches, a 'double-bubble' roof now reserved only for the R, broad alloy wheels and a kicked-out, aggressive side skirt make Peugeot's fastest production car look every bit as quick as its performance figures suggest.
The cabin continues the stunning theme, liberally splashing red stitching across the dashboard, instrument binnacle, doors and steering wheel. Stepping into the car only increases the drama of the experience even before the engine starts. There is only one engine option available, derived from the same 1.6-litre turbocharged petrol unit that powers the regular RCZ.
This engine, however, has had an extensive rework, with strengthened and lightened internals for faster revving, a larger turbocharger and improved cooling to cope with the extra heat this more powerful version creates. The result is about double the power that the 205 GTi had when it was launched, as well as much greater luxury.
This is a bold departure for Peugeot that puts it head to head with a variety of similarly powerful cars, although its front-wheel drive and near-useless rear seats mean it loses out in some ways to more soberly attired competition. Despite its shortcomings in practicality, though, its sheer presence, striking looks and relative efficiency will provide mass appeal.
Our verdict on the Peugeot RCZ R
The RCZ was roundly, and unfairly, criticised from its inception as being a poor alternative to the Audi TT, which shares a similar silhouette. The R version takes the RCZ in a much more exciting direction for petrolheads, though, and has finally shaken off the comparisons. Peugeot Sport's influence has sprinkled some magic onto the driving dynamics, too, turning the car into an excellent, if compromised, hot hatch alternative.
Costs
As aggressive and expensive as the RCZ R looks, it's not as expensive to run as some people may fear. A respectable CO2 output places its road tax cost much lower than those of its spiritual predecessors, and with that comes higher fuel economy. If the car is driven how Peugeot Sport's engineers intended, though, the car will guzzle through unleaded at frightening pace. The RCZ R has so far gained a good reputation among car fans and, since few are expected to be sold, residual values should be strong.
Space and practicality
With the limitations in practicality that come as a result of the RCZ shape, it's no surprise to find that the available interior room is biased heavily towards the front seat occupants, who have good head- and legroom. The rear seats are restrictive and only fit for short journeys. However, boot space is impressive, particularly with the seats down, and this gives the RCZ R the ability to carry two passengers and a considerable amount of luggage.
Controls and display
In keeping with the dramatic and stylish interior finishes, the main instrument cluster is more aggressive and emotive than that of lesser RCZs. The main interface screen is on top of the dashboard; a place that some people like better than others. The screen itself could be higher-resolution but the systems are adequately clear and intuitive. The control stalks follow international standard layouts and fall easily to hand.
Comfort
The sports car inspired seats are firm but comfortable thanks to a supportive shape, but drivers with legs any longer than average will find the driving position cramped. The suspension is firm but composed rather than crashy, and those used to such focused cars will find it fine. Rear seat passengers, if they can fit in at all, will be extremely cramped thanks to a fundamental lack of legroom and a steeply sloping roof line.
Car security
As with the ordinary RCZ range, the R model is fitted with remote central locking, deadlocks, an ultrasonic alarm with interior sensors, an engine immobiliser and locking wheel bolts, which should resist the potential criminal interest this attractive car could receive.
Car safety
The RCZ R is a very quick car and needs a healthy supply of safety equipment should the worst happen. It comes packed with standard safety equipment that includes airbags and stability control, while large brakes and wide, grippy tyres provide enviable stopping power. Active safety is also helped by the car's overall agility and performance.
Driver appeal
The R version has been created specifically to be the most enjoyable driver's car the firm makes, and it's quite an improvement on the standard car. The engine, although still lacking in real aural character, pulls strongly enough to frequently trouble the traction control in the lower gears, and the faster steering rack fitted to the R helps to make it feel nimbler. The suspension tuning has improved, creating a firm but composed ride.
Family car appeal
Surprisingly, the RCZ R can carry a folded pushchair, but the occasional-use rear seats are not equipped with any kind of child seat fixing points. Only the front passenger seat can take a proper child seat, and that would have to be rear-facing. The front airbag on that side can be switched off for this reason. On the whole, the RCZ platform is a poor one for family life.
First car appeal
Peugeot is a brand that's often familiar to first-time car buyers. Its small hatchbacks are popular with driving instructors and sometimes inexperienced drivers appreciate the familiarity of control layout that sticking with the same brand for their own car brings. Even so, the RCZ R is both extremely expensive and very powerful in comparison to a typical first car, and the combination of intimidating power and financial considerations make this an unlikely choice.
Quality and image
With looks this striking, there's less of a case to consider brand loyalty or past reputation. The RCZ R is a groundbreaking car for Peugeot that will always turn heads, so material quality is perhaps less of an issue. That said, the car seems to be built solidly and conveys positive first impressions. Peugeot's reputation for electrical bugbears may still affect the car's image, though.
Accessibility
Long doors offer a wide aperture but the car has a low roof line, which makes it trickier to get in and out of. Those long doors become a curse in tighter bay parking spaces, too, where it becomes extremely difficult to open them wide enough on their arc to allow access. Rear seat passengers have to bunch their bodies up tightly to get to their seats.
Stereo and ICE (In car entertainment)
A standard Peugeot hi-fi system is fine, but in a car of this type it's a little disappointing to see the same system fitted to the 5008 MPV. At least there is radio/CD functionality with MP3-CD compatibility, a USB port and Bluetooth connectivity. A modestly-priced upgrade brings a JBL system with increased power and more speakers. Either way, in the RCZ R the media is displayed on the multi-function screen on top of the dashboard.
Colours and trim
Although there are eight colours to choose from, there is really only one colour that the RCZ R should be specified with and that's the lusty Moroccan Red. It suits the car's performance potential and highlights every styling line in a way no other colour option does. The interior, with its black leather upholstery and red stitching, is equally stunning, but buyers should be wary of adding tacky coloured inserts into the seats.
Parking
While visibility isn't perhaps as bad as some people might expect, it's not very good. The design of the roof, the low-slung body and wheel arches that extend well beyond the sides of the doors mean that parking scrapes, especially kerbing, would be only too easy if careful attention isn't paid. Irritatingly, the RCZ GT model, which is technically inferior, features front parking sensors as well as the R model's rear ones. Front sensors are only optional on the R.
Spare wheel
Emergency tyre repair kit as standard.
Range information
Petrol engine options - 1.6-litre (156bhp, 200bhp, 270bhp). Diesel engine options - 2.0-litre (163bhp). Transmission options: Six-speed manual gearbox, six-speed automatic gearbox. Trim levels: Sport, GT, R.
Alternative cars
Audi TTS Considerably more expensive, but undeniably higher quality
BMW M135i Standalone model offers an excellent everyday package
Mercedes SLK Dedicated two-seater is stylish and smooth, with a frugal diesel option
Volkswagen Golf GTI The practical option is nonetheless excellent to drive all year round