May 2010
Peugeot RCZ 1.6 THP 156
Stunning looks are sure to appeal
May 2010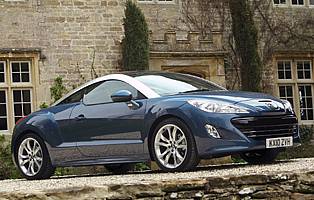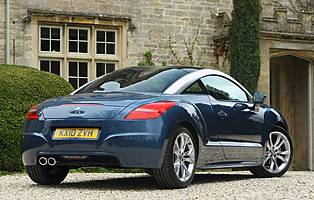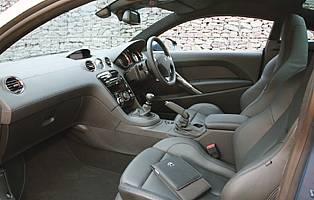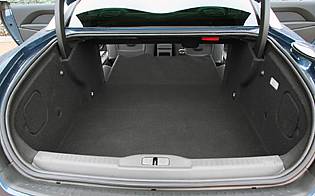 Overall rating

Likes:
Delicious exterior design is a pleasure
Cabin is comfortable and good to use
High level of specification
Impressive efficiency for a sporting car
Gripes:
Driving experience is fun but not as sharp as some
Lower output petrol offers modest performance
Rear seats placed directly under rear window
No automatic with diesel version
Peugeot is breaking into new territory with the RCZ coupe. Not only is it the first single-model coupe to come from the manufacturer in decades, it also represents the first of a series of special Peugeot models that are outside of its normal model range. By offering greater exclusivity and style it aims to bring a new type of buyer into the brand.
If first impressions do count then the RCZ is already off to quite a start. The stunning exterior design is no less impressive because of its faithfulness to the original concept car, and all the more daring to see such an exotic-looking car coming from a manufacturer not normally known for producing such avant-garde designs. Peugeot has also managed to keep some of the more challenging elements of the design, such as the double-bubble roof and the complex curve of the roof arches.
The cabin of the RCZ could not possibly match the drama of the exterior, though it is interesting none the less. The RCZ is a 2+2, with rear seats that could feasibly carry an adult for a limited period, but more remarkable is the fact that it also has a useful boot which can be expanded further by folding the rear seats. Such practicality is unusual in a sporty coupe such as this.
Mechanically the RCZ makes the best use of existing Peugeot technology and at launch there are powerful petrol and diesel engine options to choose from. In combination with the impressive engine efficiency, light weight and impressive aerodynamics help the RCZ to achieve impressive fuel economy and emissions figures.
In keeping with a more exclusive product, the RCZ also offers buyers a greater level of personalisation compared to more conventional models. The bubble roof can be specified in carbon fibre, the roof arches are also available in a choice of finishes, and other such options create a bespoke feel to each car.
Our verdict on the Peugeot RCZ 1.6 THP 156
The RCZ has to overcome a good deal of prejudice coming into the competitive coupe market from such humble origins, but it does a remarkably good job. Although it does not offer the best driving experience in class it is certainly entertaining, is stunning to look at and offers impressive value for money. Add to that its good running costs and high specification and it deserves strong consideration.
Costs
Running costs for the RCZ should be very competitive. Insurance may be the biggest bill, but with strong fuel economy and subsequently modest emissions, it will cost less to run than many rivals.
Space and practicality
Considering it is a 2+2 and clearly a heavily-stylised car, the RCZ offers good space and practicality. Front seat passengers have good head and legroom while those in the rear should only consider short journeys. However, boot space is impressive, particularly with the seats down, and this gives the RCZ the ability to carry two passengers and a considerable amount of luggage.
Controls and display
The layout of the RCZ is mostly impressive, with buttons and switches appearing well made an attractive to the eye. The centre console contains the audio and navigation system (where fitted), but the layout is a little hard to comprehend at first due to the small button layout. The instruments however are clear and attractive and the overall layout is sensible and straightforward to use.
Comfort
The RCZ's seats are very comfortable and supportive, with a good driving position too. Noise levels are also good regardless of engine choice, with respectably low levels of wind noise, too. Ride comfort is a little compromised by the firm suspension settings, though for most of the time it is not obtrusive.
Car security
All RCZs are fitted with remote locking, deadlocks, and an approved ultrasonic alarm, engine immobiliser and locking wheel bolts, which should resist the potential criminal interest this attractive car could receive.
Car safety
The RCZ comes packed with standard safety equipment that includes airbags and ESP. Active safety is also helped by the car's overall agility and performance.
Driver appeal
Although many buyers of the RCZ will be seduced by looks alone, it offers an engaging driving experience that will tempt enthusiasts too. The lower-output petrol option offers brisk rather than rapid performance, but the diesel version brings more vigorous acceleration as well as more relaxed cruising. The ride is definitely biased towards firm, with the result lack of bodyroll and high levels of grip. The steering is quick to respond to inputs although not super-sharp, so it strikes a good balance between everyday and sporty driving.
Family car appeal
The RCZ, although fitted with rear seats, can only carry child seats in the front, which limits its family-carrying abilities. It can however easily swallow a large pushchair.
First car appeal
The RCZ is a little too expensive for a first car and, although Peugeots are often popular with new drivers, they would be better served by choosing something more humble from the range.
Quality and image
Peugeot quality has improved steadily over recent years, but the RCZ marks another step forward as it combines innovative design with an impressive mix of materials. The RCZ also provides a shot in the arm for Peugeot in terms of image and its jaw-dropping looks will almost certainly attract buyers that would not necessarily choose to buy a Peugeot otherwise.
Accessibility
Getting into the front seats is a breeze, with relatively long doors, although there is a drop down into the seats as this is a low-slung machine. Access to the rear is more tricky, despite the tilt and slide mechanism of the front chairs. Given that the rear will be used occasionally this is not so much of an issue.
Stereo and ICE (In car entertainment)
As standard the RCZ gets a good quality audio system offering radio/CD input plus MP3-CD compatibility. A modest upgrade brings a JBL system with increased power and more speakers, but both systems offer a good standard of sound quality.
Colours and trim
The RCZ is a particularly colour-sensitive car, especially as the roof panel can be specified in two shades of black or finished in carbon fibre, and the roof pillars can also be specified in a choice of shades. Inside there are more comprehensive choices of material and colour, allowing a more personalised and brighter finish if required.
Parking
Despite its unusual shape, the RCZ offers a decent view out resulting in relatively easy parking. Rear parking sensors are also standard on the Sport version while the GT gets sensors front and rear.
Spare wheel
Emergency tyre repair kit as standard with option of full size spare.
Range information
Petrol engine options - 1.6-litre (156bhp and 200bhp). Diesel engine options- 2.0-litre (163bhp). Transmission options: Six-speed manual gearbox, six-speed automatic gearbox. Trim levels: Sport, GT.
Alternative cars
Audi TT Class standard has looks, performance and quality, if expensive
Alfa Romeo Brera Gorgeous exterior, classy interior, modest dynamic performance
BMW 3-Series Coupe Impressive to drive, understated looks and very expensive
Renault Laguna Coupe Genuine four-seater, handsome design, GT versions offer best drive