September 2004
Peugeot 407 SW SE 2.0 HDi
SW models retains distinctive grille of saloon
September 2004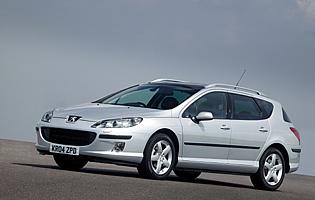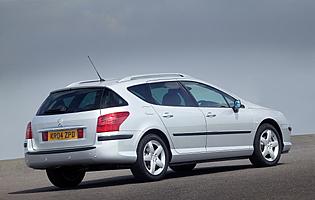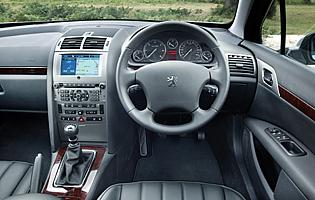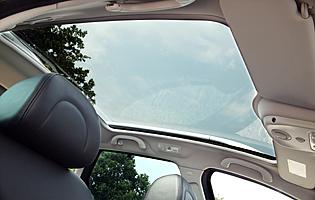 Overall rating

Likes:
Smooth-riding on-road characteristics
Huge sunroof brightens cabin considerably
Attractive external styling
Smooth power delivery from engines
Gripes:
Folding rear parcel shelf does not feel durable
Legroom lacking in rear seats
A few squeaks and rattles from interior fittings
Boot smaller than most direct competitors
Marrying the front end of a Ferrari and the rear end of a family estate may sound like the worst combination since chalk and cheese, but in the Peugeot 407 SW the two key ingredients work surprisingly well.
For once, the Sport Wagon designation is appropriate rather than being just a marketing gimmick, for this is not a large estate car by modern standards. But what it lacks in out-and-out bulk does allow it to present a more stylish profile than many of its rivals and all of the space that is made available is readily utilised.
Another welcome by-product of the Sport Wagon shape is a keen driving dynamic. The 407 saloon has been rightly praised for its handling and ride. Employing the same advanced suspension set-up, the SW model makes a decent effort to match it. Inevitably it falls just short, but on a motorway or A-road, the car is perfectly happy ticking off the miles as it wafts quietly along.
Peugeot is making a concerted effort to improve the quality of its interiors. The 407 range gives a clear indication of this and were it not for a few squeaks and rattles from a few poorly-fitted seals and plastic parts, the SW would start to make an impact on similarly-sized 'premium' offerings such as the Jaguar X-Type estate and Audi A4 Avant. But for the foreseeable future Peugeot will have to slug it out in the mainstream, where there is no shortage of similarly-priced competition. The 407 SW can justifiably claim to be easier on the eye than most of them and comes with an acceptable, if not staggering, amount of kit.
Cars from the rampant lion aren't traditionally renowned for their reliability, but this is another area in which Peugeot is making progress ' evidenced by the fact that 2.0 HDi models are the first Peugeot passenger cars with extended service intervals.
Our verdict on the Peugeot 407 SW SE 2.0 HDi
With a proud history of estate cars behind it, Peugeot's 407 SW is a more modern take on the genre, more suited to light duties such as trips to the shops and weekends away than the serious load-lugging duties of a 405 or 406.
Costs
Not immediately apparent as a bargain, the 407 SW offers reasonable value for money. Diesel engines are likely to prove most popular for their considerably enhanced fuel economy, with even the modest 1.6 HDi offering a good level of refinement. All engines are able to cope with heavy loads. Provided some of the more advanced electronics systems aboard do not develop glitches, the 407 SW should prove pretty reliable and insurance and parts costs are good. Re-sale values are likely to be fairly good for this market sector thanks in part to the standard air conditioning.
Space and practicality
Though on the road the 407 SW looks like a large car, the available cabin space feels fairly modest. That's partly because the long bonnet takes up such a large proportion of the car's length. Front seat passengers are well catered for but rear seat passengers suffer from a certain degree of restricted legroom. The car's main raison d'etre ' the boot ' is small by estate car standards at 489 litres but well proportioned with a low loading lip.
Controls and display
All displays are clear and even manage to inject a hint of sportiness. There is certainly no shortage of information available to the driver via the multifunction display. Black interior colour schemes are particularly satisfying. On more expensive models, the button count does start to get quite high. It's great to have the panoramic sunroof above you head but it does take rather a long time to operate.
Comfort
Seats are well sculpted and offer good support front and back, even if the rear central one could only be used for short hops. The panoramic sunroof proves its worth by preventing any feelings of claustrophobia and promoting a feeling of airiness. A comfort pack is an optional extra that features electric adjustment of the steering column and driver's seat with an integrated memory so it doesn't have to be re-set every time you get into the car.
Car security
Follow-me-home lights provide some added visibility on dark winter nights. Additionally, an optional Security Pack can be specified comprising rear side airbags, pyrotechnic rear seatbelts, side window sun blinds and laminated side windows. Standard features include an alarm and immobiliser.
Car safety
Seven airbags (nine on Executive models) come as standard, along with important 'hidden' features such as ESP with ABS, emergency brake assist and traction control. A variable speed limiter on some models is another welcome safety feature and operates in conjunction with the cruise control system.
Driver appeal
Without doubt, this is one of the best-driving estate cars around. In fact, it handles rather better than some hatchbacks. This is due in no small part to the double wishbone front and multi-link rear suspension, which delivers plenty of feel and accuracy through the steering wheel without making the ride unduly harsh. Engines feed power in progressively so that the worst excesses of body roll can be avoided by a competent driver, making progress swift and enjoyable, even in the 1.6 diesel model.
Family car appeal
Though families continue to migrate towards MPVs and SUVs in ever-increasing numbers, the traditional estate car is still the best solution for many. The appeal of classics such as the 405 estate was that they could operate as working vehicles for tradesmen during the week and then switch to family use at weekends. The refinement of the 407 SW makes it ill-suited to the former use, while restricted rear legroom means that smaller children could be accommodated, but probably not adolescents. All passenger seats are equipped with Isofix mountings.
First car appeal
Estate cars are rarely coveted by first-timers and despite the 407 SW's good looks, it's unlikely to attract many of them. That's probably just as well ' newly-qualified drivers are better advised familiarising themselves with the roads in something more modest until life changes make an estate car a more desirable option.
Quality and image
Despite falling short of true premium status, the 407 SW is well up to the required level to be competitive as far as quality is concerned. Its elongated Sport Wagon profile makes it more immediately attractive than some bulkier rivals, though the likes of the Honda Accord sneak ahead on build quality. Nevertheless, Peugeot estates are generally thought of as worthy, dependable vehicles.
Accessibility
Rear doors have a pronounced 'D' shape, so they are light but a little narrow at floor and roof level. The boot is simple to operate via the key fob or manually and the rear glass opens independently. Seats display a high level of flexibility ' even the front passenger seat is modular, so can be completely flattened to carry very long loads back from the garden centre or DIY store.
Stereo and ICE (In car entertainment)
A six speaker CD player is standard issue, but those with a desire for booming beats can specify a high-performance JBL hi-fi system with 10 speakers and a combined bass box can be chosen from the options list. Even more ardent petrol-heads can indulge in a host of extras and can connect an MP3 player to the system.
Colours and trim
Cars are badged S, SE, SV and Executive. S and SE models are intended to be sporty with SV and leather-trimmed Executive models providing a luxury feel. Standard equipment on all models includes digital climate control, ultrasonic alarm and front fog lights but the most surprising and welcome inclusion is the impressive panoramic glass sunroof. Twelve body colours are available, and buyers can choose freely, as the 407 SW does not seem particularly colour-sensitive.
Parking
Entry level versions don't come with an anti-glare mirror, but other models have some handy parking tricks usually seen on more expensive cars. As well as optional rear parking sensors, some versions automatically tilt the wing mirror glass down to give a better view of the kerb and rear of the vehicle. It's just as well ' the thick rear pillars restrict visibility somewhat.
Spare wheel
A full size steel spare comes as standard.
Range information
Engine options include four petrol and two diesel units. Petrol units are of 1.8 litres (117bhp); 2.0 litres (138bhp); 2.2 litres (160bhp) and a 3.0 litre V6 (211bhp). Diesel units are of 1.6 litres (110bhp) and 2.0 litres (136bhp). Transmission choice is dependent upon the engine selected but includes 5- and 6-speed manual units and 4- and 6-speed automatic options.
Alternative cars
Citroen C5 estate Hugely roomy but lacking style
Toyota Avensis estate Ultra-reliability compensates for neutral ride
Mazda 6 estate Good value and a good looker to boot
Vauxhall Vectra estate Estate car more convincing than hatchback