February 2006
Peugeot 407 Coupe GT HDi
Stunning looks mark out the 407 Coupe
February 2006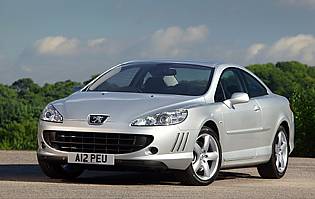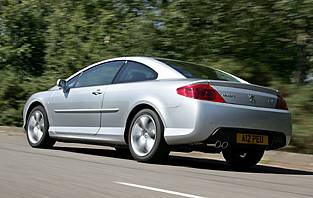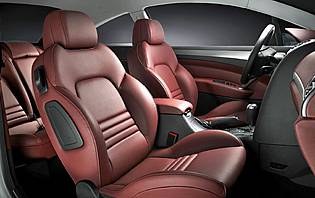 Overall rating

Likes:
Effortless performance from the diesel engine
Excellent combination of ride comfort and impressive handling
Stunning looks even with the entry-level version
Good specification for the purchase price
Gripes:
Rear headroom will be inadequate for some passengers
Diesel version is impressive but expensive
Narrow boot aperture restricts usability
Heavy doors may be a problem for some users
Building on the success of its 407 saloon, Peugeot are re-entering familiar territory with the 407 Coupe. Designed as a fully-fledged GT car, the 407 Coupe aims to bring comfort, style and the ability to cover distances with ease, but at a lower price than premium-badged rivals.
From the outside the 407 Coupe clearly shares some DNA with its saloon sibling, but the substantial changes to the exterior give it a much more attractive and dramatic appearance. The wide mouth grille, sweeping flanks and smart tail lend it the proportions of a classic GT car, and bear comparisons with recent Ferraris of a similar size. Few cars can claim to be this attractive at any price.
On the inside Peugeot has made substantial efforts to continue the quality feel. Although the majority of the dashboard is carried over from the saloon, the use of aluminium trim and leather on SE and GT versions brings a strong sense of luxury and comfort to the cabin. The standard specification is also generous, even on the entry level S model.
Mechanically the 407 Coupe carries a number of significant changes over the saloon. The body structure has been subtly altered, both to lower the height of the vehicle and improve weight distribution, as well as improving overall body strength to the benefit of ride, handling and crash performance. The suspension itself is stiffer than the saloon, as well as having a wider track front and rear, increasing the amount of grip on offer.
Other significant changes include an electronically controlled damping system on six-cylinder models, which continuously alters the stiffness of the dampers in order to provide a combination of a smooth ride and strong grip. A push button allows the driver to select a stiffer Sport mode. All versions are fitted with ESP as standard, while the power assisted steering is modified over the saloon models to give improved feel and self-centring.
Our verdict on the Peugeot 407 Coupe GT HDi
Undoubtedly stylish and effortless to drive, the 407 Coupe has a great deal of appeal. Minor issues do not spoil what is a very competent car, and a buyer looking for a stylish and useful GT car would be very satisfied with the Peugeot, particularly in diesel form.
Costs
The top specification GT model does have a relatively high purchase price, although it can return decent fuel economy. A car at this price will not be very cheap to run, but it is more than reasonable for a car of this size and performance.
Space and practicality
Generally speaking space is very good inside the 407 Coupe, which is to be expected of something this size. Front seat passengers are best catered for, and the driving position has been lowered and moved backwards to give a better position for the driver. Rear seat passengers also have good levels of leg and elbow room, but the steep slope of the rear window impacts on the amount of headroom available. Taller passengers may find that they have to learn forward slightly to give sufficient room.
Controls and display
Most of the major controls are grouped within the centre console, and although clearly labelled the sheer number of buttons can be a little confusing at first. However, the stalk-mounted audio controls are a useful addition, while the instruments are clear and attractive, with the benefit of an information display mounted between them.
Comfort
The four individual seats provide very good support, with the front pair allowing a large range of adjustment. The ride quality is also very good, and with a minimum of wind, road and engine noise, the 407 Coupe is a very comfortable vehicle.
Car security
Steel plate around the door and boot locks make forced intrusion more difficult, while automatic door locking makes outsider intrusion less likely. All versions also come with deadlocks, a Thatcham approved alarm and an engine immobiliser.
Car safety
With two fewer doors than the saloon, the 407 Coupe is already at an advantage with a stiffer bodyshell, and added to this is a comprehensive list of passive safety equipment, including seven airbags as standard on all models. Standard ESP, ABS and brakefore distribution also help to prevent accident situations.
Driver appeal
Less of a sports car and more of a true GT, the 407 Coupe is at its best when covering long distances. Town driving is simple but the sheer length might make it intimidating for some. At speed it responds remarkably well, remaining composed and controlled, but the light steering and size discourage high speed driving. Instead, the calm ride and torquey engine make it an easy car to pilot over long distances, with low noise levels and a relaxing manner.
Family car appeal
With its roots in a family car, the 407 Coupe could fulfil most needs for family. Although a strict four seater, only the very tallest older children will have trouble fitting in the rear, while the boot is large enough to hold a good amount of luggage.
First car appeal
Although the engine and transmission make the 407 Coupe an easy car to drive, its length, expense and long overhangs make it largely inappropriate for a first time car buyer.
Quality and image
The 407 Coupe reaches a good standard of quality, aided by the attractive design inside and out. The quality of the materials used is largely of a good standard, with just a few areas that feel a little lightweight. In terms of image it transcends its origins thanks to the dynamic exterior styling, and it is likely to be mistaken for a car from a more exclusive manufacturer.
Accessibility
With just two doors, entry to the front seats is easy, although the length of the doors does mean that they are surprisingly heavy. Passengers of smaller stature may struggle with them. Rear seat passengers benefit from the addition of an electric sliding motion when the seats are tilted forward, and there is sufficient space to make entry straightforward. The boot has a slightly narrow aperture, which may prevent bulkier items from being stowed.
Stereo and ICE (In car entertainment)
All models are fitted with a combined radio and CD unit, but the SE and GT versions receive an excellent JBL amplifier and CD changer. The former provides a high output with clear sound quality, and although the main controls are relatively complex, an extra column stalk allows easy manipulation of the source, sound and volume controls.
Colours and trim
The 407 Coupe provides an excellent cabin environment, thanks to the quality of the materials used. The top-specification GT model gets leather on the seats and on the dashboard, creating a snug and inviting interior. Even the mid-range SE model gets leather seats for a classy interior.
Parking
Rear parking sensors are standard on all 407 Coupe models, with a front parking aid being an option on all models. This is a great help when parking, as the view rearwards is quite narrow, making it difficult to judge where the extremities of the car are. The automatic transmission and light steering also aid parking.
Spare wheel
Full size spare wheel mounted underneath the boot floor.
Range information
Three engine options: 2.2-litre petrol (163bhp), 3.0-litre petrol (211bhp) 2.7-litre diesel (205bhp). Smaller petrol fitted with six-speed manual gearbox, diesel fitted with six-speed automatic, larger petrol available with both transmission options. Range is S, SE and GT, available with all engine options.
Alternative cars
Vauxhall Monaro A better performance car, but much less refined and no diesel option
Mercedes Benz CLK-Class Excellent diesel engine and classy badge, but dated looks and pricey
BMW 6 Series Great to drive and stylish, lacks diesel option and considerably more expensive
Alfa Romeo GT Gorgeous styling, well priced and fun to drive, lacks room to perform GT role