June 2007
Peugeot 207 GTi THP 175
207 GTi hopes to pick up where the 205 left off
June 2007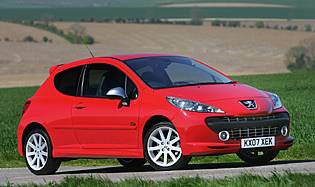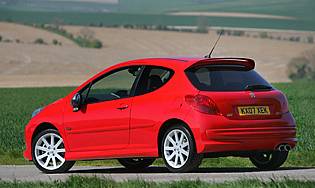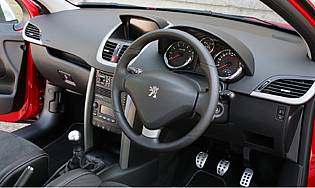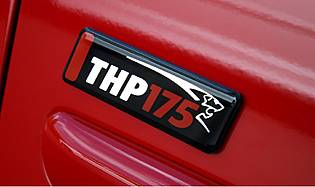 Overall rating

Likes:
Supportive front seats
Loaded with state-of-the-art safety systems
Torquey engine with almost no turbo lag
Sharp brakes and steering
Gripes:
Styling is very similar to the lesser GT model
Many useful options are extra cost
First to second gear-change crunchy when pushed hard
Engine and exhaust note not as distinctive as some rivals
Peugeot can be partly credited with creating the formula for the hot-hatch over two decades ago with the 205 GTi. After failing to replicate its success with the 206 GTi it's having another bash with the 207 using the same recipe of proven chassis, punchy engine, sporty interior and enthusiastic steering. This time some clever electronics have been thrown into the mix, too.
Hot-hatches have come a long way since the Peugeot 205 GTi and Volkswagen Golf GTi first cocked their inside rear wheels all over the established order, but their popularity has never waned. Unfortunately it's no longer enough to simply stick an outrageously powerful engine and some firmer shocks into thin steel shell and let the men separate themselves from the boys on a rural B-road.
Recreating the raw, twitchy and lightweight feel of an eighties hot-hatch in a car weighed down by modern safety equipment and restrained by electronics is no easy task. Adding power to a front wheel drive set-up only works up to the point that it becomes a seething, torque steer-addled mess.
It's good to see that, having kicked off the revolution in 1984 with the 205 GTi, Peugeot are back on form with the 207 GTi. Since then the competition has increased in volume and quality but in the 207 GTi Peugeot has embraced just the right mixture of mechanical and electronic technology to create a real buzz.
A gutsy engine that's already proven its worth in the popular Mini Cooper S and in the 207 GT model in less powerful form has been combined with a comprehensive suspension overhaul, ESP programme and a cut-to-the-chase steering and braking package that makes for an enthusiastic, but all the while safe, driving experience.
Our verdict on the Peugeot 207 GTi THP 175
Although failing to enthuse in quite the same way as its raw and rowdy ancestor, it's unfair to compare the 207 GTi to a car that wasn't restricted by modern safety standards and refinement expectations. Happy to pull from anywhere on the rev counter with responsive and confident handling, it's a hugely impressive, solid and sporty little hatch in its own right and is more than worthy of the GTi badge.
Costs
The standard car is well equipped, but the additional bodywork, parking aids, cruise control, electric mirrors, auto-lights, dual zone air-con and other options that make up the Octane Pack all add up, with stereo options sat nav and metallic paint being more still. Even so, it's very competitively priced and offers fantastic performance for the money. Driven gently this 207 can return sensible economy figures, while servicing intervals are two years or 20,000 miles and the robust engine shouldn't give you any problems.
Space and practicality
It's a compact three-door hatch and as such comes with the spatial limits you'd expect. Headroom is excellent all round and while the interior isn't huge it feels deliberately compact rather than cramped, but the rear seats are shaped to allow two rear passengers only. The boot is actually generous for a car of diminutive proportions, but the rear wheel arches do impose on its width. The rear seat backs fold down to open up some additional room.
Controls and display
The Peugeot scores highly for its usability. It's perfectly possible to jump in and drive straight off: all of the controls will be exactly where you expect to find them. Chunky switchgear looks like it will be capable of withstanding the enthusiastic treatment it's likely to receive from drivers carried away exploiting the car's performance, and the driving position is also excellent. The only criticism: some of the audio-visual control buttons on the centre console are small enough to be a distraction until you're fully used to them.
Comfort
The front seats are particularly supportive and comfortable during even the most rigorous of workouts. Adequate legroom is provided for rear passengers, but adults will find it cramped during longer journeys. Dual climate control is a cost option, although air conditioning is standard on the 207 GTi. The ride, while firm, is less so than some others making it easier to live with on rougher surfaces.
Car security
It's certainly a far cry from the old 205 GTi, which held it's expensive full size spare alloy in an easily accessible cradle under the car and had all the security of an unattended beach barbecue. The 207 GTi is a far more secure affair. Remote control central locking with deadlocks is standard, as is an alarm and immobiliser. Door locks can also be push-button activated from inside the car.
Car safety
The little Peugeot scores top marks for safety, and not just because of its array of six airbags - two front, two side and two curtain - to protect both front and rear passengers. The GTi is also brimming with computer controlled safety systems including a comprehensive ESP set-up that ABS, electronic brake-force distribution, traction control, and stability control. Peugeot has also added a new innovation: steering stability programme (SSP). The system links the power steering to the ESP to improve stability and cut straight line stopping distance.
Driver appeal
It's real laugh-a-minute stuff behind the wheel of the 207 GTi, with swift acceleration available across the rev-range. While the 207 GTi doesn't have the super-stiff chassis of some of it's rivals, it does have fantastically responsive, perfectly weighted steering and sharp brakes to make up for it. The engine is an impressive unit that makes the car feel like its constantly pulling on the leash, but a sixth gear would bring the revs and noise down on the motorway. The only thing the 207 really lacks is a crack and fizzle from the exhaust: the engine makes a pleasant enough noise but a finely tuned exhaust note would really have added some sparkle.
Family car appeal
There's certainly potential for the 207 GTi to make a useable family car for those with small children. It's attractive enough both inside and out to be appealing to kids and they certainly won't be embarrassed to be picked up by it at the school gates. As a practical load carrier it's not quite so appealing.
First car appeal
The 207 GTi is an enticing proposition for anyone searching for a first car. At Group 15, insurance premiums will be higher than a lower spec model but are the equivalent of its rivals. Younger, trendier buyers will appreciate the car's character and funky styling. It also has more than enough performance to ensure no loss of face at the lights.
Quality and image
The 207 benefits from some starkly 21st century looks and the GTi takes that to the next level. It has plenty of street chic and should appeal to the youth market at which it's aimed just as well as its competitors. The whole car feels tight and well glued together with high quality materials used all round. Peugeot certainly hasn't skimped on build quality to keep the price low.
Accessibility
Front sports seats are bulky with chunky bolsters which won't restrict the driver or front passenger, but adults may find them harder than normal to squeeze past when accessing the rear seats. The car's ride height is standard family fare, so seats are at a comfortable height to leap into with ease.
Stereo and ICE (In car entertainment)
The standard equipment consists of a single slot CD player and radio with the display integrated into the central dash. There's plenty of extra kit available at cost for the gadget generation though, including a JBL stereo with five-disc CD-changer, MP3 compatible CD player with RD4 radio, fully integrated sat-nav and a steering wheel operated Bluetooth hands-free phone system.
Colours and trim
Colours are as trendy and vibrant as you'd expect for a performance model aimed at the younger market, with the black, red and white shades looking particularly fine. A colour coded rear bumper is available at extra cost and makes a good deal of difference to the overall look. Inside, alcantara and half leather covers the neatly trimmed front and rear seats as standard. There's leather on the wheel and gear lever gaiter too.
Parking
Reversing sensors are an additional cost option, and surprisingly for a car of this size it does feel as though they'd be of benefit. Rear visibility is a little restricted by sizable C-pillars and it's hard to see the reasoning behind strangely shaped, almost triangular mirrors as they don't appear to offer much over a traditional design. That said, the 207 GTi is compact and overhang free, so should squeeze into gaps without much fuss.
Spare wheel
A space saver fitted as standard in the boot.
Range information
Petrol engine options - 1.4-litre (75bhp); 1.4-litre (90bhp); 1.6-litre (120bhp); 1.6-litre (155bhp); 1.6-litre (175bhp). Diesel engine options - 1.4-litre (70bhp); 1.6-litre (90bhp); 1.6-litre (110bhp). Transmission options: five-speed manual gearbox, four-speed auto adaptive automatic with Tiptronic. Trim levels: Urban, S, Sport, SE, GT, GTi.
Alternative cars
Mini Cooper S Powered by identical engine but higher starting price
Renault Clio RenaultSport 197 Nearly 200bhp but more than capable of handling it
Vauxhall Corsa VXR VXR brand has quickly earned a great reputation and large following
Ford Fiesta ST Robust, competitively priced and lots of fun