March 2007
Peugeot 207 CC GT THP 1.6
207 CC has more aggressive design than 206 CC
March 2007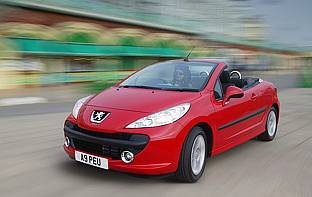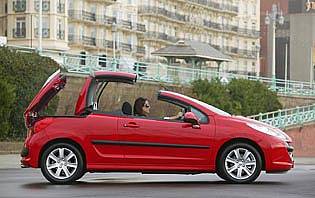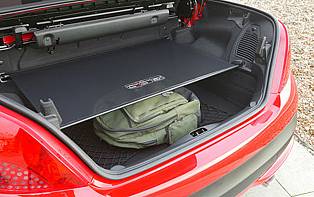 Overall rating

Likes:
More aggressive looks are just what was required
Superior road dynamics to 206 CC in every way
Choice of decent petrol or diesel engines
Roof mechanism looks simple and robust
Gripes:
Doesn't quite deserve to called a sports car
Rear seats are pretty much useless
Optional four-speed auto gearbox is poor
Wind deflector is optional on all models
Peugeot's 207 CC is a welcome addition to the French manufacturer's range, supplying a modicum of fun and even glamour to a line-up that can sometimes seem worthy but uninspiring. A much more accomplished machine than the popular 206 CC it replaced, the 207 CC allows Peugeot to retain its significant slice of the compact coupe cabriolet market.
Nearly nine out of ten buyers of the 206 CC were women, and the 207 CC is likely to have a similar proportion of female buyers. Even so, its looks are considerably more aggressive than the cute and curvy 206 CC. This is exactly what was required with modern women exhibiting a liking for performance and quality every bit as much as men. The 207 CC nicely blends ability with credibility.
The rear deck, which so often ruins a CC car's proportions, is kept short and the unfussy lines seem natural and easy on the eye. The interior layout is still 2+2 rather than a proper four-seater, with the rear positions really no more than glorified parcel shelves, but interior quality has been noticeably improved and the driving position has been lowered to make it feel as if you are driving a 'proper' sports car, not a 207 with the roof missing.
Ride is smooth without being wallowy and the car's extra weight never makes it feel slow. Find a stretch of open road and it is possible to have some fun with the top down without encountering the levels of body flex that blighted the 206 CC. Perhaps that is one of the inherent benefits of the 207's solid basic body structure. Early 206 CCs encountered problems with their folding roofs. Similar problems with the 207 CC seem unlikely, as Peugeot now makes the whole car itself, roof included. It will open at the touch of a button in well under 30 seconds.
The 1.6-litre petrol unit is likeable, delivering its modest power quickly and smoothly thanks to a twin turbo and allowing the 207 CC to do a convincing impression of a sports car. A non-turbo version is also available. In contrast, the 1.6 HDi diesel majors on fuel economy and a feeling of unburstability. While it lacks the turbo's sporting edge it has lots of torque and compensates in other ways, including reduced emissions and a low VED tax band.
Our verdict on the Peugeot 207 CC GT THP 1.6
In many ways, the Peugeot 207 CC is an ideal car for the UK market, being compact enough to be practical around town, weatherproof when the need arises and fun to drive when the opportunity presents itself. But perhaps most important of all, it proves that Peugeot still knows how to put an affordable, enjoyable small car together.
Costs
Though it doesn't leap out as an obvious bargain, the 207 CC is fairly priced. Certainly buyers will feel like they are getting more for their money than they will with some rivals, and despite the overwhelmingly female clientele, this is a car that men can drive with no fear of being spotted by their pals. The diesel has a clear advantage for business users. Maintenance costs should be no worse than for the 207 hatchback, provided the roof proves robust.
Space and practicality
Boot space is good with the roof up and not bad with the roof down - the remaining space is not high but extends a long way into the body. Now you can sneak away for a long weekend instead of a weekend. The cabin lacks a large number of storage options, but that it an almost inevitable compromise in cars of this class. After all, they've managed to cram a whole roof into the body structure, so it seems churlish to complain about a lack of cup holders.
Controls and display
Buyers get a slightly warmed-over version of the regular 207 interior that is functional and clear but unspectacular. The operating system for the satellite navigation system takes a little getting used to but works well once you are familiar with it. When opening and closing the roof, you need to keep your finger on the button for a full 25 seconds, but no other locking or latching is required.
Comfort
Front seat passengers fare well, rear seat passengers are an afterthought. Close the roof and the 207 CC becomes very quiet, feeling almost like a sleek saloon rather than an everyday hatchback. The engine note only becomes noticeable with the roof down. High speeds require a wind deflector to be slotted into place, but this is a cost option with all models.
Car security
Sport models lack an alarm, GT models have a Thatcham class one system. Obviously, the ability to put the hardtop in place makes the 207 CC effectively as secure as its hatchback equivalent - but owners should avoid the temptation to leave things on display on top of the rear seats.
Car safety
The safety package is as reassuring as it can realistically be. All cars get active rollover protection bars, five air bags, ABS, EBFD and automatic illumination of hazard warning lights under heavy braking - a useful and often overlooked feature.
Driver appeal
Particularly with the turbocharged petrol engine aboard, the 207 CC is actually good fun to drive. The turbo is impressively responsive with no noticeable lag at all. Though not as much fun to drive as a Mazda MX-5, the 207 CC is on a par with the Tigra and is better than most of its other rivals. In short, light years ahead of the 206 CC.
Family car appeal
Not suitable for families, as the rear seats are really too small even for regular use by children. Mum and Dad might be able to cope for the first few months of junior's life thanks to the Isofix points in the back, but as soon as he turns into a toddler, forget it. If nothing else, you don't want him sticking his fingers into that folding roof mechanism.
First car appeal
This car has much to recommend it as a first car - which is not often the case with traditionally twitchy convertibles. It's not so powerful that a novice will get into trouble unless he or she really tries, it is stylish without being gaudy and - particularly with the diesel - running and insurance costs are not too bad.
Quality and image
The 206 CC was unequivocally a girlie set of wheels. The 207 CC is more unisex, though still with strong female appeal. But this time, the appeal is to organised, confident career women who sometimes let their hair down, not ditzy Bridget Jones types.
Accessibility
Access to the front seats is easy. In theory, it's easy to get into the back as well thanks to a single-pull mechanism on the front seats, but in practice the rear rank is very cramped and requires front seat passengers to move their own seats forward more than seems right. Really, the back seats are just parcel shelves.
Stereo and ICE (In car entertainment)
Peugeot's integrated satellite navigation has always been infuriating. In theory it's one of the best systems around, but a glitch in the UK-specific software has meant that it never performs as well here as it does on the continent. Its latest evolution seems quicker and slicker, but only time will tell whether it has finally got used to British place names. Only GT models have MP3 compatibility.
Colours and trim
As with the larger 307 CC, if you can afford leather trim then definitely do so. Unexpectedly perhaps, Peugeot currently produces one of the best quality leather packages around with good quality hide and beautiful stitching. Bright, bold exterior colours seem to work best with what is essentially an outgoing car.
Parking
With a shorter rear deck than many competitors, the 207 CC is easy to park. Even with the roof in place, visibility is good, thanks to the extensive glazed areas. Only the relatively low-slung seat position is a slight impediment. Steering frees up nicely at low speeds and the car is only slightly longer than the regular 207 hatchback. GT models have rear parking sensors, though they barely need them.
Spare wheel
Space saver fitted as standard on all models
Range information
Petrol engine options - 1.6-litre (120bhp); 1.6-litre THP turbo (150bhp). Diesel engine option - 1.6-litre HDi DPFS (110bhp). Five speed manual as standard, four-speed automatic with Tiptronic sequential control available with lower power 1.6 petrol engine only. Two trim levels: Sport and GT.
Alternative cars
Mini Convertible Still as fashionable as ever, though you pay for the privilege
Vauxhall Tigra Well-priced tin top has strong female appeal
Mitsubishi CZC Pram-like looks but a surprisingly strong package
Mazda MX-5 CC Classic roadster with folding plastic roof is great to drive