January 2015
Peugeot 108 Top! Active 1.0 Stop and Start 3dr
Balanced styling avoids controversy and achieves understated good looks
January 2015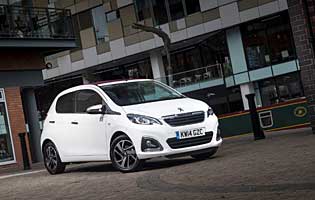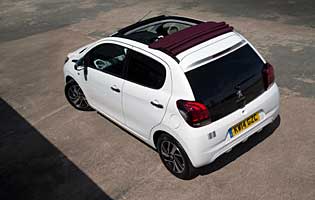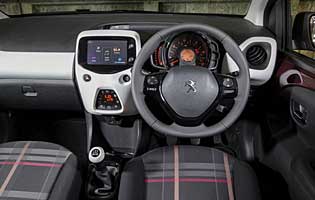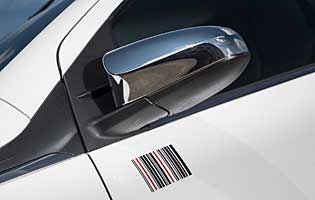 Overall rating

Likes:
Light controls make low-speed driving easy and accessible for novices
Sliding roof design means rear visibility and boot space are maintained
Three-cylinder engines boast character and fuel efficiency
Gentle cabin air movement with the roof retracted is pleasant and comfortable
Gripes:
Engines struggle to cope with the demands of faster roads
Despite having solid rivals to benchmark, interior plastics are poor quality
Flat seats offer little support through corners
Very little rear legroom is left behind an average-height driver when sat in the back
The idea of a small, convertible car has been around for more some time, although manufacturers have been divided on the subject of how to design and market them. Peugeot has settled on a simpler semi-soft-top design, where only the roof panel is replaced with canvas.
Car design has advanced to the point where small size is no restriction for buyers who want open-air motoring. Even the smallest class of car, in which the 108 belongs, has a selection of convertibles. Weight penalties for fully-fledged soft-tops with folding roofs mean that such designs are bad ideas for the smallest cars, though.
Instead, like the Fiat 500 convertible that has sold well in the UK, the Peugeot 108 Top! has replaced a normal roof panel with a multi-layered sliding canvas sheet. This leaves the body's original structural bracing intact for the most part and ensures that minimal - inevitably heavy - additional chassis stiffening is needed, if at all.
With downsizing so popular and the 108's target audience so focused on style and ownership enjoyment, adding the option to slide the roof back and enjoy fresh air is a sensible one from a marketing perspective. Several of Peugeot's key rivals in this sector have not yet built convertible versions of their equivalent models, giving Peugeot an instant advantage.
This sliding roof design is by far the cheapest way of producing a convertible car, so the French firm has been able to keep the price low while introducing enough soundproofing to the fabric roof construction to make the car little or no noisier than the hard-top version. It can be opened while driving, too, which makes the added sense of premium motoring easier to access.
Our verdict on the Peugeot 108 Top! Active 1.0 Stop and Start 3dr
The 108 Top! presents a surprise in that it seems little more susceptible to road and wind noise than the hard-top car, partly because the road noise is loud enough to overwhelm any additional sound from the roof but also partly because the roof is well constructed. If the idea of all that headroom is simply too good to ignore, the Top! offers an affordable way into convertible driving.
Costs
Low emissions mean a tax-friendly outlook for business and private users, and if driven in the right manner the car can record fuel economy to rival any diesel. The Top! version will only be offered in conjunction with the entry-level and mid-range trim grades, though, to avoid creating a flagship that is simply too expensive to appeal.
Space and practicality
Because the roof does not fold down behind the rear seats, as is often an irritation with larger convertibles, the boot space in the 108 Top! is the same as in the standard car. But despite that it still doesn't offer very much space. Its 196 litres compares to several rivals that have around 250 litres. A small number of storage spaces in the cabin do at least allow for some everyday practicality in terms of placing spare change and receipts.
Controls and display
As standard on the Active model there is no rev counter, which some drivers might find detrimental to their sense of confidence behind the wheel. The large speedometer is clear and bright, at least, but the highlight is the new touch-screen. With colourful graphics and a large surface area it gives the 108 a semblance of big-car technology. It can also be set to mirror a connected smartphone's display, although the number of apps with full compatibility is quite small.
Comfort
The driving position is curiously biased towards people with shorter-than-average legs. Many people will find their legs bunched up under the steering wheel, which only adjusts for height. The position does leave your left hand right over the gear stick, though. None of the seats extend far under their occupants' legs and they are quite flat, leaving them a little too basic for long journey comfort.
Car security
Keyless entry is offered on higher trim grades, but all models will at least be fitted with remote central locking and a basic immobiliser. The boot is covered by a fabric parcel shelf, but if the rear windscreen is smashed this shelf will not offer the same level of security as a solid cover that butts against and is held down by the tailgate. The small steel wheels on this model are unlikely to appeal to thieves, but it is worth noting that they are not secured with locking wheel nuts.
Car safety
The 108 covers all bases with six airbags, stability control and systems to ensure safer emergency braking even when grip levels differ across the road surface. An unexpected feature on a car in this class is Hill Hold Assist, which electronically maintains a hold on the brakes for a couple of seconds after the driver initially lifts their foot off the pedal, preventing the car from rolling backwards before the clutch is engaged.
Driver appeal
The 1.0-litre engine is willing and quick to respond, and thanks to a positive-feeling clutch it's both easy to get away from the lights quickly, and relatively hard to stall. Having the electrically-opening roof is a huge bonus on a car of this size, and sliding it back generates a gentle movement of cool air around the passenger space. Although the driving position is not ideal, the 108 Top! has a cheeky charm that will win fans.
Family car appeal
The 108 range is designed with the family in mind as far as possible, so buyers will find two ISOFIX child seat mounting points in the rear of the car. It could be a good choice as a second car for driving young ones around town where large accessories aren't needed. The 108 doesn't have the capacity to carry bulky belongings, but it's more than big enough to carry the essentials.
First car appeal
As a member of Peugeot's smallest car range the 108 Top! clearly has new drivers in mind. Many of its features have direct or indirect benefits, like the economical petrol engine, the easily manageable dimensions and even the steel wheels on this model, the wheel trims covering which are cheap to replace after kerb damage, whereas alloy wheels are not. Insurance should be affordable, although the soft-top on this model could be vulnerable to vandals.
Quality and image
Peugeot had two years following the release of the Volkswagen Up!, Skoda Citigo and Seat Mii to benchmark the Volkswagen Group trinity and make sure its own riposte was up to scratch in terms of quality. However, the firm has fallen short; the interior plastics feel a generation or more behind those of the 108's best rivals, thus failing to help boost Peugeot's reputation for build quality. It's a good-looking car, though, and will secure an image boost for that.
Accessibility
While five-door versions are also available, this three-door car suffers the usual drawbacks of such designs. At times, the long doors make it harder to get out of the car without touching the neighbouring vehicle. Getting into the rear is not as tricky as it might be thanks to the forward-sliding front seats, but it still remains the province of younger, more agile passengers.
Stereo and ICE (In car entertainment)
A new colour touch-screen facilitates the easy selection of music sources and displays any available track or album data. Users can connect devices by Bluetooth or USB, but there is no CD player. The radio offers DAB connectivity as well as traditional FM/AM stations. A two-into-one 3.5mm auxiliary cable can be added as an option to connect compatible audio device, while an official optional hands-free kit can hold a phone and connect it to the car's audio system.
Colours and trim
A flat red is the only colour available free of charge, with a number of more interesting metallics at extra cost. The best colour for the 108's shape is almost certainly the purple metallic, which gives the car exactly the right sense of identity and small-car cheekiness. The interior trim is a let down though, with large swathes of disappointingly low quality plastics dominating the view.
Parking
With light-feeling steering and pedals, the 108 can be whisked around town easily. That includes car parks, which the car needs a minimum of effort to negotiate. Even with the roof retracted all the way the 108 Top! can be reversed with no distractions, because the folds of the canvas panel sit above the rear windscreen instead of obscuring it. The tiny dimensions of the car mean that few spaces are off-limits, although its turning circle could be better.
Spare wheel
Emergency tyre repair kit supplied as standard.
Range information
Petrol engine options - 1.0-litre (67bhp); 1.2-litre (81bhp). Transmission options: five-speed manual gearbox, plus auto gearbox (1.0-litre petrol Active models only). Trim levels: Active, Allure, Feline.
Alternative cars
Fiat 500 Convertible More stylish and chic, with a folding roof that goes even further backwards
Citroen C1 Airscape The C1 shares engineering with the 108 but brings different character
Hyundai i10 The largest model in the city car class has acres of space, but no soft-top option
Skoda Citigo No convertible option but a brilliant and high-quality all-rounder