January 2014
Nissan Qashqai 1.6 dCi CVT 2WD Tekna
Dramatically different styling is instantly recognisable
January 2014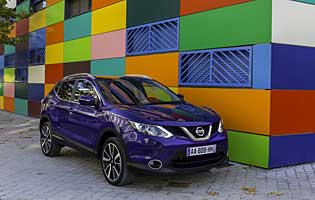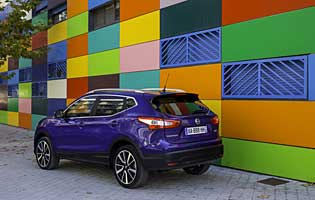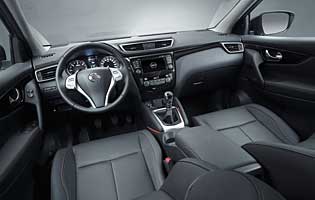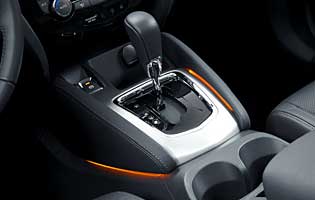 Overall rating

Likes:
Comfortable driving position and seat shape
Lots of interior space for front seat occupants
Clever adjustable boot floor offers varied storage solutions
Excellent ride quality provides stability and comfort
Gripes:
Expensive prices align with larger, more spacious rivals
Engines can struggle to pull the car when highly loaded
CVT gearbox is much improved, but still significantly saps power
One or two examples of cheap, flimsy switchgear
The Qashqai can be credited with the inception of the 'crossover' concept that has led to many direct rivals, but it has also set the bar extremely high for its replacement. British buyers loved the first generation car, and even more so after its mid-life updates, but nonetheless the new version aims to move the game on again.
The success story of the Qashqai is one that most other manufacturers would kill to achieve. When it was originally introduced it was an entirely new concept, raising a compact family hatchback up on a higher platform that mimicked true off-roaders. It managed to strike a balance between driving dynamics, practicality and financial appeal.
It moved the automotive world on to a new realisation; that swathes of buyers want to sit higher without having to buy a large, expensive, cumbersome car. During its life it was consistently in the UK's top 10 sales charts by volume, leaving all its newer rivals in its wake. In replacing it with this model, Nissan has taken another risk and introduced radically different styling.
The 2014 car introduces even more technology to the impressive array already gifted to the older Qashqai, often only to the very top-spec model, Tekna. To add to that are larger interior dimensions, better aerodynamics and a new, downsized and turbocharged petrol engine to replace the previous model's underwhelming normally-aspirated option.
The compact crossover segment is one of the fastest-growing and most lucrative for manufacturers to succeed in, but it overlaps both the hatchback sector, where it's targeting the Volkswagen Golf, and the larger compact SUV sector, whose star performer is the Mazda CX-5. Other, more direct crossover rivals from Suzuki, Subaru and Ford are available too.
Our verdict on the Nissan Qashqai 1.6 dCi CVT 2WD Tekna
The 2014 Qashqai is a welcome upgrade, with outstanding refinement and perceived quality. It rides well, has very high fuel economy potential with the mid-range diesel engine, and a vast amount of technology including key convenience and luxury items. Some people will maintain that the first-generation car was better looking, but aside from lacklustre performance from the three initial engine options, the new Qashqai is a very fine car.
Costs
The Qashqai is expensive at the top of the range, but it's amazingly well equipped and there's good news on the residual values front. Industry experts are predicting significantly better residuals for this new model compared to the old one; values that even better the Volkswagen Golf's. Driven with care this diesel automatic version will return high miles per gallon, but its lack of performance could force owners to drive it harder - lowering economy.
Space and practicality
The Qashqai scores points against most of its opposition in that its boot is larger, albeit only when the load floor panels are removed. This 'false' floor is vulnerable to breaking if a particularly heavy load is placed on it, but few drivers are ever likely to carry the sort of weight needed to make that happen. One of the boot floor panels can be switched from horizontal to vertical to create a compact recess that's perfect for an average supermarket shop. In the cabin there's a huge glove box and a massive central storage bin.
Controls and display
The perfectly-damped dials on the centre console are a delight, and they are utterly devoid of play or wobble. Small but impressive details like this are everywhere on the car, and the buttons above the dials are just as impressive. In some ways the Qashqai feels more premium than many cars that are much more expensive than its own asking price, and the delightfully tactile controls are largely to thank. The two colour displays; on the centre console and between the main instruments, are also both superb.
Comfort
For a car that, in Tekna trim, sits on 19-inch wheels, the crossover rides remarkably well. It's firm, but the damping feels expensive in that whatever the road throws at the car, the suspension absorbs it without fuss. Occupants should find themselves well protected from wind noise, too, with the only intrusion noticeable from the driver's seat being a little rushing and whirling around the nearest door mirror.
Car security
With the boot floor panels in place, there is a relatively sizeable hidden compartment to store valuables out of sight. An alarm and immobiliser are standard on this car, while locking wheel nuts prevent alloy wheel theft. The very fact that the interior storage capacity is so large, thanks to the capacious glove box and central bin, also means the vast majority of items of any sort can be kept out of sight of prying eyes.
Car safety
Although all the key boxes are ticked by even the entry-level Qashqai, the Tekna model benefits from an assortment of additional active safety gadgets. Among them is a system to automatically apply the brakes at low speeds if the car is about to hit the one in front. Airbags are strewn throughout the interior and should offer all occupants a degree of additional protection, while Nissan's special gamut of chassis control technologies work to prevent skids, rearward rolls on hills and more.
Driver appeal
The Qashqai has a great deal of merit in terms of driving enjoyment, but it's also where its weak spot lies. The diesel engine in this model is wonderfully refined and quiet in normal, gentle driving, with impressive cruising ability as well. Another point in its favour is that the CVT gearbox has been retuned to mimic a conventional geared automatic under hard acceleration. It works very well to improve perceived engine response, but it still leaves the car irritatingly short of overtaking punch.
Family car appeal
Along with reams of luxury equipment, some of the surfaces in this high-end model are upmarket enough to be more vulnerable to damage. Children may be better placed in a model with less leather to scuff and scratch. There are ISOfix child seat mounts on the two outer rear seats, though, and the front passenger seat can hold a rear-facing child seat for babies. In tandem with that, the passenger side front airbag can be switched off.
First car appeal
While the Qashqai might be one of the finest everyday cars ever built, it's probably not one of the first choices for newly qualified drivers. It's easy to drive, comfortable, inspires confidence and more, but it's not cheap. Nor is it especially small, so on both counts Nissan's Micra and Pixo would make better first car options.
Quality and image
Nissan is treating the Volkswagen Golf as the Qashqai's main rival, and to chase it down there have been major improvements in interior quality. The main surfaces are of a very high standard of fit and finish, while details like sturdily damped and wobble-free dials on the centre console arguably put the Qashqai ahead of the Golf. Nissan has never quite managed to hit the heights of reliability and customer satisfaction enjoyed by Japanese rivals Toyota and Honda, though.
Accessibility
The raised driving position offered by the Qashqai means that the previous version was very popular with people of limited mobility. Getting in and out of the new one requires just as minimal a knee bend, and if it's easier for older drivers to access then it's easier for everyone. The rear doors also open quite wide and present a decent aperture into which passengers can step. The boot floor is, with its panels in place, flat for ease of luggage access.
Stereo and ICE (In car entertainment)
This is a particularly well laid-out stereo interface, as long as the car is left-hand drive. A touch-screen unit in the centre console is supplemented by sleek navigation buttons to the left of it. It's a bit of a stretch for UK drivers to reach them, but at least the buttons on the right hand side of the screen, chiefly for the sat-nav, are close at hand. Bluetooth, CD, digital radio, MP3 CD compatibility and USB inputs give lots of flexibility for music input.
Colours and trim
The Qashqai's colour palette is very typical of a car appealing to the mainstream, but it does make a departure from the blues, blacks, silvers and whites to offer two different reds, the darker of which looks by far the best of the bunch on the new car's sharp lines. There is, at least, a good amount of choice. The interior trim on this range-topping model is very solid and well designed, departing from Japanese styling but not copying German rivals. It looks and feels upmarket.
Parking
As the range-topping model the Tekna has every conceivable parking aid Nissan could add. As if the Around View Monitor wasn't enough, with its 360-degree view of the car's immediate surroundings, there's Intelligent Park Assist. The system can identify a parking space and a target 'parked' position that the user can fine-tune if he or she wants to, guiding the car into the space with only throttle, gears and, in manual models, clutch input from the driver. It works very well in normal situations.
Spare wheel
Puncture repair kit supplied as standard.
Range information
Petrol engine options - 1.2-litre (113bhp). Diesel engine options - 1.5-litre (108bhp); 1.6-litre (128bhp). Transmission options: Six-speed manual or CVT automatic (1.6 diesel only). Trim levels: Visia, Acenta, Acenta Premium, Tekna.
Alternative cars
Suzuki SX4 S-Cross Comfortable ride meets impressive practicality, equipment levels and cruising fuel economy for a bargain price
Skoda Roomster Long in the tooth but extremely cheap for the available space and practicality
Ford EcoSport Good to drive with proven engines, but lacks desirability and ride quality against rivals
Volkswagen Golf Nissan's chief target for the Qashqai, the Golf is a long-standing benchmark in all areas