December 2006
Mitsubishi Outlander 2.0 DI-D Warrior
Outlander has the appearance of a large 4x4
December 2006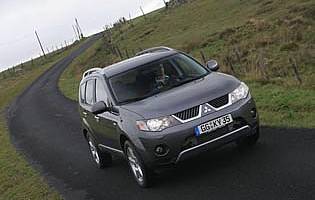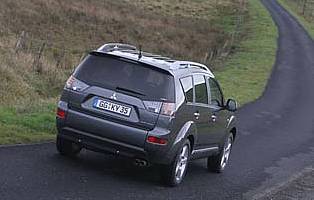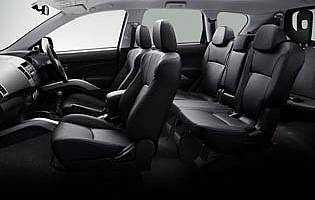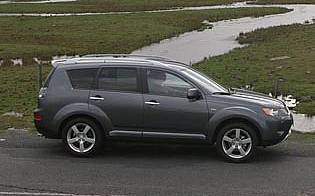 Overall rating

Likes:
Clever styling allied more with SUV than MPV
Split-fold tailgate is substantial and useful
Fuel economy matches more conventional cars
More off-road ability than you might imagine
Gripes:
Some interior fabrics are of poor quality
Pictogram instructions for folding seats are unclear
Equippe models lack crucial third row of seats
Larger wheels impact on fuel economy
The first Mitsubishi Outlander was a great name in search of a great car. It was hampered by awkward styling, an imprecise automatic gearbox and no diesel option. On the one hand it lacked the honesty of a Subaru Forester and on the other it lagged behind the Toyota RAV4 and Freelander in desirability terms.
All these previous faults have been addressed by this Outlander variant. It's cleverly and attractively styled, has a good manual gearbox and a strong diesel engine. And it doesn't stop with the righting of former wrongs. This Outlander will seat seven people, drives nicely and is pretty capable off-road whilst returning on-road fuel economy that wouldn't embarrass a traditional family estate.
The design is extremely clever. Strip away the bold wheel arches, roof rails, chunky grille and a few other key features and you'll see that the Outlander actually possesses a rather MPV-like body shape which means interior space is outstanding. Rounding off the rear are attractive wraparound LED lamps which add a touch of class and are much more noticeable than conventional bulbs. But because of those adornments and the rectangular bonnet, the complete Outlander seems nothing like a bland people carrier. Yet this is a vehicle that takes up less road space than a Ford Mondeo.
A similar conjuring act is performed inside. Even though the seating position and controls aren't that different to a regular estate car's, you feel as if you are at the helm of a Shogun or similar SUV. Most of the time the Outlander will see service as a five-seater, but hidden in the boot floor is a twin occasional seat that means seven can be squeezed in when necessary. The extra rank isn't hugely comfortable or substantial, but it's a neat thing to have up your sleeve.
But the best feature is under the bonnet. At last, the Outlander has a diesel, and not some obscure Far Eastern engine, but a Volkswagen unit. Its output is spot on for the Outlander - any less would struggle to cope with a car of considerable size and weight.
Our verdict on the Mitsubishi Outlander 2.0 DI-D Warrior
From being one of the worst models in the smaller SUV sector, the Outlander is now one of the very best. It's the right car at the right time. It's not the cheapest entry-level SUV out there, but negotiate a modest discount and it is well worth the money.
Costs
The Outlander is about as green as the SUV sector is likely to get in the near future with decent real-world economy thanks to the well-matched diesel engine. List prices are a little expensive, especially when leather and paint options are included, but with so much competition about, sellers should be fairly flexible.
Space and practicality
The Outlander is the latest recipient of the clever Hide and Seat system for the third row that can be stowed under the floor when not needed. It's not particularly substantial or easy to put in place - the pictograms provided are far from clear - but it s very useful for occasional use, turning the Outlander into a passable people carrier.
Controls and display
A decision was taken to base the designs of dials and the central transmission tunnel on a motorbike's dials and fuel tank. Quite why is unclear, as the effort adds nothing in terms of functionality or even aesthetic appeal. The rest of the interior is pleasant enough, if unexceptional.
Comfort
The five main seats are spacious in terms of headroom and legroom, though some of the fabrics in Equippe and Warrior grades do not feel particularly durable. Also, Equippe models do not feature the third row of collapsible seats, which is one of the Outlanders's main attractions. Noise levels are very effectively suppressed on the move.
Car security
All models come with an alarm, keyless entry and tonneau cover for the boot. Warrior and Elegance vehicles gain locking wheel nuts to protect their large alloy wheels as opposed to the Equippe's small steel wheels.
Car safety
Active stability control is standard across the range, the importance of which should not be underestimated. The automatic four-wheel drive mode gives valuable extra traction in poor conditions, though the further locked four-wheel drive mode is rarely likely to be employed. The Outlander feels like a substantial, protective vehicle.
Driver appeal
On the road, the Outlander drives just like a family estate with good acceleration and plenty of feel through the wheel. Though most owners will be unlikely to take it off the road with any frequency, it does possess considerable off-road ability when in 4WD mode. Only the relatively low ground clearance seemed to limit it when it was driven over some challenging rocky tracks and slippery fields.
Family car appeal
The Outlander makes a strong case for itself as an alternative to a conventional family estate car or people carrier. It beats them on both looks and charisma. If seven passengers need to be carried with any degree of regularity, the third row of seats may be too insubstantial, but few families often need more than five well-sized places and a large boot.
First car appeal
There's not too much about the Outlander to appeal to first-time owners other than the fact that it looks good and has a certain amount of 4x4 trendiness. In reality it's a little too large and family-oriented for novices.
Quality and image
Built on the same assembly line as equivalent Peugeot and Citroen models, the Outlander nevertheless feels one notch above both in terms of desirability, largely as a result of Mitsubishi's established track record as a 4x4 maker and a passing resemblance to the Lexus RX300.
Accessibility
A great feature is the split rear tailgate. The large top portion lifts while the chunky bottom section folds down into an extended lip, like on a pickup. It means that heavy loads don't need to be lifted up high and can even serve as a handy seat with the raised tailgate acting as a roof. Doors are substantial but not too heavy and many will find the Outlander easier to access than a lower estate car or raised SUV.
Stereo and ICE (In car entertainment)
All cars have a radio/CD unit with MP3 compatibility, but if you want a proper premium system, you need the Equippe model which comes with a 650W Rockford Fosgate system with nine speakers as standard, including a large subwoofer in the boot which has been turned into a novel design feature. It includes a hard disk-based navigation system with music server, colour touch screen and DVD player.
Colours and trim
Darker colours suit the Outlander best and provide a pleasing contrast with the bright rear LED brake lights, but metallic colours cost extra. Entry-level Equippe vehicles lack some important equipment but record substantially better fuel economy and carbon dioxide emissions figures because of their small wheels and modest weight. Mid-range Warrior models gain a host of comfort and styling features.
Parking
Despite its brawny looks, the Outlander takes up less space than the Volkswagen Passat estate with which it shares an engine. The modestly raised driving position actually makes the Outlander easier to park accurately than many estates, too.
Spare wheel
Steel space saver fitted as standard.
Range information
One engine option only from launch: 2.0-litre diesel (138bhp). Standard gearbox is a six-speed manual. Specification levels: Equippe, Warrior and Elegance.
Alternative cars
Nissan X-Trail Well priced, with a reputation for reliability
Subaru Forester Ageing off-road estate is still as honest as the day is long
Honda CR-V Well made soft-roader is particularly popular with women
Kia Sportage Good value package is better than similar Hyundai Tucson