Mitsubishi Mirage 1.2
High levels of standard equipment
September 2016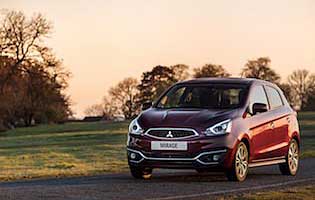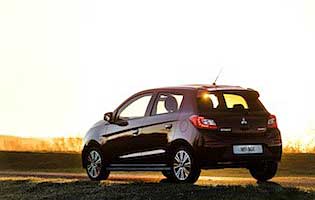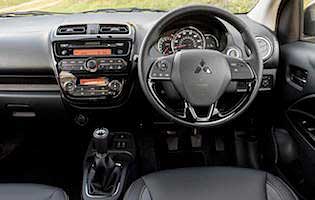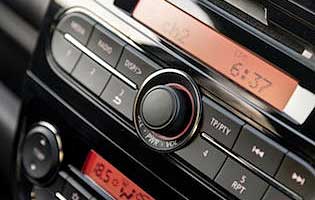 Overall rating

Likes:
High levels of standard equipment
Decent interior space
Low running costs
Reasonable size boot
Gripes:
Fit and finish isn't up to rivals' standards
Limited appeal to styling
Restricted headroom in the rear
Driving dynamics aren't quite up to scratch
The Mirage is a low-cost city car designed to go up against the likes of the Volkswagen Up! and Seat Mii. With plenty of standard equipment, it's an attractive proposition, and there's all manner of technology included that would be optional on competing cars. However, can it do enough to tempt buyers away from more premium rivals?
A cheap and cheerful offering from Mitsubishi, the Mirage comes with the aim or providing low-cost motoring in an attractive package. With a 1.2-litre engine under the bonnet, the Mirage should appeal to all parties, as insurance and running costs will be kept down. Standard equipment is impressive, with air conditioning and keyless entry included in even base models.
The interior affords quite a bit of space, which is surprising given the Mirage's diminutive size on the road. The boot is also of a reasonable size, offering 235 litres with the seats up, rising to 910 litres with the seats folded down. They split 60:40, so there's a degree of flexibility there, too.
There's just one engine available, a 1.2-litre petrol engine. It produces 79bhp, meaning that the Mirage takes a rather lacklustre 11.7 seconds to reach 60mph. That said, it'll return 66mpg combined, and emits just 100g/km C02 – so it's quite clean and efficient. A range of 505 miles will mean fewer trips to the pump, too. Buyers can choose between a five-speed manual or CVT gearbox.
Thanks to five doors, the Mirage isn't too difficult to enter and exit. However, once inside taller passengers may struggle to get comfortable as there's not a huge amount of headroom in the cabin. Front passengers should be fine, though the Mirage's rather sloppy suspension can make it a little wallowy through the bends.
Our verdict on the Mitsubishi Mirage Mirage 1.2
The Mirage is a car that'll be perfect if you only want to reach A and B. However, with substandard driving dynamics, buyers may be tempted elsewhere. There's a good amount of standard equipment, that's for sure. For just over GBP11,000 you'd be hard pressed to find another car equipped with satellite navigation, Bluetooth connectivity and heated seats.
---
Costs
At GBP11,054, the Mirage is a relatively inexpensive car to buy. Couple that with good levels of economy and a first year's free vehicle tax, and you've got a car which won't cost the earth to run. Parts for Mitsubishi have historically been inexpensive, so any repairs shouldn't break the bank. Reliability should be on your side too, which will mean that the Mirage will be a safe bet for a long period of time.
Space and practicality
As a city car, the Mirage needs to be able to take a relatively good amount of luggage – especially if it can seat five people. Boot space with the seats up is 235 litres, while the expands to 910 litres with them lowered. It's about right when compared to rivals, and the flexibility offered by the folding seats does mean that should you find yourself tight for space, it isn't too hard to get around.
Controls and display
The controls are all relatively basic in the Mirage, with control weights a little behind those offered by rival cars. Everything feels relatively robust, although some cheap plastics have been used in places. Pedal weights are about right for the size of car, although their small size may make changing gear tricky for those with larger feet. The car's main displays are clear and easy to read, with the infotainment system working quite well.
Comfort
The Mirage is softly-sprung, meaning that it doesn't suffer too badly with lumps and bumps in the road. The trade-off from that is a rather large amount of body roll, which is present through corners taken even at low speed. For the vast majority of people that won't be too much of a problem, but when it comes to driving at higher speeds most people will be aware of it.
Car security
The Mirage is a relatively safe car. It has an immobiliser fitted as standard, as well as wheel lock. Locking wheel nuts come with the car, as does a luggage cover for the boot. That really is the full amount of security technology on board. The Mirage does little to attract attention to itself which should mean that it isn't a target for thieves.
Car safety
The Mirage's safety is reasonably good, with it scoring four out of a possible five stars in its Euro NCAP crash test. There's six airbags as standard, as well as front passenger airbag deactivation switch. Active stability and traction control are fitted as standard, as is ABS. A seatbelt warning lamp is also fitted, which means that passengers attempting to travel without their belt on won't be able to. A tyre pressure monitoring system keeps pressure in check, too.
Driver appeal
While the Mirage is small and relatively light, it doesn't inspire much for a keen driver. It's a good car for young drivers, so in that sense it is appealing to some. The car's on-road driving dynamics aren't what you'd call sporting, but then it is designed and presented as a city car – so you shouldn't expect too much of it when it comes to cornering or acceleration. That said, it's a relatively nice place to be, and its economical nature means that you won't spend ages at the pumps, either.
Family car appeal
The Mirage may be a touch on the small side for families, especially larger ones. Of course, five seats do mean that transporting kids around won't be a bother, but owing to the small boot it'll be tricky to pack the items they bring with them when you do. Low running costs may appeal to the money-conscious family drivers, while its small size will make navigating a congested school car park easier.
First car appeal
The Mirage should certainly appeal to first drivers. With its base price of GBP11,054 it's not too expensive to buy, while the 1.2-litre engine isn't powerful enough to worry insurers. A top speed of 112mph and a sedate 0-60mph time will calm cautious parents, too. That said, it isn't the trendiest-looking car, and this may put off some fashion-conscious first-time drivers. All in all though, it's not a bad choice for those heading on to the road for the first time.
Quality and image
Mitsubishi's image has been on the rise of late, owing to the success of the Outlander PHEV. It still stands for accessible, low-cost motoring, and the Mirage is the perfect representation of that. There are still some grumbles when it comes to quality. The Mirage's interior doesn't have the fit-and-finish that is offered by some rivals, and its looks may dissuade some people from making the final deal. It's a decent budget offer, though,
Accessibility
With five doors, the Mirage isn't too much of a task to enter and exit. There's three seats in the back, though getting a trio in might be a little bit of a struggle owing to the car's relatively narrow side entry areas. The front seats are easily accessed, and thanks to narrow sills there's not too much to step over either. The boot isn't tricky to open, and its small size means that it's light work to raise and lower.
Stereo and ICE (In car entertainment)
All Mirages get a DAB digital radio as standard, as well as Bluetooth connectivity and iPod compatibility. Drivers will also find steering wheel-mounted audio controls fitted, along with a four speakers dotted throughout the cabin. An auxiliary input is also incorporated, meaning that anything with a headphone jack can be played through the car's audio system. There's even a USB port, too. There isn't a huge amount of additional equipment on offer in the Mirage, though there's enough to keep the average driver happy.
Colours and trim
There's a good variety of colours to choose from, meaning that if you want to make the Mirage look personal to you, it's easy to do so. All cars get 16-inch alloy wheels as standard, as well as colour coded bumpers at both the front and rear of the car. A rear spoiler adds to the Mirage's look, too. Although there's plenty of paint colours to choose from, metallic or pearlescent finishes are an optional extra.
Parking
Parking the Mirage isn't difficult thanks to the car's smaller size and rather square proportions. Electronically folding mirrors should make getting into small spaces even easier, and their large size allows a better view of the area behind. The Mirage has impressively short overhangs at both front and back, so placing the car close to obstacles or other cars is relatively easy – and on par with other city car rivals.
Spare wheel
Space saver wheel supplied as standard
Range information
Petrol engine options – 1.2-litre (79bhp)Transmission options: five-speed manual gearbox, plus CVT gearbox. Trim levels: Juro
---
Alternative cars
Volkswagen Up! Smaller than the Mirage, but has better brand image
Suzuki Celerio Offers decent reliability for a low price
Nissan Micra Well-known Micra is the benchmark low-cost option
Dacia Sandero Hasn't quite got the badge appeal of the Mitsubishi