June 2009
Mitsubishi Colt 1.1 CZ1 3dr
Frontal redesign adds some welcome design flair to Mitsubishi's Colt
June 2009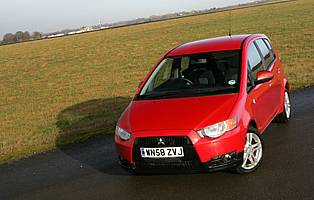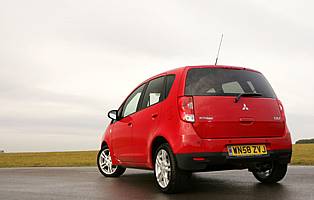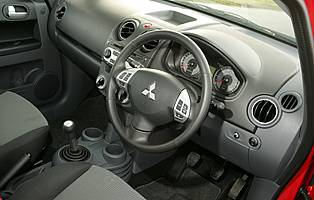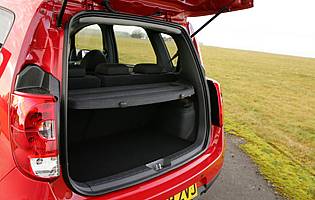 Overall rating

Likes:
Fresh new face improves Colt's appeal
Surprisingly generous amount of rear space
Light and airy cabin
Willing base engine and polished road manners
Gripes:
Cabin materials still on the basic side
Front seats could offer more lateral support
1.1-litre petrol engine can sound harsh when pushed hard
Attitude of badge snobs towards brand and car
With the first generation of this new shape of Colt proving to be something of a sleeper hit, this refreshed model is targeted at capturing a wider audience. With its bold looks mirroring that of the larger Lancer and a slight increase in size, value fro money remains central to the supermini's appeal.
It is along time now since this iteration of Colt first appeared. Sadly for Mitsubishi, the Smart ForFour overshadowed its arrival - the then DaimlerChrysler near-twin built in the same factory on the same platform. The funky Smart didn't last long, however. Too expensive and a little too fashionable for some, the Colt proved to be the more sensible option for many buyers.
Even the Colt had its quirks, though. This tall supermini boasted, like the Smart, a generous cabin. It offered a more compliant ride than the Smart and concentrated more on securing the attention of budget-conscious motorists. This revised car is no different, in the sense that it continues to appeal to fans of low cost motoring.
Look carefully though and you might spot a few changes. Mitsubishi claims this Colt is bigger than its predecessor and shares on a fraction of the old car's body panels. It's true that it has grown - the actual numbers are very small, though. The result is a cabin that is light, airy and capacious for something in this class.
Visually it's hard to miss the car's nose. With a design that apes that of the bigger Lancer, it's hoped that the previous model's ultra conservative reputation can be banished for good. One thing is for certain, the Colt remains a pleasant and easy-going car to drive and own. The all-petrol range delivers a sensible balance of performance and economy.
Our verdict on the Mitsubishi Colt 1.1 CZ1 3dr
With its refreshed looks and long-standing reputation for reliability and low cost of ownership, this revised Colt is a strong contender in the supermini sector. It may lack the marketing might of the mainstream opposition to help it gain the exposure it deserves, but the Colt's more aggressive looks and spacious cabin should, once experienced first hand, tempt an increasing number of buyers away from the usual supermini suspects.
Costs
Leaving the Ralliart version aside for a moment, the regular Colt is a good value proposition. It's economical at the pumps and a low CO2 emitting car, making the cost of ownership a modest one. The more powerful Ralliart car will cost a little more but, again, overall it'll likely be kinder on the wallet than most rivals.
Space and practicality
Since its inception when twined with the Smart ForFour, the Colt has always been noted for its generous cabin dimensions. This second generation car is a fraction better, while load space is also very good for a car in this class - seats can be folded to increase its carrying capacity. Oddment space in the cabin is also good.
Controls and display
A simple car requires only a simple array of controls and displays, and the Colt delivers in spades. The switchgear might lack the quality edge of, say, Volkswagen's Polo, but it's all there and straightforward to use and understand.
Comfort
In standard trim the Colt offers a good degree of cabin comfort. With ample room for adults and children and a good level of noise suppression (from the road, wind and engine) journeys of all lengths are enjoyable. Only a little more lateral front seat support would further improve the situation.
Car security
There is no fancy anti-theft system here, just the usual combination of remote central locking and a factory-fit immobiliser. In truth, this is all you'll need for a car like the Colt, although a dealer-fit alarm is an option for all but the higher value Ralliart car where it's a standard item.
Car safety
Given the Colt's pricing structure it's not surprising to learn that the safety provision is a modest one. The basics are covered in the form of twin front airbags and anti-lock brakes, but disappointingly ESP is the preserve of the sporting Ralliart variant - the same is true of side airbags.
Driver appeal
Although not expressly marketed as a sporting car, the Colt is an enjoyable car to drive briskly - even in base 1.1-litre form. It is, however, better suited to urban duties and the occasional motorway foray. It expertly copes with the former thanks to a supple ride, accurate steering and good visibility. For greater thrills the 1.5-litre Ralliart car and its uprated engine and suspension is recommended.
Family car appeal
Here's where the Colt bucks the supermini stereotype; its spacious cabin gives it an edge over a number of rivals. If you're on a budget or the Colt was around before the family appeared, it could easily do the business for a good while until something bigger was purchased. Granted, a five-door car would be preferable, and the only slight issue would be the Colt's modest boot.
First car appeal
How could you not recommend the Colt to a first time driver? It scores highly because of its compact dimensions, raised driving position, light controls and potential low running costs. What might seal the deal is the car's practical and spacious cabin - not something every bargain supermini can boast of.
Quality and image
Build-wise the Colt is a well put together car; it feels sturdy and durable from the inside and Mitsubishi has a good track record when it comes to reliability. Image-wise the car has been overshadowed by the likes of Ford's Fiesta and Vauxhall's Corsa, although that can be put down to a combination of badge snobbery and ignorance.
Accessibility
In three-door form the Colt is an easy car to get in and out of. Front seat occupants are blessed with a raised seating position and plenty of headroom. Those in the back reasonably well as the front seats can be tipped forward quickly and easily. At the back, the Colt's tailgate requires little effort to raise and lower.
Stereo and ICE (In car entertainment)
For a car at this end of the price scale there's little to complain about here. The Colt's audio unit - radio and CD - works well and sounds good. The easy to use controls and clear display compliment the car's no-nonsense approach to motoring.
Colours and trim
Bright colours work best with this reinvigorated Colt - its nose is much bolder than its predecessor. On the inside it's a case of making the most of the dark and light grey cabin - there's a lot of hard plastic about.
Parking
With its light steering and good all-round visibility, the Colt is an easy car to park. There's no need for parking sensors here - rear visibility is more than acceptable and the Colt's external mirrors are a great help.
Spare wheel
Space saver fitted as standard.
Range information
Petrol engine options - 1.1-litre (74bhp); 1.3-litre (94bhp); 1.5-litre (147bhp). Transmission options: five-speed manual gearbox standard across the range; six-speed auto gearbox for 1.3-litre variant. Trim levels: CZ1, CZ2, Ralliart - 1.5 only.
Alternative cars
Ford Fiesta Trendy, but you'll pay for the privilege
Vauxhall Corsa Adventurously styled yet surprisingly good everyday transport
Fiat Panda Able and spacious taller than average supermini
Renault Clio Stylish supermini underpinned by proven technology