September 2004
MINI MINI Cooper
Everybody loves the Mini's cute face
September 2004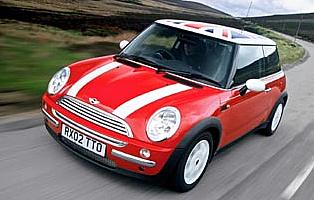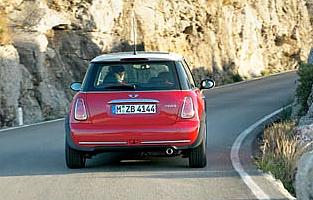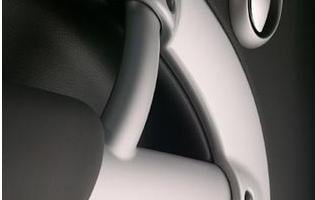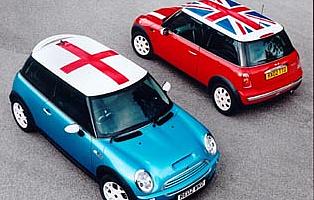 Overall rating

Likes:
Must have' image appeals to everybody and offends no one
BMW levels of build quality make the Mini ultra reliable
Bulletproof image means that depreciation is kept to a minimum
Fabled Mini handling will keep your inner boy racer satisfied
Gripes:
Too much equipment is left on options list, which forces up real cost
Lack of rear passenger room severely hinders practicality
Some interior trim feels plasticy and a little cheap
Cooper's levels of performance doesn't seem to merit price tag
Has there ever been a car that has managed to bridge generational, cultural, socio-demographic gaps like the Mini? Everybody loves its cheeky face, diminutive proportions and retro styling. And of the models in the line-up, none is as desirable as the one sporting the Cooper badge. So is the Mini Cooper as cool as it gets?
The words 'Mini' and 'Cooper' are among the most emotive in British automotive history. The legacy and legend attached to them will most likely live forever. But does the second generation car take on this old theme and do it justice or is it but a pale facsimile?
If sales are anything to go by, then BMW's version is going to be every bit as popular as Mr Issigonis'. Everybody, Mini staff included, have been taken aback by the runaway success of the super supermini.
If commercial success isn't your favourite barometer then how about cross-societal appeal? Next time you drive past a Mini try and guess what type of person will be behind the wheel. Young, successful women? Middle-aged man? OAP? There is no predominant type of Mini buyer because it is equally loved by people from every age group and background.
Our verdict on the MINI MINI Cooper
The coolest car on the planet gets even cooler with a 'Cooper' badge.
Costs
For what is essentially a supermini, the Cooper's initial on-the-road asking price is quite steep. Throw into the equation the fact that the average buyer shells out around GBP2,000 on accessories from the extras list and you're talking quite a bit of money. A group eight insurance classification won't be terribly cheap for anyone under 25 to insure, either. BMW levels of reliability and build quality should keep running costs down, though.
Space and practicality
Being a small car, the Mini is, well, small. It hardly seems fair to level criticism at a car of these proportions for having cramped rear quarters. There are some handy stowage spaces and cupholders dotted throughout the car's cabin that make the most of the space available. Some shopping and perhaps a brace of overnight bags will fit in the boot, but the diminutive cavity will struggle with anything larger - no golf clubs here.
Controls and display
In any other car the flimsy, plasticy feel of the Mini's control stalks and switchgear would be berated by all comers. However, as it done in such a heavily stylised, retro fashion the plucky litte motor somehow gets away with it. The round, centrally-located instrument displays won't be to everybody's taste, but they are very much in keeping with the general feel of the cabin.
Comfort
Wind and road noise are well suppressed for a car in this class. The whine from the engine, though, is far more audible. Some love its frantic squeal while others find it tiresome and annoying. The front seats are thoughtfully designed and offer support for all the right places. The heavy bolstering may make things a little uncomfortable for the more ample of rump, but in general they hold occupants in place very well.
Car security
No Tracker system is available on the options list, which is a bit of an oversight, as Mini equals desirable. Buyers can also expect to shell out extra for an alarm, which, again, is a mite stingy. Remote control central locking and an immobiliser do come as standard, however. Be careful where you park your Mini though, as envious passers by may take a dislike to your wing mirrors and paintwork.
Car safety
Loads of airbags and seatbelt pre-tensioners are standard fitment on the Cooper, which also has a remarkable robust and solid for a car of this size. Convertible versions make up for the loss of roof rigidity with lots of body strengthening and roll bars fore and aft.
Driver appeal
It has been said that the extra expense incurred in making the jump up from Mini One to Cooper is hard to justify and that the difference in performance only becomes noticeable when an 'S' appears on the car's rump. This is true for those looking for a real performance orientated ride, but for those in search of a little more poke for overtaking and bendy country road journeys the Cooper has all the get-up-and-go you'll need. In any guise the Mini handles exceptionally well and will make many drivers of more expensive machines look amateurish around the bends. The over-sized gear knob and lively shift add to the driving pleasure.
Family car appeal
A family of contortionists may well be content with the cramped dimensions of the Mini, but for the rest of us something much larger will be required. Space in the front is ample, but for the rear passengers it is a different (and fairly cramped) story. Boot space, too, is limited to just 150 litres (120 in the convertible) which isn't going to be enough for the various cuddly toys and high chairs associated with parenthood.
First car appeal
Is there are more desirable car for the young free and single? Street cred comes as standard with all cars in the range, but especially those sporting the Cooper badge. Whether or not younger motorists can afford the repayments and insurance premiums is a different matter, however, as buying a new Mini is no small consideration. There is just enough room for three friends and their stuff for longer journeys or trips to the beach.
Quality and image
BMW has made no secret of its relationship with the Mini brand. This has been beneficial for both parties, as it has afforded the German firm a fresh, funky wing and Mini has benefited from the reputation for quality that accompanies the blue and white propeller. There have been a few reported problems with the British-built model but this has done little to unsettle the brand's image as a marque of quality. As far as street cred and modern chic are concerned, Mini is light years ahead of almost everyone else. Clever marketing and celebrity endorsement have all heightened the sense of Mini as a 'must have' product.
Accessibility
Most people won't have any problems getting into the front seats. A wide base and wide door openings allow a graceful entrance. The same can't be said for the rear quarters, however, as the gap between collapsed front seat and door pillar is tight at best. The less limber and 'big boned' had best try and secure a front seat berth before the journey begins. The hatchback-style boot is easy to operate and manoeuvre around.
Stereo and ICE (In car entertainment)
Unfortunately, BMW's legendary stinginess hasn't bypassed the Mini's standard specification. A tape deck as standard in a car costing as much as the Cooper does is a poor show, regardless of whether the firm sees it as a 'trade-up' opportunity or not. Once you've forked out the extra for either a six-disc changer or single slot unit the sound is greatly improved. It may not be quite hi-fi, but it is one of the better units in its class.
Colours and trim
A bit like a Nokia mobile phone, the Mini is easy to personalise with the various bonnet stripes, roof graphics, mirror covers, chrome packs, etc. Leather seats and body coloured interior trim are also available and these really do add a touch of class (and residual value) to the Mini. What body colour you go for depends entirely on which roof graphics, if any, you plump for. For example, 'Electric blue' sets off a plain white roof nicely, while a 'Black-Eye purple' is well suited to a Union Jack roof graphic.
Parking
Parking sensors are available from the options list, but the diminutive proportions of BMW's finest should mean that these are largely redundant. Good all round visibility and light steering at low speeds make the Mini ideal for darting around town or the multi-storey car park.
Spare wheel
For wheels smaller than 16-inches in diameter buyers are supplied with a tin of temporary repair mouse. Wheels of 16-inches and over gain run flat tyres.
Range information
One petrol engine - 1.6-litre and one diesel - 1.4-litre. Former powerplant comes in three states of tune: 90bhp (One); 115bhp (Cooper); 170bhp (Cooper S). Latter diesel is 75bhp. Trim designators include 'Salt' (base), 'Pepper' and 'Chilli' (top of the range).
Alternative cars
Volkswagen Beetle Fellow retro mobile has failed to generate mass appeal.
Toyota Yaris Less desirable, but every bit as reliable and well made.
Ford Ka Blue Oval baby is far cheaper and it shows in direct comparison.
Peugeot 206 French offering is incredibly popular, especially in CC guise.