June 2004
Mini Convertible Cooper
The Mini's front end has had a minor refresh since its original launch
June 2004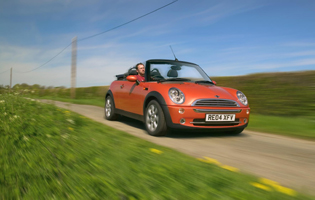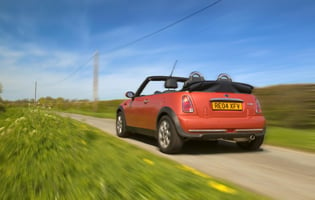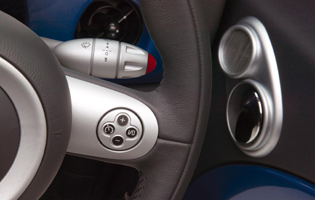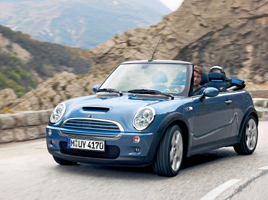 Overall rating

Likes:
Funky retro styling looks great and attracts attention
Design of interior is enhanced dramatically with the optional body-coloured trim
Cooper model is feisty and entertaining to drive
Roof mechanism is quick and smooth in folding
Gripes:
Lack of room in back hinders practicality
Lots of wind buffeting without (optional) wind deflector in place
Rear view obscured by the tall roll bars, making certain manoeuvres tricky
Standard kit isn't exactly generous and 'real' price may be too much for some
The Mini has been incredibly popular following its re-introduction by BMW. Under German ownership the original 1960s supermini has been reborn for the new century and has won almost universal acclaim. The convertible version is likely to be every bit, if not more, popular.
Ever since car manufacturers have been building hatchbacks they've also been chopping of their roofs and producing convertible versions. The Volkswagen Golf Clipper and Peugeot 205 CTI were two of the best-known and most popular hatchback/soft-tops and have subsequently enjoyed cult status.
Similarly, BMW's Mini Convertible has the potential to become a sought-after model, given the reception received by the hard-top version. It has character, style, good looks and more than a smidgen of street cred, all of which makes it a desirable proposition.
With the UK's love affair with rag-tops reaching fever pitch, the number of these pint-sized convertibles on the market continues to increase. The likes of the Peugeot 206CC, Volkswagen Beetle, Citroen C3 Pluriel and Ford StreetKa are all selling well and the fact that these major manufacturers saw fit to enter the market suggests that the expansion will continue.
Featuring several stylish bits of trim and design, the Mini Convertible is clearly aimed at the image-conscious and the upwardly mobile. That said, it is hard to put a finger on who exactly will buy the car, as it looks likely to generate the same kind of universal appeal as its hardtop brethren.
Our verdict on the Mini Convertible Cooper
Convertible is the coolest Mini yet and is destined to be a huge success. It isn't perfect, but it is hugely entertaining to drive and turns heads wherever it goes.
Costs
Mini One models aren't particularly expensive for a small convertible funster, but the standard kit list isn't particularly generous and after you tick a few boxes the price can increase significantly. The One's 6E insurance grouping will suit younger buyers. The Cooper S's 16E will not. Combined fuel economy ranges between 39.2mpg and 32.1mpg, so trips to the pumps should be relatively painless.
Space and practicality
Not one of the Mini's strong points. However, it would be harsh to overly criticise the car for this failing - it is a Mini after all. With the roof up there are 165 litres of boot space. With it down this is reduced to 120 litres. This is enough for soft bags of shopping, but large rigid suitcases may have to take up residence on the rear seats. The drop down boot lid aids access to the small cavity and adds to the car's quirky appeal. The rear seats are a tight squeeze for larger adults, despite the clever cutout rear panels on the front seats. Children won't suffer too much from claustrophobia, but everyone else will. The deep door pockets and clever cubbyholes free up all of the cabin's potential storage space and create plenty of room for mobile phones, CDs and the like.
Controls and display
The Mini's heavily stylised dashboard and controls will appeal to some but not others. The centrally-mounted speedo dial is an obvious nod to the past as is some of the switchgear. Ordinarily, a car would come under fire for featuring such lightweight plastic all over the fascia, but it seems to work in the Mini. The indicator/windscreen wiper stalks in particular are of the toy-like variety, but they compliment the car's steering wheel and instrument binnacle. Stereo controls are basic and easy to fathom. The rotational dials and sturdy looking buttons are intuitive. The Cooper's chunky leather-bound steering wheel feels comfortable to hold and even encourages the driver to engage in the occasional act of enthusiastic cornering.
Comfort
With the roof up quite a lot of shake, rattle and roll emanates from the two-stage canvas roof. One expects a little wind noise from a convertible car and the Mini is no different, but aural intrusions aren't so bad as to cause any real discomfort. With the optional sports suspension (standard on the Cooper S) fitted, the ride does become a little bumpy. But then again, only those customers after a sporty, connected ride are likely to plump for the harder struts and lowered springs. Sports seats are available as an optional extra, but even the standard offerings are supportive and offer occupants a comfortable perch.
Car security
A Thatcham Category 1 alarm system and Category 2 immobiliser are fitted as standard across the range, along with remote control central locking. However, there is no Tracker stolen/recovery system offered on the options list, which might not be a bad idea as the Mini's waiting list is likely to be very long making it a prime crime target.
Car safety
All of the safety features at Mini's disposal are available from the base model upwards. ABS, cornering brake control, crash sensors, EBD, Run Flat tyre indicators, intelligent airbags, head and thorax airbags and roll over bars make the Mini about as safe as a convertible can be.
Driver appeal
While the Cooper and Cooper S are by far and away the more entertaining driving prospects, the humble One with the roof down on a sunny day can still raise a smile or two. Convertibles of this size aren't really designed to be thrown around the place as one would a muscle car; they are far more enjoyable when driven at a leisurely pace. The Cooper's 115bhp is enough to give similarly sized cars a run for their money, while the S is even more performance-orientated.
Family car appeal
It is possible to get a couple of children in the convertible's rear quarters and chances are they'll love its quirky looks. ISOFIX child seat anchors are also fitted as standard; however, there is little or no room in the boot for their toys or other accoutrements. The Mini would make an excellent (if slightly expensive) second car though, provided that the main family vehicle was large and spacious.
First car appeal
Every teenager and twenty-something worth their salt will be drooling over Mini's latest addition to the family. Its trendy retro styling will make it a showstopper on the high street and on the open road. The One's low insurance grouping will make it the most likely option for those under the age of 25, as Cooper and Cooper S models will be too expensive for most. The lack of space and practicality won't matter here, as there is enough room for a couple of mates and a handbag or two.
Quality and image
Most people know that Mini is owned by BMW and therefore perceived quality is good, and rightly so. All mechanicals and components are built to the German company's extremely high standard, and as a result reliability shouldn't be an issue. As far as image is concerned, it is hard to think of a 'cooler' or more widely respected car than the new Mini. The Convertible version is hardly likely to do this trendy image any harm. If anything, the drop-top will increase the car's appeal.
Accessibility
Entrance and egress to the forward two seats is dignified and straightforward. Wide openings aid access and it isn't too much of a drop down to find the base of the seat. Similarly, access to the rear seats is also relatively easy thanks to the way in which the front seats are folded forward. However, once sat down things become less pleasant with legroom extremely limited. Headroom isn't a problem (particularly with the roof down). The steering wheel adjusts for both rake and reach.
Stereo and ICE (In car entertainment)
Offering a cassette/radio stereo unit as standard in a car of this price is a bit stingy. Far cheaper cars come with better stereo equipment. The optional Harmon Kardon unit and six-disc auto-changer are rather expensive, however the upgraded stereo drowns out wind noise even with the roof down and helps to create the perfect atmosphere for a summer's day cruise.
Colours and trim
The body coloured interior trims that are available are exceptionally pleasing on the eye and add an extra layer of coolness to an already funky-looking car. Wood, anthracite and silver are also available, but the majority of Convertible buyers are likely to plump for this new trim. The usual assortment of bizarrely named body colours are available, including 'Hot Orange' and 'Hyper Blue.' There are also three colour choices for the roof: dark blue, dark green and black.
Parking
Parking sensors are fitted as standard to even the base One model. This is more an admission of the way the roll bars obscure rear vision than it is an act of generosity. Manoeuvring into tight spaces is made difficult by the two chrome-effect hoops. At the front the Mini's short, stubby nose makes distances easy to judge and shouldn't present any problems.
Spare wheel
Run flat tyres and sensors are fitted as standard across the range. There is no spare wheel.
Range information
Three engine options - all units are 1.6-litre petrol, but power outputs differ greatly. Mini One produces 90bhp; Cooper 115bhp and Cooper S 170bhp. Mini One and Cooper models come with a five-speed manual gearbox with the Cooper S gaining an extra forward gear. Trim levels include 'Salt', 'Pepper' and 'Chilli'. Salt is the base model with Chilli topping the range.
Alternative cars
Peugeot 206CC French offering with folding roof has been incredibly popular with UK buyers
Ford StreetKa Basic Blue Oval soft-top is a good buy, but appeal is limited
Citroen C3 Pluriel Often criticised for its complex roof, the little Citroen still represents affordable open-top motoring
Volkswagen Beetle Cabriolet Another German attempt at retro chic, but less successful