May 2009
Mercedes-Benz Viano 3.0 CDI X-CLUSIVE - Long
subtle bodykit and glossy exterior hints at understated luxury
May 2009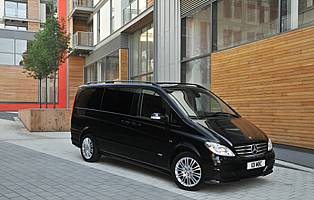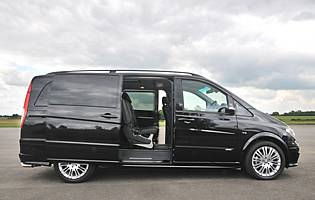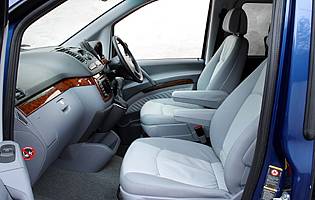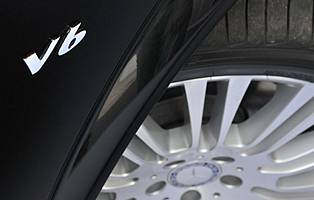 Overall rating

Likes:
Spacious and versatile interior
High overall quality levels
Strong performance from diesel engines
Mercedes Brand image is hard to beat in this sector
Gripes:
Can prove unweildy in tight city streets
High step up into the cabin
Huge tailgate hatch requires effort to open and close
Can feel gloomy in the back thanks to the privacy glass
When it comes to vehicles offering more than a conventional people carriers, there are two very different camps. On the one hand you've got the cheap and cheapful offerings such as Hyundai's i800, while on the other you have more luxurious offerings such as the Viano from Mercedes. And if you're in the executive transport business the i800 simple won't cut it.
You only have to look around you when at an airport to see how popular the Viano is among the executive transport community. It's viewed by many as a workhorse and by an equal number as a practical yet luxurious form of transport. In the latter capacity Mercedes has become well known for offering the Viano in a number of practical configurations, with the flagship X-Clusive variant the finest example.
With its sutble bodykit and extra chrome detailing, the X-Clusive is hardly the Viano you expect to see touting for custom at a busy city centre on a Saturday night. Yet for transporting VIPs or simply creating the right impression, this flagship model makes a lot of sense. Operators have the choice of a standard or long wheelbase model, plus both diesel and petrol engines.
The main focus of attention for many will be the Viano's interior. The rear section is accessed via one of two large sliding rear doors, and once inside you met by four individual, leather-trimmed seats. Each one can be moved fore and aft, and there's the option of a moveable work table for holding meetings on the move. All in all, the ambience is very business-like, which mirrors the type of clients most likley to be found in the back.
For the operator or owner-driver the Viano is not just an expensive people carrier. Creating the right image is crucial in the executive transport business, and this particular Viano speaks volumes if you plan on targeting a specific audience. That the Viano is a comfortable and easy vehicle despite its size is more than a bonus, it's essential if you spend your working day behind the wheel.
Our verdict on the Mercedes-Benz Viano 3.0 CDI X-CLUSIVE - Long
Image is everything in the world of business and it should come as no surprise that the Viano is the big cheese in the executive travel world. To view the big, plush Mercedes as nothing more than a people carrier with an inflated ego is to miss the point. The Viano offers more space for adults to sit or even meet and work in comfort. Then there's the Mercedes passenger car-like levels of refinement and performance. And in luxury X-Clusive trim it's a vehcle fit for the chairman of the board.
Costs
The Viano, whatever its configuration, is not a cheap vehicle. It is, however, working vehicle, and is likley to prove its worth through a combination of solid residuals and reliability. Long distance or stop-start motoring will likley see buyers opt for the frugal and responsive diesel varaints. Choosing petrol has its advantages - mainly refinement - but this has to balanced against increased fuel consumption.
Space and practicality
Space is not an issue with the Viano, with the Long specification model offering ample room for both occupants and a decent amount of luggage. Rear seats can be slid fore and aft for added convenience, while the X-Clusive's collapsable work table can follow suit. Oddment storage is reasonable but don't expect family people carrier-levels of inginuity. Door bins, that work table and what you'd usually find in the front of any large car is what you get.
Controls and display
One thing that's unlikely to concern rear seat passengers is the Viano's fascia and controls. For the driver the Viano has one of the best layouts in the business. The large main dials, equally large main buttons on the fascia and simple to understand ventilation controls are a welcome reminder of what Mercedes is good at. The high mounted gearlever, along with the adjustable steering wheel are both designed to reduce fatigue when in the driving seat for hours at a time.
Comfort
For the driver there's little to complain about; the seat and range of adjustments available should prove more than acceptable. In the main part of the cabin the Viano's various seats are equally accomodating. On the move, noise levels are reasonable. One must remember that the Viano is essentially a big van-like vehicle; wind noise does creep in at motorway speeds and there's a little body flex detectable when traversing rough urban roads.
Car security
On a purely cosmetic level you should never underestimate the value of privacy glass, either for occupants or their belongings. Elsewhere the usual remote central locking will be welcome when you find it hard to keep track of who has opened and closed which door. Frankly, alarms and tracking devices will be a personal matter. The Viano, especially the X-Clusiiv model, is an expensive item, and said fitment might be a condition of an insurance policy.
Car safety
As with any modern Mercedes the Viano is not short of safety kit. Front and rear comparatment airbags are present, along with the expected anti-lock brakes and stability control system. Being a powerful, high-sided vehicle, the latter should add some welcome peace of mind when encountering crosswinds on motorways and bridges.
Driver appeal
For the purpose it has been designed for, the Viano is a smooth, easy to drive vehicle. It won't prove tiring - important of you spend all day behind the wheel - and the driving position is adjutable and comfortable. The diesel engines offer the best combination of pace and economy, although some might find the petrol options quieter. A worthwhile consideration if absolute refinement is important.
Family car appeal
While not a family vehicle, there's enough room in the back for an expanding brood. Realistically the short wheelbase model will probably sufice, although the cabin trim could hardly be viewed as suitable of even durable enough for the rigours of family life.
First car appeal
It's unlikley that you'd drive a Viano out of choice, although if you had to for work reasons there's little need to feel intimidated. Yes it's a very large vehicle, but it's easy to drive and parking sensors will make life less stressful. On the road, the Viano's lofty driving position helps with forward visibility.
Quality and image
That Mercedes three-pointed star is something you underestimate at your peril. Other vehicles can do a smiliar job, but many stay loyal to Mercedes simply because it's a respected brand and the maker is hugely experienced in the executive transport business. The Viano itself is also an exceptional vehicle; quality hails from an era when all Mercedes vehicles were over-engineered.
Accessibility
Sporting two vast sliding side doors, access to the all-important rear of the Viano is straightforward. There is a slight step, which could make access a challenge for less abled passengers. At the rear, the Viano's considerable tailgate is a convenient shelter form rain but does require plenty of space to raise and lower - reversing into a parking space won't be a smart move.
Stereo and ICE (In car entertainment)
At the business end you get a perfectly acceptable radio and combined CD unit, with the main controls also available on the steering wheel. With rear seat occupants the focus of attention in the Viano, the option of a DVD player with roof-mounted flip-down screen will be welcome, as will the facility to use headphones for added privacy.
Colours and trim
If you're considering the Viano for a business application, a dark hue will always prove to be a smart decision. It's unlikley clients will want to be the centre of attention, and the colour range available offers a sensible choice. With dark plastics and leather the dominant theme inside, everything looks and feels suitably expensive. Up front there's a distinct lack of glamour, making the driving environment a conservative working environment.
Parking
In the more appropriate 'Long' configuration the Viano can be a bit of a handful around town. You'll certainly appreciate the parking sensors and the light action power steering when navigating tigt city streets or airport parking facilities. It's would be foolish to be overly critical as such things come with the territory.
Spare wheel
Spare wheel located at the rear of the vehicle.
Range information
Petrol engine options - 3.5-litre (258bhp). Diesel engine options - 2.0-litre (116bhp); 2.2-litre (150bhp); 3.0-litre (204bhp). Transmission options: six-speed (Trend only) manual gearbox, five-speed auto gearbox. Trim levels: Trend, Ambiente, X-Clusive. Choice of Standard, Long and Extra Long Wheelbase dependent on model.
Alternative cars
Hyundai i800 Occupies bargain end of minibus sector - spacious but not luxurious
Chrysler Grand Voyager Traditional family-friendly people carrier offering lots of space
Volkswagen Caravelle Closer to Viano than others here, although driving dynamics not as polished
Ford Galaxy A popular airport taxi - will seat seven but can't match Viano's cabin ambeince