August 2010
Mercedes-Benz S-Class S 63 AMG
Subtle bodykit hides the S 63 AMG's potential well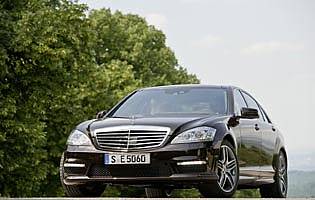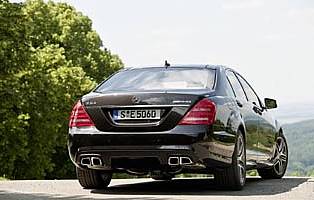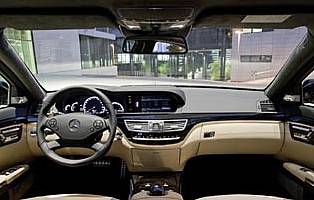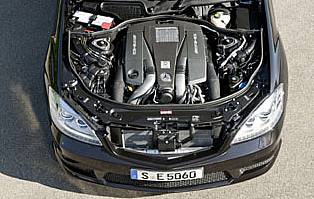 Overall rating

Likes:
Clever technologies give significant comfort and safety benefits
Supremely comfortable and comprehensively specified cabin
New AMG-tuned V8 is more civilised but no less potent than previously
Bold design remains fresh looking despite advances made by rivals
Gripes:
AMG exterior tweaks might be too subtle for some
AMG V8 engine has lost some of its predecessor's trademark hooligan 'bark'
It can take a while to become familiar with all the vehicle controls
Factor in a few options and the AMG cars can prove very costly
Rightly seen as the flagship of the Mercedes range, the German car maker's S-Class luxury saloon offers owners and passengers a level of comfort and refinement that is hard to beat. Mercedes also uses the car as a showcase for its latest technology - most notably its safety innovations - and can be had in high performance AMG guise, too.
Bold exterior styling sets this S-Class apart from its more conservative-looking predecessor. Most obvious is the car's curved wheelarches and an extended bootlid, which gives it a more radical look. A mid-life refresh sees subtle tweaks to the car's lights and bumpers fore and aft.
The interior of this S-Class has been left largely unchanged, although this area was also a radical departure from past models. The various information systems are controlled by a single rotary dial mounted on the transmission tunnel, which can be rotated, pressed and pushed in eight directions. An all-electronic main instrument panel cleverly replicates traditional analogue dials and can be configured to show a variety of supplementary information at the press of a button.
Fulfilling its showcase remit, this S-Class can be had with a mind-boggling array of technology. From a state of the art multimedia entertainment system to advanced safety tools - lane departure warning, brake assist, collision mitigation systems - there is something for everyone, assuming you have deep pockets.
Unlike most rivals, Mercedes is also keen to promote the performance side of its S-Class. In AMG guise the car is capable of setting a blistering pace on unrestricted autobahns and also surprising you with its agility on twisty backroads. A 5.5-litre turbo V8 engine replaces the acclaimed non-turbo 6.2-litre unit, offering reduced fuel consumption and emissions plus a more refined character. It even boasts an engine stop-start function to further enhance its green credentials.
Our verdict on the Mercedes-Benz S-Class S 63 AMG
The luxury saloon market is a fiercely competitive one, yet Mercedes routinely comes top ahead of its small group of rivals. And once you drive the company's S-Class it's easy to see why. It delivers outstanding levels of comfort, is easy to drive, is well built and comes with a bewildering range of devices to make piloting the car safer or easier. And in sensible diesel and entertaining AMG guise it's the best performer in its respective market sector.
Costs
In standard form complete with a frugal diesel engine the S-Class can prove surprisingly affordable, which is good news for business users. Factor in a few choice options and the costs can rise, however. The AMG models are in a different league, boasting six-figure supercar price tags and a prodigious thirst for super unleaded fuel.
Space and practicality
Although many will choose a long wheelbase model for its increased rear legroom, even the standard length S-Class offers plenty of room both fore and aft. The car's boot is huge, with useful nets on either side to secure items. There are also plenty of useful touches like the self-closing doors, automatic bootlid and storage areas which make living with the car that much easier.
Controls and display
Boasting one of the most easy to use cabins in its class, the displays on the S-Class are easy to use and understand, with the central display using a computerised image of a speedometer rather than a conventional dial. This allows the display to be changed to show other information at the same time. A BMW i-Drive-like controller is your main point of contact, and although familiarisation is required to understand all the menus it's surprisingly straightforward.
Comfort
With the high degree of adjustment available from the electric seats and steering column it's easy to get comfortable. Noise from outside - road, engine, wind - is almost non existent, and there's no shortage of space for occupants in the capacious cabin.
Car security
With its double glazing making it difficult to break into the cabin plus the usual tally of shielded locks, an electronic immobiliser and remote locking, the S-Class is a very secure car.
Car safety
The S-Class is synonymous with safety and successive versions have seen improvements in all areas - this model is no different. Aside from the usual array of airbags and basic electronic stability systems, options such as lane departure warning, driver alertness sensors, assisted braking and collision mitigation systems have been developed. Naturally many are options, but the potential is there to feel extremely safe.
Driver appeal
The S-Class has become a solid driving platform over the years, what with its plush ride and hushed cabin ambience. The AMG-tuned versions have successfully built on the car's stable yet agile nature. In the case of the S 63 AMG model, the switch from 6.2-litres to 5.5-litres and a turbocharger has mellowed the car's character. There's less drama - visual and audible - but the car's potency has been retained. Ride comfort is firm but remains comfortable, while the new seven-speed auto can be confidently left in Drive all day long.
Family car appeal
There's no question that the S-Class isn't big enough to accommodate a family, it's the fact that boisterous children might not respect the car's plush interior. As such, the big Mercedes is better suited to a grown-up family. The car's capacious boot is easily capable of swallowing shopping or luggage for four people, and the entertainment options should help pass the time on long journeys.
First car appeal
Without a doubt, the S-Class is most likely too large and costly for the average new driver to cope with, although in terms of ease of driving it is very good. The AMG models are on a different level, and it would be foolish to recommend such a car to a novice.
Quality and image
The S-Class has had a desirable image for many years, and the latest iteration continues in that vein. The use of innovative technology does much to boost the car's credibility with younger buyers, while the AMG-tuned models offer a subtle and popular entry for those seeking performance without attracting attention.
Accessibility
Being a big car sometimes has its advantages, and in this case each of the four doors open easily and are helped by stepless door stops which will hold them open in any position. The driver is assisted in their entry by the automatic steering wheel, which moves up and in for maximum room. Access to the boot is also easy with the model dependent option of the press of a button on the key fob or inside the cabin.
Stereo and ICE (In car entertainment)
There is no shortage of options with the S-Class, with even the standard equipment offering an above average level of entertainment. Fitted with a CD/DVD disc changer and boasting Dolby Digital surround sound, output is through the car's central colour display and numerous speakers. Speaker and amplifier upgrades are possible, along with rear seat screens.
Colours and trim
As is customary, dark exterior colours or the default executive silver option works best here - even in the contest of a car with a very subtle bodykit. The interior of the S-Class is constructed using a fine mix of quality wood and leather, and where necessary plastics of an extremely high standard. The overall feel is very good, with the dark leather and wood contrasting with the flashes of chrome and metallic finish plastics.
Parking
Despite the car's size, visibility is good and the car's power steering is light at low speeds. Additionally, when fitted with the Parktronic system, the rear view camera is confidence inspiring, the guidance system is very useful and the fore and aft sensors accurate.
Spare wheel
Space saver spare wheel mounted underneath the boot floor
Range information
Petrol engine options: S 350 (272bhp); S 500-litre petrol (388bhp); S 600 (517bhp); S 63 AMG (536bhp); S 65 AMG (612bhp). Diesel engine options: S 350 CDI (235bhp). All models are fitted with the seven-speed automatic transmission, except the S 600 and S 65 AMG models, which are fitted with five-speed automatic transmissions. There are no specific trim levels, but standard equipment increases with engine selection.
Alternative cars
Audi A8 Impressive interior and exterior design but powerful models fail to excite
BMW 7 Series Exterior is controversial and performance versions could be more engaging
Lexus LS Hugely refined but the LS lacks a genuine performance model
Jaguar XJ Tuned to appeal to keen drivers although polarizing looks could be a deal breaker