Cars Buyers Guide
Mercedes-Benz S-Class S 63 AMG
August 2010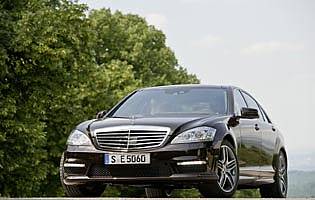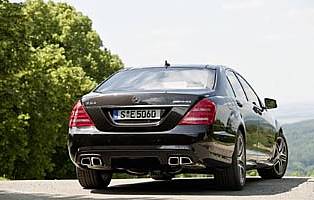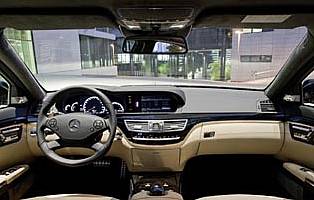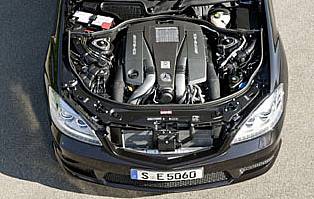 Overall rating

Likes:
Clever technologies give significant comfort and safety benefits
Supremely comfortable and comprehensively specified cabin
New AMG-tuned V8 is more civilised but no less potent than previously
Bold design remains fresh looking despite advances made by rivals
Gripes:
AMG exterior tweaks might be too subtle for some
AMG V8 engine has lost some of its predecessor's trademark hooligan 'bark'
It can take a while to become familiar with all the vehicle controls
Factor in a few options and the AMG cars can prove very costly
Rightly seen as the flagship of the Mercedes range, the German car maker's S-Class luxury saloon offers owners and passengers a level of comfort and refinement that is hard to beat. Mercedes also uses the car as a showcase for its latest technology - most notably its safety innovations - and can be had in high performance AMG guise, too.
Bold exterior styling sets this S-Class apart from its more conservative-looking predecessor. Most obvious is the car's curved wheelarches and an extended bootlid, which gives it a more radical look. A mid-life refresh sees subtle tweaks to the car's lights and bumpers fore and aft.
The interior of this S-Class has been left largely unchanged, although this area was also a radical departure from past models. The various information systems are controlled by a single rotary dial mounted on the transmission tunnel, which can be rotated, pressed and pushed in eight directions. An all-electronic main instrument panel cleverly replicates traditional analogue dials and can be configured to show a variety of supplementary information at the press of a button.
Fulfilling its showcase remit, this S-Class can be had with a mind-boggling array of technology. From a state of the art multimedia entertainment system to advanced safety tools - lane departure warning, brake assist, collision mitigation systems - there is something for everyone, assuming you have deep pockets.
Unlike most rivals, Mercedes is also keen to promote the performance side of its S-Class. In AMG guise the car is capable of setting a blistering pace on unrestricted autobahns and also surprising you with its agility on twisty backroads. A 5.5-litre turbo V8 engine replaces the acclaimed non-turbo 6.2-litre unit, offering reduced fuel consumption and emissions plus a more refined character. It even boasts an engine stop-start function to further enhance its green credentials.
Our verdict on the Mercedes-Benz S-Class S 63 AMG
The luxury saloon market is a fiercely competitive one, yet Mercedes routinely comes top ahead of its small group of rivals. And once you drive the company's S-Class it's easy to see why. It delivers outstanding levels of comfort, is easy to drive, is well built and comes with a bewildering range of devices to make piloting the car safer or easier. And in sensible diesel and entertaining AMG guise it's the best performer in its respective market sector.