May 2005
Mercedes-Benz S-Class S 55 AMG
Understatement is the key to the S-Class's design language
May 2005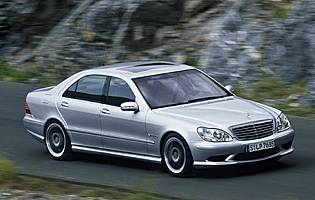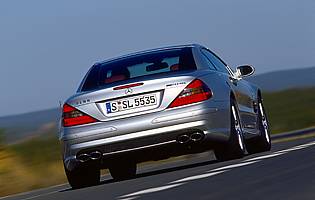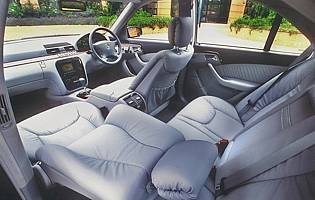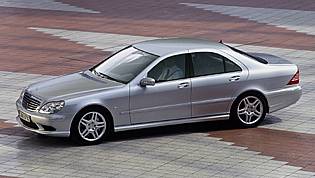 Overall rating

Likes:
Elegant, timeless understatement of design
Smooth ride and responsive handling
Effective Pre-Safe accident detection system
Perfectly at home even on busy roads
Gripes:
Too conservative for some tastes
Surprisingly small boot for such a large car
Likely to attract the attention of undesirables
Adding options is an expensive business
Luxury Sport Utility Vehicles and even luxury people carriers may have arrived on the scene but for a feeling of true exclusivity, you still can't beat a luxury saloon. Mercedes-Benz's S-Class is arguably the best of all, combining cutting-edge technological innovation with classic styling and precision engineering.
The S-Class possesses a timeless quality. That's partly down to the fact that it forms part of a long and distinguished lineage of top-grade saloon cars produced by Mercedes over the years, yet it's also a result of the S-Class's sophisticated understatement. With the A-Class, R-Class and B-Class, Mercedes is stretching its traditional image into radical new areas, not all of them entirely convincing. But the S-Class is undoubtedly 'proper' Mercedes, proving that when it comes to building sleek, seductive saloons, the company can still produce the goods.
At a glance from head-on, some onlookers might mistake the S-Class for the smaller E-Class or even a C-Class. Move round to a side view and the long wheelbase soon provides proof of the vehicle's identity. Despite its considerable length, the elegant lines of the S-Class make it appear somewhat neater than many of its rivals, even with the more aggressive styling of the AMG-tuned performance models.
In recent years Mercedes has received some criticism for a perceived fall in standards of interior fit and finish. Happily, the S-Class seems to have been almost entirely immune to such criticism - but when buyers are paying premium prices, that should be expected.
The interior layout may be lacking in clever design innovation but once again this only serves to enhance the car's classic feel. The multi-adjustable seats provide matchless comfort and the light, nimble manner in which the car responds to driver input belies its size and weight. The S-Class is a pleasure to drive, even in crowded city roads - which is not always the case with super-saloons.
Our verdict on the Mercedes-Benz S-Class S 55 AMG
The S-Class fulfils its brief perfectly, providing fast, effortless transport for a premium price. There can be no greater testament to the S-Class's classiness than the fact that few Premiership footballers drive them, even though they are in the right price bracket, whereas many self-made businesspeople and others of a more thoughtful disposition would consider nothing else.
Costs
Make no mistake, this is a premium product and commands a premium price. Most rivals offer more for the money but of course lack that all-important three-pointed star on the bonnet. A 30-year anti-corrosion warranty inspires huge long-term confidence and perhaps explains why so many S-Classes end up as posh taxis a few years down the line. Fuel consumption and emissions levels are high enough to be costly but compare favourably with most luxury 4x4s.
Space and practicality
An S-Class will deliver VIPs to their destinations quickly and crisply, but it won't do much else. The boot will swallow a couple of golf bags for corporate tournaments or a long weekend away, but this is more of a precision Sabatier blade than a multitool. The central storage console between the front seats is full of secret compartments but other storage areas around the cabin are lacking.
Controls and display
Information is presented to the driver in a pleasantly conventional manner with clear dials backed up by unobtrusive LED displays. There may not be quite the depth of information offered by Audi's A8 or BMW's 7 Series, but there's more than enough for realistic purposes. It remains a Mercedes quirk that cruise control is operated via a column-mounted stalk that is not as easy to use as rivals' alternatives and can be mistaken for the indicator stalk.
Comfort
Front seat occupants are lavishly catered for, but those in the back - who are probably even more important - might be surprised that there isn't a bit more room. There's always the long wheelbase model, of course. Worthy of special mention is the optional drive-dynamic multicontour seat, filled with air chambers which are automatically inflated or deflated to provide superb lateral support on corners for the driver and front passenger. Taking a fast corner, it feels as if someone is holding you around the ribs. Seats can also be set to deliver a massage on the move.
Car security
A secure garage is essential if you own an S-Class, as these are hugely desirable cars. Sadly, they are also likely to promote envy in some bitter souls who will relish the chance to spoil your paintwork or cause other damage. Also a target of organised 'steal to order' car theft gangs, owners are advised to ensure they are registered with a reputable tracking system. Mercedes offers the dependable Tracker system as an extra. All models have an alarm system.
Car safety
Safety isn't generally regarded as one of the super saloon's priorities, but in the S-Class's case it clearly is. Mercedes' Pre-Safe system can detect an impending collision in advance and puts the vehicle on collision standby with split-second advance tensioning of the seat belts. At the same time the system automatically adjusts the front passenger seat and the power-adjustable individual seats in the rear. If the vehicle is skidding, it closes the sunroof. It's no exaggeration to say the system saves many lives.
Driver appeal
If you have a chauffeur, sack him immediately. Why should you pay someone else to have all the fun that is on offer from the S-Class? Limousines are often a headache to drive, but not this one. Mercedes' engineers have done a tremendous job so that this rangy saloon handles rather like a lithe grand tourer with minimal body roll, no tendency to lift or lower its nose and acceleration that seems oblivious to the car's considerable weight. The hugely impressive Airmatic suspension system plays no small part, and selecting sport mode further sharpens responses.
Family car appeal
What makes the S-Class a supreme executive conveyance is precisely what makes it unsuitable for family use. A pair of determined toddlers armed with crayons and plastic hammers could do thousands of pounds worth of damage in seconds.
First car appeal
It is almost impossible to imagine the circumstances in which an S-Class would be a first car. Quite apart from anything else, it would be almost uninsurable.
Quality and image
S-Class buyers are a very definite type: people who want the best and are prepared to pay for the privilege but don't desire to be ostentatious about doing so. Older cars frequently end up as hire cars, but this does not seem to have affected the image of the S-Class.
Accessibility
Wide-opening door provide easy access - particularly if a factotum is holding them open for you. The boot is electronically operated but its unusual controls take a little getting used to and if you resort to manual force it exhibits a good deal of resistance, tending to spring back open.
Stereo and ICE (In car entertainment)
In a piece of surprising corporate generosity, Mercedes provides its Cockpit Management and Navigation Display (COMAND) even on the entry-level S 280. It includes a radio/CD/DVD drive in the centre console and DVD navigation in the luggage compartment. S 500 models gain a multichanger while further up the ladder again a TV tuner is thrown in. A rear-seat DVD system is available but looks little awkward with its screen placed on a bracket positioned between the front seats.
Colours and trim
At the beginning of the S-Class's life there were a few questions about fit and finish but Mercedes quickly and effectively remedied them. If you are determined to the point of paranoia you can find one or two examples of poor plastics and exposed screw heads hidden away in the most inaccessible recesses of the cabin, but such an effort is pointless. Where it matters, this is beautifully built. AMG models gain some nice interior badging. Any exterior colour other than silver or black looks somehow wrong.
Parking
Most models, including all limousine models, have the quirky but effective parktronic sensor system fitted. On such a long car it is extremely useful though it is important that the driver calibrates it to suit his or her own parking style. Otherwise, it can seem you have far less space to work with than is actually the case. The S-Class is wide as well, and will easily outgrow many standard parking spaces.
Spare wheel
Full-sized steel spare wheel comes as standard.
Range information
Engines consist of 2.8 litre V6 petrol (197bhp); 3.2 litre CDI diesel (204bhp); 3.7 litre V6 petrol (245bhp); 5.0 litre V8 petrol (306bhp) and 5.5 litre V8 petrol (500bhp). Trim levels are dependent upon the engine selected with 5.5-litre model gaining AMG badging and styling. Long wheelbase versions of most models - which turn the S-Class into a true limousine - are also available.
Alternative cars
Jaguar XJ Closest to S-Class in spirit. Sporty, too.
Audi A8 Comes with all-wheel drive and lots of equipment
BMW 7 Series Drives well, but styling remains problematic
Volkswagen Phaeton Rare and has huge on-road presence