Mercedes-Benz S-Class S400d
Excellent build quality with a decent range of engines
June 2016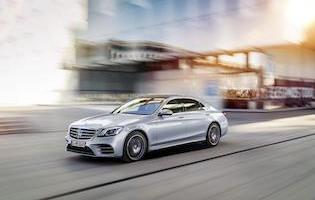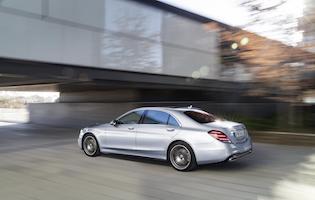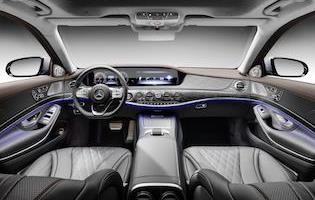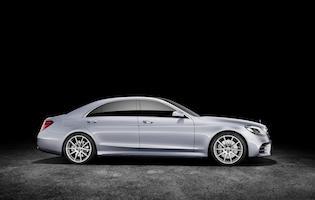 Overall rating

Likes:
Excellent build quality
Decent range of engines
Four-wheel-drive safety in high-spec models
Huge amounts of rear legroom
Gripes:
Expensive
Has the potential to feel outdated compared to upcoming rivals
Petrol engines are thirsty
Rear seats can't be folded flat
The Mercedes-Benz S-Class represents the very best in terms of luxury travel. Spacious, elegant and effortlessly comfortable, it's always been the go-to choice of those who want to sweep through hundreds of miles without feeling them. Now, there's a new one. Mercedes has added greater levels of technology to the S-Class, as well as an updated interior and exterior.
On the face of it, the exterior of the new S-Class hasn't changed all that much over the previous-generation. However, look closer and you'll see updated LED headlights and taillamps, while it now benefits from new alloy wheel designs. It's enough of an update to keep the S-Class looking current, though it's not drastic.
Inside, the most notable update is the large 12.3-inch widescreen infotainment system. It's the same as that found on the current-generation E-Class, and it's a wonder to both look at and use. It gives a far sleeker look to the cabin too, and creates seamless dashboard. Elsewhere, new finishers have been used to give the interior the appearance of a more upmarket feel.
There are five engines to choose from with the S-Class. Two diesels will make up the bulk of sales, with either the S350d or S400d being an ideal choice for those who want to keep running costs down. On top of that, there's a petrol V8 in the S560, as well as a twin-turbocharged 4.0-litre V8 in the Mercedes-AMG S63. That final choice is best for those who want earth-shattering performance from their luxury saloon. On top of these sits the V12-powered S65, though this isn't likely to be the favourite in the range.
There's no denying that the S-Class is an expensive car – prices range from £72,705 for the S350d up to a staggering £187,240 for the S65 – but the level of craftsmanship and attention to detail is second to none. Mercedes S-Class' don't traditionally hold their value awfully well, but if you're after a car that represents the very height of luxury, then you'd struggle to do better.
Our verdict on the Mercedes-Benz S-Class S400d
This latest S-Class is by no means an 'all-new' car. However, its updated safety systems and more comprehensive range of engines will certainly add to its already substantial appeal. The only question is whether or not it will be able to fend off competition from the upcoming Audi A8, as well as new BMW's 7 Series when it arrives. Despite being updated, there's a good chance that these rivals could leave the S-Class in the dark.
---
Costs
Running costs for the S-Class, as they are for any other premium vehicle in this segment, are likely to be high. Replacement costs for parts such as tyres and brake pads will be more than on a standard saloon, while servicing prices will be high as well. Those who want to keep fuel costs down should opt for the diesels, though tax prices are likely to be high in with any model given the car's list price.
Space and practicality
The S-Class is available with both a standard length and an extended wheelbase. The former seems more than large enough to provide plenty of space to both driver and passengers, while the latter is nothing short of cavernous. Its 510-litre boot is surprisingly useful too, though the rear seats can't be lowered, restricting the luggage space's flexibility. That said, it's more than large enough for a few suitcases or a good amount of shopping.
Controls and display
All of the S-Class' controls feel well-judged in both weight and location. The central rotary infotainment controller, for instance, is easy to use and makes navigating the car's media systems simple. Mercedes has continued to locate the car's gearshifter on the steering wheel column, and though this may be somewhat alien to drivers, it's easy to adjust to. The car's TFT screen located in front of the driver, displaying information such as speed and fuel consumption, is easy to read too.
Comfort
This is the area which any luxury saloon needs to do well – and thankfully the S-Class scores top marks. Even with large 18-inch alloy wheels fitted, the S-Class' ride never feels jostling or too firm, and the lack of road or wind noise makes for an exceptionally relaxing drive. The nine-speed automatic gearbox shifts seamlessly, and the refinement offered by the car's range of engines – mainly the diesels, surprisingly – means that the S-Class is well adept at covering vast distances without straining the driver. Huge amount of legroom in the rear mean that those sat in the back have plenty of room to stretch out, too.
Car security
The S-Class is fitted with all the usual security equipment, including remote central locking, an interior motion detector and alarm. It's a premium car, so it's likely to attract some attention, but in truth the car's subtle looks should mean that it should be safe when left out on the street at night.
Car safety
This latest S-Class features more safety technology than ever before. Utilising the very latest autonomous systems, its crash avoidance capability is staggering. Active Distance Control and Active Steering Assist work together to aid the driver when travelling on motorways, and can take control of the steering and throttle, making for a more relaxed drive. Active Emergency Stop Assist can also detect a pedestrian should they step out into the road, and it'll apply the brakes accordingly. It's impressive technology, and makes the S-Class one of the safest cars to be in.
Driver appeal
Though it's true that the S-Class primarily appeals to those who would rather be driven than drive themselves, there's no reason why it can't appeal to keen drivers either. This is most apparent with the Mercedes-AMG S63. Powered by a 4.0-litre twin-turbocharged V8 engine, it has a huge amount of performance at hand, while its suspension has been specifically tuned to provide a more sporting driving experience. It's a surprisingly agile car to drive quickly, and therefore one which will likely appeal to drivers.
Family car appeal
With space for five, there's no reason why the S-Class couldn't be used for family duties. That said, its high costs won't be affordable for most families, while high running costs won't suit those who want a low-cost everyday family runaround. Children would no doubt love the television screens that are available in the back, but the soft leather won't suit daily abuse.
First car appeal
The S-Class' large size, powerful range of engines and expensive pricing structure means that it really isn't best suited to those who have just passed – or are learning to pass – their tests. Parking takes serious concentration – even with new assistance systems – and this won't be easy for drivers who are used to being behind the wheel of far smaller cars. There's no reason why a new driver couldn't drive the S-Class – it just wouldn't be the most sensible of choices.
Quality and image
There's no denying the S-Class' exceptional quality. From the stitching on the leather to the aluminium air vents, everything feels well put together. Some of the interior styling touches can err on the side of flashy, but that's down to the preference of the individual. The S-Class has always portrayed a considerably high-end image, and this latest model is no different. Despite this, it still manages to remain – in most colours at least – a relatively subtle way of getting around.
Accessibility
Thanks to doors which open wide and seats that aren't too heavily bolstered, the tasks of entering and exiting the S-Class can be done with very little thought. It's a car designed to be as comfortable and as hassle-free as possible, and this is certainly the case in terms of access. The electronically-controlled boot makes loading items into the rear even easier, too. Both front and rear seats can be adjusted electronically, which means you can get comfortable each and every time.
Stereo and ICE (In car entertainment)
As mentioned earlier, the new S-Class benefits from Mercedes' excellent 12.3-inch infotainment system. This houses features such as media controls and satellite navigation, as well as access to heating and ventilation systems. The standard Burnmeister stereo is excellent, and provides crystal-clear sound at any volume. A redesigned multifunction steering wheel gives easy control of the audio, too, as well as of the cruise control. Televisions in the rear are an optional extra, and are a must-have for those who want to keep those in the back well entertained.
Colours and trim
As with any high-end luxury saloon car, there's an almost unimaginable variety of colours and optional extras to choose from. Trim level choices are simple, as there's just one – AMG Line. This brings with it redesigned front and rear aprons, as well as a lower sill panels. It gives the car a far sportier look on the road, while large alloy wheels fill the S-Class' arches nicely without spoiling the ride.
Parking
The S-Class is one of the longer cars on sale today. Even in standard form – the long-wheelbase is almost exceptionally large – the S-Class takes a lot of effort to park. Thankfully, the car's new Park Assist technology can take away any anxiety associated with parking the S-Class. It uses sensors dotted around the car to detect empty spaces, and can then take control of the car's steering, throttle and brakes to position the car. It's a system that can be a little unnerving to use at first – but one that soon becomes invaluable.
Spare wheel
Emergency tyre repair kit supplied as standard.
Range information
Petrol engine options: V8 turbocharged petrol (469bhp), 4.0-litre twin-turbo V8. Diesel engine options: 3.0-litre turbocharged diesel (286bhp, 340bhp). Transmission options: Nine-speed dual-clutch automatic. Trim levels: One trim level – AMG Line.
---
Alternative cars