Car Buyers Guide
Mercedes-AMG S-Class Cabriolet S63
August 2016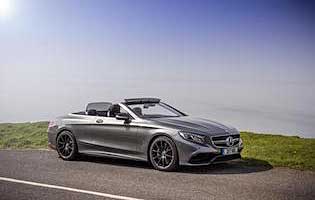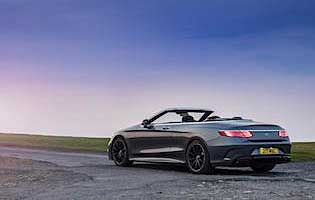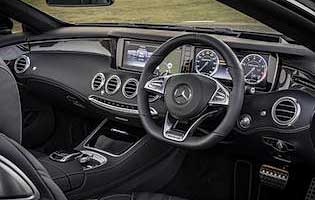 Overall rating

Likes:
Cabin is well thought out and luxurious
Boot technology stops luggage being crushed when roof is dropped
Engine is an absolute joy
Few cabriolets eradicate wind noise quite so effectively
Gripes:
Fuel economy figures make it hard to justify as an only car
We didn't find a car parking spot that it actually fit in
Rear leg room could be improved
Steering wheel obscures view of top of speedometer and tachometer
The Mercedes-AMG S 63 Cabriolet takes the luxurious top-down motoring of the S-Class Cabriolet and adds a healthy dose of performance. It has the sumptuous and incredibly high specification interior that's expected from Mercedes' luxury models, and is equipped with a monstrous V8 engine.

Mercedes-Benz has a long history of making its S-Class models the pinnacle of in-car luxury and automotive technology. This new convertible isn't any different and it's immediately clear that this car puts opulence above all else. There is a multitude of driver assistance technologies and a climate control system that even has a choice of fragrances built in.

The dashboard is dominated by a pair of 12.3-inch TFT displays; the central screen houses the satellite navigation and COMAND system, while the driver-side screen displays the dials. With the complex roof reclined - it has three layers and double-glazed glass to keep noise levels down - wind intrusion is kept to a minimum by the optional AIRCAP wind protection system.

Despite the sumptuous interior, the experience is dominated by the engine. The hand-built 5.5-litre twin-turbo V8 responds instantly with a howl the moment you put your foot down. It packs 577bhp and 664lb ft of torque, which contribute to a 0-62mph time of 3.9 seconds and a limited top speed of 155mph.

Boot space is decent and a clever movable tray stops the roof dropping if there's a danger of luggage being crushed. Unsurprisingly for such a large car with a powerful engine, economy figures make for difficult reading. The S 63 Cabriolet officially achieves 28mpg - though we struggled to achieve this even on a long motorway run - and emits 237g/km of CO2.


Our verdict on the Mercedes-AMG S-Class Cabriolet S 63
The Mercedes-AMG S 63 Cabriolet is for people who enjoy the finer things in life and want everyone else to know it. It's big, its styling demands the attention of passers-by and the interior is full of toys you didn't know you needed. If you like to be understated with your wealth look elsewhere, but for those who revel in the luxury lifestyle, this car is a dream.