August 2015
Mercedes-Benz GLE 250d Sport
Larger new grille dominates the front of the GLE
August 2015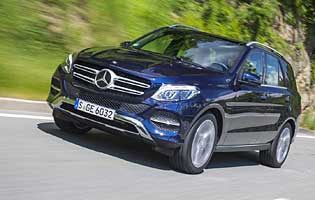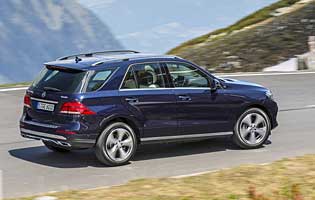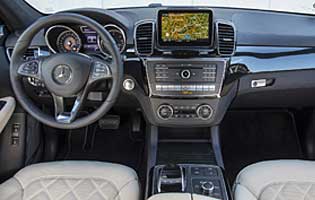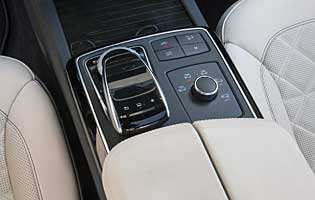 Overall rating

Likes:
Styling helps create a strong image without aggression
Spacious interior offers plentiful space and comfort for passengers
While not powerful or fast, the entry-level engine is better than expected
Impressive list of standard equipment at all trim levels
Gripes:
Standard suspension struggles with high-frequency bumps
Nine-speed gearbox hunts between ratios too much
Two-tonne weight means poor fuel economy
Standard alloy wheel designs do no styling favours
Mercedes has taken the bold step of renaming most of its models, and while the changes have come at a convenient time for some all-new vehicles, others have the majority of their parts in common with their predecessors. The GLE is one such model, having been created in place of the ML, using the latter's construction but with many updates.
At first glance the GLE is a large SUV built to rival the likes of the BMW X5 and Range Rover Sport, but it is aimed at a more comfort-oriented buyer. While its silhouette is similar to that of the ML that preceded it, new bumpers, a new grille and a larger Mercedes badge at the front all add fresh interest.
In an unusual move, Mercedes has named the entry-level trim grade Sport, a name that normally serves as one of the higher grades on most cars. It's an indicator that the German firm wants even the most affordable GLE to be seen as a premium product. Higher up the range there are extensive extras lists and personalisation options.
Now standard is a nine-speed automatic gearbox, which hunts between ratios regularly, but seems to work more smoothly with the 250d than with the more expensive 350d six-cylinder diesel. The 250d is the sole four-cylinder option in the range, and offers a lower-emission choice while retaining enough performance not to feel overawed by the GLE's considerable weight.
The GLE is extremely well equipped as standard, which is a key factor in its efforts to win customers. Neat extra touches like puddle lamps that project the Mercedes-Benz logo onto the floor help to make it feel a little special. The interior is perhaps where the most wholesale changes have taken place, most notably in the new infotainment interface.
Our verdict on the Mercedes-Benz GLE 250d Sport
The GLE is perhaps the least obnoxious of the large SUVs built by mainstream premium manufacturers. It is less focused on aggressive sportiness and gives more attention to driver comfort and passenger space. While some buyers may shun what they see as a lack of assertiveness compared to the image-conscious rivals, others will embrace the Mercedes' more rounded, accessible image and impressive quota of interior space.
Costs
The GLE is an expensive model even at the lower end of the range, but justifies its asking prices with lots of equipment and a noticeably premium feel throughout. Fuel economy will always be quite poor, but there is the option of a plug-in petrol-electric hybrid model that should reduce short-distance urban running costs to almost nothing. Road tax is reasonable for a car of this size, but replacement consumables will be expensive.
Space and practicality
Even with five seats upright there is a capacious boot, with 690 litres of space comparing favourably to the GLE's rivals. Lowering the rear bench seat, which has a single split at the two-thirds point, opens up more than 2,000 litres of potential luggage space. Front seat occupants will not find the cupholders convenient, and it's true these could be better positioned.
Controls and display
Four analogue dials for speed, engine speed, coolant temperature and fuel level are clear and easy to read at a glance. Between them is a high-resolution screen that acts as an extension of the main Comand control system, giving access to various systems including trip computer data, telephone functions and safety assist systems. Like the wider system, it performs its job impeccably but its graphics feel somewhat dated.
Comfort
The front seats are thoughtfully shaped with ergonomics in mind, proving comfortable over longer distances. Some degree of electrical adjustment is standard on all models, with more expensive versions adding more. They are quite wide and suit larger builds well, although slimmer people will still find them lovely until their lack of immediate lateral support becomes evident through quickly-driven corners. There is an admirable supply of legroom for rear passengers.
Car security
Few car makers are keen to give details of their security measures and Mercedes is no different with the GLE. Even in the brochure the extent of the defined security measures is limited to remote central locking. There is, however, an electronic immobiliser and privacy glass around the rear half of the car. The electronic handbrake cannot be disengaged unless the engine is started first.
Car safety
Most of the key safety equipment that Mercedes would choose to emphasise is optional, which will be irritating to a number of buyers. The firm offers a packaged upgrade for the safety systems, to include blind spot monitoring, lane-keeping assist, braking assist and Junction Assist, which uses sensors on the front corners to monitor for approaching traffic, potentially before a driver could even hope to.
Driver appeal
The GLE is best driven in a relaxed manner, which best makes use of its wide, accommodating seats and demands no more than necessary from the engine. The 2.1-litre engine performs better than expected but the GLE is no racing car in disguise. The body does feel strong and resists torsional forces through corners, so it can be driven quickly with confidence at need, but it doesn't feel especially natural in doing so.
Family car appeal
Mercedes has fitted the GLE with a spread of safety equipment, which, allied to its considerable size on the road, will help some parents feel especially safe behind the wheel. The same feelings will extend to their children, who can be placed into Isofix-compatible child seats and fixed easily into position at either of the two outer rear seats. A particularly large and practical boot can swallow fold-up buggies and travel cots with ease.
First car appeal
Mercedes is not a company that targets first-time car buyers. Even its smallest and most affordable models are aspirational and there is little chance that an average new driver will even look at a new A-Class as their first car, let alone a GLE. Price, insurance and size all count against the Mercedes in this regard, placing it among the least likely choices as a first car.
Quality and image
Higher up the range, exquisite natural leathers and woods are fixtures of the interior. In the GLE 250d Sport the upholstery is a man-made leather that feels good, but cheaper and harder nonetheless. The overall impression, given both by the size of the vehicle and the general look and feel, is one of a high-quality SUV that's rich in prestige and solidity
Accessibility
It's true that higher seats, like those in the GLE, require less of a bend at the knee. It should be noted that a side-effect of this is that the lateral step across the door sills feels longer, and anyone who is infirm or who has problems with balance may not be comfortable making the transition into or out of the car. The electrically-powered tailgate is a useful feature, though, allowing the convenience of hands-free operation.
Stereo and ICE (In car entertainment)
The audio systems themselves have changed little from the old ML, but the interface is completely new. A larger, sharper screen acts as the display for album, track or radio station information. Users will find two USB ports, Bluetooth connectivity, DAB digital radio and eight speakers. It's all controlled chiefly via the familiar Comand rotary dial and button arrangement, and is seamless in operation.
Colours and trim
Dark colours are much more flattering for the GLE's large body than the paler options, and unfortunately there are fewer dark shades to choose from. Seven metallic shades are available at no extra cost, although there are special finishes that attract a fee. Black, beige and brown leather interiors look extremely upmarket and can also be selected at no extra cost. The most divisive aspect of the car's interior is the new semi-detached media screen.
Parking
In theory the GLE's sheer size makes it a poor town car, but recent history tells us that buyers simply don't mind. This model has reasonable rearward visibility but pillars do make an impact. It may not matter, though, because every GLE comes not only with parking sensors and a reversing camera, but also Mercedes' Parktronic system that can find a space and park with only throttle and gear selection inputs from the driver.
Spare wheel
Emergency tyre repair kit supplied as standard.
Range information
Petrol engine options - 3.0-litre hybrid (436bhp); 5.5-litre (577bhp). Diesel engine options - 2.1-litre (201bhp); 3.0-litre (254bhp). Transmission options: nine-speed automatic gearbox, plus seven-speed auto (5.5-litre petrol only). Trim levels: Sport, AMG Line, Designo Line, 63 S.
Alternative cars
BMW X5 The benchmark large SUV is still a popular one with many talents
Range Rover Sport The driver's choice, with good engines and excellent off-road ability
Porsche Cayenne Badge appeal counts for a lot, but there's substance behind the style
Volvo XC90 Wonderful family SUV with distinctive looks and advanced technology