February 2006
Mercedes-Benz E-Class Estate E 280 CDI Avantgarde
Mercedes design trademarks are obvious and the E-Class boasts considerable road presence
February 2006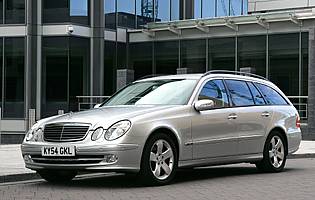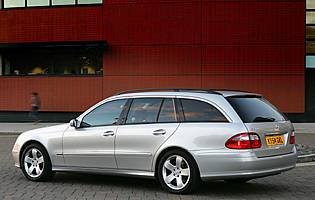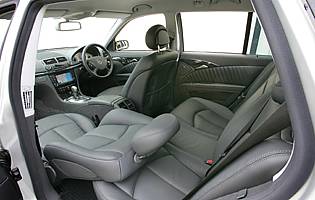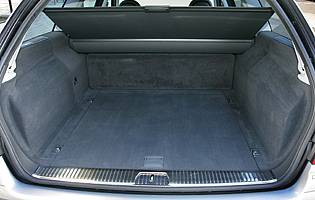 Overall rating

Likes:
Refined cruising ability makes light work of long distances
Diesel engines are frugal and quiet; yet never leave you wanting more power
Loadspace is wide and flat, allowing you to have the best of both worlds: luxury and practicality
Although sometimes pricey, the range of options on offer is impressive
Gripes:
Some options really should be standard at this price point
Optional COMAND sat-nav unit performs well but can be fiddly to use
Low powered petrol variants can feel sluggish when fully laden
The car's size can make parking in urban areas something of a chore
For so long the default choice for many buyers seeking a sensible blend of versatility and luxury, the Mercedes E-Class estate has proven to be a popular choice. Biased towards comfort, save for the super-quick AMG variant, the car's vast load space allows for all manner of things to be transported with ease. 2005 model year quality upgrades and new engines have done much to improve an already competent car.
The big Mercedes estate car is a classic, tried and tested format and has rarely been bettered. The key to the concept's success has been Mercedes' ability to blend luxury with the ability to swallow large loads with ease.
This generation of E-Class is no different in executing the concept. As you would expect, it does a better job than its predecessor; it looks better, rides better, feels more luxurious, is better built and comes with a wealth of passive and active safety measures.
The antithesis of the modern people carrier, the E-Class estate will accommodate four adults in comfort and accommodate their luggage at the same time. With a people carrier it's usually one or the other unless you start folding or removing seats.
Another benefit of the big Merc over an MPV is its ability to offer a better driving experience. An MPV's high centre of gravity robs it of any finesse on the road - not so the E-Class and its rivals. But unlike certain rivals, the E-Class feels more relaxed, which is great for long distance cruising. It's also available with some of the most refined diesel engines around.
Our verdict on the Mercedes-Benz E-Class Estate E 280 CDI Avantgarde
If a full-on sporty ride is not for you and you're automatically drawn to conservatively styled cars, the E-Class is an obvious choice. Spacious, refined and easy on the eye, the big Merc is a great all-rounder. The diesel variants are the most impressive and, despite the many luxury appointments, the car is a natural workhorse.
Costs
Mercedes's cars never come cheap, and so it is with the E-Class estate. To be fair, standard kit levels have increased in recent years, but the options list is long, costly but always tempting. Offsetting the initial expense by selecting a diesel variant will be a sensible decision. Adding an auto gearbox and leather seats if not already standard will help boost future residuals. However, joining the executive club will mean executive level servicing and insurance costs.
Space and practicality
The E-Class estate boasts a considerable boot. On its own it can swallow sizeable loads with ease, thanks in part to its flat floor, wide aperture and easy opening tailgate. Options include flexible partitions that can divide the boot floor into many sections, a pull-out tray to ease loading and unloading, plus an electrically powered tailgate. The cabin is equally versatile; the rear seats split and fold, there's plenty of room fore and aft and oddment storage is good.
Controls and display
There may have been quality hiccups in the past, but Mercedes has always made clear, legible instruments and intuitive controls and the E-Class continues this trend. The main dials would shame many a rival, while a clever touch is the large display for the comprehensive trip computer, which is located beneath the speedometer. Steering wheel buttons control the trip computer, audio volume and the hands free phone (if present). The main column stalk looks intimidating but makes sense after a few miles, while the higher mounted cruise control stalk is perfectly placed. Not so clever is the layout of the optional COMAND audio, phone and sat-nav unit. The bright colour screen is fine but the system boasts too many buttons and could be more intuitive. The foot operated parking brake is rarely an issue unless paired with a manual gearbox.
Comfort
Low noise levels, comfortable seats, compliant ride and good levels of cabin space all make the E-Class a comfortable vehicle to travel in. The E-Class's generous dimensions ensure it rarely becomes unsettled by road imperfections - a factor enhanced by optional all-round air suspension.
Car security
Although not the most outgoing in terms of exterior design, the E-Class has its fans within the criminal fraternity. As such, it's good to see alarm and immobiliser packages present, plus the predictable remote central locking. For added peace of mind, an aftermarket tracking device wouldn't go amiss especially if you're considering a high value variant. With the estate you also get a sturdy luggage cover plus useful storage compartments below the boot floor.
Car safety
The E-Class brochure is littered with acronyms promoting all manner of safety devices. In summary, you're very well protected in Mercedes's flagship wagon. There are airbags a plenty, and active safety is well represented with numerous electronic stability controls.
Driver appeal
For a big car that's set up predominately for comfort, the E-Class estate acquits itself well to different driving styles and roads. It's most at home on long distance runs and swallows motorway miles with incredible ease, but its size rarely proves an issue around town - so long as you take care in car parks and urban environments - and it's here that the optional parameter steering will earn its keep. Overall enjoyment is boosted by choosing a diesel variant, while the four-corner air suspension makes carrying heavy loads much safer.
Family car appeal
For families who haven't warmed to the charms of the modern people carrier, or for people who need their car to serve also as a respectable business tool, the E-Class is a valid alternative. The cabin will easily seat four adults, while the estate car's boot will swallow both shopping and baby buggies in one go. If you're willing to sacrifice some space, the optional twin rear facing seats that would normally hide in the boot floor turn the E-Class into a seven-seater. The only drawback to all this will be the need for children to treat the car's luxurious interior with respect.
First car appeal
The E-Class - saloon or estate - is unlikely to be top of the list for novice drivers. It's a large car that requires a fair bit of skill to park and manoeuvre at low speeds, and there's also the small matter of the executive-level running costs.
Quality and image
While on the receiving end of, mainly, legitimate criticisms over build quality and reliability issues in recent years, Mercedes as upped its game. This is most obvious on later produced cars, as fit, finish and choice of cabin materials is much improved. Image-wise the famous three-pointed star continues to influence many buying decisions, with the E-Class in particular a popular purchase.
Accessibility
Given its size you'd expect there not to be a problem accessing and exiting the E-Class's cabin - and you'd be right. Granted, front seat occupants fare better than those in the rear, but the difference is small. At the rear, access to the estate car's considerable load bay is straightforward: the load lip is low, the tailgate opens wide and can be optioned with an electrically powered mechanism.
Stereo and ICE (In car entertainment)
The default system does a good job, although the display can be hard to read in direct sunlight. The steering wheel-mounted controls are a welcome inclusion, as is a basic supplementary display through the trip computer. Upgrades run to a CD changer, hands free mobile phone cradle and Mercedes's familiar COMAND unit. Sat-nav, audio and phone functions are included. All work well and the sat-nav utility reacts quickly to route changes. The only gripe is complexity of some of the modes, and the need to often press too many buttons for seemingly simple tasks.
Colours and trim
The best exterior colours for the E-Class appear to be dark metallic hues. A metallic shade will also be more attractive to buyers second time around. Black does a good job of masking the car's bulk, although the modest chrome highlights around the windows add a welcome touch. Inside the car, dark, glossy finishes work best, lighter metal-like finishes less so. Leather upholstery is essential at this price point, and looks suitably expensive and sumptuous.
Parking
There's no hiding the fact that the E-Class estate is a big car. The chore of parking is eased slightly thanks to the car's big mirrors. Parking sensors make a considerable difference, although you might need to tick the options box on lesser models. The same is true of Mercedes's parameter steering option, which conveniently increases steering assistance at low speeds.
Spare wheel
Space saver fitted as standard.
Range information
Petrol engines: E 200 (163bhp); E 200K (163bhp); E 280 (228bhp); E350 (268bhp); E 500 (306bhp); E 55 AMG (476bhp). Diesel engines: E 220 CDI (150bhp); E 280 CDI (190bhp); E 320 CDI (221bhp). Transmissions vary according to chosen model, but run to five and seven speed auto plus six-speed manual. Trim levels: Classic Elegance, Sport, Avantgarde, AMG.
Alternative cars
Audi A6 Avant Stylish, well built and good to drive. Quattro-equipped cars are better to drive than front-drive models
BMW 5 Series Touring Distinct sporty drive but sometimes marred by firm ride. Well built but could be better equipped
Range Rover Sport Surprisingly nimble car, but access could be an issue for some
Volvo V70 Getting on a bit but still a solid, well appointed holdall. Good value, too