August 2013
Mercedes-Benz E-Class E250 CDI Cabriolet
Ideal design proportions with the roof down
August 2013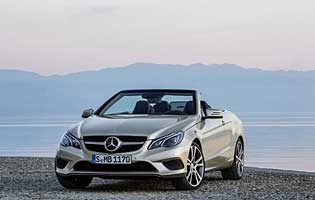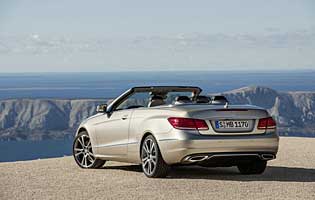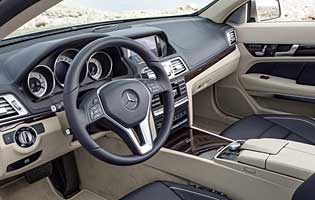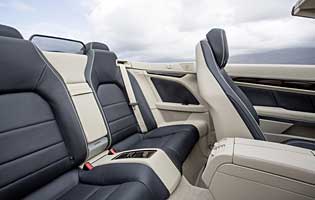 Overall rating

Likes:
Sharper, sleeker looks give the Cabriolet more visual appeal
Folding roof generates no noticeable additional noise
Excellent in-car technology is intuitive and practical
Materials and finish quality are high for the price point
Gripes:
Diesel engine seems unrefined and clunky in this application
Expensive, larger optional wheels are all-but essential to fill the wheel arches
Wind noise around the door mirrors is clear on motorways
Roof could be faster to fold out and away
The E-Class is a car that enjoys a lot of positive attention from owners, passersby and would-be customers. Based on the Coupe version but with an electric folding roof in place of the fixed item, the Cabriolet aims to add a little more glamour to a package that is already heavily updated and improved with aggressive but undoubtedly classy styling.
The E-Class Cabriolet essentially takes the same floor pan as the saloon and Coupe, being more closely related to the latter and sharing its two-door look. As a rival to Audi's A5 Cabriolet and BMW's 3 Series Convertible, the drop-top E-Class has stiff competition to inspire it to great things, but convertible cars can be more sensitive to engine choice.
A new enamel stick-on badge, as opposed to the vertical three-pointed star of old, sits flush against the bonnet. Beneath it, the Cabriolet shares the unusually aggressive front bumper skirt from the Coupe that almost looks like a blade and gives the car an arresting front aspect. The two-door profile helps the car to look longer, lower and sleeker.
Under the bonnet is a 2.1-litre diesel with a familiar air, having been installed into most of Mercedes' models over the last few years. It's not the obvious choice for a convertible, where the noisier nature of diesels can detract from the open-air enjoyment, but sales figures show that such a distraction isn't a problem for too many people.
Having benefitted from Mercedes' latest refinements in many areas, some of which even leapt ahead of the S-Class at the time the new E range was launched, the E-Class Coupe feels highly polished; like it's built for those individuals who prize refinement and luxury above all else. The only caveat is the noisy, un-cabriolet-like diesel engine.
Our verdict on the Mercedes-Benz E-Class E250 CDI Cabriolet
This E-Class Cabriolet looks spectacular; there's no doubting that. It looks so good and the materials quality is so high that it can challenge much more expensive executive cruisers. In this spec it's hampered by an engine that simply doesn't work in this context, lacking the sense of real luxury that the cabin exudes, but with a different engine under the bonnet it makes a convincing case for itself.
Costs
This is undoubtedly the most cost-effective model in the Cabriolet range. As the cheaper of the diesel models it's also the most efficient with the lowest CO2 rating, making it by proxy the cheapest to own as a company car. Its fuel economy depends heavily on how it's driven, ranging from outstanding to poor and any potential owner would need to assess their own driving style to get the best from it.
Space and practicality
As with nearly all convertible cars, boot space depends entirely on whether the boot is raised or folded. With the roof up there's good news, but not so much when the roof is folded down. The aperture through which bags must be placed is a good shape, but thanks to the load lip it's better to use soft bags when packing out the rest of the available space. In the cabin there is restricted storage space owing to an obvious bias towards style.
Controls and display
Like most manufacturers, Mercedes believes in standardising the look and layout of the cabin space as much as possible, making it easy for previous owners to settle in. Unfortunately, though, the stalks try to cram too many functions into too small a space, and it can sometimes be confusing even after a while with the car. Mercedes also prefers mounting the cruise control on a separate stalk, but steering wheel buttons are clearer.
Comfort
In line with the car's target audience of more affluent, potentially well-fed owners, Mercedes has fitted seats that larger people will find more or less perfect. Slimmer drivers might find themselves with a little too much space around them under cornering, but with an optional upgrade to the seats, the side bolsters can squeeze inwards for more support. The cabin is pleasantly hushed, which creates a relaxing and comfortable environment, and the only caveat is wind noise around the door mirrors.
Car security
Mercedes has never suffered from any particular security concerns and its cars are rated among the most secure on the market. The E-Class Cabriolet should technically be almost impossible to steal without the correct key, but for everyday peace of mind there is an alarm, an extremely effective immobiliser and remote central locking with deadlocks. Locking wheel nuts are also standard to prevent alloy wheel theft.
Car safety
As with the saloon and Coupe models, Mercedes has gone to incredible lengths to portray the E-Class in all its forms as one of the safest cars money can buy. The list of optional extras is as bewildering as the capability hid within it, but while much of the most advanced technology available is optional, even the standard complement of safety gadgets is among the most impressive in the market.
Driver appeal
A car like this needs to be refined and smooth to accentuate a feeling of luxury, but the diesel engine doesn't deliver those qualities. While it's strong enough to push the car along with reasonable conviction, it's gruff and agricultural compared to some of the butter-smooth petrol engines Mercedes offers. The steering is quite light, but precise with it, and its lack of feedback or feel aren't likely to trouble the typical buyer.
Family car appeal
This Cabriolet model is just as family-unfriendly as the Coupe when the roof is raised, being hampered by a lack of rear doors, slow-moving front electric seats and luxurious materials that could be vulnerable to damage. It maintains Isofix mounts, though, and with the roof folded it's perhaps not so hard to fit a child seat, although doing so involves craning over the side of the car and risking scratching the paint.
First car appeal
The E-Class Cabriolet's aesthetics might well attract a lot of young or new drivers. It looks great and will appeal to all kinds of people, but it's not really a financially viable option for people just starting out with driving. Question marks would hang over its affordability, insurability and size, which in turn makes the car much trickier to park than the average supermini that most learners cut their teeth in.
Quality and image
Mercedes is riding the crest of a wave in terms of its materials quality, which is a key factor in convincing consumers to part with their cash in this sector of the market. Its reputation is good among its target audience, and it usually performs better than its immediate German rivals in reliability surveys. The tangible quality of this car is undeniably high. The paint finish, the trim fit and the materials choices are all extremely convincing.
Accessibility
As the Cabriolet shares the Coupe's roof line and two-door layout, accessibility with the roof up is slightly restricted compared to the saloon. It also has long doors that need to open significantly before you can stride forwards into the footwell and drop into one of the front seats. With the roof down at least the roof line is no longer a factor, but the electric seats also creep out of the way far too slowly when moving them forwards to let rear passengers in.
Stereo and ICE (In car entertainment)
It could be argued that the COMAND interface is extremely dated, with its basic graphics and uninspiring colours. Its functionality, however, can't be denied with a simple set of buttons joining a main control dial that allows access to the media and stereo functions. USB and auxiliary ports are standard along with Bluetooth and SD card compatibility, so users can play their favourite tunes from any source they choose.
Colours and trim
There are no surprises as far as colour availability is concerned, with plenty of darker, restrained hues to choose from. But there are less conventional brighter shades that actually do the sharp lines more favours, while white can seem too stark against a black roof. On the inside, the trim looks as finely crafted as it feels and immediately makes the car feel like good value.
Parking
Visibility is not fantastic in this Cabriolet model when the roof is raised, but Mercedes has installed an advanced parking assist system that can actively take control of the car and park it into a bay or parallel space for you. The system isn't perfect, especially in very tight spaces or when it's important to hug the kerb reasonably tightly in narrow on-street bays, but for occasional use it does a decent job. With the roof down, visibility is much improved.
Spare wheel
Emergency tyre repair kit as standard.
Range information
Petrol engine options - 1.8-litre (181bhp, 201bhp); 3.5-litre (329bhp). Diesel engine options - 2.1-litre (167bhp, 201bhp); 3.0-litre (248bhp). Transmission options: six-speed manual gearbox or seven-speed automatic according to model. Trim levels: SE, AMG Sport.
Alternative cars
BMW 3 Series Convertible Dynamically very good, but a slightly dull interior and uninspiring looks
Audi A5 Cabriolet Looks depend heavily on specification, but excellent engines available
Jaguar XK Convertible Aging and much costlier, but more beautiful than ever and filled with character
Infiniti G Convertible Left-field choice hides very advanced technology, but styling is not for all