September 2009
Mercedes-Benz E-Class Coupe E350 CDI BlueEfficiency
Coupe builds on style of saloon
September 2009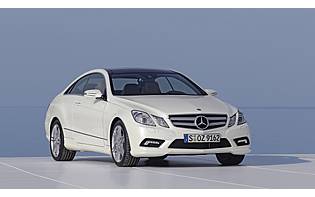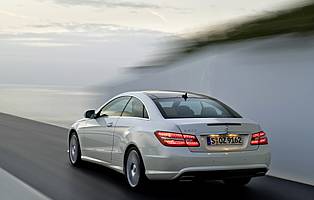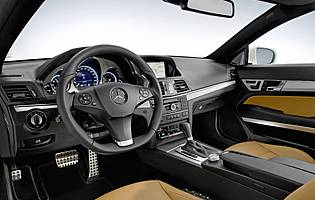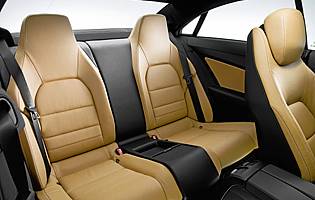 Overall rating

Likes:
Very high levels of build quality
Clever and efficient design much in evidence
Space for four adults and luggage
BlueEfficiency package helps to deliver good economy
Gripes:
Diesel engine can be a little noisy at times
Cabin needs light colours to avoid feeling oppressive
Drivers new to the brand may find dashboard layout confusing
Rear wiper would be a useful addition
Backing up the impressive saloon variant comes the E-Class Coupe, the first two-door model wearing the E-Class badge to come from Mercedes-Benz in almost 15 years. Building on the understated design, it brings more elegance and distinction to the E-Class range without losing the genuine four-seater space. It also brings with the high technology and wide engine range that adds to its appeal.
Crucial to the car's success is the exterior design, and the Coupe is more distinctive and attractive than the saloon model. The most obvious difference is the single door on each side, with an elegant pillarless profile and a truncated boot. The side glass can also be lowered fully, giving all passengers a refreshing open feeling when on the move.
Underneath the skin the E-Class benefits from a stronger bodyshell and all models apart from the E500 come with the Blue Efficiency package. A combination of honed aerodynamics, low rolling-resistance tyres and on-demand operation of components such as power steering, air-conditioning, fuel pump and alternator. This combination of features brings remarkable efficiency improvements, with both petrol and diesel versions being capable of excellent fuel economy figures.
The layout of the E-Class Coupe makes it a strict four-seater, with no central belt or seat. The space is given over to storage, but the amount of space on offer for the remaining occupants is welcome. Four adults can sit in great comfort, with generous head and legroom regardless of size, something which is not a given even in rival coupes of this size.
Mechanically the E-Class Coupe differs very little from its saloon sibling, with a wide mix of petrol and diesel engines allowing drivers to choose a version to meet their needs. In addition there are two trim levels, SE and Sport, again offering equipment and design tailored towards different types of buyers.
Our verdict on the Mercedes-Benz E-Class Coupe E350 CDI BlueEfficiency
Bringing a genuine E-Class Coupe back to the range is a sign of confidence in the car's basic design and this is realised in the finished article. Attractive, well-specified, good to drive and also surprisingly spacious, the E-Class Coupe proves to be a practical proposition without scrimping on the style factor.
Costs
Although the initial purchase price and insurance costs are relatively high, the impressive economy of the diesel versions should help to keep running costs to a reasonable level.
Space and practicality
The E-Class makes good use of its footprint with generous head and legroom for passengers front and rear. The boot offers a good load space too, although the aperture would benefit from being a little taller to aid loading. The cabin has a number of useful storage areas but the glovebox is quite limited in its space if the handbook is present.
Controls and display
The layout of the E-Class may seem a little confusing to those who are unfamiliar with recent Mercedes-Benz products, but a little familiarisation allows the user to access the full range of impressive features. The instrument layout is a particular plus point, offering a lot of information and control but in a simple and accessible manner.
Comfort
Particularly in SE form, the E-Class Coupe is a relaxing and comfortable car. The clever multi-mode climate control system, excellent sound insulation and general high level of refinement makes journeys of any length easy on the mind and body.
Car security
A standard alarm and immobiliser system meets the expected level of security on a car like this, although a tracking system would add a final layer of reassurance.
Car safety
The peerless Mercedes-Benz safety record continues with the E-Class, as a large increase in the amount of high-tensile steel within the bodyshell leads to a 30 per cent improvement in body stiffness over the previous generation model. Add to that innovative features such as Attention Assist, fitted as standard to all models, and the E-Class demonstrates an attention to safety issues that is currently unmatched.
Driver appeal
In diesel SE form the E-Class Coupe is best suited to eating up the miles in maximum comfort. The six-cylinder powerplant settles down once on the move and cruises with very little effort. The steering is accurate but not too sharp, while the ride soaks up the worst bumps contributing to smooth progress. Turn off the main road and the E-Class Coupe does not disappoint, coping with twisty roads and enthusiastic driving without complaint, although this is not its strongest suit.
Family car appeal
Considering the two-door configuration the E-Class Coupe makes a good fist of family duties. Getting a bigger child seat into the rear can be a little awkward, but the boot can swallow pushchairs too. The only genuine demerit is the lack of a fifth seat.
First car appeal
Although relatively easy to drive, the E-Class Coupe is likely to appeal to drivers over the age of 30, and is too expensive for the majority of new drivers.
Quality and image
Mercedes' reputation is such that buyers expect high quality when they slide behind the wheel and the E-Class does not disappoint. There is a feeling of solidity and strength throughout the car and the quality of the materials brings a feeling of well-being to its occupants. The image of the E-Class is somewhat reserved compared to its rivals, but not in a negative way; it comes across as a car owned by individuals who are seeking discretion over flashiness.
Accessibility
Gaining access to the rear seats is always a bugbear with coupes, but the E-Class does everything it can to make life easy. The long doors, sliding front seats and pillarless design means that most people can get into the back seats without any trouble. Front seat passengers do even better, while access to the boot is through a decent-sized aperture, although the top lip does encroach a little.
Stereo and ICE (In car entertainment)
The standard audio system is decent enough, comprising of an MP3-enabled CD player and a radio offering the full range of frequencies. Better yet are the upgraded versions, offering auxiliary device connection, a DVD changer and even DAB radio. With steering-wheel controls, a useful display in the instrument panel and strong sound quality, it's more than adequate.
Colours and trim
All models are fitted with either man-made or genuine leather which, alongside choices of matching trims, give the E-Class cabin a tasteful and luxurious feel. As for exterior colours, sober hues always work best with Mercedes saloons and, even in Sport guise, darker metallics are the way to go.
Parking
For a relatively large car the E-Class is easy to park. Visibility is good, while the higher-specification models have Direct Steering which gives a higher ratio at parking speeds and options such as parking sensors and reversing cameras make short work of getting into a space.
Spare wheel
Space saver spare wheel fitted beneath the boot floor.
Range information
Petrol engine options - 1.8-litre (184bhp and 204bhp); 3.5-litre (292bhp); 5.5-litre (388bhp). Diesel engine options - 2.1-litre (136bhp, 170bhp and 204bhp); 3.0-litre (231bhp). Transmission otions: Five-speed automatic gearbox, seven-speed automatic gearbox, six-speed manual gearbox. Trim levels: SE, Sport.
Alternative cars
BMW 6 Series Smart and good to drive, not that spacious given its size
Volkswagen Passat CC Four-door coupe with good looks, great cabin and excellent engines
Audi A5 Very competent and handsome, best in Quattro four-wheel drive guise
Jaguar XK Sporty, great to drive and handsome, effectively two-seater only