January 2011
Mercedes-Benz CLS CLS 63 AMG
AMG version is most aggressively styled CLS
January 2011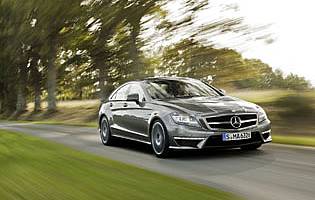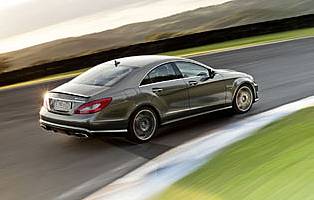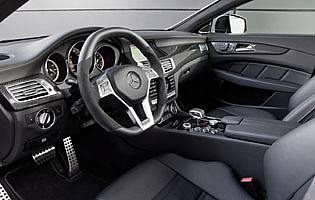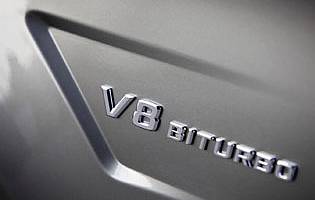 Overall rating

Likes:
Very sharp, SLS inspired exterior
Bespoke and exclusive cabin feel
Phenomenal performance for a large vehicle
Start-stop genuinely aids fuel consumption around town
Gripes:
Rear access and headroom hindered by sloping roofline
Premium in price over the more traditional E-Class
Despite economy improvements still very thirsty when pushed hard
Firmer ride is noticeable over rougher surfaces
Since the arrival of the CLS 55 AMG in 2004, Mercedes-Benz has become used to having things its own way in the small but high profile high-performance four-door coupe segment. The arrival of a flotilla of new competitors has seen the Mercedes sports division attempt to move the goal posts again with the new CLS 63 AMG.
Mercedes-Benz knows a thing or two when it comes to producing high quality vehicles, particularly within the executive segments, but when it comes to producing high performance variants the manufacturer's in-house AMG division is among the best in the world. With Mercedes' vast range of models AMG does not suffer from a lack of vehicles to choose from, but the CLS has been one of the more inspired projects since it first arrived in CLS 55 AMG form in 2004. That was replaced by the previous generation CLS 63 AMG and now the latest variant, which reacts to the arrival of new four-door, high performance saloon models from premium and sports car manufacturers.
Powering the latest generation model is a 5.5-litre, twin turbocharged V8 petrol unit, which delivers 557bhp. Lighter and more fuel efficient than the previous power plant, particularly thanks to the introduction of a start-stop fuel-saving system, the engine delivers its increased power through a seven-speed automatic transmission with paddle operated manual override and selectable shift schemes in automatic mode.
Equally important to the performance of the new CLS 63 AMG is a revised suspension set-up that incorporates a new front axle in combination with automatically adjusted rear air suspension. AMG Ride Control allows for adjustment of damper response to fine tune the ride and handling, while electric power steering can also adapt the nature of the vehicle from boulevard cruiser to sports cars.
Outside, the CLS 63 AMG benefits from a similar restyle to the standard models, but with large alloys wheels, an aggressive bodykit and some SLS super-car inspired details. A performance pack adds additional power and lightweight body parts including a carbon-fibre rear lip spoiler. Ceramic brakes are also an option.
Our verdict on the Mercedes-Benz CLS CLS 63 AMG
As a stylish and sporty alternative to the E-Class model on which it is based, the CLS has always faired well despite the price premium. The CLS 63 AMG adds even greater desirability for those who can afford it. Performance is hugely impressive and the bespoke feel inside is extremely welcoming. Practicality suffers compared to a traditional saloon but, for many, the undeniable kerb appeal will more than account for that.
Costs
Despite the inclusion of stop-start technology and greater efficiency from the new 5.5-litre V8 engine, the CLS 63 AMG is still going to come with a considerable thirst, particularly if driven aggressively. Consumables will be demanding, too, with large wheels and low profile, high performance tyres. Insurance groupings will be high and the purchase price reflects the exclusivity and performance.
Space and practicality
Front seat passengers enjoy the best of the reasonably proportioned cabin. In the rear, legroom is adequate but not excessively generous and the sloping roofline offers a slightly cramped feel. Boot space will suffice for four passengers on a weekend jaunt and a decent size glovebox and storage centre between the front seats is useful.
Controls and display
The CLS 63 AMG features the single, multi-function column stalk setup that will be familiar to Mercedes drivers but not necessarily to others. It takes some acclimatisation, but works well. The centre console is reasonably busy for a Mercedes-Benz model but buttons and dials are clearly marked and easy to understand. The driver-only controls for suspension settings, stability aids and the like are neatly located and angled for ease of use. Displays are excellent and given a unique AMG feel.
Comfort
Although featuring a slightly firmer standard suspension than non-AMG CLS models, the CLS 63 AMG's impressive chassis still offers a good quality of ride. Air suspension is used at the rear, which benefits stability and comfort, but imperfections can be felt through the front spring and damper controlled assembly thanks, in part, to the large wheels and low profile tyres. Sports seats are particularly comfortable and fully adjustable, also offering an optional massage function. The rear seats offer a recliner-like feel which is perfect for long journeys.
Car security
Understandably for such a desirable and expensive vehicle, the CLS 63 AMG is well equipped with security kit in the form of automatic door locking, alarm, immobiliser and vehicle tracking possibilities.
Car safety
Safety has long been a Mercedes-Benz strong point and, asides from the comprehensive ESP system, the CLS 63 AMG also features intuitive systems for monitoring driver fatigue, a lane drifting warning that vibrates the steering wheel and collision mitigating braking that applies extra pressure when it senses a crash may be imminent. Excellent crash testing performance and a full compliment of airbags protect front and rear passengers alike.
Driver appeal
The addition of the 5.5-litre, twin turbocharged V8 engine to the CLS makes for a formidable package in terms of performance. Power is available instantaneously across the rev-range and the seven-speed automatic transmission offers excellent sports driving modes that ensure speedy downshifts under braking, allowing the car to be driven hard without using the paddle shifters is desired. A comprehensive stability package allows drivers to safely exploit the admirable performance, but sports modes allow a degree of traction loss when desired. The electric power steering is superb and the optional fade-free ceramic brakes are faultless.
Family car appeal
Limited boot space and the strict two-seat rear layout of the CLS make the model an impractical if not impossible family choice. It's clearly designed with adults in mind, but this means children could be accommodated. The high quality interior would no doubt suffer from the presence of sticky fingers, however.
First car appeal
The Mercedes-Benz CLS 63 AMG offers little for novice drivers. Although the high performance can be tamed by electronic governance, a seasoned approach is still required. Costs will be excessive for younger drivers, too.
Quality and image
After a period of less than perfect build quality, Mercedes-Benz has returned to form with a flourish and the latest generation of vehicles display top quality craftsmanship and construction quality. The German brand's image is often associated with more mature drivers, but the high performance AMG vehicles boast considerable kerb appeal and desirability for car fanatics of all ages.
Accessibility
A low, coupe profile makes the CLS marginally less accessible than a traditional saloon model. Front seat access is good, but the coupe roofline means even passengers of moderate height will be required to duck when entering or exiting the rear. The powered boot lid operation makes accessing the luggage space pleasingly simple.
Stereo and ICE (In car entertainment)
Only the finest ear could find fault with the CLS 63 AMG's sound system, which provides an extremely high level of audio production in the front and rear. A large colour screen is present in the front which serves as a multipurpose display for audio, media and sat-nav applications. An iPod or other external device can be connected, but only using Mercedes-Benz's own integration cables.
Colours and trim
Naturally, for such a high performance premium model, the CLS 63 AMG boasts a well appointed interior featuring a combination of high quality Nappa leather in a choice of brown, black and moody dark interiors with carbon or metalwork detailing or wood. Outside, the high performance is denoted by 19-inch alloy wheels, V8 Biturbo badging and, where the Performance Pack is specified, additional carbon fibre for the lip spoiler and red brake callipers; orange if wrapped around the ceramic discs.
Parking
Thanks to parking sensors and proximity indictor lights positioned on the front dashboard and the rear rooflining, parking the CLS 63 AMG poses few issues. It is a large vehicle however, and the sloping bodywork means the long bonnet and extended rear can be difficult to place from the driver's seat. Visibility is good around the car, however.
Spare wheel
Emergency tyre inflation kit fitted as standard.
Range information
Petrol engine options - CLS 350 (306bhp); CLS 500 (408bhp); CLS 63 AMG (557bhp). Diesel engine option - CLS 250 CDI (204bhp); CLS 350 CDI (265bhp). All cars come with seven-speed auto gearbox. Trim level is dependent on engine size.
Alternative cars
Maserati Quattroporte Great performance, questionable interiors
Porsche Panamera Turbo model offers similar on-road performance
Jaguar XF XFR combines style, space and performance
Aston Martin Rapide Considerably more expensive but outrageously pretty