July 2005
Mercedes-Benz CLS-Class CLS 350
CLS saloon is styled more like a coupe in a bid to add some glamour
July 2005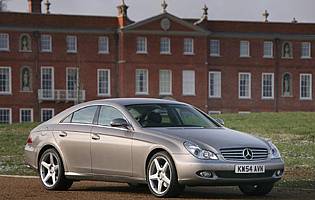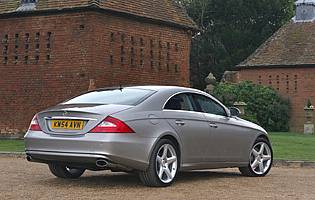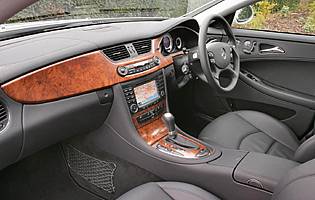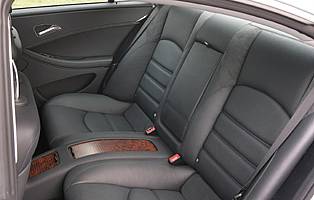 Overall rating

Likes:
Bold yet graceful exterior
Far more sporting that E-Class
AMG variant is the proverbial rocket ship on the road
Cabin ambience possesses a bespoke-like feel
Gripes:
CLS boasts a sizeable premium over equivalent E-Class
Modest rear headroom precludes use as a full, adult four-seater
350 variant could be better equipped for the money
Long options list could easily trick you into spending more than you want
For a company that has sought to have a car in every niche, there's no denying the fact that Mercedes' products are everywhere. From posh compact hatchbacks to luxurious limousines, there really is a car to suit every taste. Factor in what Mercedes calls a four-door coupe and, with the CLS, another niche is filled.
The car market is full of odd machines that don't quite fit the conventional, established classes. Mercedes' CLS is one of those cars. It may be loosely based on a traditional executive motor but its style and interior ambience couldn't be further from the accepted norm.
If Mercedes' positioning of the CLS as a 'four-door coupe' has you sniggering, don't worry you're not alone. A coupe is supposed to have only two doors but the CLS has double that and a saloon-like boot. What the big Merc does have in common with a coupe is its distinctive sloping roof. And it's this feature, along with an interior that gives hints at a coachbuilt feel, that sets it apart from other luxo barges.
But why go to all the trouble to make a car pretend to be something it's not? The simple answer is exclusivity. You're likely to see many more E-Classes running around than CLS', which if you're a potential buyer is good news. And when CLS prices are significantly higher than that of a comparable E-Class, you expect more for your money, too.
Luckily the CLS doesn't disappoint. Standard equipment levels are relatively high - for something with a three-pointed star badge. Kit levels are linked to engine size, making the CLS 55 AMG the top model. The more affordable CLS 500 is the next best and, thanks to a combination of generous amounts of convincing wood trim, leather upholstery and the CLS' trademark one-piece wood fascia, you really do feel special when inside the car's sung cabin.
Our verdict on the Mercedes-Benz CLS-Class CLS 350
In a cunning spot of planning, the CLS doesn't really have any rivals. Executive saloons are just that, saloons, while the CLS boasts a more rakish profile despite possessing a quartet of doors itself. Unlike a comparable E-Class, the CLS delivers a more sporty drive and has a high-class cabin that easily exceeds anything from other makers' cars. It won't be for everyone, but if you want an executive car with character, this Merc could be the one.
Costs
The CLS is not a cheap car by any standard, but anyone seeking exclusivity will find this a fair price for something so unusual. Diesel aside, the petrol models use their fair share of fuel and main dealer servicing won't come cheap. Factor in the many attractive optional extras Mercedes offers and you dealing with serious amounts of money. The car's status and scarcity should help residuals, though.
Space and practicality
You don't buy this car if you have a busy family life or make regular trips to the home improvement store. Like any saloon the CLS' four-door form can be limiting, although if you treat the rear accommodation as occasional seating because of the modest headroom you won't be disappointed. Even the space available up front is more snug than spacious, confirming the car's status as a true four seater. The upside is a full-length centre console complete with useful storage areas, plus a decent size boot.
Controls and display
Mercedes has of late been accused of cutting corners in terms of quality, but the CLS' cabin proves that the German firm has upped its game. The main dials are clear and concise, while the minor switchgear feels substantial and built to last. The COMAND infotainment system is not the easiest to navigate thanks to the number of buttons you're presented with.
Comfort
Past quality worries aside, Mercedes hasn't lost the knack of making you feel special when inside the CLS. Plush seats, a low roofline and a dominant center console that stretches the full length of the cabin all help to promote a feeling of being cocooned from the outside world. Front seat occupants fare the best due to the car's sloping roof, while the ride is slightly firmer than what you'd experience in a softer damped E-Class.
Car security
No great surprises in this area, just the usual remote locking and anti-theft package. For a car this noticeable it will pay to keep belongings in the cabin out of sight, as the CLS is something of a head turner. From a convenience angle you can opt for Mercedes' key-less entry package, which allows you to get in and start the car without having to reach for the key.
Car safety
There should be no worries in this department as the CLS boasts all the latest kit. Airbags, traction control, stability control are all onboard. Most people will rejoice at the level of protection offered, but keen drivers will rue Mercedes' decision to make the various systems cut in rather early, thus thwarting any attempt to really exploit the car's fun side unless you switch everything off completely.
Driver appeal
While comparisons will be drawn with Mercedes' E-Class, the CLS has been developed to be a more sporty car. The engine range bears this out, especially the mighty supercharged AMG 5.5-litre unit. Acceleration is rapid and brutal in a straight line, and the sound is more akin to that of a TVR. The regular models aren't slow either. The seven-speed auto gearbox shifts gears smoothly, ride quality is impressive - especially with air suspension - and the big CLS feels nimble even on winding B-roads. Good news for your wallet; in the real world, the 350 is no less fun than the more costly 500, while the 320 CDI could be the pick of the bunch.
Family car appeal
The CLS might have four doors and a decent boot but that doesn't make it an ideal family car. In fact, the CLS is more likely to appeal to buyers without children - and with good reason. The car's plush cabin is no place for small children with a tendency to rub chocolate into the upholstery. Strictly a four seater, the CLS would be better suited to transporting a more mature family.
First car appeal
Given the asking price, its performance potential and the inevitable premium car-sized running costs, the CLS must rank as one of the least suitable first cars around.
Quality and image
Mercedes has come in for a serious battering in recent years over a noticeable range-wide drop in quality. The CLS does much to right those wrongs. Cabin materials feel and look expensive, the switchgear operates with a well-oiled efficiency and much work has gone into improving the reliability of the various electrical systems. Image-wise the CLS cause is boosted thanks to a lack of any genuine rival, its rakish profile and low volume exclusive status.
Accessibility
The CLS is very much a car of two halves. At the front you could be getting into a regular E-Class as cabin access is adequate. The rear of is a different matter thanks to the car's sloping roof. The doors don't open as wide for starters, and headroom is predictably less generous than in a regular saloon. There's no disguising the fact that tall occupants will feel compromised accessing and exciting the rear of the CLS.
Stereo and ICE (In car entertainment)
You get a quality audio system with the CLS, and it delivers a good sound in the snug cabin. Remote controls on the steering wheel are a welcome addition, although the main display and array of buttons take a little getting used to. It's the same with the sat-nav, which although is fast and responsive when on the move, takes while to learn thanks to its various options and menus.
Colours and trim
As with any luxury car, the CLS looks its best when selected in a glossy metallic exterior colour. Dark reds and silver work especially well, although black adds a menacing look to the already butch-looking AMG variant. Inside, the CLS boasts a one-piece wood-trimmed facia. Its gloss finish and the various wood and chrome accents dotted around the cabin add a welcome high quality feel to the cabin. A bog standard E-Class this car is not.
Parking
The CLS is a big car and, when you're sat low down in the driver's seat it can be difficult to confidently reverse it into a parking space. Visibility aft might not be that impressive, but there are no problems with the view forward. The car's auto gearbox is easy to use, the steering is pleasingly light at low speeds and the parking sensors will make a huge difference if you're not a confident parker.
Spare wheel
Space saver fitted as standard.
Range information
Petrol engine options - CLS 350 (272bhp); CLS 500 (306bhp); CLS 55 AMG (476bhp). Diesel engine option - CLS 320 CDI (224bhp). All cars come with seven-speed auto gearbox except CLS 55, which comes with a five-speed auto 'box. Trim level is dependent on engine size.
Alternative cars
BMW 5 Series Conventional saloon is good to drive but styling not universally liked
Jaguar S-Type Curvy Jag with traditional styling cues is now a much-improved car
Maserati Quattroporte Genuine rival to CLS 55 AMG. Fast, rare and pricey
Audi A6 A big car with plenty of kerb appeal. Still a conventional saloon, though