January 2008
Mercedes-Benz CLS 63AMG
Dramatic styling is highlighted by AMG additions
January 2008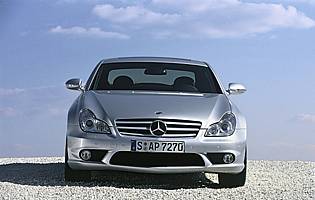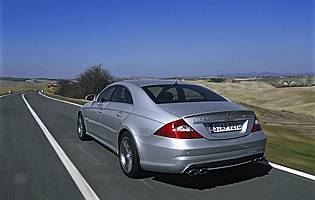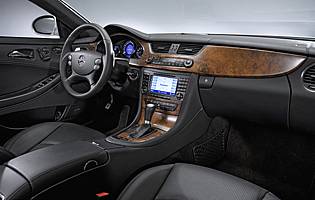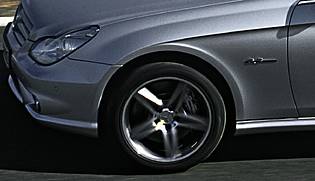 Overall rating

Likes:
Controversial looks are likely to appeal
Magnificent engine is a joy to use
High quality cabin is also attractive
Dual personality makes for everyday transport
Gripes:
Some standard equipment is omitted despite price
Running costs likely to be high
Vision is restricted by sloping A-pillar
Space is not generous considering the car's size
The Mercedes-Benz CLS is arguably the only four-door coupe on sale in the UK, giving it unique status as well as a possible advantage over its two-door rivals. Following a series of revisions for the 2007 model year, the high performance AMG version benefits from a brand new naturally aspirated engine promising even more impressive performance.
Calling the CLS a four-door coupe may seem like a contradiction in point, but at first glance it is much easier to understand. Few four-door saloons have the swooping, low roofline and short bootlid that the CLS enjoys and although this means it sacrifices some practicality for style, this is the kind of balance that makes coupes desirable in the first place.
Over and above the regular CLS, the AMG model benefits from a few subtle enhancements to highlight its status at the top of the range. Most obvious is the bodykit, which is sufficient to add a sporty edge but does nothing to hurt the attractive shape. The standard 18-inch or optional 19-inch alloy wheels are suitably menacing and the flanks wear badges proudly displaying the engine configuration.
The 6.3-litre V8 has already appeared in the CLK coupe, but here in the CLS it benefits from even higher power and torque outputs befitting its status near the top of the Mercedes-Benz range. Mated to the seven-speed automatic transmission it aims to deliver smooth and comfortable motoring as well as on-demand high performance.
Elsewhere the CLS63 AMG also has a high performance braking system, ESP designed with enthusiastic driving in mind and retuned air suspension with the option of two sports settings for keen drivers. The very keen will be pleased to note that it even includes a stop watch built into the instrument cluster.
Our verdict on the Mercedes-Benz CLS 63AMG
While the CLS63 AMG may be short on direct competition it is undoubtedly a highly competent and enjoyable machine. It is capable of covering large distances with a high level of comfort and style, yet in the right conditions it is an exciting and very capable performance car. Costs are inevitably high, but this is arguably the only downside to a highly desirable car.
Costs
Running costs for the CLS, particularly in AMG form, will inevitably be high. Fuel economy will be low even when driven frugally, and the purchase price and insurance costs will also be high.
Space and practicality
This is one area where the CLS falls down a little. In general terms front and rear passengers have sufficient space, although headroom is reduced in the rear. For a car of its size however, larger passengers may feel a little claustrophobic due to the narrow window shape.
Controls and display
The dashboard layout of the CLS is attractive and practical, with clear labelling and a sensible layout. Some of the buttons on the centre console are a little small, but this is understandable given the number of features included. The instrument display is particularly attractive, with the smart speedometer including a central information display.
Comfort
Despite the performance the CLS is still capable of delivering superb comfort. The optional dynamic multi-contour seats allow a huge range of adjustment as well as a massage function, while noise levels are kept firmly in check.
Car security
The CLS is fitted with an alarm system featuring engine immobiliser and interior protection as standard, which should ensure that this desirable machine remains in the custody of its owners.
Car safety
The CLS is packed with safety equipment as standard, while the AMG version benefits from greater grip thanks to the larger tyres and increased braking performance.
Driver appeal
The CLS 63 AMG driving experience is dominated by the engine, which delivers satisfaction on many levels. In normal driving the large torque band and good throttle response mate well with the automatic transmission, and although it occasionally pauses between shifts, progress is seamless and comfortable. A short squeeze of the accelerator is often enough to slot into gaps too, which makes the CLS an effortless car to drive. In the right conditions only a few button presses are required to access the car's sportier nature: the sports suspension setting and manual gearbox mode allow the driver to fully exploit the engine's magnificent performance, accompanied by a thrilling engine note. The handling also impresses, with responsive steering that never becomes too sensitive and strong brakes.
Family car appeal
While the CLS will house four adults, the boot would be taken up with luggage for two. The cabin is also a little short on storage space, which would render it unsuitable for many families.
First car appeal
The CLS is sufficiently easy to drive that an inexperienced user could cope, but the performance on offer and the expense make it unsuitable for new drivers.
Quality and image
The CLS is right at the peak of quality for Mercedes-Benz products, with a peerless sense of build quality and impressive materials throughout. It also demonstrates impressive design details, which adds greatly to the ownership experience. The CLS has an image which is subtly different from the rest of the Mercedes-Benz range, thanks to its dynamic looks and high performance and is likely to appeal to buyers seeking individuality.
Accessibility
Although the CLS has four doors, the low roofline does make it slightly more difficult to gain entry to than a conventional saloon. However, the rear doors do mean it is easier for back seat passengers to get in compared to a conventional coupe.
Stereo and ICE (In car entertainment)
The standard stereo system in the CLS63 AMG is a relatively simple radio with single-slot CD, which is somewhat measly considering the car's purchase price. An upgrade to a six-CD changer and the Harman Kardon surround sound system comes at a price but brings a very high quality sound with it.
Colours and trim
AMG models are fitted with high quality leather trim as standard, as well as matt burr walnut wood trim on the dashboard and centre console, which is attractive and feels of a very high quality. Exterior colours are traditional sober metallic hues, although some brighter shades offer a more radical look.
Parking
The CLS is not fitted with parking sensors as standard, and thanks to the car's length and steeply-sloped bonnet and boot can make parking a little tricky in tight spaces. However, the optional Parktronic system brings audio and visual guides to make life considerably easier.
Spare wheel
Space saver fitted as standard on all models.
Range information
Petrol engine options - 3.5-litre (292bhp); 5.5-litre (388bhp); 6.2-litre (514bhp). Diesel engine option - 3.0-litre (224bhp). Transmission options: Seven-speed auto gearbox. Trim levels: dependent on engine size.
Alternative cars
BMW 6 Series M6 is a high tech masterpiece with broad appeal
Jaguar XK XKR features attractive styling and impressive performance
Maserati Quattroporte Elegance and performance in one package
Porsche 911 Restricted practicality but sublime to drive