December 2005
Mercedes-Benz CLK-Class Coupe CLK 220 CDI Avantgarde
Instantly recognisable, The Mercedes CLK is a popular premium market coupe
December 2005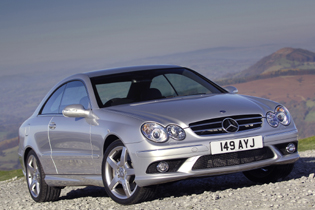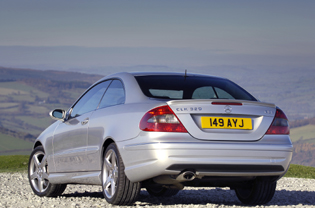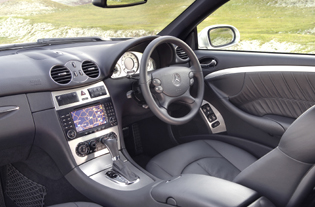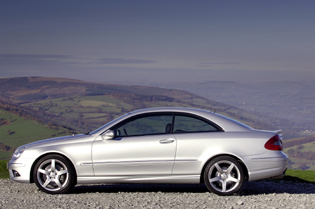 Overall rating

Likes:
Attractive exterior will get you noticed wherever you go
Cabin is spacious, with even the rear seats useable for adults
Diesel variants make CLK ownership that bit more affordable
With demand strong, CLK residuals are a good indicator as to the car's popularity
Gripes:
Options list is long and includes certain expensive items that really should be standard
It's easy to unsettle the auto gearbox, and the resulting 'clunks' are not what you'd expect
Performance of entry-level petrol variant is lacklustre
Although a useful extra, Mercedes' COMAND sat-nav system is fiddly to operate
Looking more like an E-Class coupe than the C-Class it's based on, Mercedes' CLK Coupe is a car that prefers to cosset rather than stir you. Although there isn't much to choose from in the premium coupe sector, if you don't like the hard riding BMW 3 Series you're going to better off in the Mercedes. It's one reason why so many drivers of a mature persuasion opt for the three-pointed star.
You either want one or you don't. It's a stark fact, but at this level the decision as to which premium coupe to buy often boils down to a choice between Mercedes' offering and BMW's 3 Series Coupe. What's not always appreciated is that the two cars boast very different personalities: the CLK is the soft, refined one while the 3 Series is a more racy, harder-edged driving companion.
And that's the CLK in a nutshell; it's for people who have money but nothing left to prove. If you're comfortable with you personal circumstances, the CLK will suit you down to the ground. However, you will need a fair amount of cash to acquire one.
In true Mercedes tradition, the car's list of cost options is long and often expensive. You'll need top tick a few boxes though, as some things should really be standard on even the 'cheaper' cars - automatic transmission, parking sensors, CD changer. These are the items that the likes of Lexus dish out as a matter of course.
But it's fair to say that the power of the three-pointed star is the culprit here. For many the badge rules the head during the buying decision, and with good reason if you care to examine the CLK's residual values. They're pretty good by current standards - so long as you choose the right options.
Our verdict on the Mercedes-Benz CLK-Class Coupe CLK 220 CDI Avantgarde
For a car that's often sold on the basis of its looks and the image its prospective owners want to portray, the CLK is something that shouldn't really be taken at face value. Look past the hype and it's surprisingly competent on the road and practical if used as a daily runabout. Although the slow, entry-level cars are disappointing, that's the only negative thing worth saying about the CLK.
Costs
It's easy to pay dearly for the CLK - or any Mercedes - as the company's options list is long, tempting and includes some items that really should be standard. It's worth opting for a diesel variant if you want anything resembling sensible fuel economy. Premium cars command premium servicing prices, and the CLK is no different. The same is true of insurance. On the bright side, residual values are strong for cars like the CLK, so look on the purchase as a future investment.
Space and practicality
Although hardly a family car, a young family would rarely feel compromised. There's enough room in the back for a pair of teenagers - long journeys and adults are best avoided, while the CLK's boot is big enough to swallow a pushchair or the weekly shop but probably not both at the same time. Elsewhere the front door bins are a decent size, and the same is true of the centre console cubby. Specify a CD changer and the glove box shrinks dramatically in size, though.
Controls and display
To its credit, Mercedes does know how to make legible, clear and simple to use instruments and controls. The main dials are large and easy on the eye, while the space inside the speedo is occupied by a comprehensive trip computer. The ventilation and standard audio controls are also straightforward, although the optional COMAND system could be more intuitive and boast fewer buttons. And contrary to popular opinion, Mercedes' trademark foot-operated parking brake is simple to operate - assuming you're using an automatic gearbox.
Comfort
It's hard to criticise the CLK in this area. On standard size wheels and devoid of any sports suspension the car rides well, and is a match for a similarly equipped E-Class. Cabin refinement is good, although petrol variants are noticeably quieter. There's no problem with cabin space. Up the front it's like being in the aforementioned E-Class, while once installed in the back even adults should feel at ease.
Car security
Given the fact anything sporting a Mercedes badge is a desirable commodity, it would pay to fit an aftermarket tracking device for extra peace of mind. You're not left completely on your own by Mercedes, though. Remote central locking is standard fit, while 'Keyless Go' is an attractive option that allows you to keep the key in your pocket at all times and start the car by simply pressing a button. Completing the list of standard kit is an alarm and immobiliser.
Car safety
Twin front, side and window airbags are fitted to all CLK variants, along with anti lock brakes, brake assist and an electronic stability and anti-skid programme. Given the torque produced by even the least powerful diesel engine, the latter aids will come in very useful during the winter months. Depending on the variant, powerful xenon headlamps can be selected, while automatic headlamp activation is a standard feature.
Driver appeal
For a car that's usually associated with cruising over long distances, the CLK acquits itself well if you fancy some spirited motoring. The steering is on the heavy side but, combined with essential (but optional on some variants) auto gearbox, the car can be entertaining. For a compliant ride, steer clear of bigger alloy wheels, while you'll find the diesels often out perform the low low-end petrol cars in terms of torque and ease of driving.
Family car appeal
Couples just embarking on the family experience shouldn't dismiss the CLK outright; rear seat access is fine for small children and the car's boot is on a par with that of a regular family car. Mercedes even fits Isofix child seat mounting points in the back, although folding the front seats back and forth to gain access will test the patience of even the best parent.
First car appeal
If you've got the money then it's difficult to argue against such a purchase. It won't be cheap, mind, even by Mercedes standards and you'll need to tick a few options boxes to make it worthwhile. Back in the real world, Mercedes' small C-Class Sports Coupe would make a better first Merc - it's easier to park and cheaper to buy and run.
Quality and image
For many buyers, just the sight of a Mercedes badge is enough for them to excuse a car's quirks and hand over the cash. That three-pointed badge is an important status symbol to many people, and it would be wrong to underestimate the influence it has on residual values - assuming you choose the right options. Quality-wise Mercedes has taken a beating in recent years; cost cutting and an explosion in new models has, critics would say, overstretched the company. More recent products are much improved, although there is still evidence of corner cutting with some cabin trim.
Accessibility
Front seat occupants will have little difficulty getting in or out of the CLK. The car's two doors open wide and, so long as the seats aren't on their lowest height setting, a dignified exit is nearly always guaranteed. The same can't be said for rear seat occupants. The very nature of a two-door coupe dictates that accessing the rear will be a compromise, and the CLK is no different. The fronts will fold forward in a generous manner, but even agile adults will have to be careful not to bang their heads on the way in. Although hardly dignified, reversing out is often the easiest way of exiting the car.
Stereo and ICE (In car entertainment)
Standard fit is a single CD player and combined radio unit, which does a fine job and comes with remote buttons on the steering wheel for the major controls. The display can be difficult to read in direct sunlight, although the radio station or track number is available as a function of the car's comprehensive trip computer. A basic sat-nav system is a cost option, although the next system up is the more familiar COMAND audio and navigation unit complete with colour screen. A hard-wired mobile phone is also offered.
Colours and trim
You can be forgiven for thinking that Mercedes invented the colour silver - so many of its cars are chosen in this popular hue. It's a good choice, but it's far from original. Black is another colour worth considering not just because it's different, but also because it's classy and shows off the car's chrome detailing. Black features heavily inside the CLK, especially if you opt for the expensive-looking glossy trim for the centre console. As with any high-end Mercedes, it will pay - literally - to ditch the standard seats for optional leather items.
Parking
In standard trim the CLK is not hugely taxing to park. It's not exactly a big car, but it's worth noting that the steering is on the heavy side. Rearward vision is acceptable, and it's easy to see where the car's boot ends - the same is true at the front so long as you're not sitting too low in the driver's seat. Predictably, the auto gearbox makes life easier, ditto the extra cost parking sensors and speed-sensitive 'Parameter' steering.
Spare wheel
Space saver fitted as standard.
Range information
Petrol range: 200 Kompressor (163bhp); 280 (231bhp); 350 (272bhp); 500 (306bhp); 55 AMG (367bhp). Diesel range: 220 CDI (150bhp); 320 CDI (224bhp). Transmissions: six-speed manual is standard fit, with a six-speed auto optional. Exceptions: 280, 350, 500, 320 CDI all get seven-speed auto as standard and 55 AMG comes with a five-speed auto. Trim levels: Elegance, Avantgarde and AMG.
Alternative cars
BMW 3 Series Coupe The choice for the keen driver. Not as cosseting or as spacious as the CLK
Audi TT Much smaller overall, but no less desirable in premium coupe circles
Chrysler Crossfire Distinctive styling but interior lacks quality feel. More suited to cruising
Nissan 350Z More sporting than the CLK but still an attractive coupe. Affordable but cabin quality is only average in this company