June 2005
Mazda 5 TS 1.8
Sleek design of Mazda5 is much better than other Mazda MPVs
June 2005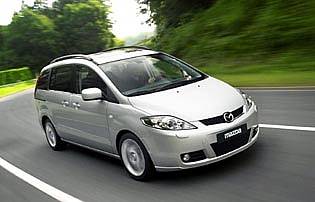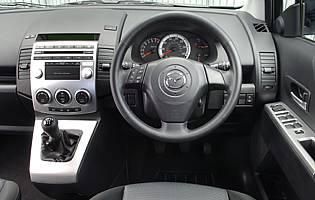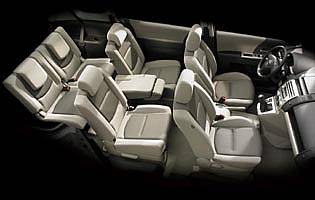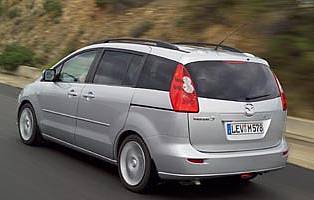 Overall rating

Likes:
Sliding doors allow easy access to rear seats
Karakuri seating system is simple and effective
Enjoyable ride with well-damped suspension
Sleek, modern design adds credibility
Gripes:
Design of instruments and controls is unexceptional
Digital service records will scare off many buyers
No automatic gearbox available
Name may cause some confusion with MX-5 roadster
Despite owning the name 'MPV', Mazda's people carriers have generally been less than definitive. However, with the Mazda5 - not to be confused with the MX-5 roadster - the Japanese company finally has a family vehicle that manages to offer a modicum of flair as well as straightforward practicality.
Mazda has sold both the five-seat Premacy and seven-seat MPV in the UK since 1999. Both were capable but neither was hugely inspiring and they were too similar to each other in design and execution. So the company took the sensible decision to replace both models with a multi-purpose vehicle that combines the compact size of the Premacy with the seven-seat utility of the MPV.
The result is the Mazda5, a vehicle that looks smart while incorporating Mazda's acclaimed 'Karakuri' seating system. Undoubtedly it owes a debt to Vauxhall's groundbreaking Flex7 arrangement in the Zafira, but it also introduces a couple of new twists with a seat that can transform into an armrest or storage unit and an interesting attempt to create communal space shared between all rear passengers. The Mazda5 is also the first car in its class to offer sliding doors, which undoubtedly make more sense than hinged doors on cars of this type.
On the road the Mazda5 is among the more enjoyable vehicles in its class, though as it shares its basic chassis with such smooth-driving vehicles as the Ford Focus, Mazda3 and Volvo S40, that is hardly surprising.
On the debit side, the cabin design is rather dull and Mazda's decision to make this vehicle the first to use an electronic logbook held on the computer of the local Mazda dealer instead of a traditional servicing book could backfire. Suspicions abound that the move is a cynical attempt to dissuade owners from getting their vehicles serviced independently rather than a great technical innovation. Officially, Mazda assures buyers that dealers will be happy to input servicing data carried out at another garage, but only experience will show if this is really the case.
Our verdict on the Mazda 5 TS 1.8
Sitting squarely in the middle ground and able to appeal to buyers of both compact and large MPVs, the Mazda5 makes a great deal of sense. Pricing is fair, it is mechanically sound and it has largely shed the blandness of earlier Mazda people carriers. However, buyers will not need to look far for equally attractive alternatives.
Costs
Pricing is fair. Buyers will get a very flexible car for their money that can be put to use as a people carrier, load lugger or touring vehicle. Few of us need to use seven seats regularly, so the 'six plus one' concept is sound. Mazdas are generally reliable but the digital service record is problematic and could affect resale values. Buyers will always find a properly stamped logbook more convincing and reassuring than a computer printout.
Space and practicality
Though nominally a seven-seater, the Mazda5 is really a six-seater that offers an occasional seventh seat. This basic seat flexibility and convenience is the result of the Karakuri seating and storage concept, which can convert the vehicle from four to five to seven seats in a matter of seconds and without having to remove or add anything. A seventh seat cushion is stored under the left second row seat. After locking the wide armrest between the second row seats into the up position, the left hand seat cushion is tipped forward, the seventh seat flips out easily. If storage is a priority, a utility box can be folded out from below the right seat cushion using the same process. There are 45 storage compartments in all, if you're counting.
Controls and display
The instrumentation treatment introduced with the Mazda6 - and itself based on the old MX-5 - is beginning to look a little tired. It is retained in the Mazda5, and fails to engage the driver's interest. An aluminium-style finish to the centre stack looks like the plastic it is, and whoever decided that yellow-green backlighting would be a good idea for meters and switches should make their way to the nearest optician's immediately. At least the main dials are located in front of the driver instead of in the centre of the dashboard.
Comfort
A good range of adjustment is provided in most of the key areas. The driver's seat is slide and height adjustable, can be reclined and offers lumbar support adjustment. The steering wheel is adjustable in height and telescopically, so just about anyone can find the right driving position. The 2+3+2 seating arrangement works well with particularly generous headroom though the central seat in the second rank is unsuitable for long journeys.
Car security
The security package provided is surprisingly generous. There's the expected immobiliser system but for even more theft protection, a Thatcham Category-1 alarm system is provided. This system has an intrusion sensor arrangement that detects break-in through the windows or other body openings and has a back up battery that runs the alarm, even if the main battery has been disconnected. An optional keyless entry and start system that employs a card-type key adds convenience.
Car safety
There are three-point seat belts and adjustable headrests at all seats, including the fold out seventh seat. There are front and side airbags for the driver and front passenger, and large curtain airbags standard for all three rows. The vehicle's construction feels solid, though the sliding doors may make it difficult to get out after a side impact.
Driver appeal
One of many Ford Group vehicles to utilise the same underpinnings as the Focus, the Mazda5 drives very well for such a large, tall vehicle. Large ventilated front disc brakes and rear solid discs deliver excellent deceleration behaviour and ABS with electronic brake force distribution is provided as standard. Steering is direct, acceleration respectable and bumps in the road are efficiently dealt with by a well-tuned suspension. It is among the class leaders, no question about it.
Family car appeal
Puzzlingly, Mazda's marketing blurb says the Mazda5 ""is designed to appeal to a customer in his or her late thirties, either with or without children. This person is style conscious, sporty and perhaps a bit self-indulgent."" If they were all that self-indulgent they would buy themselves a MX-5 instead. Make no mistake, this is purely a family vehicle, and a very decent one at that.
First car appeal
MPVs of any description are way down the recommended list of first-time buys.
Quality and image
Despite significant quality and design progress, Mazda is still viewed as decidedly middle of the road by most people, and perhaps marginally behind Japanese rivals Honda and Toyota in qualitative terms. The Mazda5's smart, modern design allows it to old its own, but buyers who feel image is important are still likely to gravitate towards Renault's Scenic. Exterior finish is good, but the interior feels less unified with a few questionable fabrics and plastics.
Accessibility
The Mazda5 is the only offering in its segment in Europe to have sliding doors and immediately goes to the top of its class for accessibility as a result. They open easily with one hand, hug the sides of the vehicle when open and have a 700mm wide door opening for easy ingress and egress even for third row passengers. It's a shame they cannot be operated via the key fob, though. One of the quirkier features is a dual-stage tailgate, designed so that short people don't have to leap into the air to close the boot.
Stereo and ICE (In car entertainment)
Mazda5's standard audio system features a single audio unit with an AM/FM radio and a CD player with six speakers. Sport models get an autochanger as well as two extra speakers. Sound quality is reasonable but not close to class-leading and the control interface of the stereo system is a little confusing. A newly-developed 20 gigabyte Hard Disk Drive audio system can be ordered that stores about 3,000 songs as well as a rear entertainment system with a seven-inch LCD and DVD player unit mounted on the ceiling in front of the second row.
Colours and trim
Some effort has been made to inject a bit of life into the interior. The results are better than the shadowy Mazda treatments of the past but still not up there with Renault and Vauxhall. There are two interior trim and material packages, the first with a light beige colour, the second basic black. Beige creates a more spacious feeling but looks prone to toddler-inspired crayon vandalism and drinks spillages. Dark exterior colours can make the car look heavy and metallic colours cost extra.
Parking
Parking is tricky. The Mazda5 seems longer than it really is from the driver's seat, while the car's high waistline and thick rear pillars add to the challenge of reversing. Unusually, a rear parking camera is included only as part of the optional satellite navigation package and even then is only available to Sport models and does not come with sensors or audible signals.
Spare wheel
A space saver spare wheel is provided in all variants.
Range information
Two petrol and two diesel engines: 1.8 petrol (115bhp); 2.0 petrol (145bhp); 2.0 diesel (110bhp); 2.0 diesel (143bhp). Five and six-speed manual transmissions according to model. No automatic transmission. Range designators are TS, TS2 and Sport.
Alternative cars
Vauxhall Zafira Second generation model is consummate all-rounder
Ford Focus C-MAX Shares platform with Mazda, drives superbly, but only five seats
Toyota Corolla Verso Ingenious interior packaging, still feels like a car
Renault Grand Scenic Classy feel marred by anonymous ride and handling