September 2013
Mazda Mazda3 2.2 SkyActiv-D
Kodo design language is very different to competitors
September 2013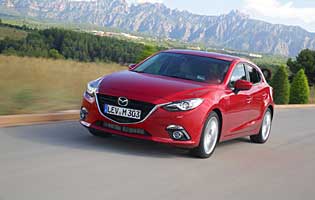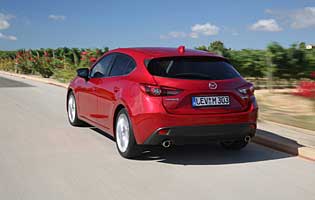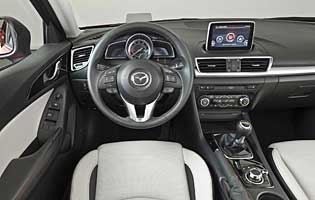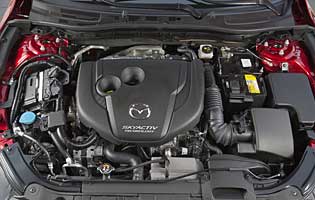 Overall rating

Likes:
Strong and smooth diesel engine
Curvaceous, instantly recognisable styling
Composed and stable ride
Excellent handling
Gripes:
Door pockets are far too small
Standard 16-inch wheels look tiny in proportion to rest of the car
Long front overhang could scrape some car park ramps
Seat bases could offer more lateral leg support
The Mazda3 is a hugely important model for the Japanese company, and this generation has seen some quantum leaps in terms of style and technology. It's no wonder that two other models have been released before it to help gauge customer reactions, but now it's full steam ahead for Mazda's ambitions to crack the established C-segment high-fliers.
The previous Mazda3 was held in extremely high regard, being humble, reliable, great looking and genuinely good to drive. It never managed to topple the Ford Focus, Vauxhall Astra and Volkswagen Golf from the top of the sales charts, though, so Mazda has raised its game again. The result is a car that could at last be class-leading.
Impressive new technology litters the latest design, and nowhere less so than in the 2.2-litre diesel engine. It sets a new range of technological benchmarks with a record low compression ratio, clever dual turbocharging and ultra-clean combustion with no need for additives - even premium brands hadn't managed such a technical feat when the Mazda3 launched to the media. Downsizing simply wasn't necessary.
The styling follows Mazda's new Kodo design theme. The Japanese word means 'soul of motion', which gives an insight into what the designers tried to achieve with the new, sculpted lines. From the front aspect in particular the Mazda3 is stunning, offering a stark and attractive alternative to the frequently dated, sober German rivals.
In the main the Mazda3 looks to have all the key bases covered, with a particular emphasis on connectivity and media thanks to the inclusion of a large colour touch-screen on mid-range models and above.
Our verdict on the Mazda Mazda3 2.2 SkyActiv-D
Mazda has raised its game, and although some potential buyers might not initially believe that a 2.2-litre diesel could be as efficient as a 1.6, the Mazda3 has all the talents it needs to really challenge for the class-leading position it has been aiming for. The ride, build quality and sense of quality engineering all shine through the stylish bodywork, and it should be on anyone's C-segment shortlist.
Costs
This 2.2-litre diesel engine represents a huge leap forward in terms of clean combustion. Mazda has carved a new path for itself with an engine that achieves lower CO2 emissions than comparable engines, despite this unit's larger capacity. In turn that means low road tax bills, cheap benefit-in-kind payments and low fuel consumption. It's even priced significantly lower than the benchmark Volkswagen Golf, making it peerless value in the upper echelons of the C-segment.
Space and practicality
Space in the front has never been in question and it's extremely unlikely anyone within a normal height range will find themselves cramped. The available space in the rear has been much improved, though, with more shoulder room, ample legroom and plenty of headroom. The boot, which is also now bigger, isn't quite class-leading in terms of outright size but it is evenly shaped and fit for the vast majority of everyday duties.
Controls and display
Few C-segment compact hatchbacks have quite so stylish a set of instruments as the new Mazda. They reflect the style of the car and a distinctly Japanese approach, which in this case means they look sharp and use coloured illuminations especially well. Their recessed positioning also means that it's almost impossible to lose visibility of the dials to glare from the sun.
Comfort
This new model continues in a similar vein of comfort when compared to its predecessor. Sensible cabin ergonomics, well-designed seats and a quiet, refined ride make the Mazda3 a very comfortable car to travel in even on longer journeys. Wind noise is minimal with engine noise impressively contained. As a result, only road noise is really noticeable in the cabin, and then at low volume. The ride, even on the 18-inch alloy wheels of this test car, displays thoroughly well-controlled damping.
Car security
Standard equipment is on a par with most other class competitors. It includes a Thatcham category one alarm and immobiliser, but higher trim levels also benefit from keyless entry and rear privacy glass. Naturally, items placed in the boot are out of sight with the parcel shelf in place, and in the cabin there is a little covered storage.
Car safety
An important element of the SkyActiv production process is the introduction of a greater proportion of high- and ultra-high-tensile steels, which are both lighter and stronger than lower grade metal. Used in specific locations this steel helps to create a stiffer, stronger shell in the right areas, while still leaving considerable crumple zones to absorb impact energy. The Mazda3 easily achieved the maximum Euro NCAP five-star rating.
Driver appeal
Even with the relatively heavy diesel engine at the front the car delivers an impressive performance. Strong acceleration, effortless cruising refinement and impressively stable handling create excellent driving impressions, and even the steering is precise enough to satisfy keen drivers.
Family car appeal
With top-notch safety features, Isofix child seat mounts and a practical boot, the car has a lot going for it in the eyes of a typical family. There's lots of growing room in the back, the interior is quiet enough not to disturb tired little ones and a full spectrum of active and passive safety features, the Mazda3 can match anything else in the class.
First car appeal
There is no real reason why the Mazda3 wouldn't make an excellent first car, with a tractable engine, comfortable driving position and impeccable on-road behaviour even under emergency braking or steering manoeuvres. The safety aspect might be particularly appealing to new drivers, but of course the financial implications and overall size of the car mean that the aging but still competent Mazda2 would perhaps be a better bet.
Quality and image
Interior quality has reached new heights with the 2014 model, and from the soft-touch dashboard to the solidly assembled trim it can't fail to impress. As one of the big Japanese brands Mazda can also claim an excellent record of reliability. As long as the SkyActiv engines prove as robust as their predecessors, the Mazda3 should provide trouble-free ownership.
Accessibility
One of the two key accessibility issues on the previous Mazda3 has been solved for its replacement. The once-rounded boot lip has been squared off a little towards the corners, making it easier to lift large or heavy items in without catching the boot lip. On the other hand, the Kodo design language has delivered a significantly pronounced sloping roof, which while not bad news for interior headroom, does force most people of average height or more to stoop a little. Access to the front seats remains unhindered.
Stereo and ICE (In car entertainment)
The top-spec version driven here has all the trimmings and that extends to the stereo, which not only works via the clear and sharp touch-screen display but also features two USB ports, an auxiliary jack and Bluetooth connectivity. There's an SD card slot, but it's filled with a card full of maps for the navigation system. It's also the upgraded Bose hi-fi, so boasts more speakers and a higher overall quality of sound.
Colours and trim
Bold colours are in Mazda's heritage and the theme continues here with a couple of stunning options. The metallic red is particularly effective. The interior looks perhaps less overtly attention-grabbing than the exterior, but nicely balances form and function. It feels like an upmarket affair with a solid sense of quality, although the two-tone cream and black upholstery won't be to everyone's taste.
Parking
On this high-end model there are front and rear parking sensors from which the media interface screen derives a visual proximity warning display. It's perfect for tight parallel parking spaces, and for making sure you never give another car an unintentional bump. The Mazda3 has quite a long bonnet and a prominent front overhang, which can sometimes affect its ability to squeeze into tighter spaces than it could if its front wheels were further into the corners.
Spare wheel
Emergency tyre repair kit supplied as standard.
Range information
Petrol engine options - 1.5-litre (99bhp); 2.0-litre (118bhp, 163bhp). Diesel engine options - 2.2-litre (148bhp). Transmission options: six-speed manual gearbox, five-speed automatic gearbox. Trim levels: SE, SE Nav, SE-L, SE-L Nav, Sport Nav.
Alternative cars
Ford Focus Great to drive but with ageing diesel engines
Vauxhall Astra Underrated and competent but lacking outright quality
Volkswagen Golf Conservative styling is laid over an excellent all-rounder
Peugeot 308 Surprisingly sharp-handling and good looking