May 2009
Mazda Mazda3 1.6 TS2 5-door
The face is still instantly recognisable
May 2009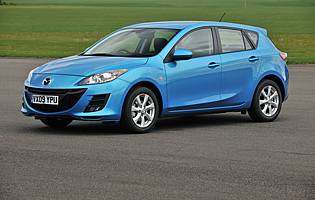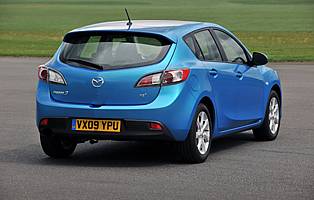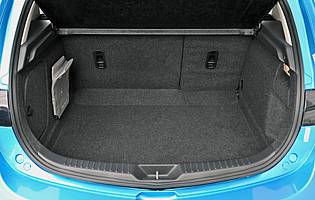 Overall rating

Likes:
Quiet and refined interior
Sleek exterior design
Much improved interior quality
Impressive handling
Gripes:
Rear room less generous than some rivals
Sensitive throttle takes getting used to
High boot lip
Narrow rear doors
The popular Mazda3 has undergone some heavyweight revisions to bring it in line with the rest of the Mazda range as well as its rivals in a cut and thrust segment. With a brand new visage, Mazda hopes the model will carry even more appeal and continue as the Japanese manufacturer's best-selling model in the UK.
With models such as the Ford Focus and Vauxhall Astra routinely topping the UK's most popular car chart, the family hatchback market is a tough one for any manufacturer to make a dent in. The fact that the previous generation Mazda3 model managed to hold its head above the parapet in such an environment spoke volumes for it. Despite being Mazda's most popular model in the UK, it was still something of an alternative choice while the usual suspects continued to run away with the market.
Mazda hopes to build on the solid ground hard fought for by the previous generation model with the new Mazda3. Using the same platform as the old model - a platform also used by the much admired Ford Focus - the model has undergone a substantial exterior redesign that's considerably more contemporary and in keeping with the cutting edge design of models like the Mazda2 and Mazda6. Still instantly recognisable as a Mazda3, it's never-the-less a more modern visage.
A greater emphasis on interior quality addresses one of the elements that prevented the previous model from competing at the top of the segment. Soft touch plastics are prevalent alongside technical advances not previously available such as factory sat-nav.
Out of sight there are further changes, with revisions made to the suspension settings to reduce body roll and a similar ""gram strategy"" approach to that seen on the Mazda2 employed to save weight; improved handling and reduced fuel consumption are the result. Petrol engines include a 1.6-litre, 2.0-litre and powerful 2.3-litre in the range-topping MPS model, while diesels on offer are a 1.6-litre and two versions of the 2.2-litre. The more powerful 182bhp variant is arguably the pick of the bunch.
Our verdict on the Mazda Mazda3 1.6 TS2 5-door
With almost every area showing signs of improvement, the new Mazda3 really raises the manufacturers profile in the highly competitive family hatchback segment. A decent engine range with improved economy, impressive refinement and a more upmarket interior all contribute to the all-round appeal. The only downside is a rear bench that feels less accommodating than some competitors, but is still more than capable of dealing with family requirements.
Costs
Reduced weight and CO2 emissions and fuel economy improved by up to 16 per cent means the new Mazda3 is a cheaper vehicle to run than the old version. A healthy range of trim levels means plenty of choice for the user-chooser or insurance sensitive, and reliability and quality is proven. With decent equipment levels as standard, the Mazda3 is a value for money proposition.
Space and practicality
Although the front is spacious and well formed, the rear is less spacious than that of some of its rivals. Regardless, only the very tall will find it short of space; the averagely proportioned will have ample room for a car of this size. The boot is a good size, if impeded by a short boot door, and door bins and cubby holes are generous.
Controls and display
The tunnel effect for the instrument binnacle means the dials and warning lights are always clear and free from glare, while the small sat-nav screen, where specified, is remarkably clear considering its size. A small trip computer is ideally positioned under the windscreen. A high gear lever and fully adjustable steering wheel make for a very comfortable driving position and the ventilation controls are extremely simple to operate. Switchgear feels sturdy and is traditionally laid out.
Comfort
Sensible cabin ergonomics, well-designed seats and a quiet, refined ride make the Mazda3 a very comfortable car to travel in even on longer journeys. Wind noise is minimal with engine noise in the 1.6-litre petrol impressively contained. As a result, only road noise is really noticeable in the cabin, and then at low volume. The ride is cosseting, although it can pick out bumps over rougher surfaces. Decent standard equipment levels also improve interior comfort.
Car security
Standard equipment includes a Thatcham category one alarm and immobiliser, but higher trim levels also benefit from keyless entry and rear privacy glass. Naturally, items placed in the boot are out of sight with the parcel shelf in place, and in the cabin there's plenty of covered storage.
Car safety
Designed to include ""crush zones"" that deform to protect occupants in an accident, the Mazda3 features a high level of passive safety. Add to that ABS with EBD, and traction control with DSC, self-levelling bi-xenon headlamps and hazard lights that respond to emergency braking, and the model looks well catered for in the safety stakes.
Driver appeal
Although the 1.6-litre petrol unit is far from the most powerful engine in the range, it punches above its weight thanks, in part, to the new model carrying less weight. Naturally, it runs out of puff sooner than the diesel variants up hill, but for day-to-day use including town driving and motorway, it will more than suffice. Although featuring five gears only, the model uses them wisely to provide low revs and smooth performance at motorway speeds. Steering is precise if not brimming with feedback and power delivery and braking are smooth and linear. A stiffened chassis reduces body roll noticeably, but crucially the ride doesn't suffer as a result. The sensitive throttle pedal is awkward at first, but easy to acclimatise to.
Family car appeal
The improvements to the Mazda3 mean it can now match the best as a compact family car. With room for five, sensible engine choices and a decent safety record, families will find it a useful, reliable and stylish addition.
First car appeal
The Mazda3 would make perfect sense as a small car if not for the presence of the smaller, cheaper but equally stylish Mazda2 further down the range. Unless particularly requiring the additional space or performance of the larger engines, the Mazda2 makes for a smarter choice for the young driver.
Quality and image
The new Mazda3 is a real step up in terms of interior quality when compared to the old model. Better materials and greater refinement give it a real sense of quality inside. The new exterior design will do little to harm its street cred, either. The model inherits the sturdy build quality of its predecessors and can easily match its rivals in this area.
Accessibility
The only issues with accessibility are at the rear, where a high lip and rounded entry to the boot could make lifting heavy suitcases in a less simple task, and the awkwardly shaped rear doors, which offer a narrow entry to the rear of the car with a sloping roofline that may impede the tall. Access to the front remains unhindered.
Stereo and ICE (In car entertainment)
A neatly integrated sound system occupies the upper portion of the centre console and is reasonably simple to operate using a combination of three large dials and a selection of switches. Certain models come with a sat-nav unit that features a small but useable screen located just below the window line. Useful audio controls are present on the steering wheel across the range. Sound quality is good, with four speakers present as standard rising to six and then an impressive ten in the top spec models. Auxiliary inputs are present and a six-CD changer comes in from TS2 level upwards.
Colours and trim
The new Mazda3 is available in some bold colour choices that highlight the new, cutting edge exterior design. The sky blue is particularly eye-catching. Inside, things are a little more sedate with dark plastics brightened up using metal effect trim. It feels like an upmarket affair, particularly thanks to the presence of soft touch plastics. Naturally, equipment rises with trim level choice, but base models are well equipped and high-end models border on luxurious.
Parking
Rear parking sensors are not standard until you reach the top trim level, so it's fortunate that the Mazda3 proves an easy car to park without them. The small rear window still gives a good indication of where the car ends and large mirrors also aid reversing. The rear three-quarter design is a little messy with a small triangular window offering little in the way of visibility, but it fails to hamper decent all round visibility.
Spare wheel
Steel spare wheel fitted as standard.
Range information
Petrol engine options - 1.6-litre (103bhp); 2.0-litre (148bhp); 2.3-litre (256bhp). Diesel engine options - 1.6-litre (107bhp); 2.2-litre (147bhp); 2.2-litre (182bhp). Transmission options: five-speed manual gearbox, six-speed manual gearbox, five-speed automatic gearbox. Trim levels: S, TS, TS2, TS2 Nav Sport, Sport Nav, MPS.
Alternative cars
Ford Focus Spacious and supreme handling
Vauxhall Astra Stylish, well built and pleasant to drive
Volkswagen Golf Extremely refined, excellent engine choices
Peugeot 308 Comfortable and roomy alternative