March 2004
Mazda 3 1.6 5dr TS
Striking Mazda 3 is company's latest assault on the competetive compact family hatch market
March 2004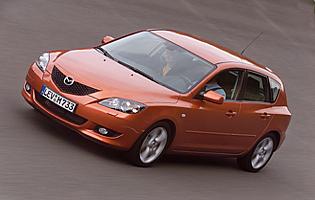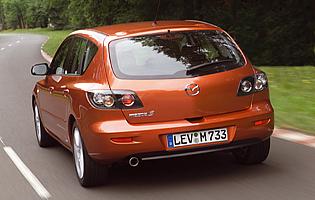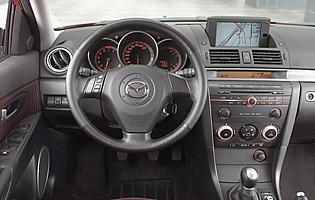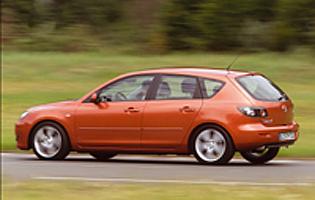 Overall rating

Likes:
Sporty, sleek styling, which gives the 3 a purposeful look
Agile handling contributes to an engaging ride
Mid-range acceleration of the diesel engine
Good levels of fuel economy help keep costs down
Gripes:
Vocal engine and road noise can become tiresome on long journeys
Nothchy gear change hinders smooth progression through range
Fake leather gear gaiter cheapens the look of the interior
Side view obscured by A-pillars creating an unnecessary blind-spot
Mazda's design-centric renaissance is in full swing: models like the 6 and RX-8 have thrust the company forward in terms of style and appeal. But does the 3 hatchback let the side down in the face of stiff competition from the Ford Focus and Volkswagen Golf?
If Mazda has struggled a bit in the past to carve out a distinctive image for itself, it is certainly well on the way to developing one now. The sporty, 'fun to drive' notion behind the famous 'Zoom Zoom' tagline is embodied in the styling of the latest generation of cars.
The 3 shares much of its technology and underpinnings with the latest Volvo S40 and 2005 Focus. While this is a definite bonus from the point of view of handling, it does throw up the question of whether the market segment is big enough for three similar cars from the same parent company.
Add into the mix models like the Volkswagen Golf and Vauxhall Astra and the 3's task looks like an arduous one. However, it does have a few tricks up its sleeve with which to tackle these heavy hitters. The plastics used on the dashboard, for example, are far nicer to look at and feel than those of the Golf.
Mazda's latest mid-size car also comes in quite a bit cheaper than many of its main rivals. This, when coupled with the manufacturer's good reputation for reliability and residual values, should make it a solid option for those on a tight budget seeking a modicum of driving pleasure.
Our verdict on the Mazda 3 1.6 5dr TS
A worthy all-round effort, deserving of buyers' consideration. However, without a properly established image upon which to pin its products, Mazda will continue to struggle against the steady and solid reputation of the Blue Oval and ever-cool Volkswagen badge.
Costs
The initial outlay involved in purchasing a Mazda 3 is markedly less than that of many of the other cars in the hatchback segment. The 1.6-litre diesel's insurance grouping of five won't make it overly expensive to insure either. Good fuel economy should mean cheap running costs for those who rack up a lot of miles. Servicing a Mazda is also affordable and good levels of reliability should mean that trips to the garage are relatively infrequent.
Space and practicality
Boot space at first appears average, but a false floor hides several extra compartments. There are numerous cubbyholes scattered around the cars interior, along with an unusually large glovebox - great for those large manuals and maps, not so good if you happen to be sat in the passenger seat when someone tries to open it.
Controls and display
The main instruments take the form of three aluminium-effect dials. They are clearly laid out and easily readable behind the three-spoke steering wheel. In a neat little touch, the Mazda's speedometer remains blank until the ignition is engaged; upon which it is illuminated in a red hue. The rotational controls for the stereo and heater are chunky and easy to use, even if they do feel as if they have been made from low-grade materials.
Comfort
Those in pursuit of a quiet, refined ride had better look elsewhere, as road, wind and engine noise do become rather intrusive above a certain speed. Ride comfort isn't as great as on some other cars in the class, but then again the Mazda does hold the road better than certain rivals.
Car security
Standard on all models is remote control central locking, deadlocking, an immobiliser and Thatcham Category One alarm. This is likely to be sufficient as there are more joyrider-desirable cars in the class than the 3.
Car safety
Levels of safety are good on the Mazda 3. Anti-lock Brakes (ABS), Electronic Brakeforce Distribution (EBD), Emergency Brake Assist (EBA), Dynamic Stability Control (DSC), Traction Control, dual front airbags, curtain and side airbags, a trio of rear three point seatbelts and ISOFIX compatible seats make up what is an impressive list for the class.
Driver appeal
The 3 is aimed squarely at the driver looking for an engaging ride and doesn't disappoint. The electro-mechanically assisted steering provides good feedback and the well-bolstered seats secure occupants in place. While the 3 isn't blisteringly quick in diesel form, it is nippy and the 177lb/ft of torque makes mid-range performance feel brisk. The Focus-sourced suspension also performs well here, providing a firm yet comfortable ride. A word of warning though, the car will understeer if pushed hard.
Family car appeal
In truth, the saloon version with the diesel engine is a better bet for family drivers, as there is slightly more room in the back for a couple of little ones. While younger family units are likely to be this car's biggest audience, the 3 isn't as well suited to ferrying kids around as, say, the larger Golf.
First car appeal
Any young urbanite worth their salt would be more than happy with the Mazda 3 as its styling and design make it an attractive car. However, the more badge conscious may prefer something with a little more street cred. An insurance grouping of five should be reasonably affordable for the under 25 and the three year warranty is also likely to appeal to the cost conscious.
Quality and image
Mazda has a good reputation for reliability and quality, and the 3 looks and feels as though it will do little to detract from this. The image department presents more of a problem, however. Despite the 3's aggressive and sleek styling (which bares more than a passing resemblance to the RX-8) the badge fails to evoke any real kudos.
Accessibility
Gaining access to the front of this sporty hatchback is surprisingly easy. An elevated seating position coupled with a wide opening to the footwell mean that access is unhindered. Trying to get into the back isn't such an easy feat, though. While headroom is ample, legroom is less abundant and tall passengers will struggle to find a comfortable position.
Stereo and ICE (In car entertainment)
In S trim the 3 comes with a four-speaker system and cassette player, which is poor given the standard equipment available on its rivals. TS versions gain a single slot CD player and steering wheel-mounted audio controls. Sound is acceptable but nowhere near hi-fi levels. The optional satellite navigation system is housed in the top of dashboard and is operated with buttons located next to the gearlever. All fascia-mounted stereo and heater controls feel well made and the translucent dials are an attractive touch.
Colours and trim
There are twelve metallic and non-metallic colours to choose from. Black and blue suit the 3 particularly well; the yellow is also rather striking. Three different types of cloth are available for the seats: Base, Touring and Sport. Grey and light grey coloured cloth comes as standard on the Base trim with blue and red detailing coming in further up the range.
Parking
Although the length of the bonnet can be slightly difficult to judge at times, the 3 is fairly easy to park and manoeuvre. An elevated driving position, plenty of glass and light, electronically assisted steering all combine to make short work of tight multi-storey car parks and narrow city streets. Parking sensors don't feature on the standard options list, but are available as a dealer fitted extra.
Spare wheel
Space saver wheel fitted as standard.
Range information
Four engine options - 1.4-litre (84bhp) petrol; 1.6-litre (105bhp) petrol; a 2.0-litre (150bhp) and a 1.6-litre (109bhp) diesel. All models feature a 5-speed manual gearbox. The 1.6-litre (105bhp) petrol is also available with a 4-speed Activematic autobox. There are four trim levels available: S, TS, TS2 and Sport.
Alternative cars
Ford Focus ever-popular stable mate is a real driver's car
Honda Civic solid, reliable, cheap but lacks competitive diesel option
Volkswagen Golf German uber-hatch with excellent reputation and image
Vauxhall Astra much improved and better looking offering from the Griffin